Meet Neil Eddy: a Kona debutant with podium ambitions
He's been a feature of the British Age-Group triathlon scene for many years now over the shorter distances, but on Saturday 14th October Cornwall's Neil Eddy will be making his debut at the IRONMAN World Championship in Hawaii.
Despite only one previous IRONMAN to his name – a brilliant debut at IRONMAN Barcelona 12 months ago, Neil has high hopes of adding a coveted Umeke trophy to his substantial collection of awards; "Top five would be amazing, a podium is the target and a win is something I will always think about in any race that I'm in… I'm too competitive not to."
---
Neil, you've been racing at a pretty high level for quite a few years now, can you tell us a bit more about your 'pre-Ironman' career?
Yes, it seems like a while now. I started in short distance racing and had some good success winning the AG Group World Champs in Edmonton 2014 and winning 220 Age Group Athlete of the Year 2015. I raced the elite super series with my best finish fourth overall in the series.
I have also had the privilege of racing Gomez and Mola at the Garmin Barcelona Triathlon. Being in the same bike pack was awesome; needless to say when we jumped off the bike, I didn't see them for long!
You did your first Ironman in Barcelona last year – was going long always on the cards for you and a natural progression of age / experience, or were there any another influences to give it a go?
The biggest influence was when I began a partnership with Joel Jameson, my coach. After winning the AG Standard World's we had a couple of conversations about longer distance racing and it was something I had been looking at progressing towards. We were on the same wavelength and similar mindsets, so it was great for the first time to have a triathlon coach and one with such experience as Joel.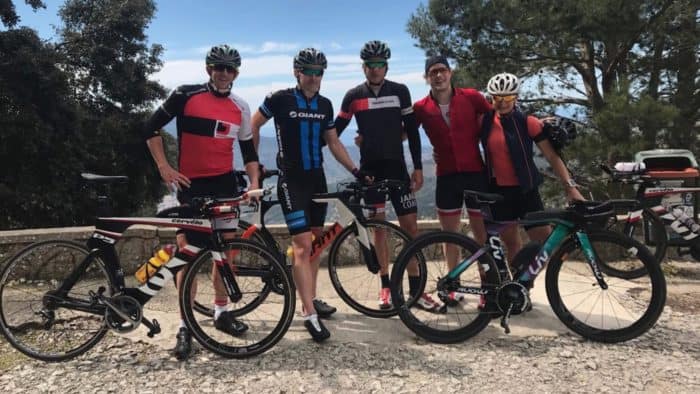 That first Ironman was pretty special by anyone's standards – winning your AG, qualifying for Kona, an 8:46:32 time and 21st overall. Fantastic result – did the race go to your expectations?
It went as I had hoped and was a dreamy first Ironman. I only entered three weeks or so before the race. I was at 70.3 World's in Mooloolaba, Australia; I had a great race finishing fourth, but something wasn't right on the run even though I had done the same as normal, but maybe my body wasn't absorbing right on the day. I had been leading for three and a half hours, so was a little gutted. I mentioned to Joel a few local chaps were going to Barcelona and I wanted to use my 70.3 fitness and give it a crack, he was on board, but told me I obviously had little prep time, one big weekend of training really.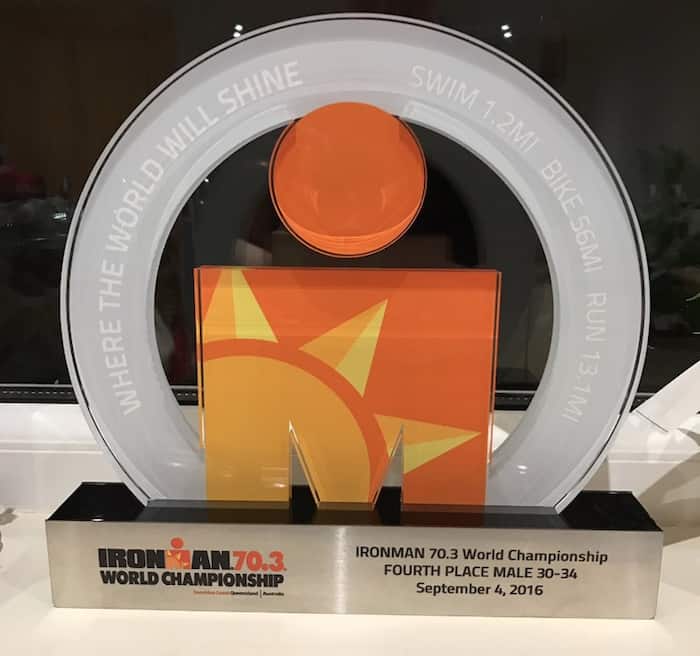 Qualifying a year in advance, how have you managed your year to – hopefully – arrive in Kona at your fittest, but also fresh? Any particular things you learned from Barcelona that you've specifically looked to improve on for this year?
We learnt together that freshness is key as I was for Barcelona last year. This years plan was to race a marathon early season and I ran a 2.34 at London Marathon. To follow this we planned a few middle distance races and then mid season freshen up and a big push for Kona.
You work with Joel Jameson as your coach –  I assume remotely – how does that work out for you both, and what sort of approach to training do you have? Are you data / power / pace focussed for example?
As I mentioned before we have a similar understanding which makes a great team. Yes, it is remote other than the odd training camp where we all get together, this works perfectly into my working week and is great to have someone to discuss every element.
It is great to have that accountability, I have always been consistent and never miss sessions but this was increased even more. I have a Garmin 920XT that I always use, Joel got me to start using Power on the bike and I believe this was a game changer, I had always wanted power but when I got it you could see the difference –  it showed in my session and races. Joel was great at explaining how we use this in training and structure to my sessions.
Hawaii is well known for being very tough on first timers – but on numbers at least, and that Barcelona performance – a good day could well put you in top-five contention if everything went well. What are your targets / hopes for your Kona debut?
I am confident ahead of Kona and trust the work I've put in, and if someone can better that, then fair play to them. Top five would be amazing, a podium is the target and a win is something I will always think about in any race that I'm in… I'm too competitive not to.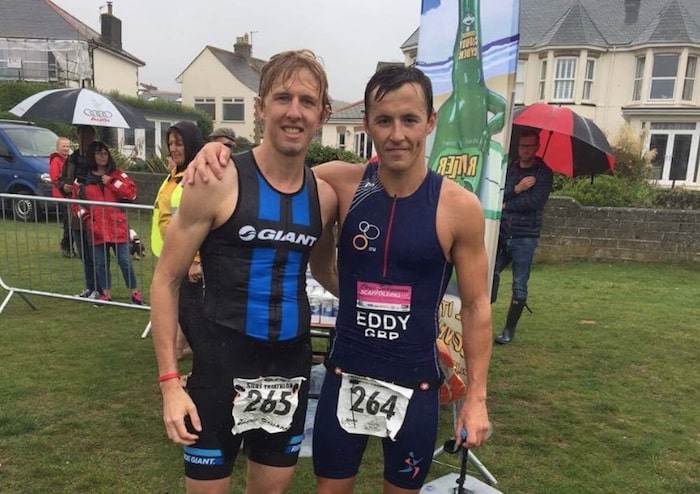 There seems to be a fair number of athletes from around Cornwall – Michael Birchmore and David Bartlett to name just two – do you get to train with them at all? You all seem to pretty much 'Pro' standard in terms of swimming, which must be a big ace to play in a non-wetsuit swim like Hawaii?
Yes, Cornwall has been strong for a number of years and we really push each other on. Its nice to have athletes nipping at your heels to push your level up again and stay ahead of the game. I think every athlete needs that, look at the likes of Federer and Nadal etc.
We always say each winter about training together but with work and commitments we don't manage it. Dave and myself had travelled and trained in USA this year and got some great heat and humidity training in. Swimming was my childhood background but other sports were more important to me. I live by the sea so open water and wetsuit sea swims are a massive strength. Non wetsuit I must admit, I hate kicking my legs.
I saw you finish second at the Outlaw Half Holkham in July, and also that speedy 2:34 at the London Marathon in April. Have you done many other races during the season?
Yes, Holkham was close and maybe a few of us going the wrong way leading the swim may have cost me, but it was a great race. London really set my confidence this year, I have won Cotswold 113, Bristol Harbourside, and Perranporth Triathlons, so it's been a solid year – plus the London Elite race for a bit of fun training.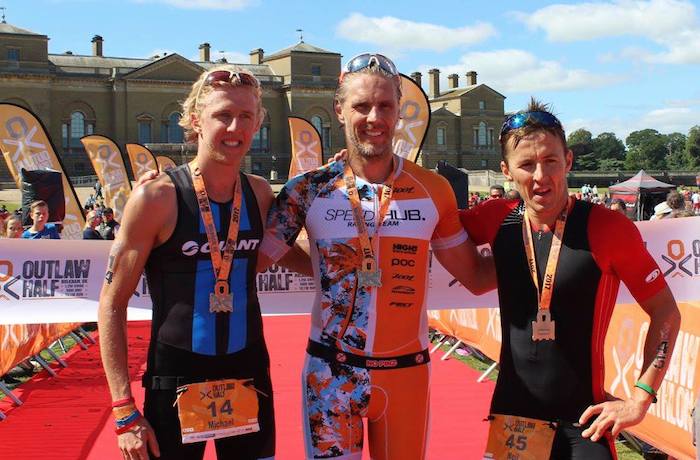 What's the 'day job' for you, and how does that fit in terms of managing your sporting goals around it?
I'm a PE teacher and work at Mounts Bay Academy. My role is School Games Organiser (one of four in Cornwall), the programme is designed to keep competitive sport at the heart of schools and provide more young people with the opportunity to compete and achieve their personal best. My school has an excellent understanding of sport and is very supportive of my goals. It has also enabled me to set up a high performance programme for our pupils with several national and international athletes, including international surfer, judo, fencing amongst the more traditional sports.
What has been a typical weekly training volume for you in the build-up to the race? I saw a graph that Joel posted which, statistically at least, seemed to show you've managed to be both consistent and build up a pretty impressive fitness level.
I thought my summer travelling and training was a big block, then when I returned it ramped up again.
For the past month I'd say 20 – 26hour weeks, with a couple of bike focused weeks on the bigger hour weeks recently. Typically though, four swims, five runs and five bikes. A new addition this year I have been doing is Hot Yoga to get used to heat / humid conditions and learning to sweat. I think this has helped me massively when I've been training out in the heat.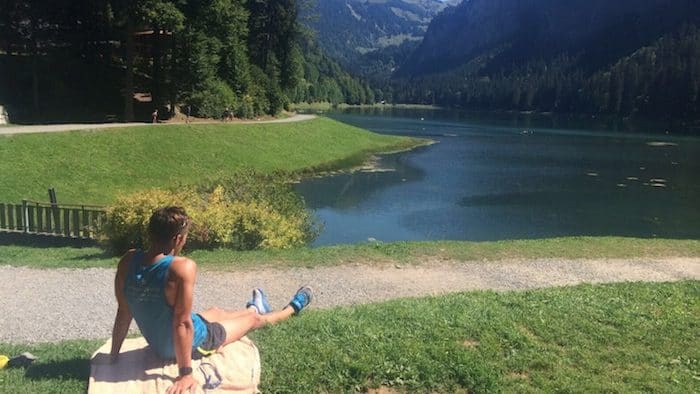 Hawaii is a very expensive trip – a word for any sponsors / supporters who have been helping you on your sporting journey?
Of course, I don't think many athletes would be there without the support.
I have been a Saucony Team Hurricane Ambassador for the past year and that has been an excellent journey to be a part of. Snugg Wetsuits, Giant Helston with dirty fast bikes to race, Blueseventy for my swim apparel the fastest around, and then more local financial support from Chris Sedgeman Scaffolding a man passionate about our sport and RGB Builders, without these I could not finance the season and Kona.
Thanks Neil – and see you on Ali'I Drive soon…
Hopefully earlier in the day, rather than later, HA!