Speedy triathletes run London Marathon 2017
Here are a few (email via editor@tri247.com if we've missed any), triathlete-related names, past or present, who we've spotted towards the front end of the results lists in the 2017 edition. No doubt we've overlooked a few, so do get in touch if you've spotted anyone we should add in. We'll be updating this regularly.
Check out our separate 'specials' featuring Chrissie Wellington, James Cracknell and Matt Sharp.
| Name | Time | Comments |
| --- | --- | --- |
| Matt Sharp | 2:17:45 | 2011 World U23 Champion |
| Andy Greenleaf | 2:27:42 | Team Freespeed / BallBuster Duathlon record holder |
| Hywel Davies | 2:33:18 | Multi-talented athlete across all disciplines and formats |
| Neil Eddy | 2:34:40 | Headed to Kona 2017 |
| Christopher Wallace | 2:35:07 | Ironman athlete, member of ONE Triathlon RDS |
| Rob Arkell | 2:37:04 | Kona qualifier |
| Tom Dudden | 2:40:44 | |
| Piers Vallance | 2:41:21 | |
| Joel Jameson | 2:42:24 | Outlaw and Vitruvian winner |
| Joseph Spraggins | 2:42:24 | Guinness World Record - fastest marathon dressed as a swimmer...! |
| Max Dillon | 2:42:53 | |
| James Cracknell | 2:43:12 | 2x Olympic Gold medallist |
| Lee Rankin | 2:44:11 | ETU Duathlon Champion (35-39) in 2011 |
| Paul Martin | 2:44:56 | Heading to Challenge Roth this summer |
| David Bowden | 2:59:03 | Prep for ITU Long Distance World's |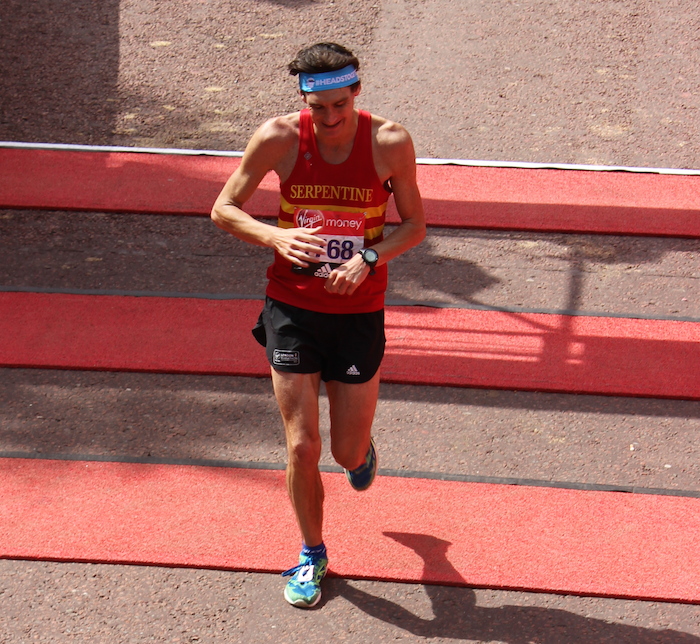 All on track until 20 miles then Ball of foot in excruciating pain. Boxed it off and finished but we had fun and beer is calling

— HywelTowel (@hyweltowel) April 23, 2017
| Name | Time | Comment |
| --- | --- | --- |
| Chrissie Wellington | 2:49:01 | 4-time IRONMAN World Champion. AG 40-44 Winner |
| Laura Trimble | 2:53:26 | GB Age-Group athlete |
| Victoria Kenny | 2:55:37 | GB Age-Group athlete |
| Jenny Latham | 3:00:47 | Former World and European AG Champion |
| Edwina McDowall | 3:02:34 | GB AG athlete and regular 70.3 podium finisher |
| Christine Howard | 3:05:41 | 2x AG World Duathlon Champion |
| Harriet Chettleburgh | 3:07:56 | Kona Qualifier 2015 & 2016 |
| Fiona Ford | 3:09:43 | Kona podium finisher 2016 |
| Helen Murray | 3:13:16 | Host of the Oxygenaddict podcast |
| Michelle Parsons | 3:14:43 | Multiple Powerman Duathlon winner |
| Natalie Lawrence | 3:19:38 | Former GB Pro athlete |
| Maree Jesson | 3:23:04 | 3x Kona qualifier |
| Paula Robinson | 3:28:18 | 2x Kona finisher - and a PB (AG 50-54) |
| Hollie Avil | 3:32:16 | Beijing 2008 Olympian, Junior and U23 World Champion |
If there is one thing I am good at, it's executing like a ninja #2.53 #blacklinelondon #vlm pic.twitter.com/Z3btiolTK3

— Laura Trimble (@LauraTrimble1) April 23, 2017
I did it ! Small pb off less than 11 weeks training and having a baby (!!) amazing support #VLM2017 pic.twitter.com/qmoJUngOMA

— Natalie Lawrence (Barnard) (@nataliebarnard1) April 23, 2017