Veteran Craig Twigg adds to his Outlaw 'legend' status
Debbie Moore makes it a winning double for the Speedhub Race Team
They seem to do it. Every, single, time. From whichever angle you are looking, you have to just stand back and say a massive "well done" – OSB Events just deliver fantastic races, time after time.
The Outlaw is effectively their 'brand' of middle and long distance events, which, with the second edition of the Outlaw Half Holkham on Sunday, was actually the 14th race in the sub-series since the debut of the full distance Outlaw in 2010 (7), the addition of the Outlaw Half Nottingham in 2013 (5) and now with race two of the 'Outlaw goes on holiday' in North Norfolk. A select group of athletes collected their 14th Outlaw medal yesterday. It is easy to see why athletes return – and the races continue to attract new faces and admirers.
Let's have another!!!@OutlawTriathlon pic.twitter.com/8kK3G1tAB9

— David Manning-Ohren (@DavidOhren) June 30, 2017
And, we shouldn't take that for granted. Around 1,300 racers started on Sunday (from an entry north of 1,600), and that was on the same day as a brand new, UK-based M-Dot event at IRONMAN 70.3 Edinburgh.
The events market is very difficult right now – entry numbers falling, competition from lots (too many…) events trying to attract entries and domination from the BIG brands like IRONMAN and Challenge. Word on the impressive 2016 debut of the Outlaw Half Holkham got out to the masses – and a significant increase in entry numbers for edition two bucks the national trend in a big way. If you want any further evidence that you should certainly consider this race if you are looking for a middle distance event in 2018, that tells you all you need to know.
The Elite
Following requests from the athletes themselves, OSB Events added an 'Elite' wave this year. Avoiding the situation from 2016 when overall winner, Reece Barclay, took the title but wasn't the first athlete across the line (having started in a later wave), this put all of the 'speedy' guys and girls in wave one – and provided a great quality domestic entry, as I previewed HERE.
Despite some late withdrawals due to injury, cars breaking down and various other issues (Lucy Charles, Reece Barclay, Richard Ebbage, Chris Goodfellow among them), we still had some strength-in-depth at the head of the race.
Elite Men
First into T1 after the swim was a perhaps surprised Sam Proctor – in part because the leading group of four (which I'm pretty sure included Simon George, Neil Eddy and Michael Birchmore?), all rounded the final buoy turned left and…. headed off in the wrong drection! Not quite sure how that happened, given that the exit was marked with a giant inflatable blue arch, around 15 flags and wasn't that far away, but, even the best can lose their head sometimes. Anyway, they soon sorted themselves out and got back on track. Time lost, but not race over. Lots more athletes into T1 over the next couple of minutes, including twice Outlaw full distance winner, Craig Twigg, James Gill and Sam Begg (4th in 2016).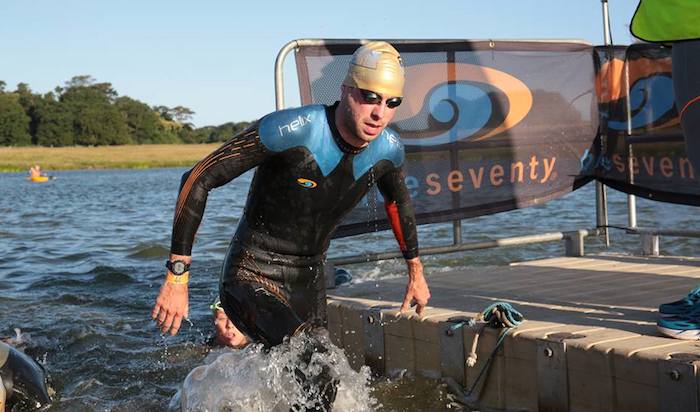 Once out onto the North Norfolk roads, the 45 year old Craig Twigg was playing his trump card. Ageing like a fine wine, the time splits were increasing as the Twiggstar was alone and solo at the front of the race. His 2:13:03 split put big time into almost everyone, with most of the other expected contenders in the 2:20-2:22 range. One man who did – as expected – go faster was Matt Bottrill. After a 34:51 swim, the multiple National Time Trial Champion powered from outside of the top-20 at T1 to reach T2 in second place after a 2:09:40 ride. A great ride from Matt – but also, in my eyes, a measure of the quality of the bike split from Craig too.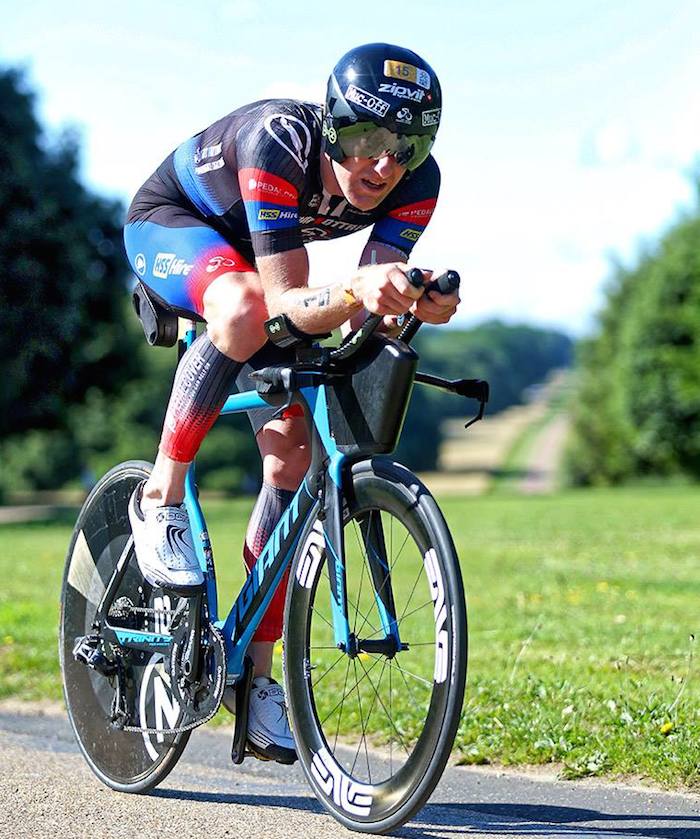 While Matt wasn't expected to hold on to that second place over the half marathon, Craig's next potential challengers to reach T2 were Simon George (third last year), and Neil Eddy. They would have around seven minutes to make up on Craig – but Neil is a 2:34 marathon runner, so anything was possible. Sam Proctor, Michael Birchmore, Tom Burkinshaw, Tom Vickery and Harry Palmer were among those who arrived a couple of minutes later.
Eddy was making his intentions clear from the very start of the run, and cutting into the lead ahead. Twigg's running is not his best discipline – but he is a 'strong' runner. Having played his cards on the bike, he would have been expecting some fast feet to be approaching from behind… but he was in charge, and had fully earned his T2 lead. He had 13.1 miles to protect it.
Neil Eddy and Michael Birchmore had moved into a clear second and third by the midpoint of the run, and were making time up on the veteran every mile – but Twigg was still  looking strong, running well, and if he was suffering… well, he was hiding it well!
https://www.instagram.com/p/BWDY6gsDbPx/
Ultimately, experience would triumph over youth, and Craig Twigg arrived back at the end of lap three in front of the stunning backdrop of Holkham Hall, made the right turn onto the red carpet and knew another 'Outlaw' title was his. The 2016 course record was totally smashed apart (by the top five finishers!), and as a result Craig will also earn a £1,500 bonus. Nice work, Sir! Neil Eddy ran 1:20:56 to take second (versus the 1:27:07 of Twigg), while the fastest (individual) run of the day went to Birchmore (1:18:22) in third. Less than two minutes separated the podium at the finish line.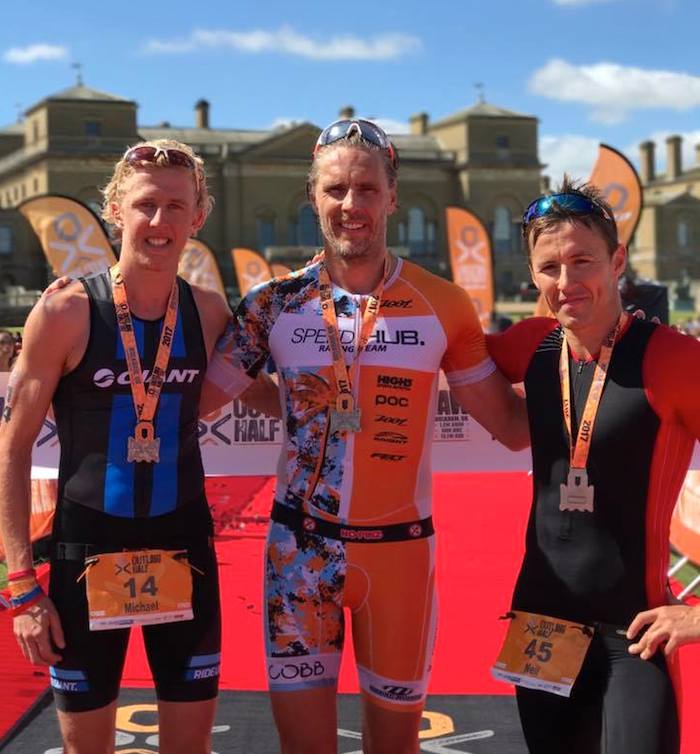 When will age catch up with @twiggstar ? It needs to bloody hurry up! #Immortal #Beast

— Tom Vickery (@Vickery_Tom) July 2, 2017
Elite Women
The Elite women's race would prove to be a gun-to-tape victory for Debbie Moore, and a double for the Speedhub Race Team – though, that probably doesn't fully tell the story of the race.
The current Scottish Standard Distance Champion – and fifth recently at the British Elite Championships at the Blenheim Palace Triathlon – seeing Debbie Moore in T1 early, alongside the Elite men with a very speedy swim (26:19) was no surprise. After an online recruitment process, she joined the Speedhub team earlier this year, deciding to try and focus her efforts on the longer distances now.
She would have a significant early lead over Emma Deary (29:52), Claire Shea-Simmonds (31:16), and then a further gap back to Outlaw Half Nottingham winner, Gill Fullen, Claire Weller (Ipswich Tri), Rhiannon Strickland, Cat Benger, Justine Lynch and Ewa Mitka, who would all have some significant gaps to close if they were going to get near to the speedy Moore.
Debbie would extend her lead on the bike, a 2:33:06 split bettered only by the impressive riding of Claire Weller (2:32:55) which took her right through the field to second place at T2. Still, Moore had the best part of a nine minute leading margin at T2, 11 over Emma Deary, and even more over Fullen, Lynch, Strickland, Mitka and Benger who were all pretty close starting the run…but still around 15 minutes back. Was it too much?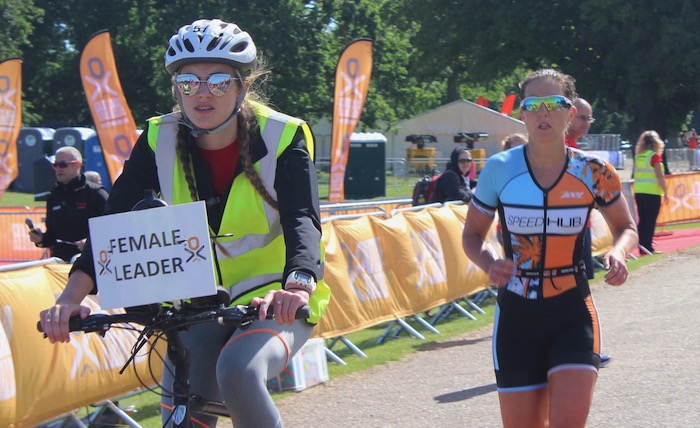 Super veteran legend Gill Fullen emerged from the large chase pack to be the athlete on the move, but for the majority of the run the top four positions were relatively static – Moore / Weller / Deary / Fullen… however, closer inspection showed that the gaps between athletes were closing. Deary (1:30:35) and Fullen (1:29:45) were flying along and would eventually push the impressive Weller down into fourth, but at the front of the race Debbie Moore was suffering. Like Twigg, she had built a big T2 buffer – but you've still got over 13 miles to run… and the Holkham course is not an easy one.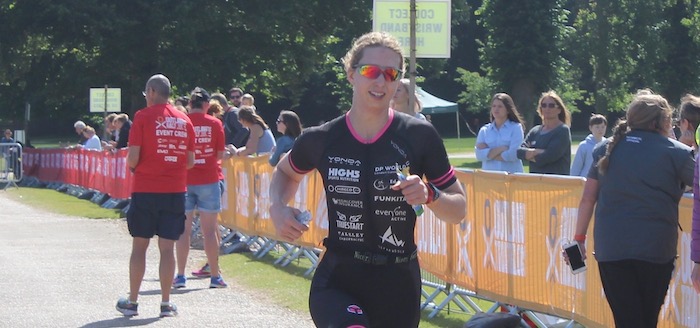 Despite having to tough it out on the run at times, Moore would hold on to her position via a 1:40:12 split, which meant that the final podium positions were a lot closer than perhaps would have predicted at T2.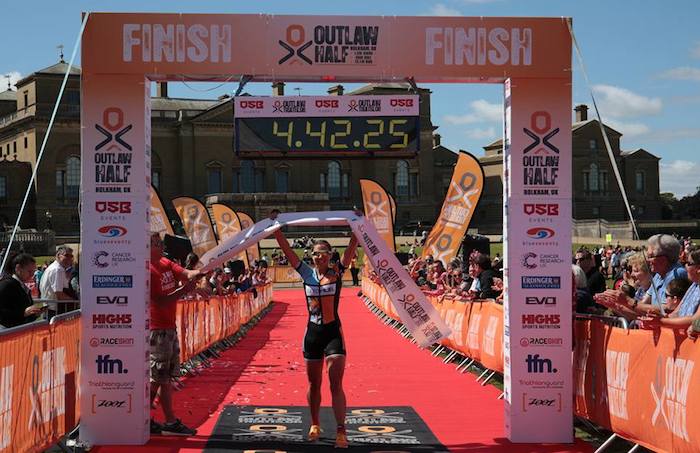 After winning the Outlaw Half Nottingham, third place at the Outlaw Half Holkham was another top result for Gill Fullen. 53 this year and less than 12 months after recovering from cancer, this women is a true inspiration to many.
Relay
A word too for the Race Hub Relay team. The Relay entries started 18 minutes after the Elite individual wave, and Race Hub had entered a team with the goal of closing down that entire margin to be the first across the line. I'll freely admit that I thought that would be a challenge too far… but I was wrong! The trio of Carl Shaw (swim, 23:35), Pete Nicholls (bike, 2:07:36) and Tom Davis (1:15:54) completed the course in a total of 3:49:25, with Davis able to pass Twigg on the final lap of the run. Impressive.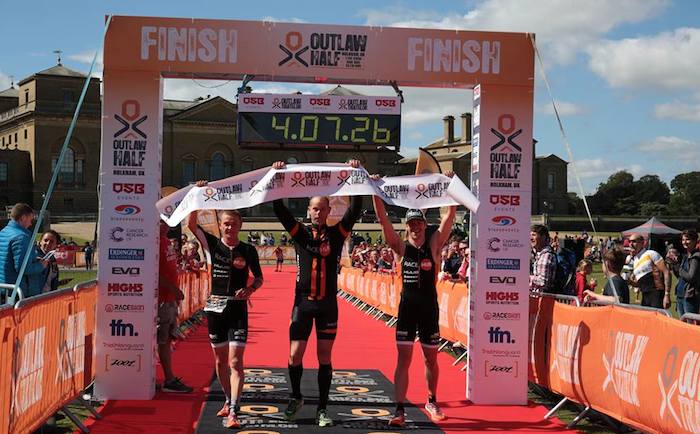 Overall, a great day at an absolutely incredible venue. The backdrop of Holkham Hall truly is a sight to be seen, and once again the weather gods were on our side. The race will, and rightly should, be on the 'to do' list of any middle distance triathlete who wants to experience the very best of British. Come and try it… you won't be disappointed.
What an amazing race the @OutlawTriathlon 1/2 at Holkham was. Great location, challenging but fast, very relaxed and just totally brilliant.

— David Pearce – Photographer/Publisher (@TriPhotographer) July 3, 2017
Outlaw Half Holkham – Sunday 3rd July 2017
1.9km / 90km / 21.1km
MEN
1st – Craig Twigg (Speedhub) – 4:09:17
2nd – Neil Eddy (Giant Helston) – 4:10:08
3rd – Michael Birchmore (Giant Helston) – 4:11:15
WOMEN
1st – Debbie Moore (Speedhub) – 4:42:26
2nd – Emma Deary (Stortford Tri / Yonda Racing) – 4:44:12
3rd – Gill Fullen (Bedford Harriers) – 4:48:01
RELAY
1st – Race Hub – 3:49:25
2nd – 100% Tri – 4:08:41
3rd – Race Hub Mixed – 4:18:51