Can anyone stop a Lucy Charles victory?
And will Reece Barclay defend his 2016 win for a household double?!
The second edition of the Outllaw Half Holkham has attracted over 1,300 entrants to North Norfolk for Sunday's race, which starts and finishes directly outside of Holkham Hall, the home of the Earl of Leicester (himself a keen triathlete!).
One new edition for 2017 is the addition of an Elite wave which will kick off proceedings at 6:27am. Following the Cardiff Triathlon last weekend, the event has attracted another good quality domestic field.
The addition of the Elite wave should make things clearer and more straightforward for both athletes and spectators. Last year, overall winner Reece Barclay started in a later wave (due to his age-category), and thus the first across the line (from the first wave), Tom Vickery, was pushed down into second place later in the day. If this new addition from OSB Events works well, we may well see it rolled out to other events in the Outlaw series.
While there is no £10,000 prize purse on offer as was the case in Cardiff, a total of £1,500 is available should either of the inaugural course records be beaten on Sunday. Should both records be broken, the fastest Elite athlete will receive £750 each. If just one record is broken, one athlete will walk away with the full £1,500 – as Mark Threlfall did at the Outlaw Half Nottingham in May…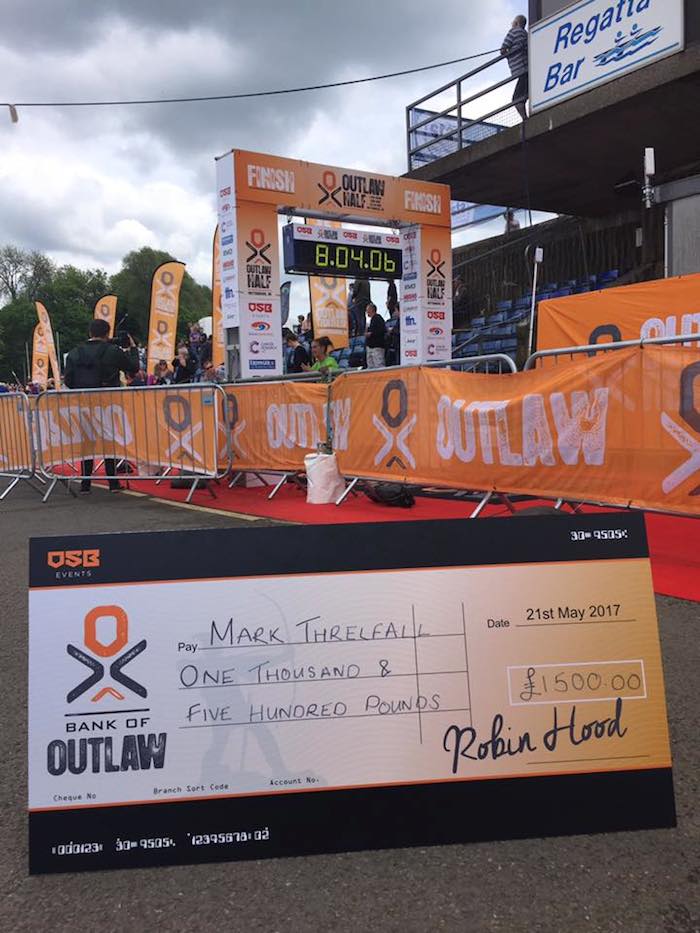 Outlaw Half Holkham Course Records
Men: Reece Barclay, 4:17:18
Women: Catherine Faux, 4:32:14
Women's Preview
Having already won – according to the Challenge Family money list – a total equivalent of USD $41,760 so far in 2017, Lucy Charles is an odd-on favourite to both win and, potentially, claim at least a share of the course record bonus money. Back-to-back wins at Challenge Lisboa, IRONMAN Lanzarote and The Championship put her on a different level – on paper – to the rest of the women's start list on Sunday. She is scheduled to race IRONMAN Frankfurt in Germany a week later however, so will she be looking to go 'full gas'? 90% would likely still be enough, but it would open the door, just a touch, should anything go wrong…
I should also add, any record set by Catherine Faux is not going to be a simple task either – remember THIS?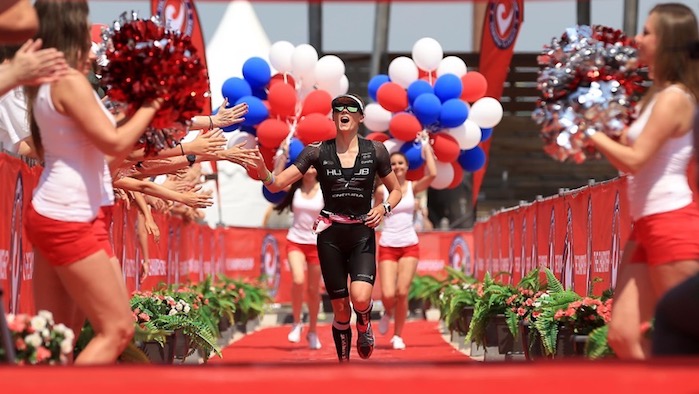 We of course have to mention the super (in all regards) veteran, Gill Fullen. Already a British Age-Group legend with a trophy cabinet full of Gold from ITU and ETU Championships, her name was thrust further into triathlon consciousness courtesy of this interview I did with her earlier this year. It's a must read. Coming back from cancer, chemotherapy and major surgery just months prior, Gill won the Outlaw Half Nottingham overall in May. It was an emotional and incredible performance. Two months on, I expect she will be even faster.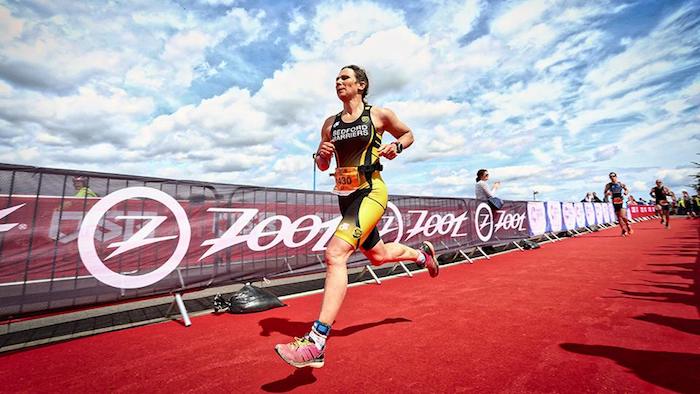 Also racing on Sunday is Debbie Moore. Winner this year of the Scottish Olympic Distance Championships and fifth recently at the British Elite Championships in Blenheim, she also has experience over the longer distances. That pedigree should put her in podium contention on Sunday.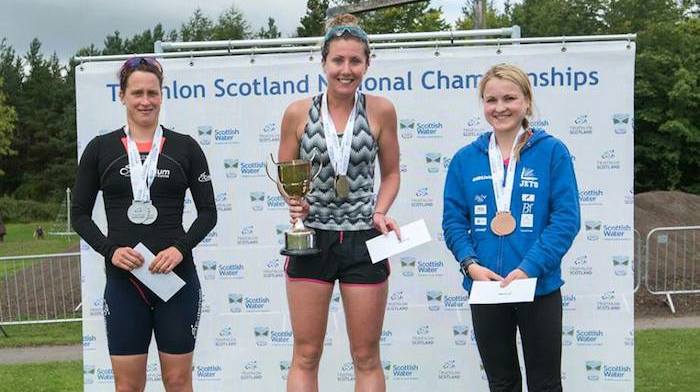 Others to watch include Anna Weaver (second at the Outlaw Half Nottingham), Kona qualifier Rhiannon Strickland and 2016 ITU AG World Champion, Emma Deary, who earned an Age-Group podium just a couple of weeks back in her first race over the distance at IRONMAN 70.3 Staffordshire.
Men's Preview
Having won in Nottingham, Mark Threlfall was looking forward to the opportunity to race for another win and £1,500 cheque – but unfortunately is a late withdrawal from the race.
Lucy Charles' partner, Reece Barclay, is the defending champion, has improved since then and is in great form himself (first Age-Grouper overall at The Championship in Slovakia). In the absence of Threlfall, he'll possibly start as the slight race favourite… but there is not much to choose between a closely matched group of athletes. One race he might lose (again!), is the race to T1, given that super fish Lucy starts in the same wave… that'll be more washing up for Reece, then.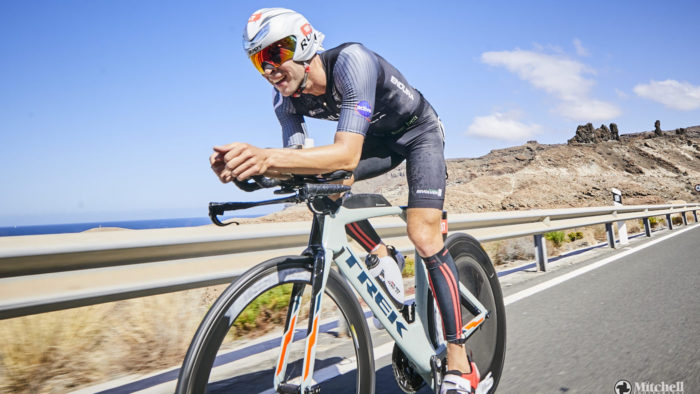 Having missed the Outlaw Half Nottingham through injury, Karl Alexander will be keen to get his season off to a good start finally. That said, breaking your elbow is not ideal preparation for working on your swim – his weakest discipline – so perhaps we'll see the best of Karl in three weeks time at the full distance? He'll be looking for a strong performance – but even that might not be enough for a podium position on Sunday, given his delayed racing start to 2017. Fingers crossed he doesn't have the bad luck of last year which saw him forced out of the race at T2 with a back injury.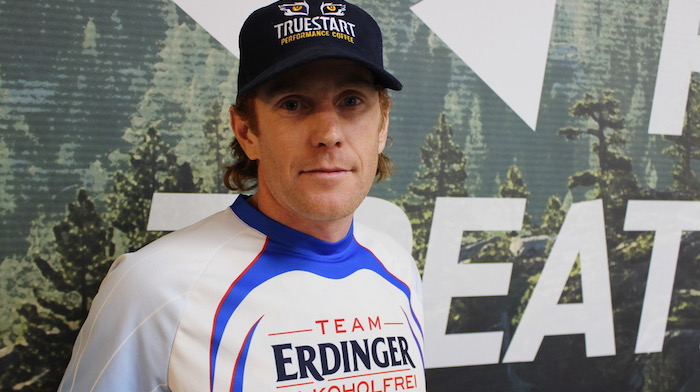 Something of an ever-present at the OSB Outlaw events is Simon George. The towering figure was oh so close to winning in Nottingham last year, and then finished third in Holkham. He'll be back – with his Giant bike – to give it another go. The lecturer in sports science will always arrive prepared and ready to give his best.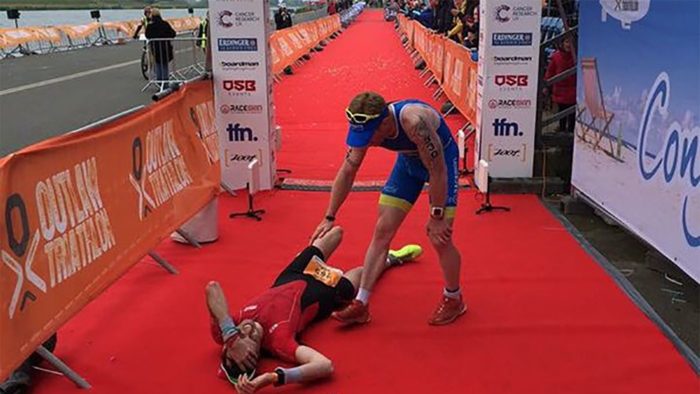 I'd also be looking out for Michael Birchmore. He has been British and English champion over the distance in recent years and just a few weeks back finished second in his Age-Group at the IRONMAN 70.3 European Championships in Denmark. He will be in the mix with that level of talent.
Good to be home from first race of season. Thanks to all the support to get me to start line. Been a tough few months with injury. #70.3 pic.twitter.com/D8onr4wai3

— Michael Birchmore (@MikeBirchmore) June 24, 2017
The bike course will likely be expecting some fireworks from Matt Bottrill. Still developing his swim and run skills, the many times National TT Champion is still an immense force on two wheels. Will that be enough to challenge the overall podium against some experienced triathlon specialists on Sunday? My guess would be not quite – but it is always a pleasure to watch Matt. Still enthused by his new sport, you'll not meet a more genuine or helpful guy.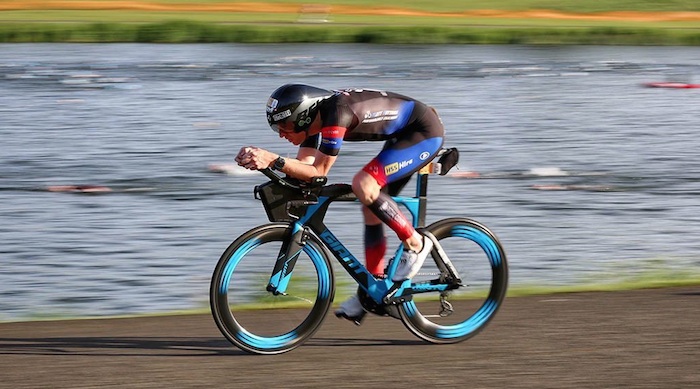 One man who will be pleased to be starting at the same time as most of the favourites for a change is veteran Craig Twigg. Twice a winner of the full distance Outlaw, Craig finished third overall at the half distance Nottingham event in May.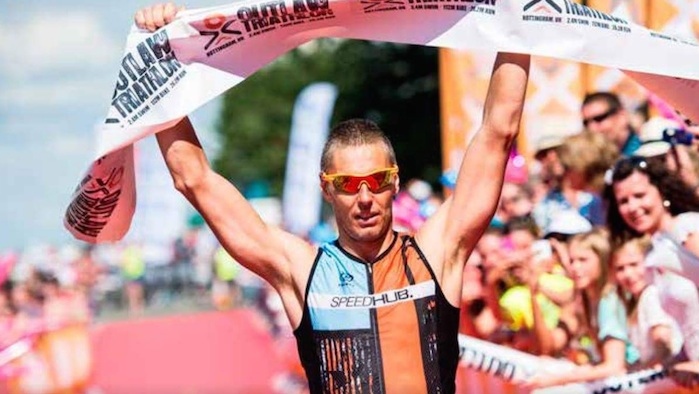 Alongside Reece (1st) and Simon (3rd), the return of Tom Vickery (2nd) and Sam Begg (4th) means that all of the top four from 12 months ago will be racing again. Vickery is typically one of the fastest runners around, so if he can leave T2 in contention, anyone in front will have to be looking over their shoulder.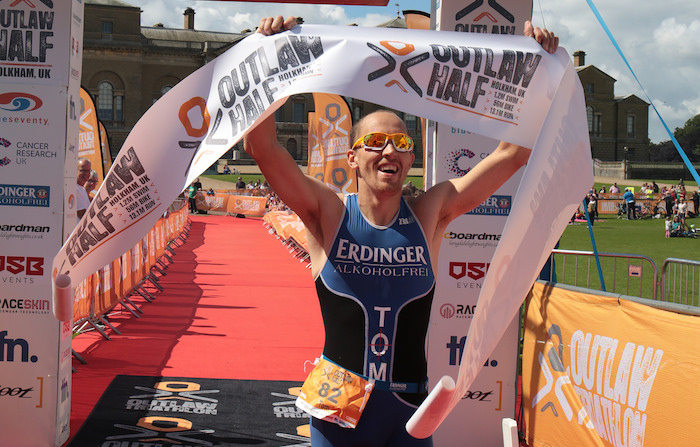 A few other names of note include Neil Eddy (winner of the Cotswold 113 recently, and already qualified for Kona 2017), Chris Goodfellow (an 8:47 Ironman and winner of the Dambuster Triathlon) and Martin Palmer, who last year finished sixth overall at the Alpe d'Huez Long Course Triathlon.
There are others I could, and probably should mention – but hopefully you get the picture – this is a very good quality domestic field which will hopefully provide some close and interesting racing this Sunday.