The bike Simon George will be chasing an Outlaw Half win on…
Giant Trinity Advanced Pro 1 2017
It was one of the pictures of the 2016 domestic season, and one that Simon George will be hoping is not repeated on 21st May this year.
12 months ago Karl Alexander retained his title at the Outlaw Half in Nottingham by just eight seconds, catching Simon literally in sight of the finish line. To that point, Simon had lead the entire race…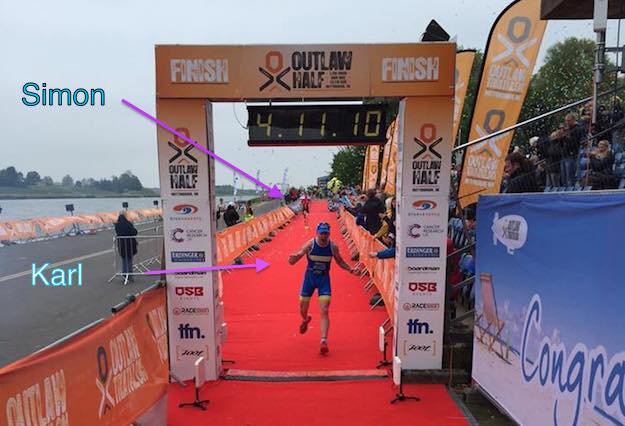 Both Karl and Simon will be returning to Holme Pierrepont in around 10 days time (where they will be joined by Philip Graves, Mark Threlfall, Matt Bottrill and no doubt several other contenders), and both will have few excuses in the equipment department.
A few weeks back we profiled the new Planet X EXO3 TT/Tri that Karl will be riding, so we thought it appropriate to check out the new wheels of Simon George. He is also coming ready to race, thanks to the support of Giant Store Lincoln (www.giant-lincoln.co.uk).
Another no compromise speed machine, Simon will be racing the Giant Trinity Advanced Pro 1 2017. Let's take a detailed look…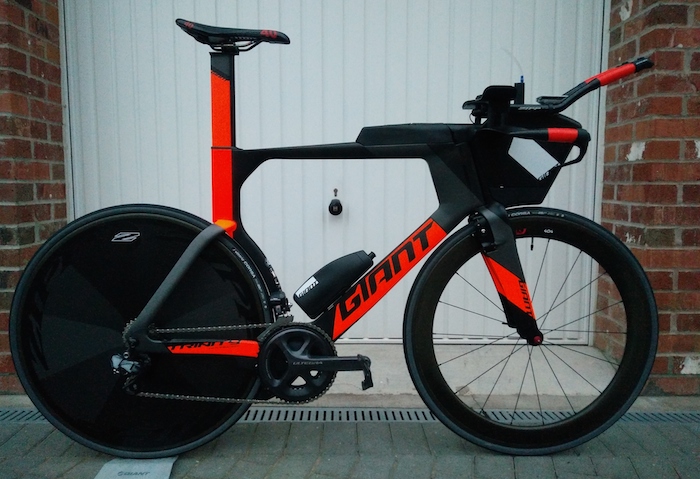 For someone who around 6 foot 5″ tall, it is quite appropriate that Simon rides a 'Giant'. This is a size 'L' frame – though if they made an 'XL', he may well have been riding that.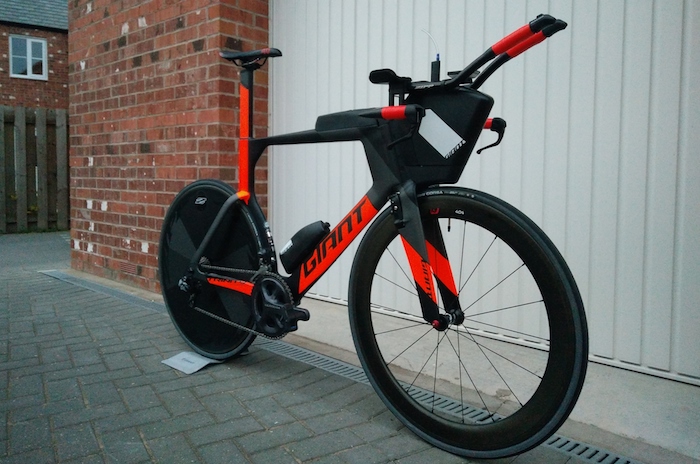 The bike comes with Shimano Ultegra Di2 gearing as standard, 11-speed, with 52/36 chainrings. The integrated front hydration and top tube storage is a key part of the Trinity Advanced Pro 1 in 'triathlon mode'.
Simon uses a relatively narrow range 23/11 cassette "to keep jumps between gears to a minimum and cadence smooth."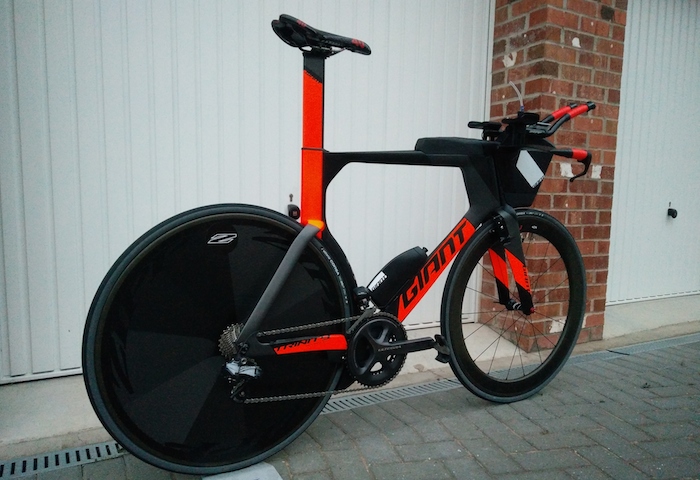 Zipp Super 9 Clincher rear disc and Zipp 404 Firecrest Clincher front wheel provide plenty of speed in the wheel department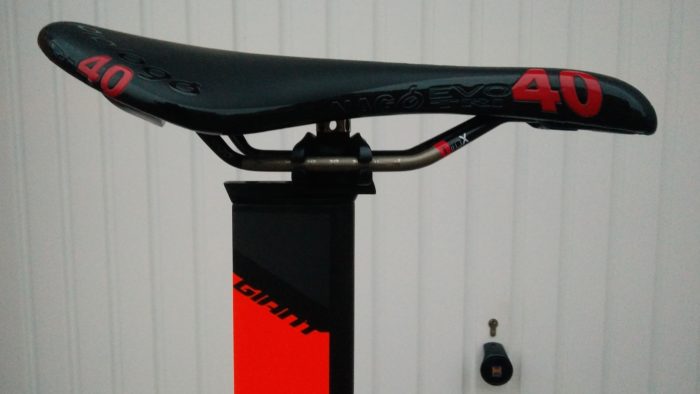 Simon uses a Prologo Nago Evo Tri40, which he has used for the last three seasons. The scientific reason for that decision? "It just suits my bits!"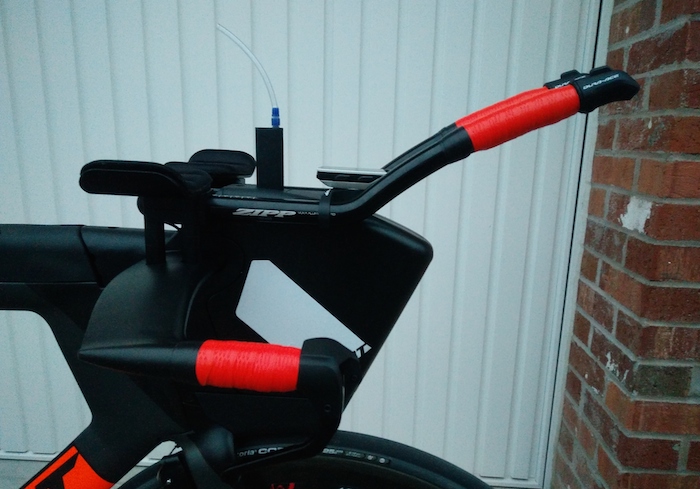 The Bar Extensions are Zipp Vuka Alumina 110mm rise ("preferred and more comfortable hand/forearm position to the standard s-bends").
Giant Stratus 2.0 bar tape; "Why not, it looks ace!"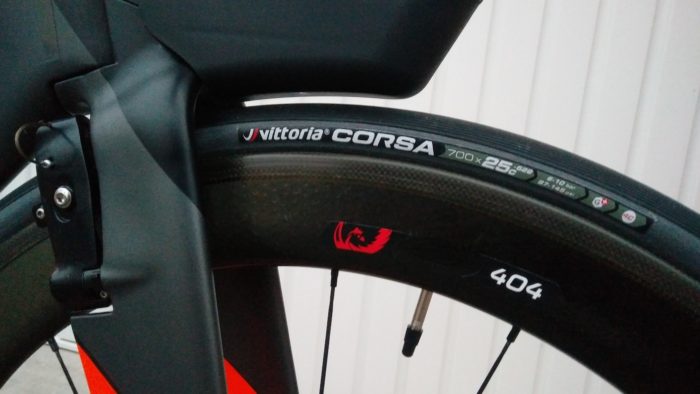 Vittoria Corsa G+ 25c front and rear tyres: "After crashing out on a slippery corner and landing on my face at Monster Middle last year and two further races with punctures, a change and confidence builder was needed. The Vittoria's fitted the bill of being quick with a reasonable amount of puncture protection."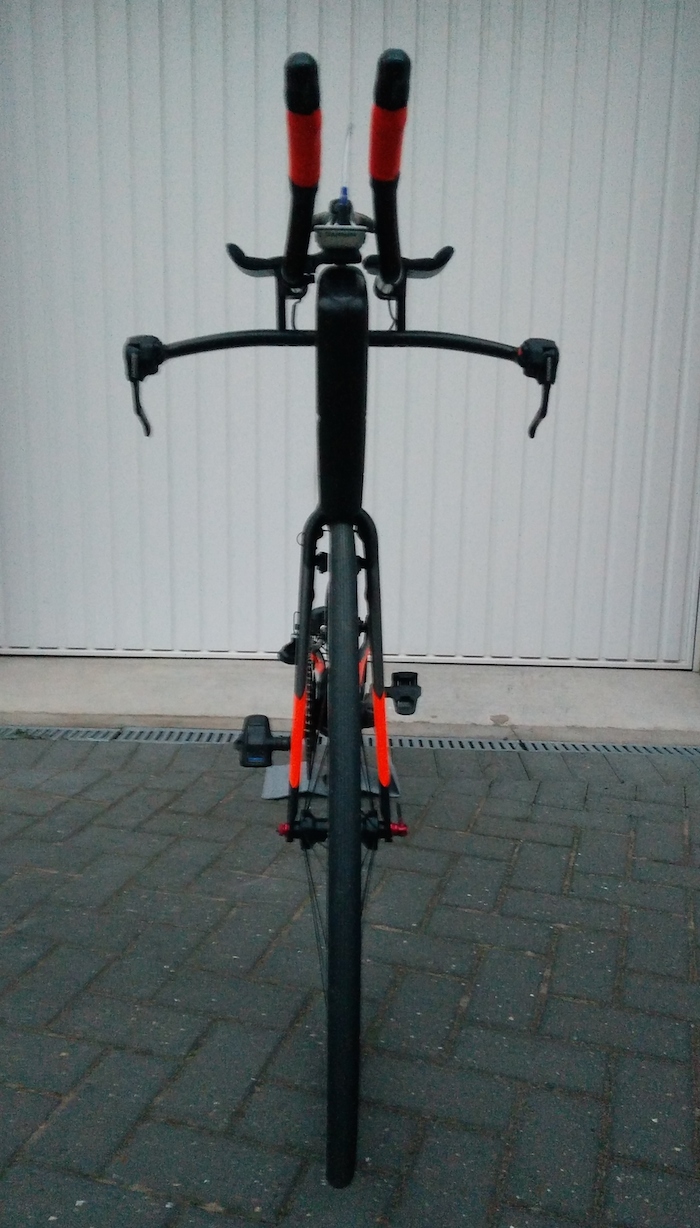 The front view of Simon's ride – looks like he has worked hard, as a tall guy, to ride with a narrow elbow position to aid aerodynamics.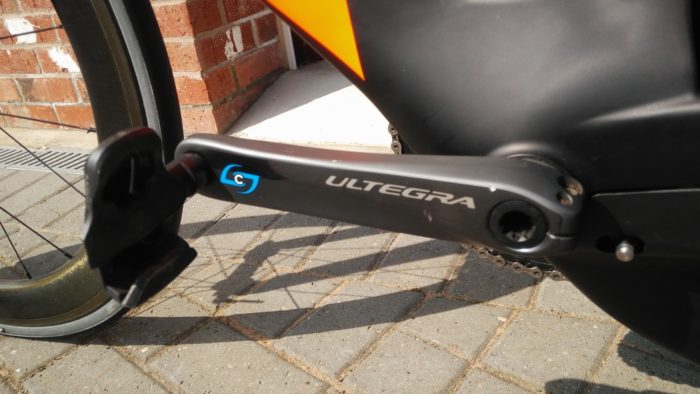 Stages Ultegra Power Meter and Garmin Edge 520 on Zipp TT mount: "Data is a must for me working in Sport Science! I'm not a slave to it, but both power and HR data help inform my pacing during racing and training alike and I regularly test in our labs at the University of Lincoln to check where I am and re-adjust training zones accordingly."
The pedals are Look Keo Blade Carbon 20Nm, "with slightly reduced weight on the left side due to the aforementioned crash!"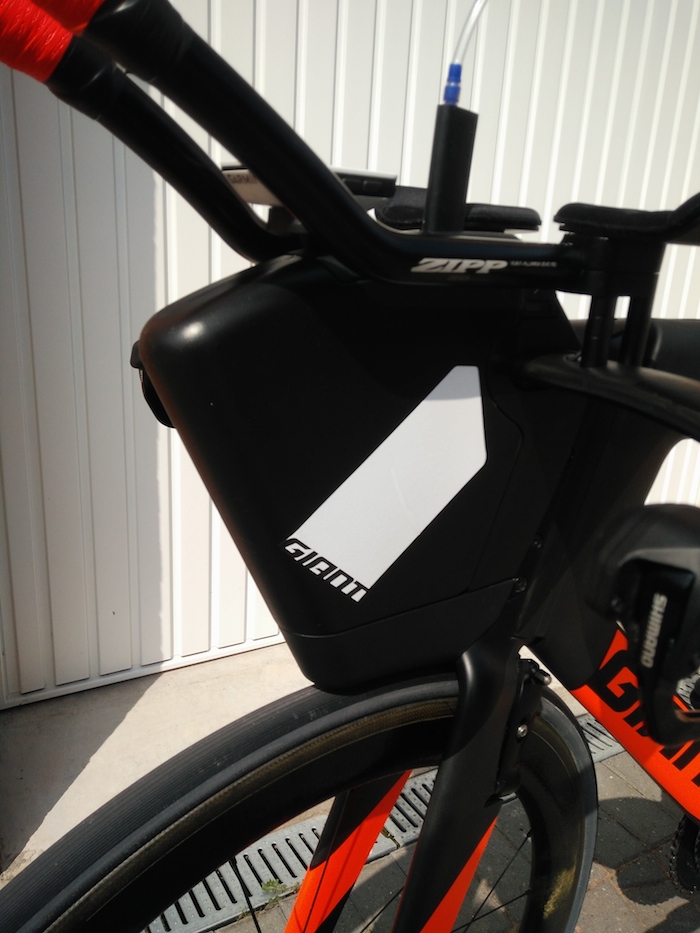 A close up of the integrated aero hydration system on the Trinity Advanced Pro.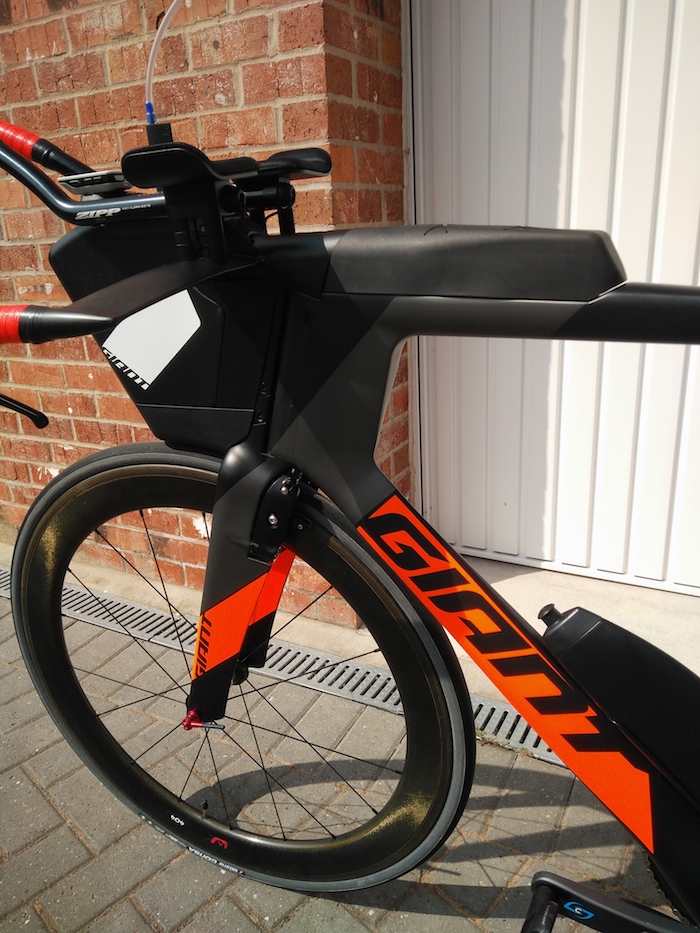 Custom Straw Extension – "It's amazing what you can pick up at 'Pets at Home'!" Also notice the front calliper hidden behind, and integrated with, the deep forks.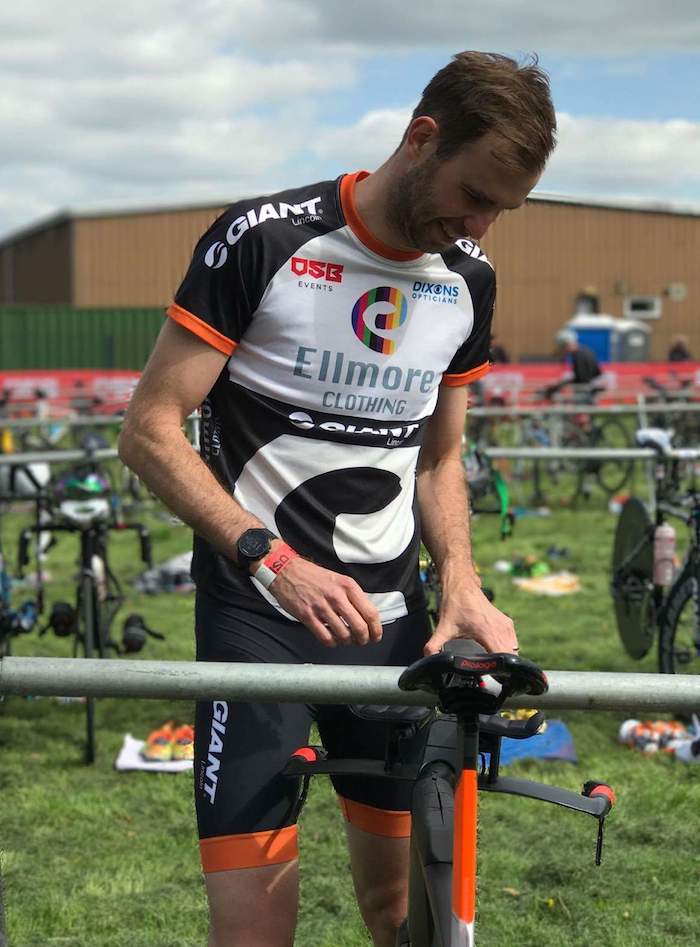 Looking relaxed before the recent Southwell Sprint Triathlon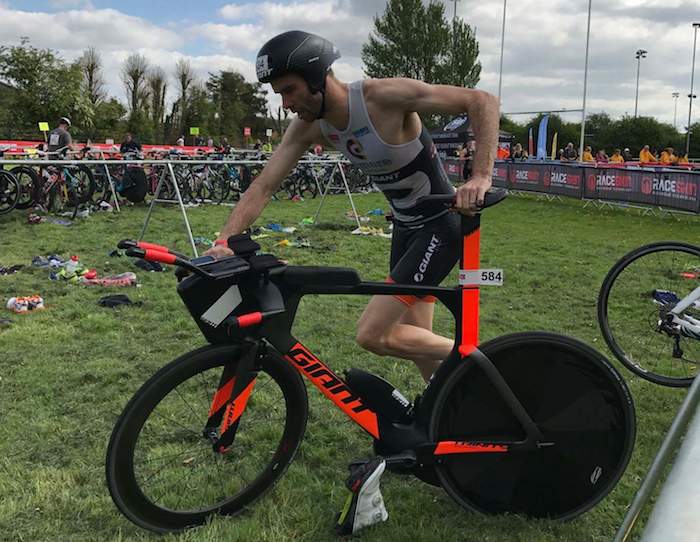 And looking not quite so relaxed in race mode!