Two-time and defending champion OUT of the Outlaw Half
Karl Alexander says, "I'm absolutely gutted…"
It was one of the most memorable sights of the 2016 domestic racing season – but we won't have any chance of a repeat of this image at Sunday's Outlaw Half Triathlon in Nottingham. Injuries sustained in a recent bike crash mean that Karl Alexander will not get a chance to try and three-peat – which was one of his primary aims of the year.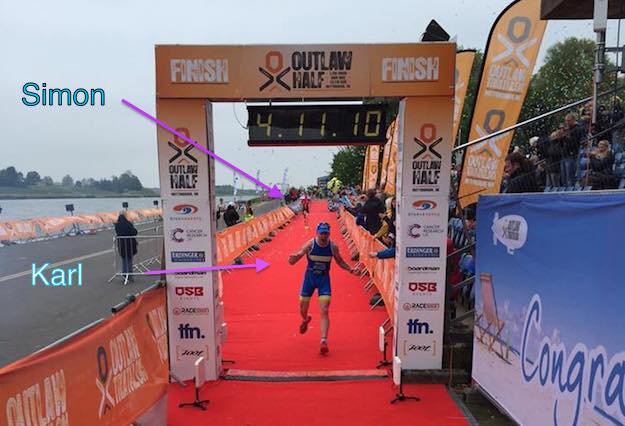 In the best shape of his life, Karl's three big targets this year were the Outlaw Half, Outlaw Half Holkham and The Outlaw. Injury means he'll have to miss the first of those, the race he has won for the past two years.
Here's why…
When the best laid plans go wrong… but, I'll be back!
Coming into the 2017 season, I'd done everything right. Winter training had gone really well, despite taking it easy throughout October and November. I picked up training in earnest in December and results from lab testing had shown an increase in bike power across the board from Lactate Threshold to VO2Max. Coupled with a significant loss in body weight meant I was going faster for less effort. PB's in the pool and on the run were also showing promise.
But, sometimes life has a way of bringing you back to earth – quite literally – with a bump.
Whilst participating in an event in Lake District, I overcooked a high speed corner on a descent and had an altercation with a hedgerow which gripped my bars, stopping me suddenly from 35mph and dumping me rather unceremoniously onto the tarmac, in the process relieving me of skin in return for some rather fetching road rash. Being made of tough stuff, I got up and dusted myself down, checked my bike and was back riding the last 30 miles (of 112) to the finish.
Over the next few days, I continued to train, but the pain in my right elbow didn't seem to want to go away. Everywhere else was feeling better except my elbow and with some encouragement (read, nagging…) from my wife I finally took myself to the local Minor Injuries Clinic for an assessment and X-Ray which confirmed my worst fears.
Over the last few days, it has been rest and painkillers in the hope that I could recover and be on the startline for the Outlaw Half this Sunday. But, after conversations with my wife and the Editor of a popular Triathlon website (!), I've made the decision to withdraw, recover and refocus on upcoming events. After two DNF's last season, the last thing I wanted was a DNS to start the season, but participating could have repercussions later down the line.
To say I'm upset is possibly a contender for understatement of the year. I'm absolutely gutted to not be lining up to defend my Outlaw Half title in pursuit of my third consecutive victory. But, I have to be pragmatic and realise that with the quality of the field assembled I have to be nothing less than 100%.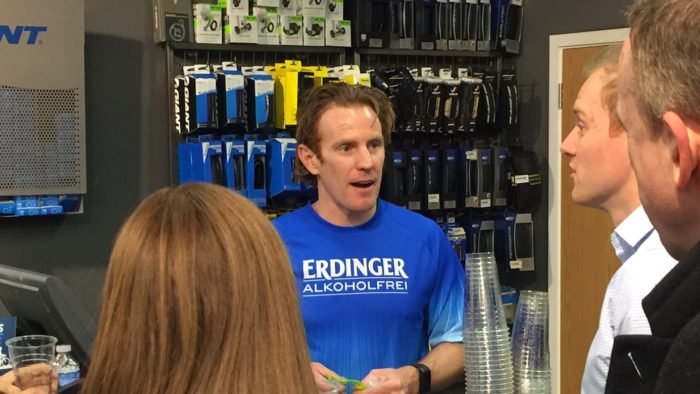 I'll still be in Nottingham for the race, I'll be presenting the winners ERDINGER Glass this year instead of receiving it and I'll see if I can commandeer a microphone for some commentary too.
It's going to be a great race, I'm just bummed I won't be a part of it!