Anglo-Aussie long distance athlete, Sarah Lewis, is likely to be a name you will be hearing much more about in 2018.
In early February, she raced at IRONMAN 70.3 Dubai, finishing second to Germany's Anne Haug – and ahead of 2016 IRONMAN 70.3 World Champion, Holly Lawrence – in a very competitive field at round one of the 2018 Nasser Bin Hamad Triple Crown Series.
2017 was a roller coaster for the the first year Pro, from being knocked off her bike while training in Lanzarote – and going through the side window of the car that cut in front of her – bouncing back to European Championship Elite medals and winning IRONMAN 70.3 Dublin.
With a more positive start to 2018 (also winning Challenge Roma recently), a new coach and that breakthrough Dubai result to build on, I wanted to find out more about the former Corporate Finance Advisor.
---
As if to prove the exception to the rule, after my introductory comments recently when interviewing Georgia Taylor-Brown, when I called Sarah Lewis recently, training was one thing she hadn't been doing that day… "I'm relaxing on the sofa, it's an admin day!"
As I would find out over the next hour, don't take that as any suggestion that Sarah Lewis is not a hard worker. This is someone who selected her career by applying for "the most challenging job [for myself] that I could find."
Bronze medallist last year at the ETU Challenge Middle Distance Triathlon European Championships in Herning, Denmark, the 2017 season for Lewis – her first as a Pro – got off to a very delayed start. The reason for that was a horrendous bike crash early in 2017 which left Lewis with many injuries, including 60 stitches in her face and significant nerve damage amongst others.
"We were out training in Lanzarote over Easter last year when a car turned left in front of us. Tim, my husband, was behind me and a few metres back. He managed to avoid it but my head went through the side window at 35kph – fortunately I don't remember anything after seeing the car. By chance there was a British nurse walking on the pavement close by when the accident happened, she cleared my airways and stopped the bleeding with a bystander's shirt before the ambulance arrived.
"The main effects of the accident were extreme cuts to the right side of my face (scarring from the upper right cheek through to the lower left chin and nerve damage), loss of short term memory, whiplash head/neck injuries, anaemia from the significant blood loss and multiple injuries to my right hand."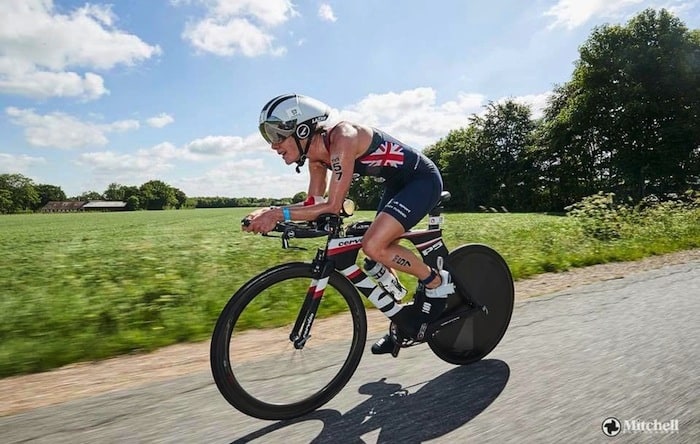 First season results
"I felt that I was well enough to race by June and this is what I was going to do no matter what the results. I raced almost as soon as I could train, my first events being the ETU European Middle Distance Championships followed by the IRONMAN 70.3 European Championship the following weekend. There was no way I was going to miss my first season and getting back on track was my priority."
That Lewis could race at all was remarkable; that she was winning races and gaining podium positions, was incredible. Those injuries were something that Lewis hadn't really spoken about too much publicly, until we caught up In November last year, prior to IRONMAN 70.3 Bahrain.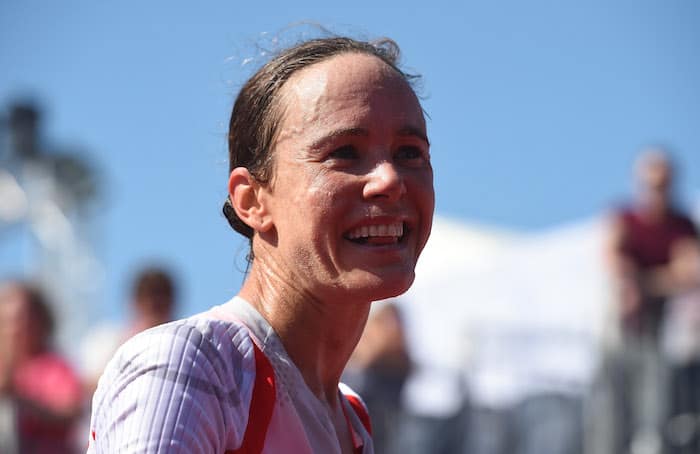 Getting fit, getting fast
While for many, racing in February would be considered a very early season race, for Lewis – her 2017 start delayed – Dubai actually represented the 'end' of her season. Having been solid, but not headline-making in Bahrain in November (seventh), what did she do between November 2017 and February 2018 to make that leap forward to battling head-to-head with Haug and Lawrence?
"Well, when it came to my initial races I pretty much dived into them and tried to 'race into shape'. I wasn't especially fit and I was trying to freshen up for races – that's not a great strategy for improving. Following Bahrain I had three months of really consistent training. There were no injuries, illness or race distractions and the block included three weeks in Lanzarote over Christmas (my parents in law are very accommodating!). I knew that I had put in more training and was fitter than ever before and it came into effect for the Dubai 70.3 race. Nothing hurt that day!
Expectations before Dubai?
"Ahead of the race I knew that I was much fitter, that the course suited me and that if I could get close to the podium in what was an incredibly competitive race, I'd be ecstatic. It didn't even enter my head that second place would be possible in such a world class field."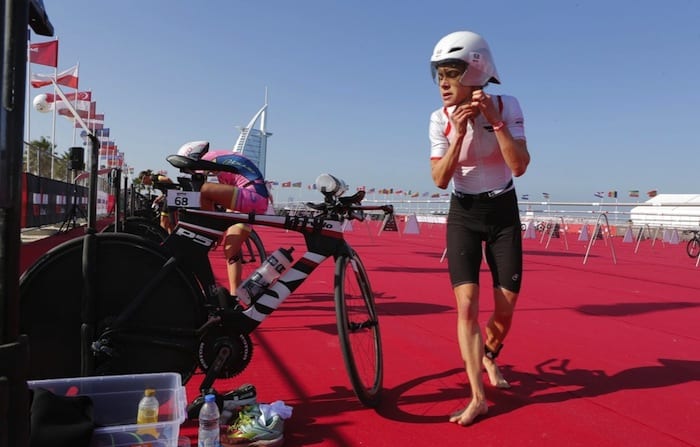 Surgery, again…
A few months on – and after that brilliant second place at IRONMAN 70.3 Dubai – Lewis has recently undergone further facial surgery (Feb 2018) to help repair the impact of those of injuries. How had it gone?
"I think it is easier for other people to tell than me to be honest! I'm happy as I know that the surgeon really did give it his best. Although the scars feel much the same (numb and tight!), they made some small but significant changes, for example my lips are better aligned. I try not to look at my face much! I think that video you did in Bahrain was probably the first time I'd spoken about it publicly. Until then, I'd just tried to block it all out and focus on getting the racing and results back on track."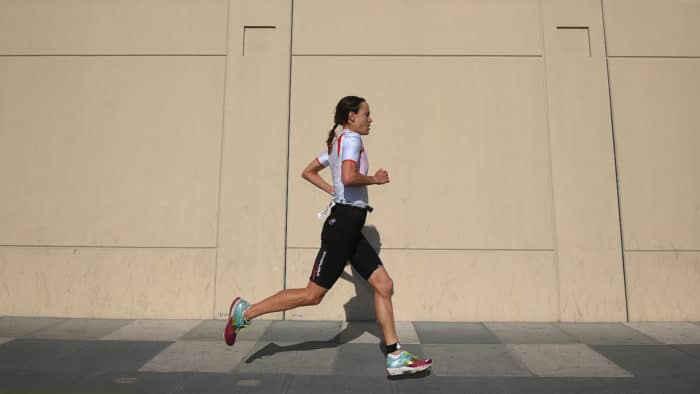 Something new for 2018: a coach…
"Yes, Brett (Sutton) is my first coach. Until very recently I have been self-coached with my husband Tim providing a bit of guidance when it comes to the cycling. As I'd traditionally fitted weekday sessions in when I could / as I felt, this continued in my first year as a professional – I enjoyed the flexibility and didn't have any obvious coaching options.
"Towards the end of 2017, Tim and I began to think about whether I should work with a coach, although we weren't sure what the best option would be.
"Perhaps fate played a part. I picked up my phone one day to see an obscure Tweet from Brett Sutton open on the screen, "looking for an Aussie for my Pro squad". I then ran into Declan Doyle [Ed. former Team Freespeed team-mate and now a coach with TriSutto] at the gym who had a chat with him on my behalf.
Two spots to fill in the Trisutto Ironman pro female squad. Looking for 1 American and 1 Australian. Show ponies need not apply. pm to apply

— Brett Sutton (@trisutto) November 7, 2017
"I went and met him in Gran Canaria in January – I know he has had amazing results in the past, but I wanted to see if we would be able to work together. He was very personable while I was there and invested a lot of time watching and taking on board my strengths and weaknesses over the four days. He seemed very excited about the potential for improvement and I saw this as a good sign. I could also see that he was still passionate about coaching, so it was an easy decision and we commenced more formally around February time."
Update – excited to have my first coach/program… working with Brett @trisutto in 2018. A very good change for both hubby and I! https://t.co/Uqynv5imzo

— Sarah Lewis (@Sarahlewis111) March 19, 2018
Did he change much?
"While it's still relatively new, the key thing that has changed is that there is much more structure which I really like. Having more rigidity has meant there is less time wasted thinking about what to do – it's definitely easier to just do it. It has been a nice break mentally and reduced the pressure."
Does Ironman feature in future plans?
"I was never a big volume person. 30-50km would be my weekly run distance when things were going well and I never ran close to actual race distance. My swim volume was also low (averaging 8-9km a week)… we are working on bringing that up (a lot!), but no Ironman plans… at least, not yet. I think we almost need to take a step back (and get more consistent, appropriate volume of training in for the 70.3 distance), before taking a step forward in performance or increasing race distance."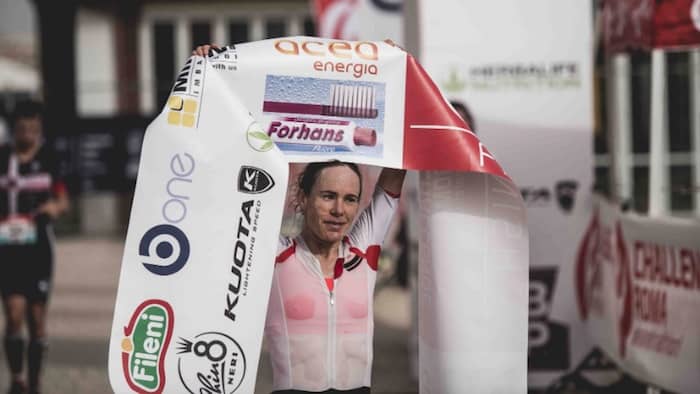 2018 plans
"I'll be representing Great Britain at the ITU Multisport World Championship Long Distance event (3km / 120km / 30km) in July and then competing in the 70.3 World Championship in South Africa in September. Brett and I haven't made any plans beyond this but I enjoy competing in the Middle East, and perhaps I'll manage a return to race in Australia at some point. Having recently started with the new coaching setup, there will probably be more races towards the back end of the year."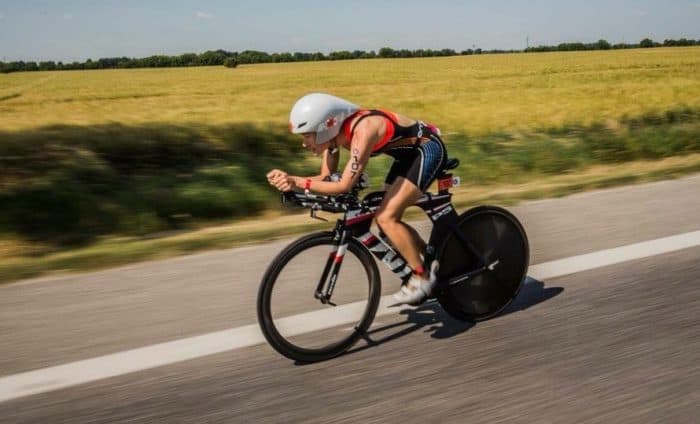 Sponsors
One thing that was quite noticeable from the IRONMAN 70.3 Dubai / Dublin / Miami / Challenge Roma podium photos was the number of sponsors logos on the athletes… except for the race suit of Lewis. Had that race changed things?
"Not yet! Race organisers have been offering hospitality and accommodation and I've had some other kind product offers but i do not have any sponsors, it is not something I've chased as I'm hopeful that my results will continue to improve and will put me in a good position to speak with potential sponsors in the very near future."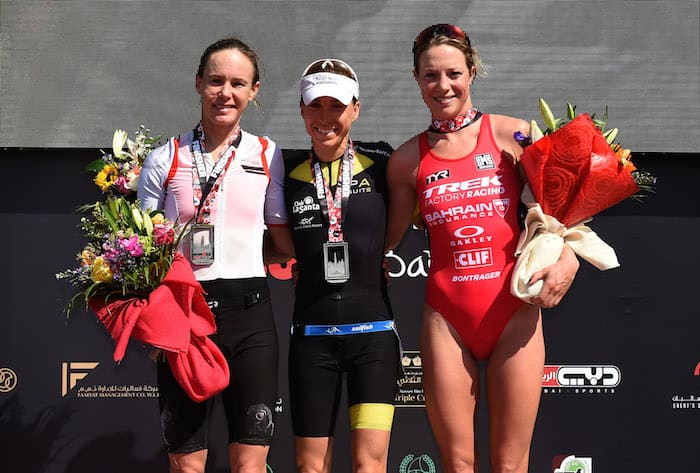 The (former) day job
Having previously worked long and unpredictable hours, I was keen to find out more about Sarah's pre-triathlon career.
"I worked in Corporate Finance in London at PwC for 11 years and completed my accountancy qualification there. Working as a merger and acquisitions advisor is an interesting – but tough – place to work. There are a lot of "type A" personalities and it is normal to work around the clock for extended periods."
What was the driver for that career path? The answer probably gives an insight into Sarah's driver to overcome the obstacles that 2017 provided in her triathlon life…
"I studied Finance at university and applied for what was the most challenging job I could find (in my mind); you are basically advising senior executives and shareholders during one of the most important and demanding periods of their careers/lives when they are buying or selling a company. I think that it was probably the challenge that was the attraction!"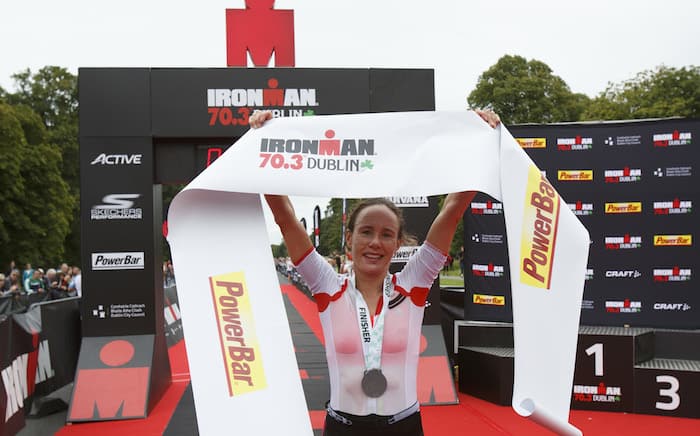 Decision to turn Pro
While the working environment was tough, was the decision to leave that career and the rewards that come with it, for the notoriously difficult world of triathlon a difficult choice to make?
"Yes, it was a tough decision. I was eligible to compete professionally in 2015 after my first 70.3 race but did not pursue it at the time. I'd only fairly recently moved on from PwC to a large commercial organisation (in Corporate Development and Strategy) and was really enjoying the change. Giving up the security and daily interaction is obviously not something you can take lightly, it's a big decision. I also wanted to be sure that I had taken every opportunity to prove myself in the amateur ranks.
"In 2017 it really became a 'now or never' decision however and I resigned for an indefinite period as I'm not getting any younger (and really am very passionate about triathlon!). I consider myself very fortunate to have the opportunity and am very grateful to my husband who supported me in doing this."
Earliest sporting memories?
"Growing up in Sydney, Australia and racing track and field (mainly 200m / 400m / 800m), through to national level. I loved to race and did a lot of it, while any training on the other hand was unstructured and informal (as was also the case with swimming).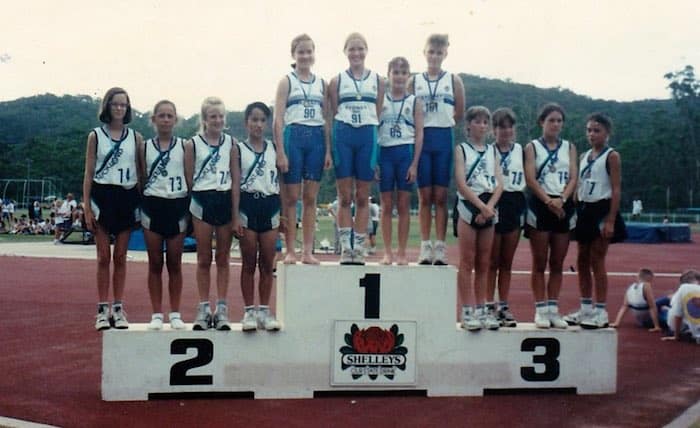 "Like many kids who race at a very young age I gave it up early, probably in part due to joint hypermobility which gives you a fantastic range of movement but can predispose you to injuries when they go beyond the normal range."
From 800m runner to long distance triathlete
In a similar story to that of Susie Cheetham, Sarah Lewis' introduction to triathlon was the fault of her husband.
"I met my husband at PwC Corporate Finance, who was training for an Ironman at the time. I had recently joined Belgrave Harriers (purely to race 400m / 800m as I had done as a kid), but seeing him train made me realise how much I'd missed out on! I travelled hours, often staying overnight, to run one or two laps of an athletics track, while he would be out cycling for hours and then go to the swimming pool and all in a very social setting!"
"I then got started myself – I ran into the office with him, went swimming a couple of times a week, then did a training camp, bought a bike, entered a race, then a qualifier, then I raced at AG World Champs… it was all a lot of fun. The biggest challenge for me was everything to do with cycling – particularly bike handling, confidence and balance.
"My initial progression was slow but I did progress as I became more serious about the sport and started to get some good results at amateur level."
Sarah's results included the overall GB AG Female Olympic Champs (2014), Windsor Elite (2015) , GB Sprint and Middle Distance Champs (2016) and third overall at IRONMAN 70.3 Dublin 2016. Other highlights included British Triathlon Super Series races and competing in the French Grand Prix Series with many of the ITU Elite.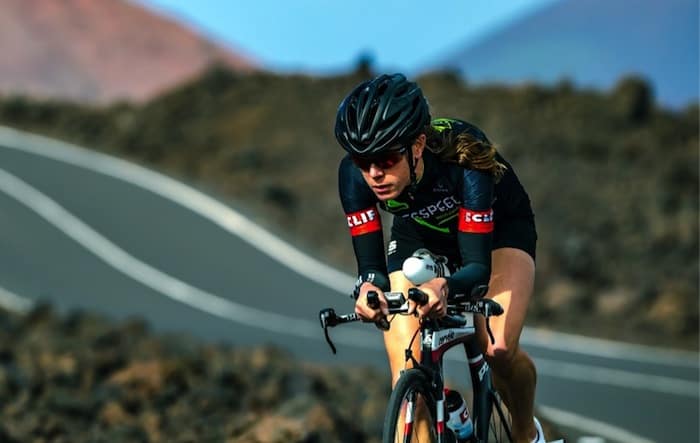 From Australia to London
"I've been living in the UK since 2003 and feel very British as a triathlete. I had a great time being a part of the GBR Age-Group team and as a member of the Ful-on Tri club, and I still check results and news on TRI247 as I have done for years… so it makes sense to race for GBR and I am of course very proud to do this as a Pro."
Indoor training?
While we haven't got Sarah onto Zwift (yet?!), I wondered whether the accidents and injuries that Sarah suffered last year have changed her approach to training and whether she had switched to doing more indoors?
"Yes, I have done more indoors – both since the accident and because of the winter weather. I used to be tough, going out in any weather… but sometimes it is just not sensible and it seems to be increasingly risky in traffic (with big consequences if you are hit!). So, it's more indoor training and turbo now."