David defends in Dublin; Sarah stops a Susie three-peat…
The third edition of IRONMAN 70.3 Dublin (which we had previewed recently) saw some close racing to the finish. Scotland's David McNamee was able to add a second consecutive win in Ireland, but Susie Cheetham's attempt to extend her winning run to three was ended on the run course with a first IRONMAN 70.3 victory for Sarah Lewis.
The Men
Second earlier this year at IRONMAN 70.3 Staffordshire, Romain Guillaume (FRA) – a regular visitor to UK-based M-Dot events – set his stall out early on the bike to try and build a lead. 30 seconds up at 30km, he extended that significantly to two and half minutes by 55km (over McNamee and Sean Donnelly (GER)). By T2 his efforts had earned him a 4:45 lead over McNamee, Donnelly and the always hard-riding Bryan McCrystal (IRL). McNamee is a fine runner and was always likely to be the fastest of Guillaume's chasers… but would it be too much to bridge?
By 6km the gap was down to three minutes and at 13km, 1:24. 10-miles was passed just 35 seconds down on the Frenchman and shortly after the pass was made – but he had been made to work for it, finishing with a 1:11:42 split. Donnelly took third, McCrystal fourth and Elliot Smales was once again the fastest of the 'chase pack' to run through to fifth. In his first Pro season, he's gaining valuable experience – and will be well aware that a step-up in his TT riding over the winter should net him some even better results in 2018.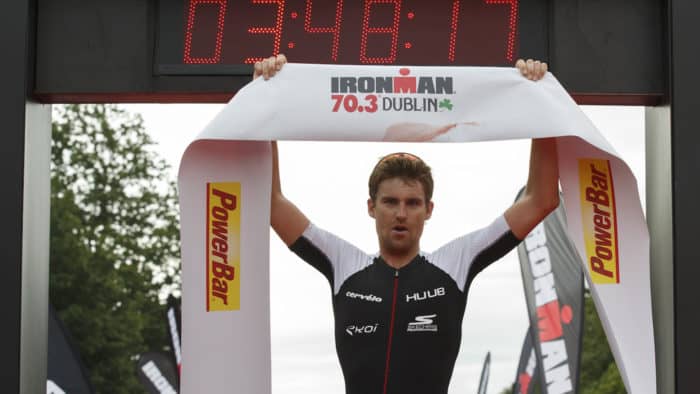 The Women
Possible expected to be a head-to-head between two-time champion Susie Cheetham and Lucy Gossage, that prediction was off the cards before the race even started, with Lucy ill overnight and unable to start.
Cheetham and Sarah Lewis exited the swim together in just over 28 and a half minutes. Cheetham built a lead of a minute and a half during the middle section of the cycle, but Lewis was able to reduce that buffer to barely 30 seconds by the time the half marathon run started. The race was on.
By 6km Lewis had was on the shoulder of the reigning champion and was clearly having a great day, pushing on and building a lead of over two and a half minutes by the 10-mile mark. With third place well back, Cheetham was not under threat for second place, but the day would belong to Lewis who has overcome a horrendous early season bike crash to reach the top step of an IRONMAN 70.3 podium for the first time.
It would be boring if everything went to plan? Tough day in the office, partic when @Sarahlewis111 is storming. Congrats on well deserved 🥇 pic.twitter.com/mHSIOgmtBa

— Susie Cheetham (@susiecheetham) August 20, 2017
IRONMAN 70.3 Dublin – Sunday 20th August 2017
1.9km / 90km / 21.1km
PRO MEN
1st – David McNamee (GBR) – 3:48:14
2nd – Romain Guillaume (FRA) – 3:48:44
3rd – Sean Donnelly (GER) – 3:56:06
4th – Bryan McCrystal (IRL) – 3:58:44
5th – Elliot Smales (GBR) – 3:59:14
6th – Fraser Cartmell (GBR) – 4:02:51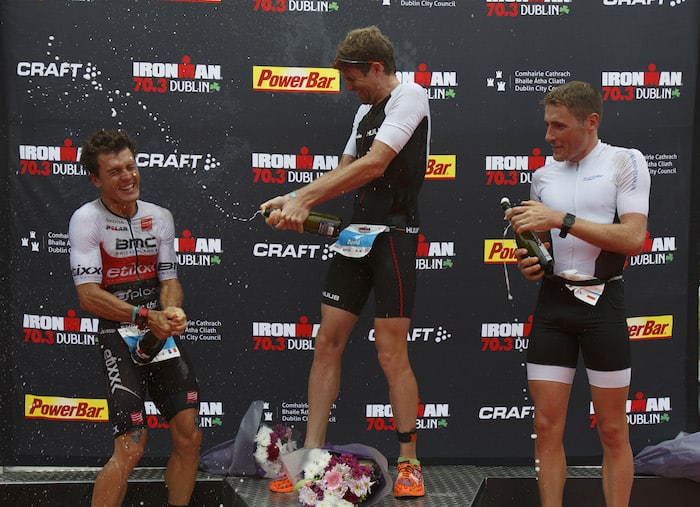 PRO WOMEN
1st – Sarah Lewis (GBR) – 4:23:12
2nd – Susie Cheetham (GBR) – 4:26:26
3rd – Amanda Wilson (AUS) – 4:34:44
4th – Aine Donegan (IRL) – 4:36:23
5th – Emma Deary (GBR) – 4:36:40
6th – Magdalena Nieuwoudt (RSA) – 4:44:16