Welcome to the TRI247 UK Triathletes Guide to Bermuda. With long days of sunshine, crystal clear warm water, quiet cycling roads and plenty of places to run, the island is ideal for triathletes.
---
Bermuda is a great place to kick off your Tri Season with the upcoming World Triathlon Series this April, as well as the Grand Final the following year.
Registration is now open for the MS Amlin World Triathlon Bermuda to be held April 18, 2020. It will also host the ITU World Triathlon Grand Final in 2021.
Bermuda: the basics
Bermuda is a British Overseas Territory in the North Atlantic Ocean. It is located about 600 miles due east of the USA's North Carolina.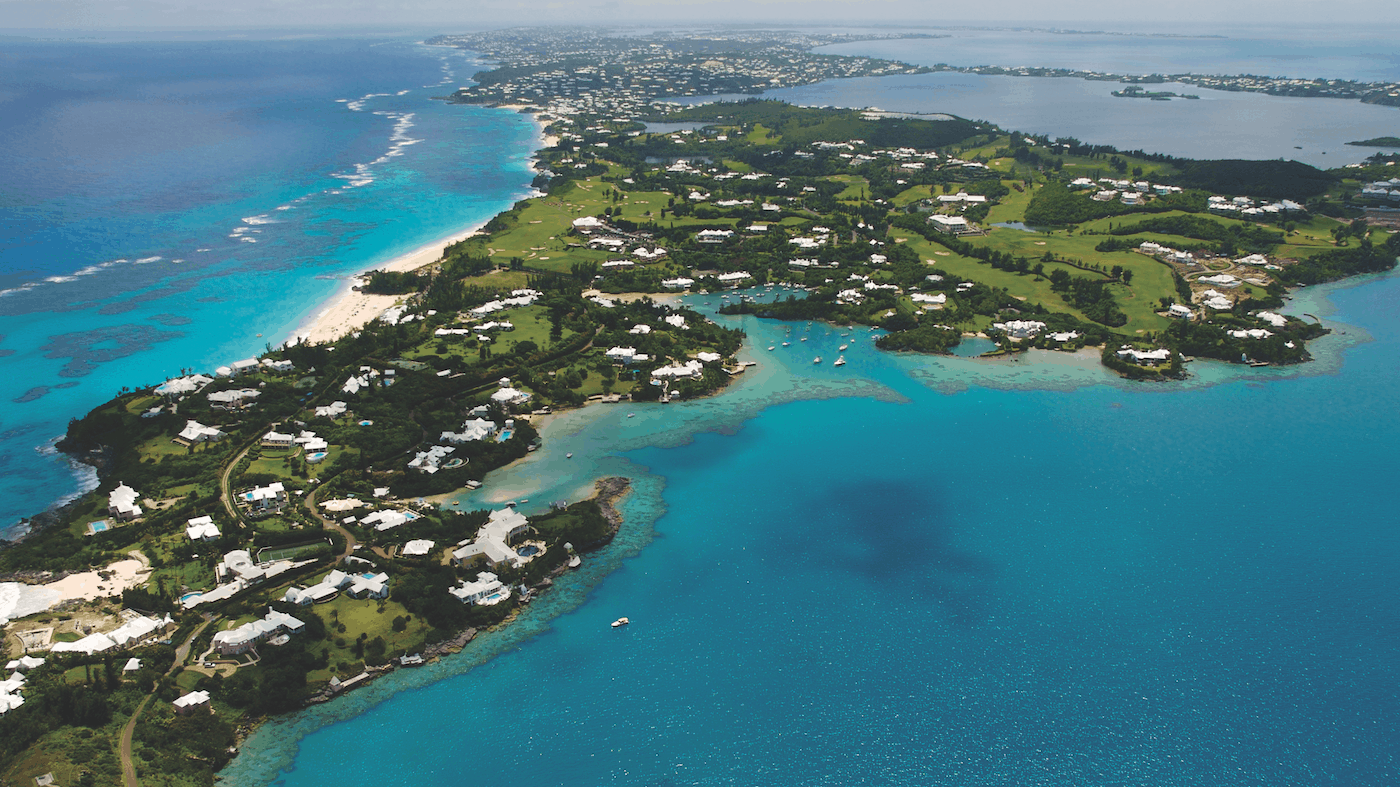 Bermuda forms the most northernly point of the famous Bermuda Triangle, making it essential your swim sighting skills are up to scratch. Joking aside, many have investigated the mysteries and it's safe to say you will not fall foul of the area's legend. The triangle is safe for triathletes!
The currency is the Bermudian dollar, which is linked to the US dollar on a one-to-one basis. Both currencies are accepted on an equal basis, but the Bermudian dollar is not normally traded outside the territory.
Capital: City of Hamilton
Language: English
Currency: Bermudian dollar $ (BMB), US dollar (USD)
Local time: (UTC-4:00)
Flight time from London: 7.0-10.5 hours depending on direct flights
Training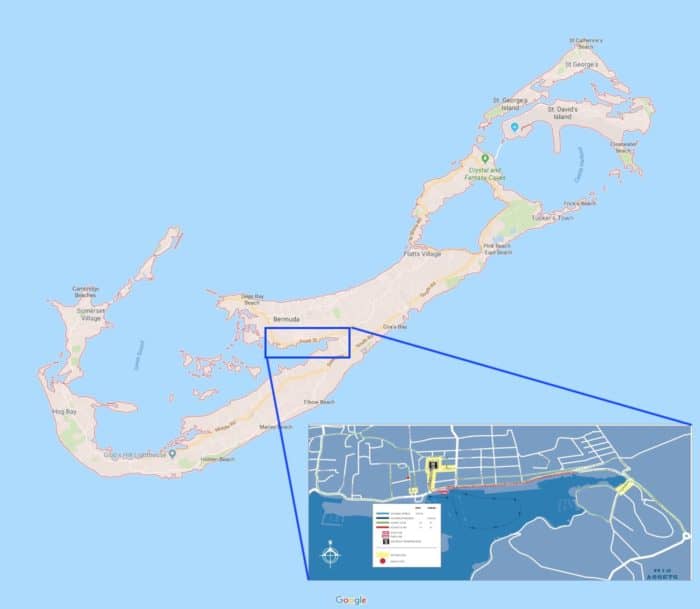 The race in 2020 is at the end of April, just as the country is coming into their summer months. Temperatures then should be in the low 20's °c which is perfect for racing. Water temperatures are usually around 20°c. April is a great time to visit Bermuda as the tourist season is just starting and prices are not at their peak. April and May are typically the least rainy months and see eight hours of sunshine per day. Rain often falls in short storms in the evening, leaving the days with clear blue skies.
Swim…
Warm and turquoise waters are going to be a huge draw to racing here. Age-Group swim familiarisation will take place on Friday before the race from 2:00 – 3:00pm. Meet at the Flag Pole on Front Street. As the summer season gets underway the temperature difference between air and water reduces to a few degrees making the waters warm enough for non-wetsuit. Late April is marginal so taking a wetsuit would be advised, just in case wetsuits are allowed in water temperatures of 22°c or colder for Age-Group athletes (April averages 20°c).
Despite being only 21 square miles, Bermuda has no shortage of stunning beaches – providing some wonderful locations for open water swimming. The appropriately named Clearwater Beach is regularly used by the local Tri-Hedz Junior Triathlon Club for training and for hosting races on the island, while Warwick Long Bay and Horseshoe Bay Beach are amongst several options that will provide great swimming combined with relaxation in this island getaway. Your Editor has had the pleasure of spending time at both in years past!
If you need your lane swimming "fix", then check out the Bermuda National Sports Centre just five minutes from Hamilton.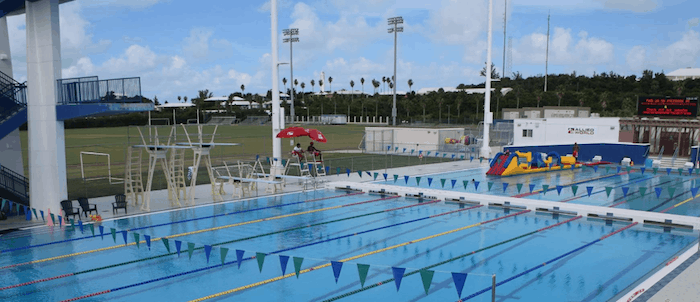 Bike…
As in the UK, traffic drives on the left in Bermuda and as speeds are limited to 35 kph on the island, hitting the roads on two wheels is certainly a less stressful experience than at home. Keeping out of Hamilton seems to be the common tip, but if you have been used to riding UK roads, then it will probably seem like a quiet Sunday ride!
You can find some ready made cycling routes here.
A variety of Bike Training options are mapped out below:
Starting Point: Hamilton Princess Hotel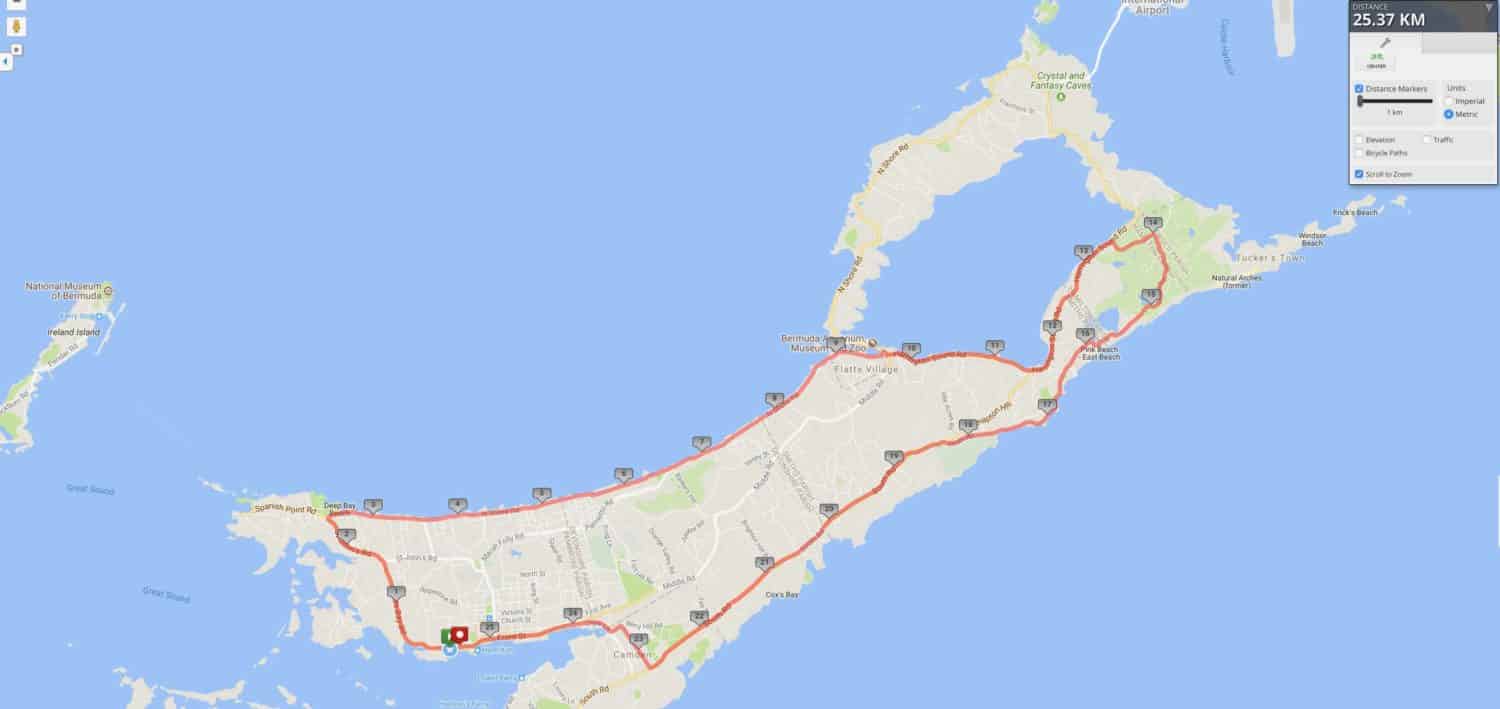 Starting Point:  Grotto Bay Hotel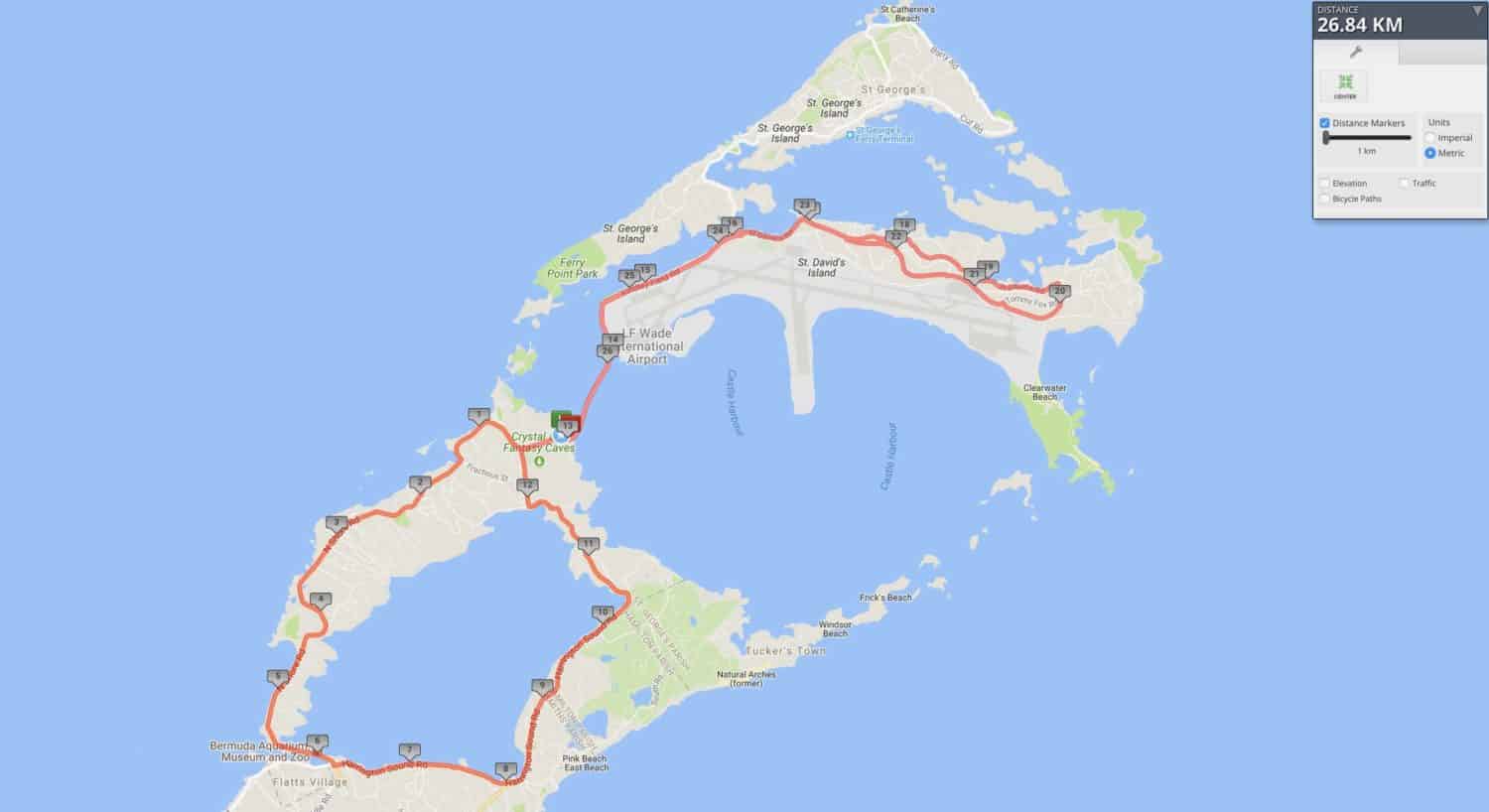 Run…
Free of motor vehicles, the Bermuda Railway Trail is a revived old railway line that covers approximately 18 miles from one side of the island to the other. While it is not continuous as it crosses some roads, it is possibly better suited to exploring and training on foot or mountain bike rather than your road bike as you will encounter some stepped and narrower sections.
First Route
The Route starts at the Hamilton Princess and you would run back the same course to return to the hotel.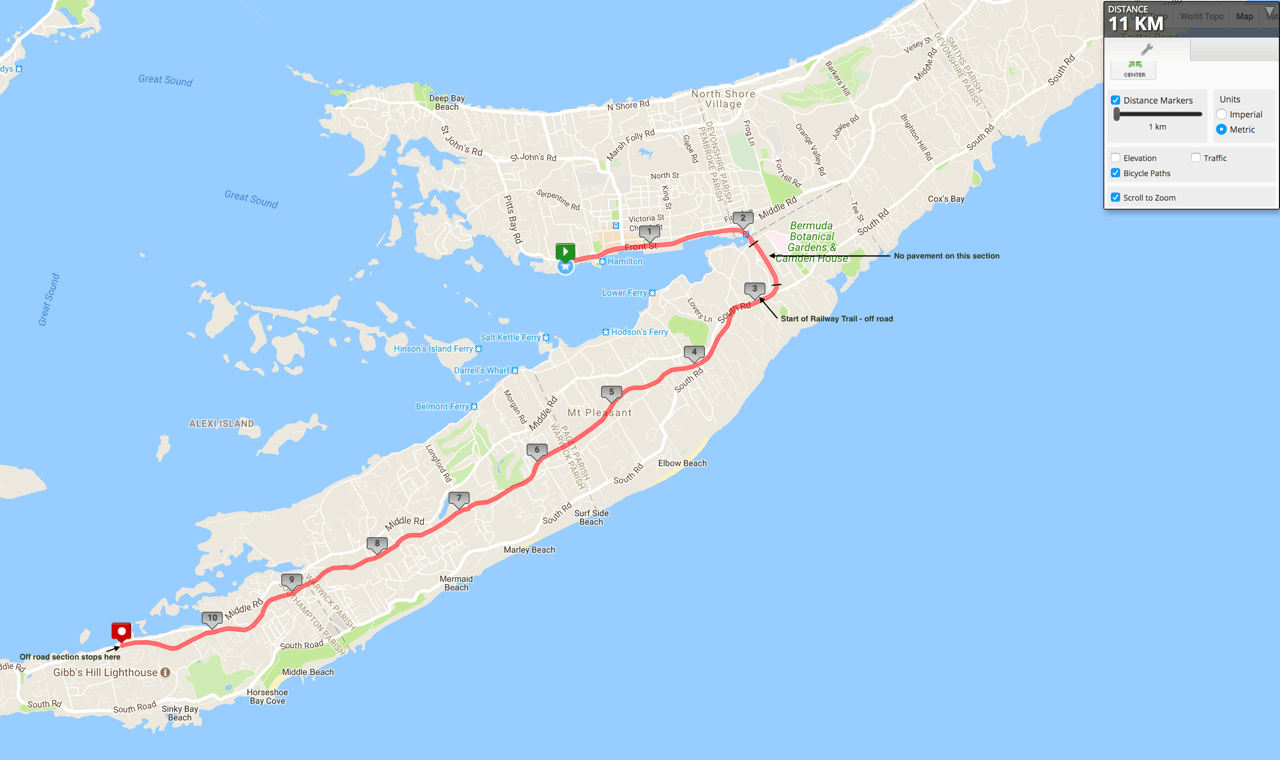 Second route (Bailey's Bay Trail)
Starting at Grotto Bay.  This is a beautiful run, hugging the coast but has a section which is on the road or pavement.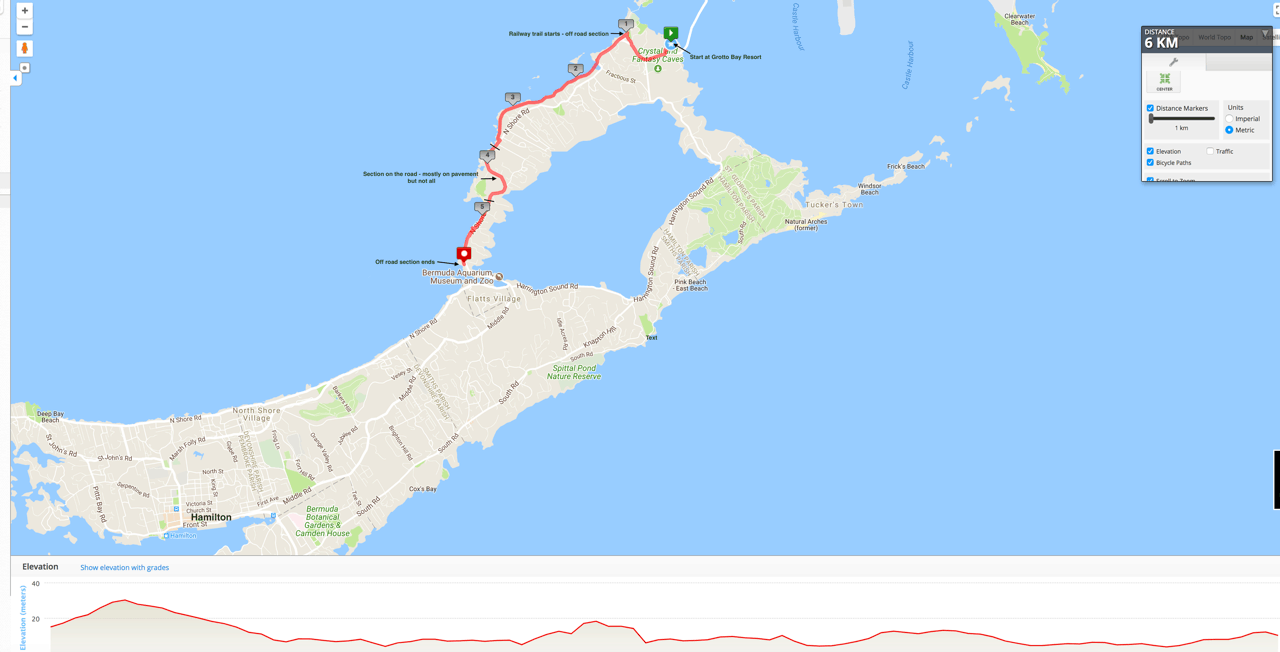 Third route (Railway Trail East)
Starting at the Hamilton Princess.  The off-road section is highlighted.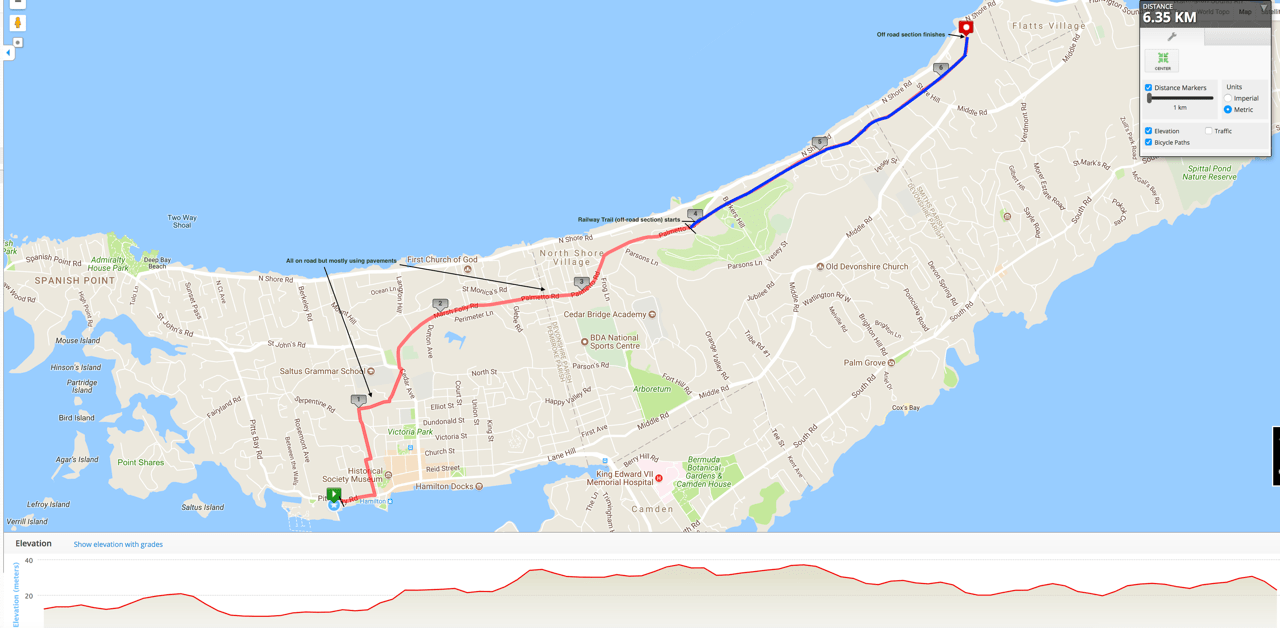 Where to hire a bike in Bermuda?
There are many options for bike hire on Bermuda, notably in and around the popular areas for cycling and tourism, for example Hamilton, where the race is based. Here are a few options – but this is certainly not an exhaustive listing! Make sure you are renting a "pedal bike" and not a scooter, which the locals refer to as cycles, which could be a little confusing! As mentioned above, with traffic driving on the left in Bermuda you should feel immediately at home on the island.
Bicycle Works Stocking brands such as Bianchi, Specialized and Focus and offering bike fit and rental services
Race Day is a company offering bike rental options for athletes not wishing to transport their own bikes out to the race. They offer plenty of bike brand and upgrade options and they will help you with the correct bike fitting to ensure the best fit. You just need to take, pedals, shoes, helmet and a water bottle. Prices range from $299 for a standard bike up to $399 for a much higher spec TT model. This could be a great option if you don't fancy the risk or cost of shipping your own bike but want a reliable option. Race Day work with the race organisers which should give you peace of mind.
Winners Edge Trek, Cervelo, Pinarello, Scott are featured along with rentals, service and bike fits. Based in Hamilton.
Where to stay and taking the family
The Hamilton Princess & Beach Club Is the Official Event Hotel, a luxury waterfront resort located adjacent to the race course. The hotel has a beach club within a private cove on the South Beach with a shuttle service for guests.
The main race venue is downtown Front Street. The Age-Group Transition Area is in the City Hall Car Park so aim to be close by if at all possible if you want to be close to the action and make logistics simple.
There are special offers on accommodation at other hotels available HERE, and the event has further suggestions on potential hotels and guest houses HERE.

The Race
As you can imagine the course is set amidst the beautiful scenery of Bermuda and it's capital. Starting and finishing here makes this the ideal place to stay and be ready for race day.
Check out the 2018 race briefing video for some good tips and the 2018 race guide here. We'll update this to the 2020 editions once they are available, nearer to race day.
Sprint Distance: 750m Swim, 20km Bike, 5km Run
Olympic Distance: 1500m Swim, 40km Bike, 10km Run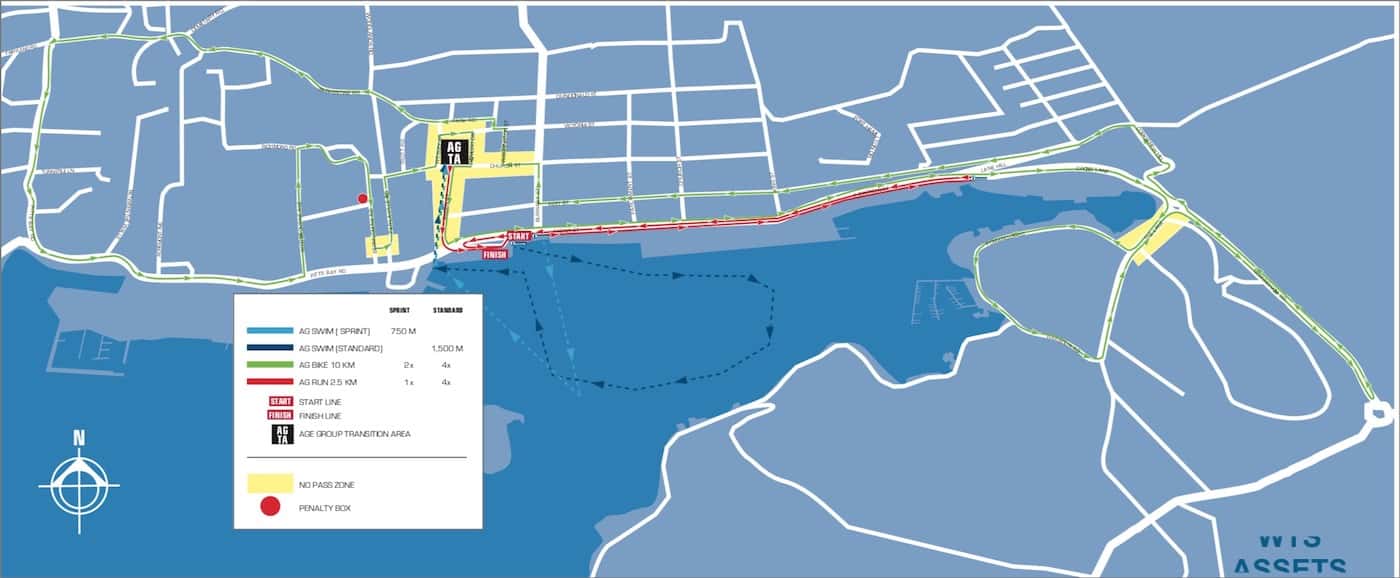 The Swim
Age-Groups will head off into the clear waters of Hamilton Harbour to complete their 750m or 1,500m loop of a swim. This should ensure the waters are quite calm and sheltered. The climate here ensures that water and air temperature are very similar so be advised that you could get away with a Tri-suit if that favours you?
The Bike
The course is deceptively hilly and the bike leg has a few notable challenges, the main one being Corkscrew Hill. It's short and sharp and will definitely separate athletes into fitness and climbing ability. As this is a looped course, riders will hit this bump two or four times depending on their race distance. This is a non-drafting event so check out the detailed rules on this, but essentially you have 20 seconds to make a pass on athletes once you get within 10meters of their slipstream and get past.
The sharp gradient might make it a race you want to undertake on a road bike with clip on bars, not to mention the quite technical turns on the course.
There are also several 'no pass' areas on the course for safety so take note of these zones to avoid a penalty!
The Run
The Bermuda run course is almost all water side, right in the heart of Hamilton on Front Street. The 2.5km run course will be completed twice by Sprint distance athletes and four times for those racing over the Olympic distance.
General Race week information guide from 2019
Race Week information guide for volunteers, supporters and general local information can be found here.
History: Bermuda and Triathlon
While Flora Duffy is certainly the most high-profile triathlete to emerge from Bermuda, the sport has considerable history on the island. Still racing today, Tyler Butterfield is a two-time Olympian (2004, 2012), and also raced at the Commonwealth Games Triathlon three times (2002, 2014, 2018). He actually raced in two sports last year in Gold Coast, finishing 12th in a personal best time of 2:26:29 in the Marathon. He also raced in 2006 Commonwealth Games in Cycling, and has twice been a top-10 finisher at the IRONMAN World Championship.
Bermuda is no stranger to major triathlon event either. While the ITU World Triathlon Series (and the 2021 Grand Final) will be it's biggest, back in the early / mid 1990's the island hosted ITU World Cup events in Southampton and Hamilton. Even further back in 1987, a 15 year-old Lance Armstrong raced in Bermuda in a major international event, won by Mark Allen.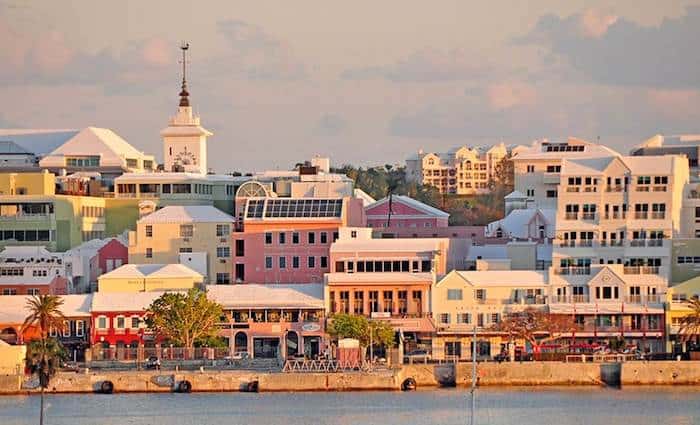 All-in-all, while Bermuda may not be the most obvious destination when considering an overseas triathlon trip, Bermuda has a lot going for it. Fine weather, a world class event, pink sand beaches, quiet roads and an opportunity to combine sport with a wonderful holiday. What's not to like?!
Bermuda MS Amlin 2019 World Triathlon Bermuda Highlights