Triathletes Guide to Mallorca – brought to you by LCW Mallorca
Welcome to TRI247 UK Triathletes Guide to Mallorca. With over 300 days of sunshine, warm seas, smooth cycling roads and plenty of places to run, the island is a must visit for triathletes.
A big thank you to the Long Course Weekend Mallorca edition (www.lcwmallorca.com) for their support in putting this guide together. The second edition of the event, which proved so popular on its debut in 2017, takes place from 27th to 29th October 2018, building upon the success of the 'original' in Tenby.

Mallorca: the basics
Mallorca is located off the North East coast of Spain and is part of the Balearic Islands. Just under a million people live on the island which covers an area of 1,405 square miles. Palma is the capital and the main language spoken on the island is Catalan. The two official languages of Mallorca are Catalan and Spanish.
Language: Catalan
Currency: Euro (€)
Local time: (UTC+1:00)
Average flight time: 2.5 hrs
How to get there
The main airport is Palma de Mallorca (www.palma-airport.net) which is one of the busiest airports in Spain; in 2017 it was used by 27.9 million passengers! Flights from the UK are around two and a half hours, depending which UK airport you fly from. One of the big attractions for UK triathletes is the wide choice of flights to the island as nearly every UK airport has flights to Mallorca, such is its popularity as a tourist destination. With so many flight options, you can secure some great deals on travel if you are willing to search, notably if travelling in the spring or autumn.
Take your own bike or hire?
This is really down to personal choice as, or course, there are pluses and minuses for both. Lots of athletes do travel with their own bike and the airlines, transport and hotels are all very used to dealing with bike bags and boxes.
Equally, with Mallorca having become such a mecca for cyclists, a number of the key brands have set up display shops and offer a hire service. If you do go down the hire route there are plenty of options. Here are our thoughts:
Taking your own bike…
The majority of triathletes do take their own bike to Mallorca and nearly all the airlines will allow you to take your bike. However, it will almost always be at an additional cost (and that price can be even higher if you have not booked it in advance, and simply turn up at the airport with a bike box/bag!). How much it will cost will vary depending on which carrier you use, but the (per flight) costs of some of the leading airlines, at the time of writing, include Ryanair (£60), EasyJet (£42), Jet2 – flight details page – (£30), Iberia (€45). The key point is to build that in to your potential costs when reviewing your travel arrangements.
PLUSES
It's great to get some miles in with your own set up which you are familiar with.
You know exactly what quality of bike you will be riding.
Travelling to Mallorca with a bike is pretty hassle free, assuming you have accesses to a suitable bike box / bag.
Airlines and hotels are experienced and accustomed to people bringing bikes with them – many with dedicated and secure storage facilities.
MINUSES
You will need to buy or hire a bike box or bag to transport your bike.
You have to pack your bike and then travel with a bike box/bag.
You have to re-build your bike once you arrive.
Worry that something will happen to you bike in transit.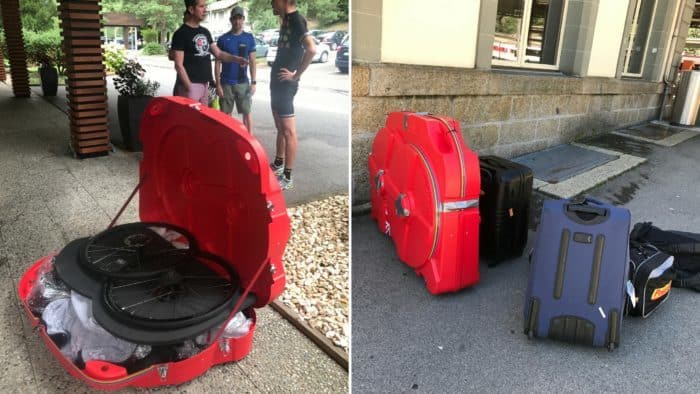 Hiring a bike…
There are plenty of places on the island to hire a bike, from a basic run-around to a top end bike that would look at home in the Tour de France. Generally most people will bring their own helmet, shoes and pedals when hiring a bike (or even saddle if you have a particular favourite). While your hire shop may be able to provide some or all of these, they will almost certainly add an additional cost to the basic hire charges. Check in advance if you do plan on hiring for both availability and cost purposes.
PLUSES
Plenty of places and bike choices on the Island to hire bikes for 1 day, 1 week, 1 month etc..
An opportunity to try a new bike from a brand you may have considered buying.
Less luggage to carry through the airport and transfer to your accommodation.
You don't need to spend time assembling your bike when you arrive.
No worry about your bike being damaged or lost in transit.
Reduced baggage charges for your flight (typically).
MINUSES
Bikes can be expensive to hire, especially for top end models. Will you end up spending more than just paying the airline fee and bringing your own machine?
During busy periods around major events, availability of hire bikes – if not reserved in advance – can be an issue.
You don't know the quality (or not!) of the bike that you will be hiring, until you see it.
Cycling a challenging route on a bike you are not familiar may be daunting for some.
If you do hire a bike, we would certainly recommend that you take some basic measurements from your bike at home with you, so that you can quickly get the fit (e.g. saddle height, saddle position fore/aft, reach etc), as close as possible to your 'norm'.
Where to hire a bike in Mallorca?
There really are many options for bike hire in Mallorca, notably in and around the popular areas for cycling and tourism, for example Alcudia, where the Long Course Weekend Mallorca is based. Thus, here are a few options – but this is certainly not an exhaustive listing!
Bimont Bike Hire (www.bimontbikehire.com). Bimont have four outlets servicing Alcudia, Palma and Pollensa. They offer a wide range of bikes from brands including Bianchi, Argon 18, Cube, Specialized and Focus. You can hire a quality road bike such as a Specialized Tarmac SL4 with Ultegra gearing for under €120 a week, including your choice of pedals within the price.
Pro Cycle Hire (www.procyclehire.com). Based in Puerto Pollenca, Pro Cycle Hire rent out four brands; Massi, Van Nicholas, Koga and Colnago. All bikes come with choice of pedals, pump and saddle pack included in the hire price. If you really want to live it up you can hire a Colnago C60 for €430 for a week…
Canyon Base Mallorca (www.canyon.com/en/experience/partner/canyon-base-mallorca). If you are thinking about buying a Canyon, a good option is a week in the sun and to hire one to see what all the fuss is about. The Canyon base is in the South East of the island based at the Robinson Club in Cala Serena. Prices depend on what spec bike you hire, but if you wanted to ride the AEROAD CF SLX then you are looking €190 for the week.
Bike Experience Mallorca (www.bikeexperiencemallorca.com), will drop off your hired bike wherever you are in Mallorca. Hire Trek, Cervelo, Giant or Pinarello to name a few. To give you an idea on price, you can hire Giant TCR Advanced + 11v Ultegra for €135 for the week (The same bike with Di2 is just €165 for the week!).
Pinarello Experience (www.pinarelloexperience.com) If you are feeling pretty flush and want to treat yourself then a visit to the Pinarello Experience should be in your plan (even if hiring a bike is not in your plans, it is worth a visit!). The store is located near to the sea at Puerto Pollenca and features 2000 square feet of bikes and cycling memorabilia. You can get a RAZHA SHIMANO 105 for £122 for the week or if you really want to push the boat out, you can chill at the coffee shops on a Dogma F10 Dura-Ace Di2 for £665 for the week.
2GoCycling (www.2gocycling.com). Located in the North of the island near the popular Port de Pollença, the website boasts of 300 bikes for you to choose from with brands such as Specialized and a familiar UK brand, Planet X. As well as hiring bikes they also offer guided tours both road and MTB, if you are feeling adventurous you can also go for a ride and get a kayak in as well.
Danilo Hondo E-point (www.danilo-hondo-epoint.com/en/). Based in Cala d'Or, Danilo Hondo E-point is an official test centre for Giant bikes. A good range of bikes to hire and buy including the Liv range, you can hire a Giant Propel Advanced Pro with  Di2 22 Speed for €185. As well as hiring bikes they also offer bike tours and everything can be booked in advance from the website.
Ride Mallorca (ridemallorca.com), based in Southwest of Mallorca in Paguera just a couple of streets away from the beach. Ride Mallorca specialise in Specialized bikes and tend to hire mostly to the South West region of the island. A Road S-Works will set you back €165 for the week. With all road bike rental the price includes a pump, 2x bottle cages, bike computer, pedals, inner tube replacement kit, helmet and lock if you need it.
Huerzeler Bicycle Holidays (www.huerzeler.com) offer no less than 13 different cycle hire venues on the island, including bases at a number of popular cycling-friendly hotels. Hire price vary by season, but a carbon Cube or Centurion road bike with 11-speed Ultegra gearing will cost in the region of €110 to €135 per week.
Time of year to go
The busiest time to go to Mallorca is the summer months of June through to September where the weather is warm and the seas are generally calmer. If you go in and around the school holidays, the flights will tend to be more expensive although with so many flights you can still find bargains if you are prepared to shop around.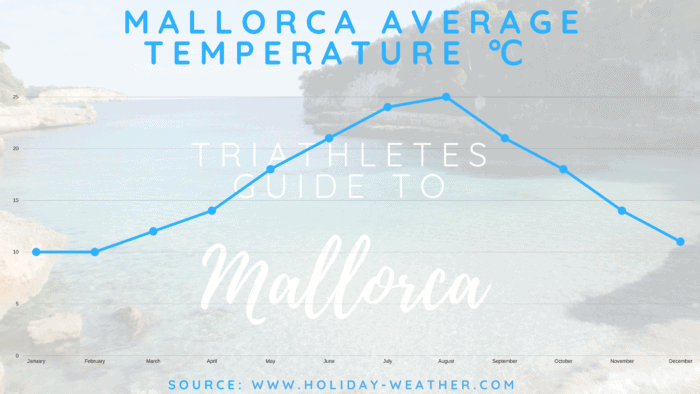 Most triathletes and cyclists tend to go out to Mallorca early in the year to get some early sunshine or later on in the year to extend their season. Being outside of the main 'tourist' seasons, these are great options.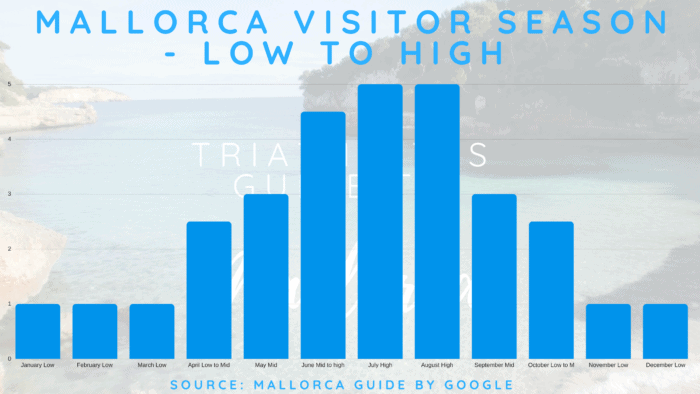 Places to stay
Mallorca has plenty of quality accommodation to suit every budget – everything from luxury boutique hotels to converted shipping containers!
Most of the hotels on the island are located near to the coastal resorts and although the vast majority of them were set up for family vacations, nearly all of them are accustomed to cyclists staying. If you are taking your bike then it is worth checking when booking if they have a safe store or allow bikes in the room,
There are also several custom sporting hotels/complex's to cater for those that want to completely immerse themselves in a sporting holiday. Most of the events that take place on the island have a partner hotel(s) or apartments supporting the event, so it would be worth while looking at the official accommodation partner as you will then be close to all the action and special competitor offers may be available.
Here are a few hotels worth considering. As with the bike hire options, this is not an exhaustive listing!
Zafiro Tropic (www.zafirohotels.com) Based in Puerto de Alcúdia, the Zafrio Tropic is the host hotel for Ironman 70.3 Mallorca 2019 and also one of the partner hotels for the Long Course Weekend.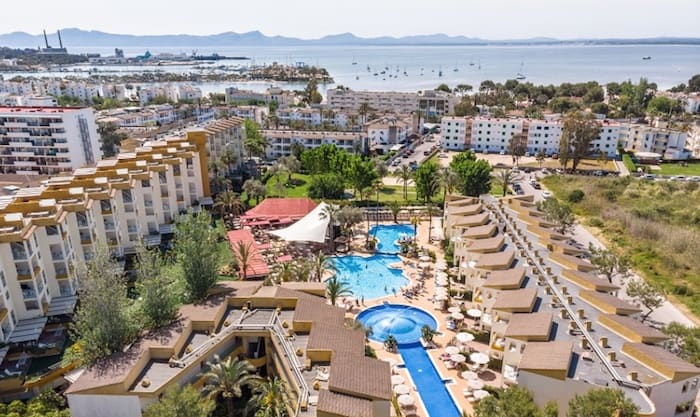 Zafiro Palace (www.zafirohotels.com) is a 5* hotel in Puerto de Alcúdia, which also features a bike hire centre and workshop, located just 300m from the beach. The Zafiro Palace – like it's partner, the Zafiro Tropic – is one of the hotels offering accommodation, half board and race registration packages for LCW Mallorca. Check them out HERE.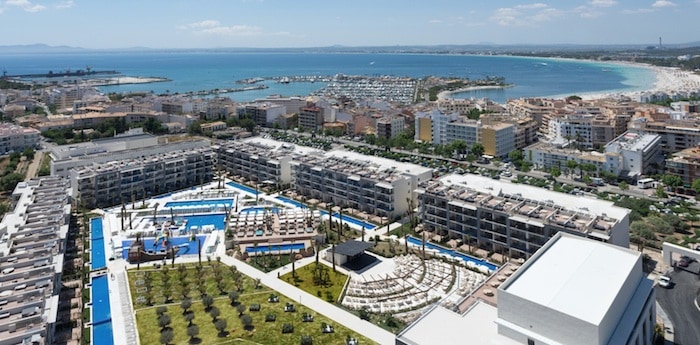 Viva Blue Hotel & Spa Sports (www.vivabluesports.com). A 4-star hotel in Playa de Muro, Alcudia. There is plenty on offer for the sports person staying here and keep an eye out for who is in the breakfast room as the hotel's main ambassador is ITU World Champion, Mario Mola, who is a regular guest.
Club Pollentia Hotel Resort (www.portbluehotels.com). This a popular hotel for cyclists visiting the island. "Our close proximity to the Serra de Tramuntana mountain range and a variety of cycling trails makes our hotel one of the best options for cyclists visiting Majorca".
SportHotel Port de Pollensa (www.sporthotel.hoposa.es). "Mallorca is one of the best training locations due to the excellent geography for those athletes competing in a variety of triathlon disciplines every year. Our new service at our Majorca Triathlon hotel allows us to do bike fitting, running analysis and swimming analysis and we also offer a hypoxic chamber in the room (price: 18€) at our establishment".
Aparthotel Duva (www.duva-pollensa.com) – "With fresh, local cuisine, a large well equipped SPA and WELLNESS centre, secure bike storage sheds and two large outdoor swimming pools, our triathlon hotel in Mallorca is not only the perfect getaway but a top triathlon and road cycling base in Mallorca".
Rafa Nadal Sports Centre (www.rnsportscentre.com). This new custom build sports complex is looking to attract all levels of triathletes to come and experience the facilities. Based slightly inland in Manacor.
Ferrer Concord Hotel / Hotel Ferrer Janeiro (www.ferrerhotels.com). Two hotels, just a few yards away from each other close to the coast in Ca'n Picafort. These two partner hotels are well set up for cyclists and triathletes with gym, 25m pool, fully equipped and secure cycle garage / storage and more. They have also been the sponsor and host of the Powerman Mallorca Duathlon.
Along with the large number of hotels there are plenty of villas, fincas and apartments available throughout the island which can offer some great value along with the ability to cater for groups and families. A quick search on Bookings.com comes up with just under 6,000 hotels and apartments to rent (HERE) and there are plenty more websites that you can use to find accommodation.
Swim, Bike and Running in Mallorca
Swimming…
Being an Island there are plenty of places to get into the sea in Mallorca, in fact they have around 200 beaches. More than 30 of these are classified as "Blue Flag" beaches which means: Good water quality, bathroom facilities, lifeguards and tourist provisions. There is a good mix of golden sand beaches with shallow blue seas to rocky coves.
"The north and south have the largest sandy beaches, whilst the east coast is filled with pretty little coves with sheltered turquoise seas. The west coast is famous for its rugged mountainous coastline, cliff edges dominate the landscape which means there are only a few small beaches to visit" Source:https://www.seemallorca.com/beaches/
Wetsuit – Yes or No?
If you are visiting out of peak season then the answer is a yes – and even peak season we would suggest taking one. Having a wetsuit with you will give you more options on when to sea swim as the water can tend to be a bit fresh first thing in the morning or later in the evening. CLICK HERE FOR SEA TEMPERATURES.
A few must swims on your visit:
Playa de Alcudia Beach, Port d'Alcudia
A wonderful white sand beach in the north of Mallorca, is also the home of the swim for IRONMAN 70.3 Mallorca and the Long Course Weekend. The beach is one of the best on the island and the longest too with around seven kilometres of fine white sand and clear water.
As a blue flag beach there are plenty of facilities for visitors and you can even log onto TRI247 as a good proportion of the beach has WiFi. When you are not swimming there is a wide range of beach bars and restaurants to visit and tell tales of your epic days swimming.
Home to the Challenge Peguera, the race swim is a single lap swim of 1.9km from the Bay of Peguera and return to the beautiful Torà beach. When you have finished you can head along to Bar Tora and have  "The best tapas on the beach in Mallorca"
Best Swim Centre (www.bestswimcentre.com)
Based in the south of the island in Colonia Sant Jordi, the Best Swim Centre was formed by former Great Britain Olympic swimmers James Parrack and Matthew O'Connor. With an outdoor 10-lane 50m pool (heated year round to a constant 27 degrees), featuring two filming windows (one at 1m and one at 15m) along with sharkeye portable underwater camera the centre is set up to get the best out of your swimming.
As well as the usual leisure type pools, finding a hotel with a 25m (or indeed 50m) swimming pool is not difficult, with so many hotels on the island tapping in to the multisport market.
Cycling…
TT Bike or Road Bike?
Most visitors to the Island are on road bikes rather than TT. Even the bike hire outlets listed above don't actually offer the option of hiring a time trial bike (although we are sure if you ask some of the brand stores, they will have that option).
Mallorca is hilly (should you choose those roads), and does lend itself well to a road bike, but that doesn't mean you can't take your TT bike if you want to. Again it is really up to the individual and thinking ahead to what type of riding you are going to be doing will probably make the decision easier. Going to be riding in a group a lot? Probably best to stick with a regular road bike.
Where to ride?
Duncan Shea-Simmonds has been a regular visitor to Mallorca for the last 12 years, and we asked him for his thoughts and suggestions on some of the best places to ride on the island:
"If you head to Mallorca, you have to ride in the mountains. Specifically, the mountains of the Serra de Tramuntana on the island's North-west coast. None of the climbs are what I'd class as either super steep or super long, but that for me is part of their appeal. Mallorcan climbs still offer a significant challenge but still allow you to attack them "full gas", if that's what you fancy. Bucket list climbs include Coll de Sa Batalla / Femenia, Puig Major and the famously sinuous Sa Calobra.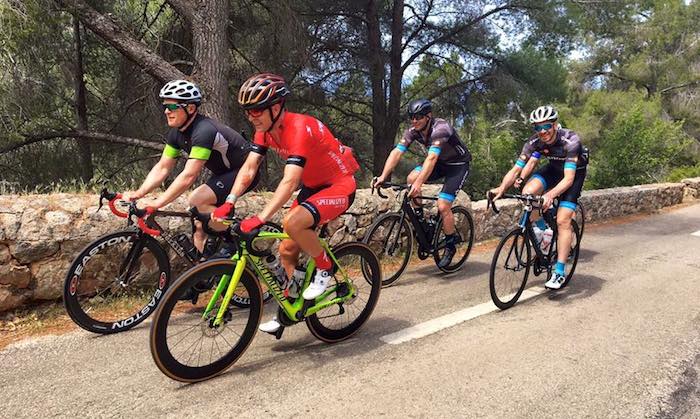 "Sa Calobra looks like something you'd get if you asked a cyclist to design a descent with a Scalextric set. Then recreated that design, full size and draped over a rocky mountain side leading to a turquoise sea! If you want to ride it…. and you really should, then make sure you pick your time. There is no easy ride out and no matter which way you go, you'll need to tackle at least one other climb before you can enjoy the descent of Sa Calobra. Yes – due to the topography, you get to do the descent first. Get there early, or peg it onto the end of a day's long ride and you'll have the mountain pretty much to yourself save for a few other riders. Get your timings wrong and you'll have to share the road with plenty of sightseers in Fiat 500's, who'll think nothing of slamming their brakes on every time they see a breathtaking view (which is often). You'll also come across large tourist coaches which will block the road as they negotiate the tight hairpin turns.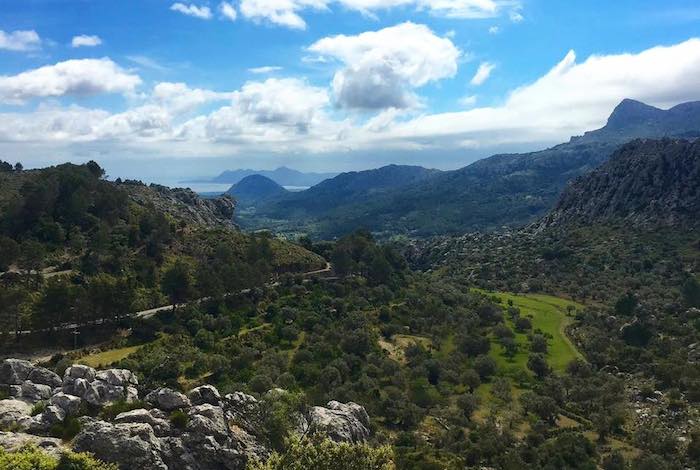 "There are a few "hidden gems" that are worth seeking out. Personal favourites of mine include the descent to Port Valldemossa and Port des Canonge both accessed via the Ma-10. These are off the beaten track and too narrow for nervous drivers… so very often, completely deserted. These are also both down and up "climbs"… starting, like Sa Calobra, with the descent, before you turn around at the bottom to take on the climb. At least you'll know what you have in store!
"A great way to experience these climbs is to get yourself to the town of Andratx on the western tip of the island and then cycle the full length of the Ma-10 back to Port de Pollenca. On your way you can link up many of the climbs mentioned into one truly epic ride of over 100 miles and around 5000 meters of climbing! You can book a shuttle bus that will take you out to Andratx for about £20. I challenge anyone to find a better day in the saddle. Port Valldemossa and Port Soller are both good places for coffee and lunch stops on this ride.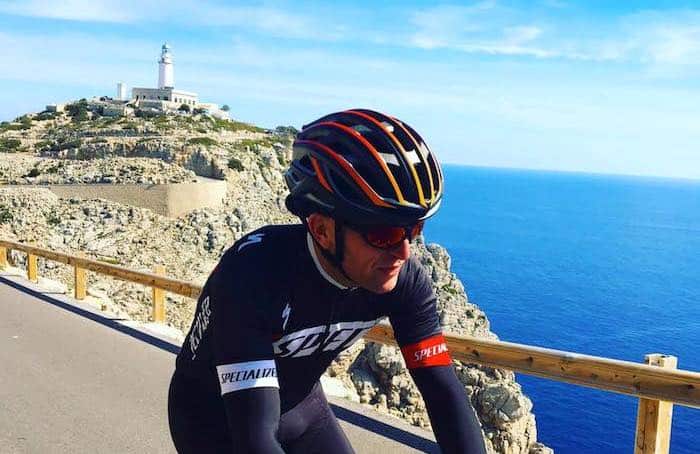 "I suppose riding out to the lighthouse at Formentor bears a mention, particularly now the road has finally been resurfaced. The views on the way out are breathtaking as are the prices in the single cafe at the end of this "out and back" route!
"There are some pleasant rides into the middle / south of the island. Heading toward Felanitx you can find some enjoyable climbs including those to the monasteries of Ermita de Bonany, Santuari de Cura (Randa) and Sant Salvador. "
Another way to find out more about where to ride, routes and much more is to utilise Eat & Check Cycling. You can find them on Facebook, Instagram, and also download their app via Google Play or the App Store.
Running…
For many, an overseas trip is a great opportunity to focus on your swimming and cycling with running, perhaps, taking a slight back-seat on the basis that you can "do that easily at home". That said, any true triathlete will still want to fit in at least some running during their trip.
Where to run?
We asked Duncan again for his person experience of running on the island:
"There are an abundance of quiet country lanes for running and Port de Pollenca has a promenade that is quiet in the mornings and evening.
"There is a tartan track near the Pollenca old town, but if I'm honest, I've never used it. I much prefer to head to the mountain trails on the Alcúdia peninsula where there is a network of way-marked walking trails which offer some fantastic and challenging trail running. Venture up to the summit of Talaia de la Victòria for some precipitous trails and incredible 360 degree views when you make the top.
"The nearby summit of Mirador Penya del Migdia offers further trails verging on "Via Ferrata" which are beautiful / exciting / nerve wracking in equal measure! Phone signal is good here and tracking apps like Wikiloc can be used to identify and follow these fantastic routes. Take plenty of fluids if you head onto these trails as you won't come across any en-route."
Training Camps
Mallorca provides plenty of options for you depending on your own individual requirements. You can book yourself in to one of the wide range of accommodation options and do your own thing. Alternatively, you may want to join in to an organised training camp to take the hassle out of finding routes / planning sessions or to gain some specific coaching advice. How about taking a hybrid option, and – for a small fee – joining one of the organised rides that several of the major bike hire outlets often offer to customers.
Once again, the options are plentiful and each one will have a slightly different approach or objective, so choose one that best fits your own goals. Do you want to simply log up lots of miles in the sun? Are you looking for technical swim coaching? Looking for a structured training plan? Whatever it is, chances are there is something available for you!
Here are just a few options to start with – once again, far from an exhaustive listing!
Events throughout the year
The island hosts countless sporting events. As well as some of the major international races, smaller Aquathlon, Duathlon and Triathlon events take place practically every weekend on Mallorca.
Here are some of the better known events on the annual calander, along with their typical slots in the year:
Where to Eat?
Given that Mallorca is an island geared up to welcoming millions of tourists ever year, finding somewhere to eat to suit all tastes and budgets will not be a problem!
If you are going to be based in Alcudia, two restaurants that are very familiar with welcoming and feeding cyclists and triathletes are Sa Gavina (more HERE), and Piero Rossi (more HERE). They will be doing so again this year around the Long Course Weekend event.
Sa Gavina is a beach front family friendly restaurant serving Mediterranean and International dishes. You can find them on Facebook.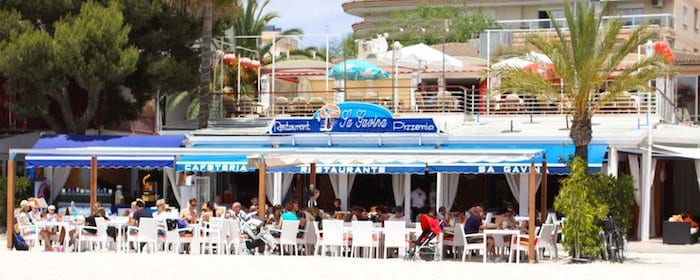 Long Course Weekend – Mallorca Edition
Building on the huge success and popularity of the 'original' in Tenby, the second edition of Long Course Weekend Mallorca takes place from Saturday 27th October to the 29th October 2018.

The 2017 debut edition proved to be hit from the start, and even saw two familiar British winners in Lucy Gossage and Tom Vickery.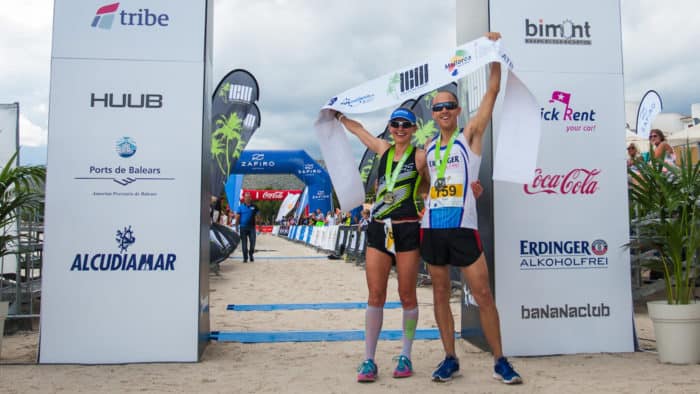 Long Course Weekend takes the best bits of triathlon, adds some additional gems, twists things around a bit, spreads the fun out over a long weekend and makes every athlete feel special. It really is triathlon at its best. (Lucy Gossage)
You can read the first hand experience of Lucy in her extended report HERE, while we also had Tom Vickery report back for us HERE.
Overall, it was a fantastic event. I love how the multi-day racing builds up shared experiences and relationships. It allows for plenty of analysis, chat and banter in the evenings between. Looking forward to coming back and defending the title next year!! (Tom Vickery)
What are the Long Course Weekend Mallorca options?
Day 1 – Alcudia Swim Saturday 27th October 2018
3.8km Swim
1.9km Swim
1.5km Swim
750m Swim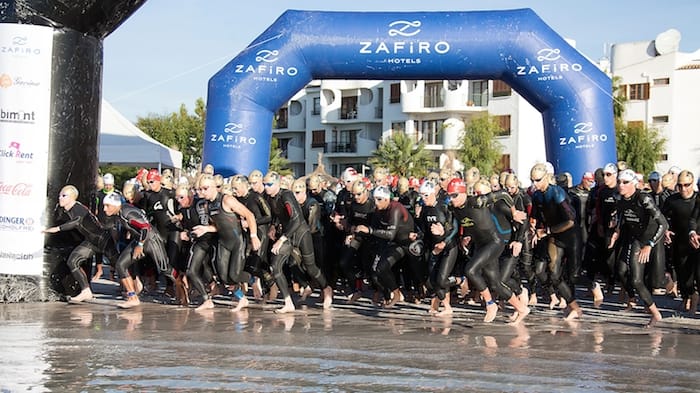 Day 2 – Sportive Mallorca Sunday 28th October 2018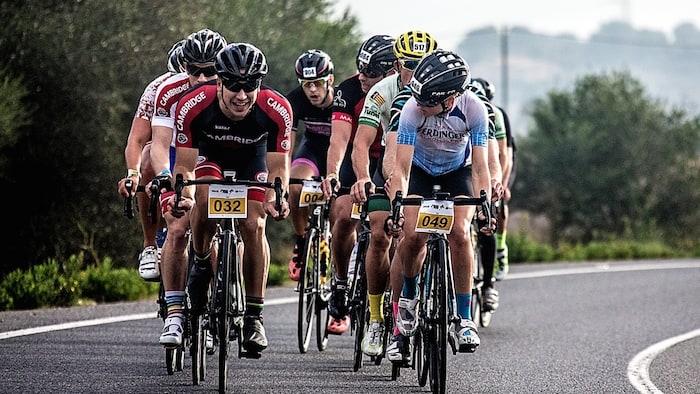 Day 3 Alcudia Marathon Monday 29th October 2018
Marathon
Half Marathon
10k Run
5k Run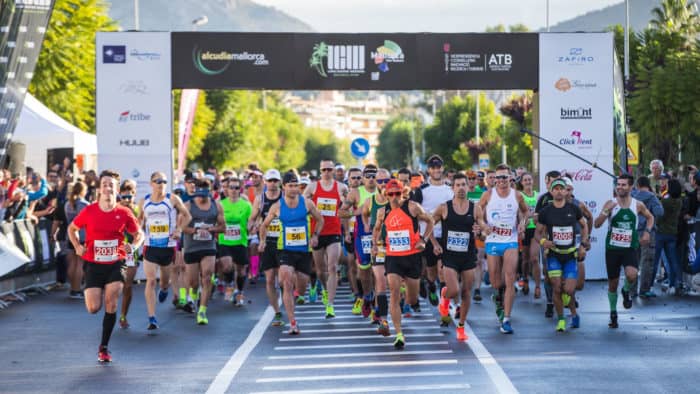 Athletes who enter and complete the 'full' Long Course Weekend (3.8km swim / 172km bike / Marathon run), will also earn the coveted "fourth medal", a special moment, as explained by Lucy Gossage:
"Each finisher is called up by name to collect their fourth medal. And they all then form a tunnel for the top three finishers to dance down to collect the top awards. This beats an Ironman awards ceremony any day, not least because every finisher is celebrated and cheered."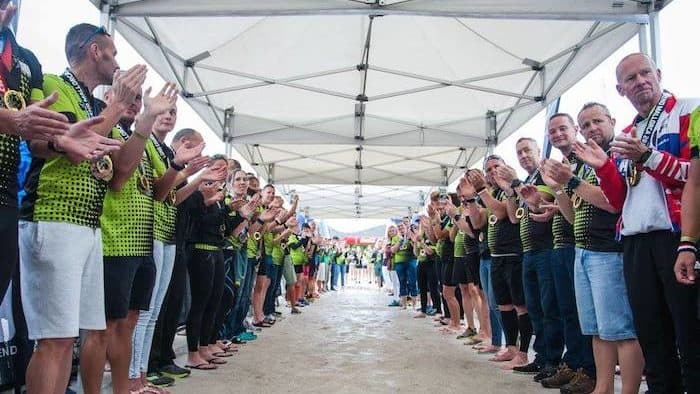 To find out more about the Long Course Weekend Mallorca, visit www.lcwmallorca.com. The event also offers packages to include hotel, half board and race registration – full details can be found on those offers HERE.