The Trek Speed Concept of Ellie Salthouse
Aussie Ellie Salthouse has had a stellar start to the 2021 season. To date, Salthouse's 2021 season has been nothing short of sensational. She already has four victories (including the Australian Long Course Championships and IRONMAN 70.3 Geelong), all aboard her Trek Speed Concept.
2021 Success
The 28-year-old's triathlon journey began at the age of 11 and she has built on her short-course experiences to become a major player in middle-distance racing.
Salthouse had aspirations of representing Australia at the Olympics, but her decision in 2016 to step-up to non-drafting, middle-distance racing has been an unqualified success. Salthouse has secured numerous impressive results which include victories at IRONMAN 70.3 Cozumel in 2019 and 2018, as well as winning both the 2018 and 2016 editions of IRONMAN 70.3 Boulder.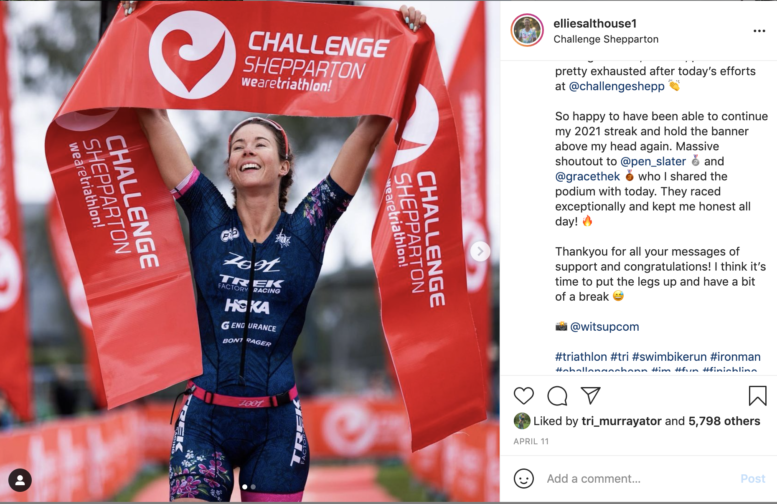 Trek Speed Concept
Salthouse has been a Trek Factory Racing athlete since 2020 (having ridden a Trek for the previous two years), and she is clearly impressed with her Trek Speed Concept:
"I really like the handling capabilities of the bike, I find it quite stiff and easy to handle. I also like the adjustability of the bike and how easy it is to work on. The bike is light and very aerodynamic, making it optimal in all conditions."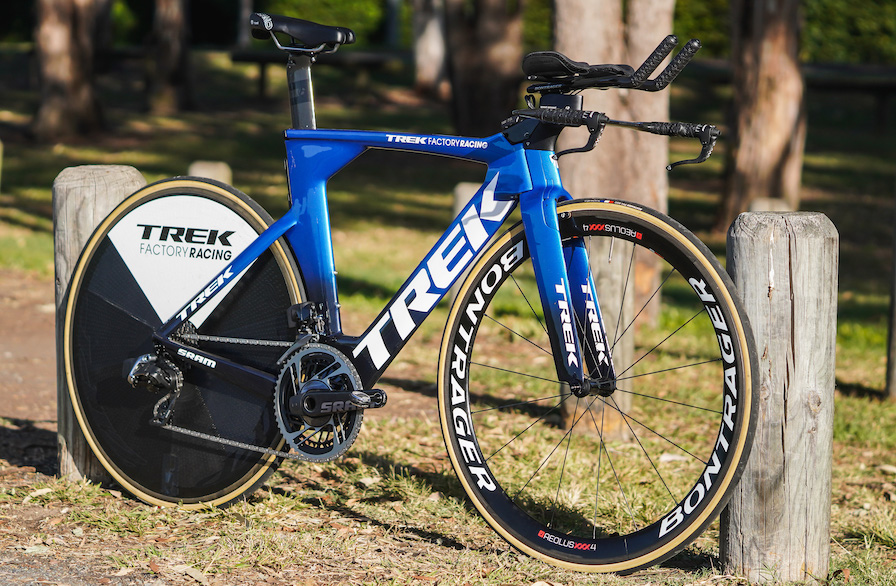 Salthouse is 171cm tall and she confirmed that in the interests of comfort and aerodynamics she has opted for a smaller frame size:
"I ride size Small. This is a size smaller than I typically ride on a road bike, however the reach on the Small Speed Concept allows me to get into a more comfortable and aero position."
Bike fit and adjustment
She mentioned that following an initial bike fit she continues to tweak her position on the bike to adapt and ensure the position is optimal:
"I had a Retul fit in Boulder, and have since made minor tweaks for comfort and aerodynamic purposes. Throughout the year, I make small adjustments depending upon course profiles and how my body feels throughout the season."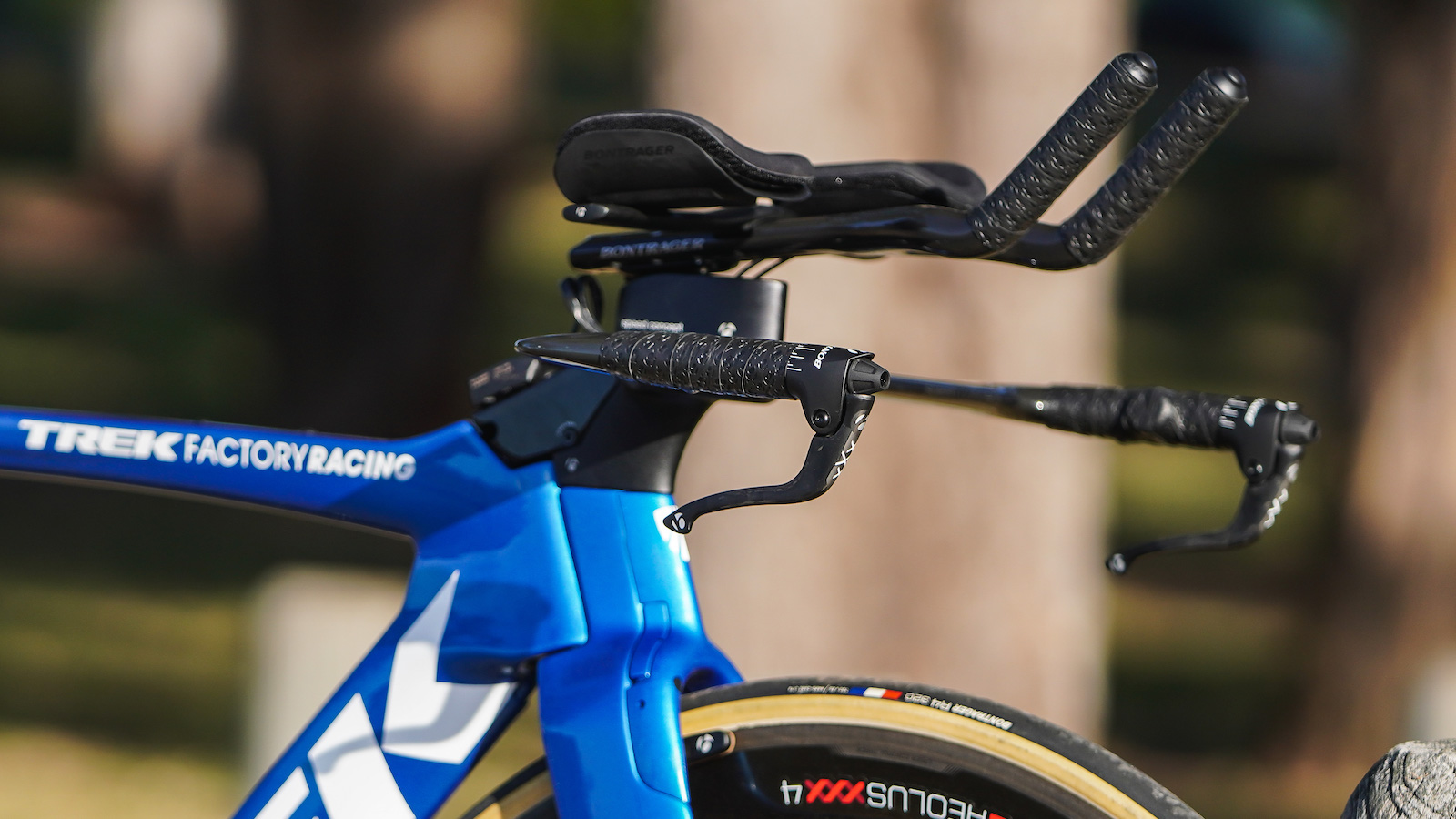 When seeking the best riding position, it isn't just about cycling quickly, it is important to be able to run fast off the bike. With this in mind Salthouse uses 167.5mm cranks:
"The shorter crank arms open up my hip flexion angle, allowing me to run better of the bike."
Comfort
Comfort on the bike is paramount, and when you find a saddle that works for you there is certainly merit in sticking with it. That is what Salthouse has done in regard to her perch of choice:
"I use the ISM PN3.0 saddle. I have been using this saddle since switching to long course racing in 2016."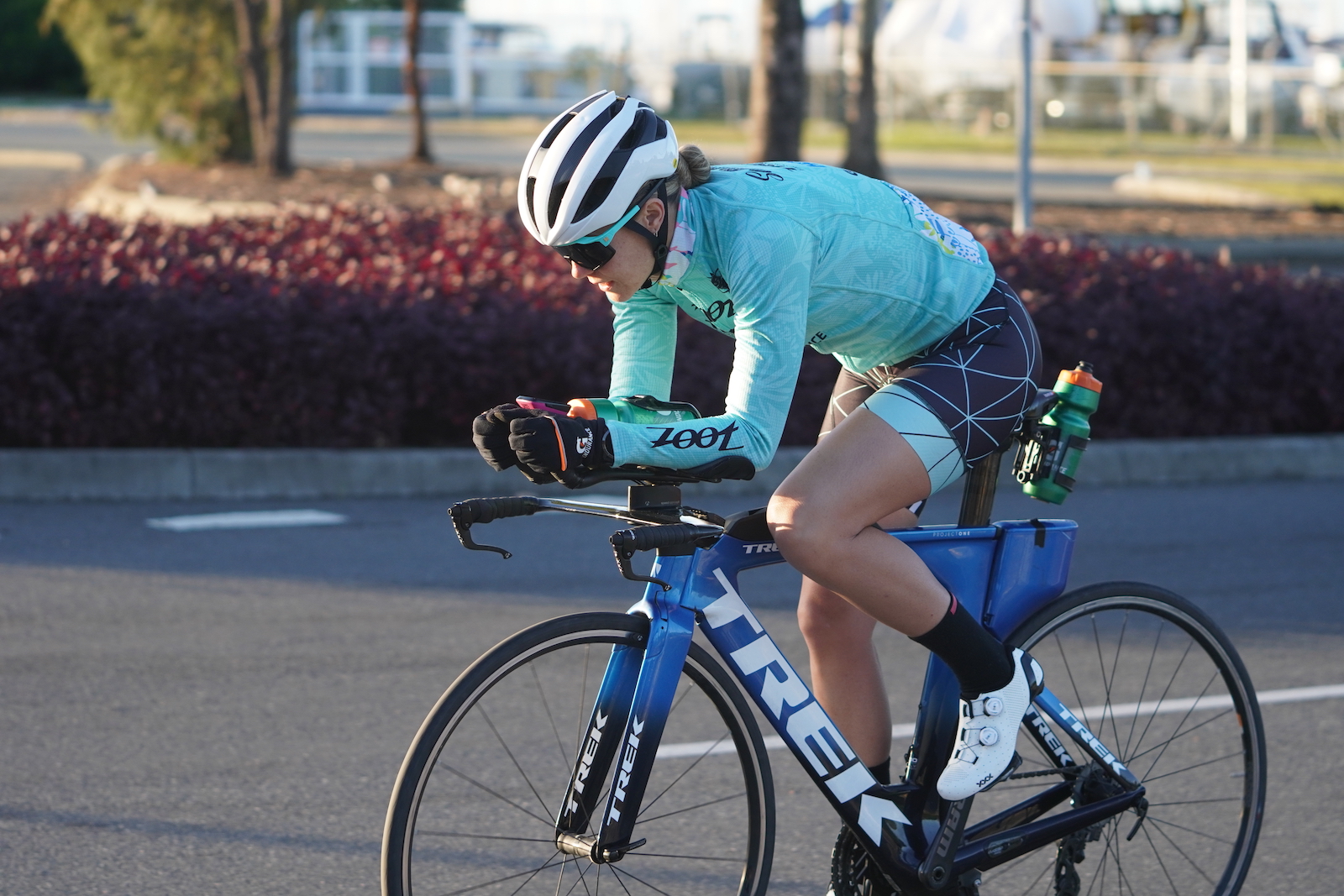 Currently Salthouse's Trek Speed Concept is equipped with the standard bars, however she confirmed she is looking to make a change:
"I am using the stock standard bars that come with the Speed Concept, the ergo short. I am waiting on the mono plug-in to allow me to use some custom extensions later this season.".
Salthouse is using the SRAM AXS 12 speed groupset and combines 54-41 chainrings with a 10-28 cassette. She explained:
"I chose these gears as they have a great spread to allow for varying terrains."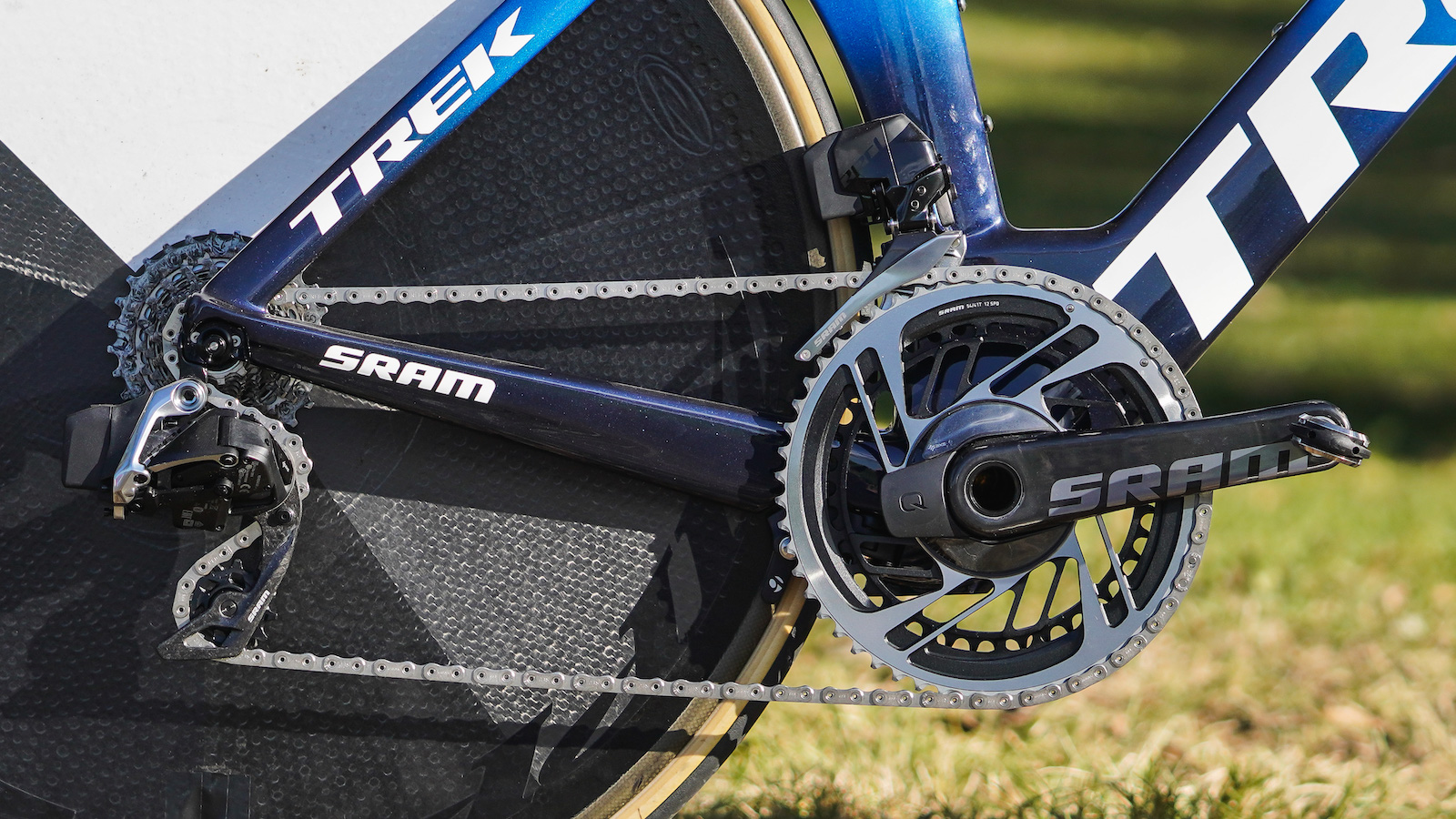 Train and race to feel
As you may expect, Salthouse's bike is fitted with a SRAM AXS power meter. However, it is a little more surprising that she trains and races to feel:
"My bike is fitted with a SRAM AXS power meter, however I do not use the power meter for training or racing. My coach looks at the data after I complete a session, but I ride entirely on feel in both training and racing."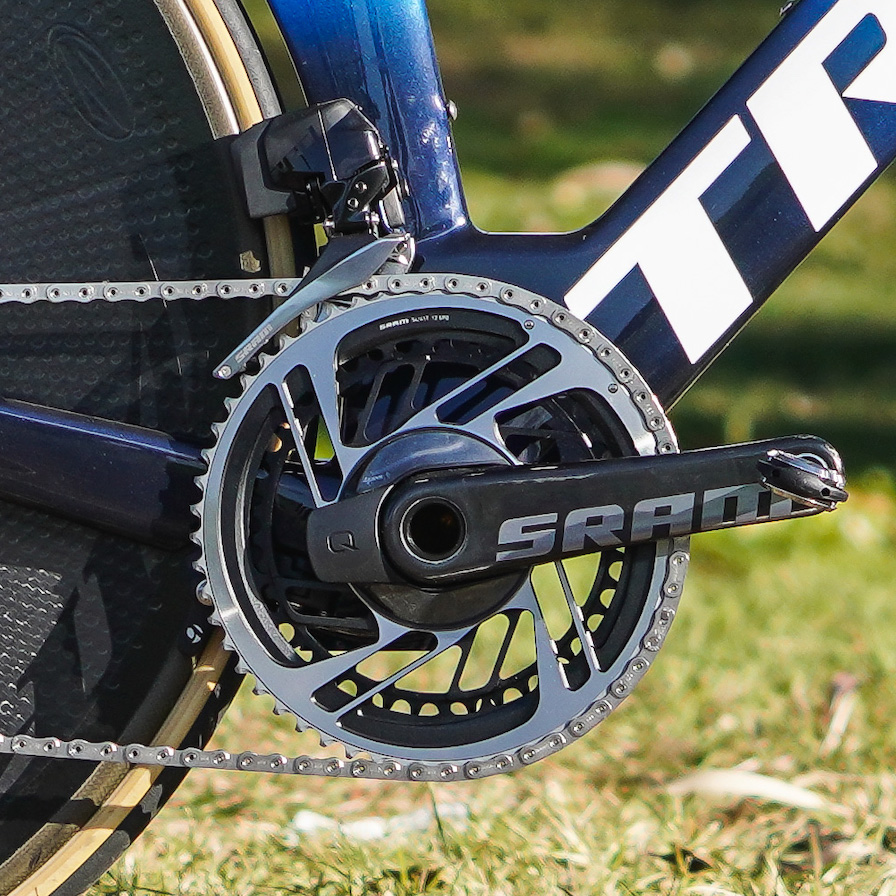 Disc brakes or rim brakes?
Interestingly, unlike many bike brands that are moving to exclusively offering disc brakes, to date the Trek Speed Concept remains commercially only available with rim brakes. However, if you follow professional cycling you may have spotted that at the Critérium du Dauphiné the WorldTour Team Trek-Segafredo were using a 'new' Trek time trial bike equipped with disc brakes (and a few other clear differences to the existing Trek Speed Concept), so it looks like a disc brake version of the Trek Speed Concept may be coming to market shortly.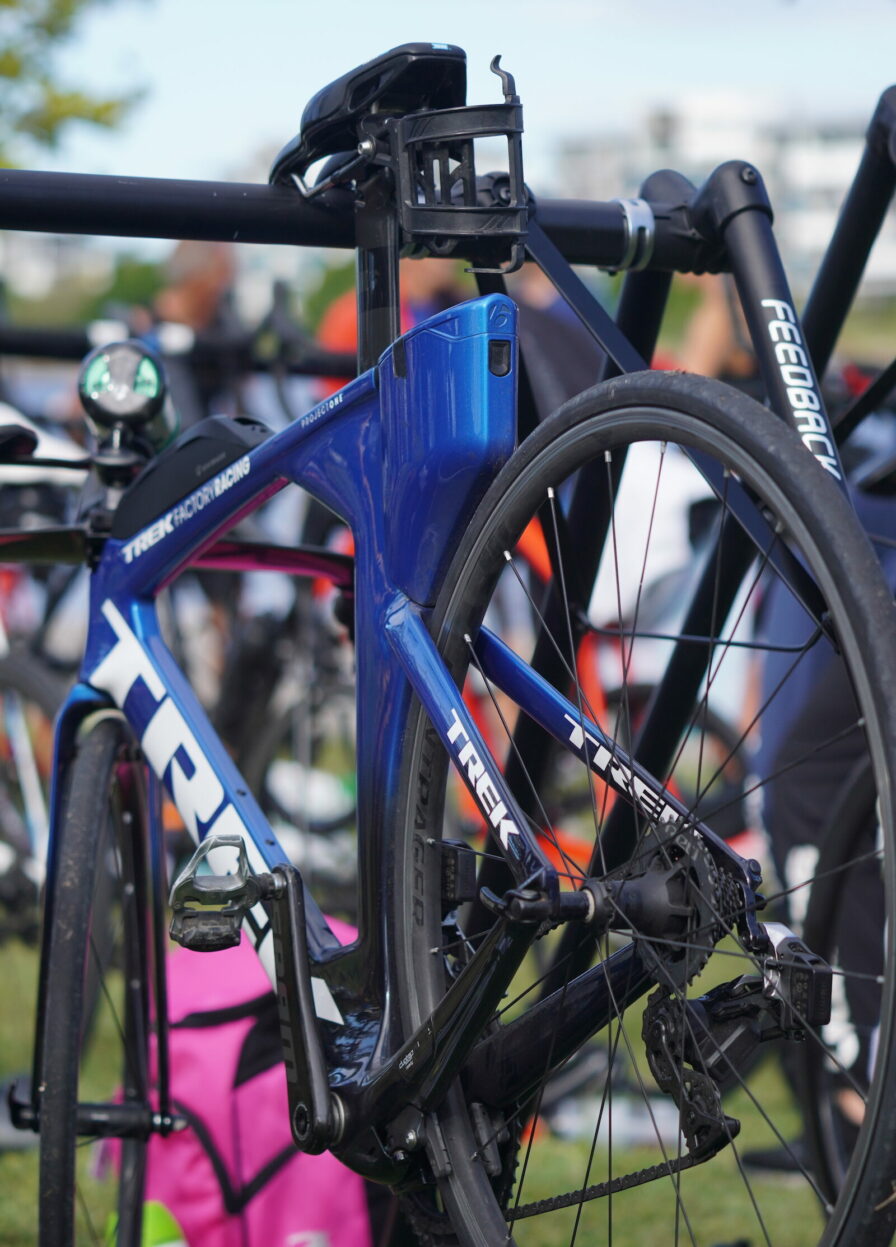 Salthouse appears to be a fan of the claimed benefits of disc brake equipped bikes and she stated she would be keen to ride a disc brake version of the Trek Speed Concept:
"I am currently using rim brakes but am hoping a newer model of Speed Concept is in the works with disc brakes. I look forward to the improved braking capabilities and stiffness that through-axles bring."
Wheels
Salthouse confirmed that the only difference between her race day set-up and that of a training ride is her wheels (and tyres). However, it is quite a difference!:
"I choose to train on an alloy training wheel, for extra drag and weight…[and] use the Bontrager AW3 in 25mm clincher."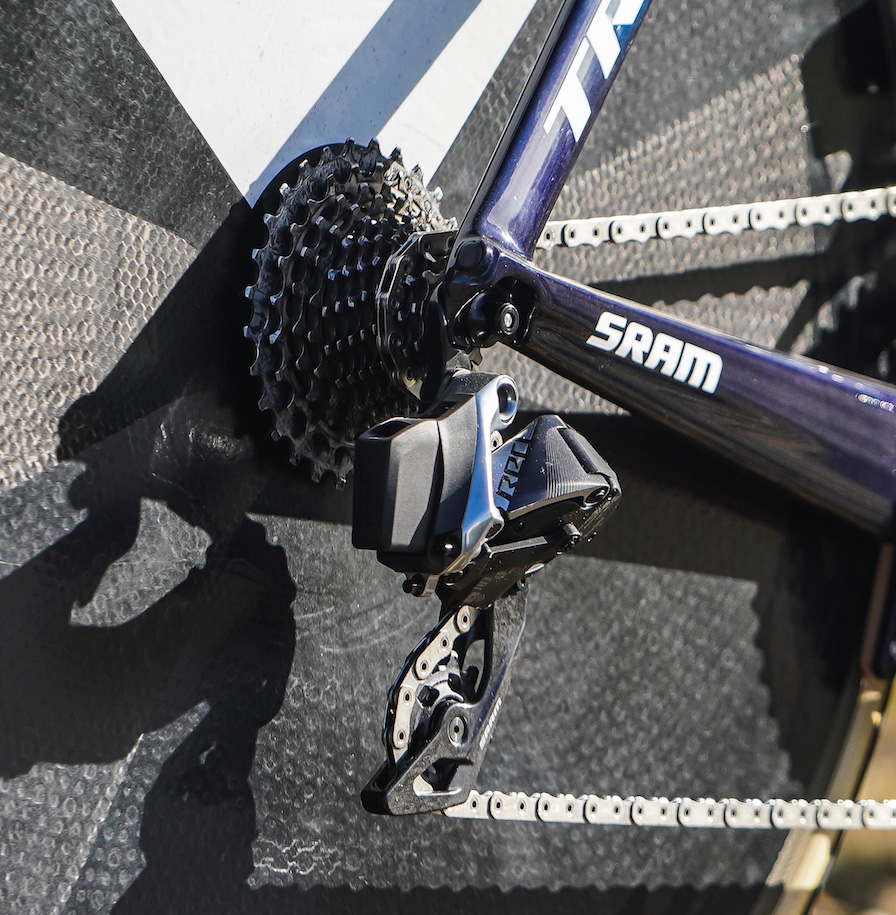 In contrast, come race day Salthouse brings out her all 'singing and dancing' wheelset (paired with 25mm Bontrager R4 clinchers), which includes a disc wheel on all but the hilliest of courses:

"For race day, on the front I use the Bontrager Aeolus 4 or 6, depending on the weather conditions and course profile, and on the rear I use the ZIPP Super 9 disc.
"I really like this combination as the shallower front wheel allows for speed and aerodynamics without sacrificing handling in the cross winds, and the rear disc is always faster, I believe, unless there is a large amount of climbing."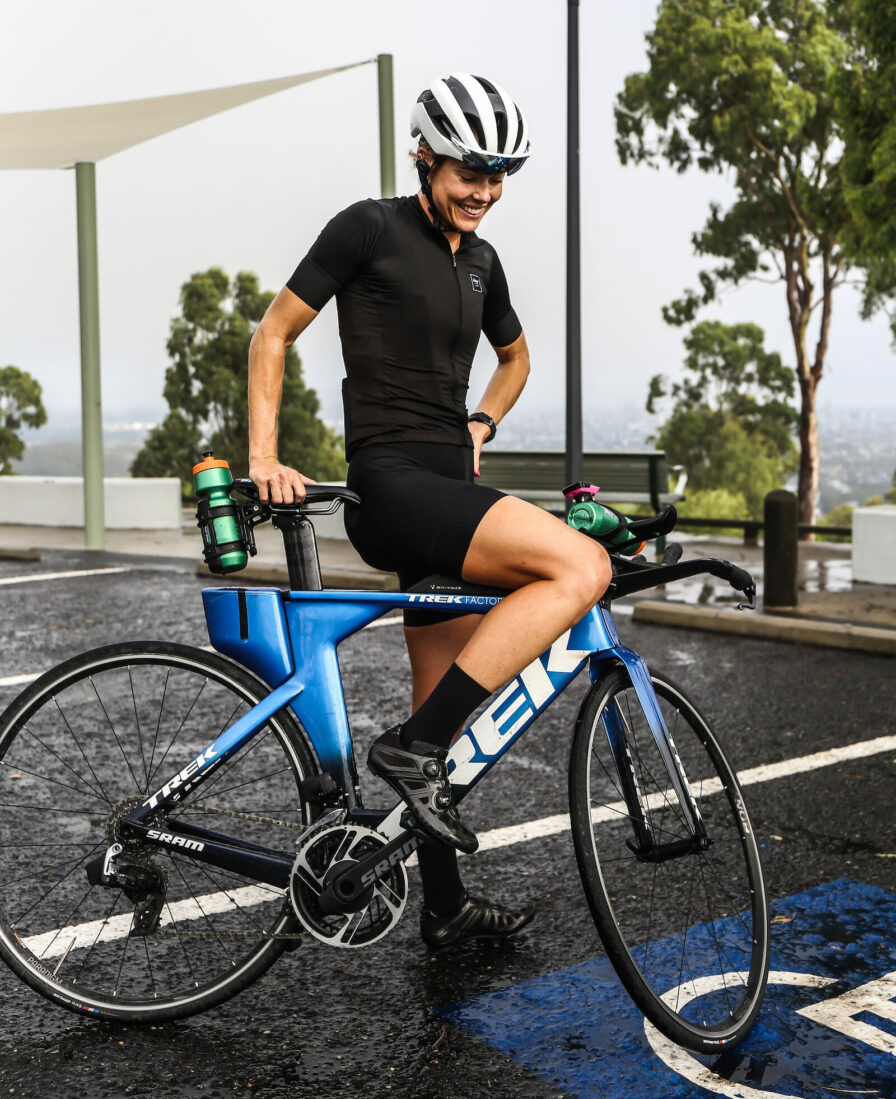 When it comes to stowing her nutrition, Salthouse combines bottles and a bento box:
"I carry nutrition in a bento box on my top tube. My front hydration system is the X-lab Torpedo versa, and I also have a bottle cage mounted behind my saddle."
As said above, Ellie has started the 2021 season in great form, and we hope to see her continuing to race well!
If you like what you see, check out: Trek.