In the Tokyo 2020 men's triathlon, South Africa's Henri Schoeman came out of the water at the front of the race and helped push the pace out of T1. Unfortunately, a run injury had hindered his preparation and his challenge for gold eventually ended with a DNF.
The South African has a very impressive catalogue of triathlon results, including gold at the 2018 Gold Coast Commonwealth Games and a bronze at the Rio Olympics (behind Alistair and Jonny Brownlee). In 2021 he has already finished fifth at WTCS Yokohama and won the Africa Triathlon Championships.
His race bike for 2021 is the Swift Carbon Racevox and Henri kindly shared some insight on his latest steed.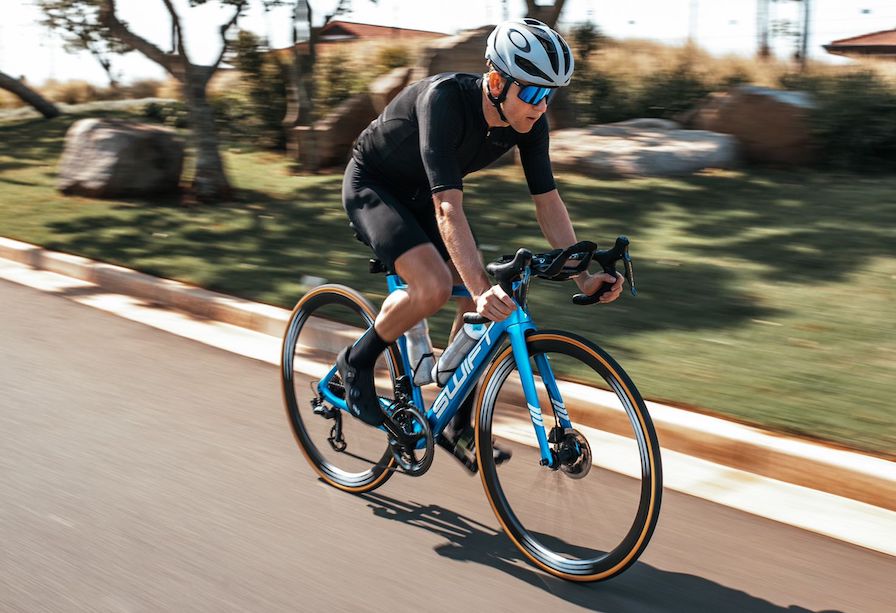 Swift Carbon Racevox
Aero road bikes have been becoming more and more integrated, and that is one of the attributes that Schoeman particularly likes about his:
"What I really like about this bike is that it's fully integrated, it's a very clean look. The way it rides is very aggressive through the corners and up the hills which really relates to me as an athlete as that is my style of racing. I previously had the Swift Carbon Hypervox, and to me, I get the same impressions but it's just a little bit sharper when I put the power down."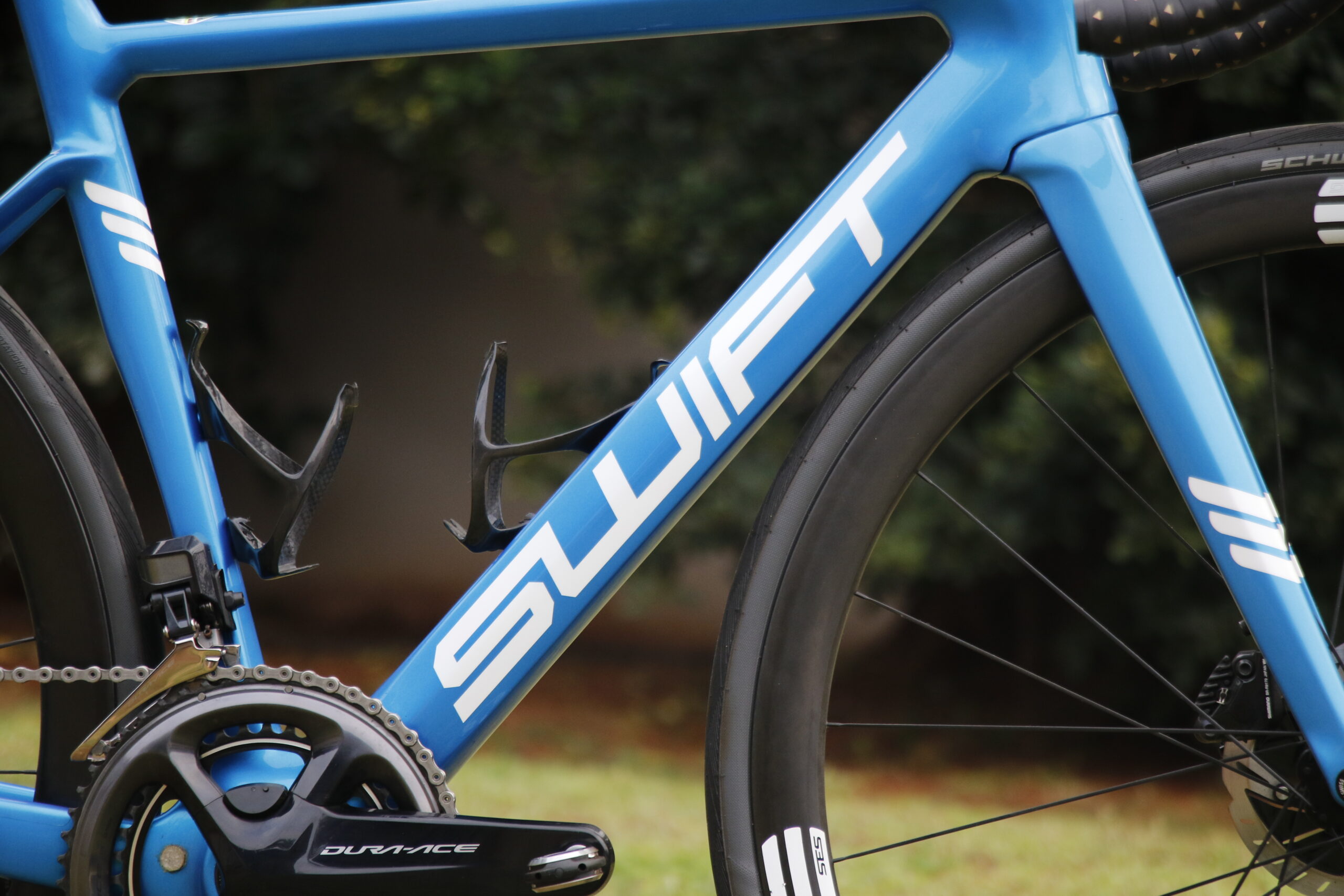 Size matters
Henri explained that he opted for a smaller frame to allow him to get an optimum fit, and that although he has had a bike fit, he takes a 'comfort and effectiveness' approach:
"I use an XS, 49cm frame. I'm 170cm tall and decided to go for this frame as with a bigger size I'm on the limit with adjustability. But with the 49, I have more room to play with in terms of fit."
Re-iterating Schoeman's attraction to a clean and fast look, the front end of his Swift Carbon Racevox pairs aero Vision bars with some custom clip-on extensions:
"I use the Vision Metron 5D handlebars, 400mm width. I use a semi-custom set of tribars [clip-on bars] that I had carbon customed locally with Graeme Kidson from Carbon Craft to fit the handlebars in a very aero manner."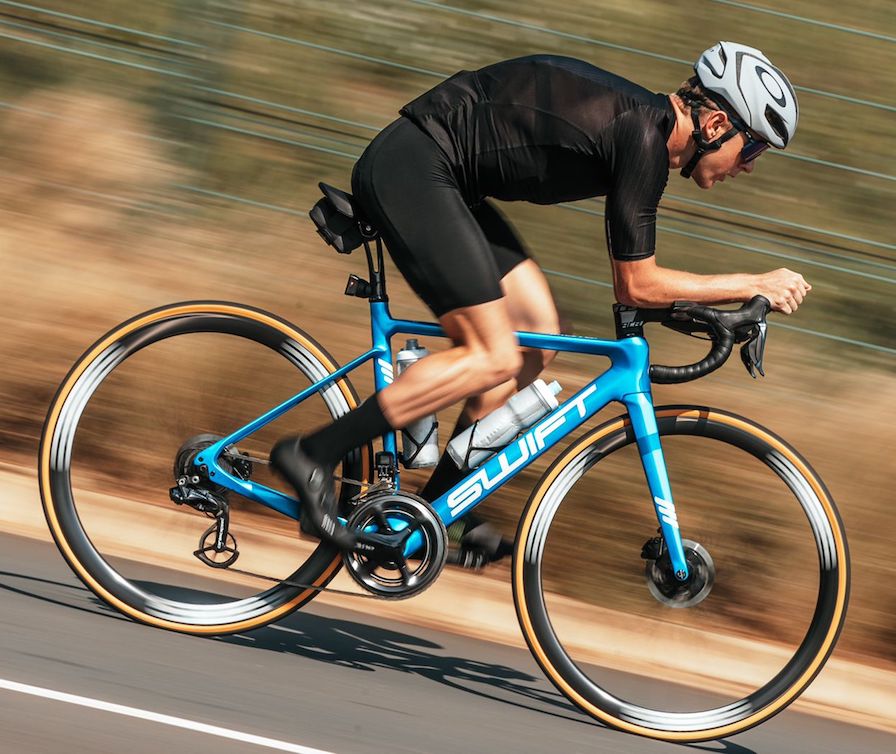 Watt savings
His groupset of choice is Shimano Dura Ace Di2, plus a few watt-savers such as a CeramicSpeed Oversized Pulley Wheel (OSPW) and bottom bracket. If you are wondering why he doesn't just use the standard groupset, Henri has a succinct answer:
"Simple reason: I save watts with CeramicSpeed."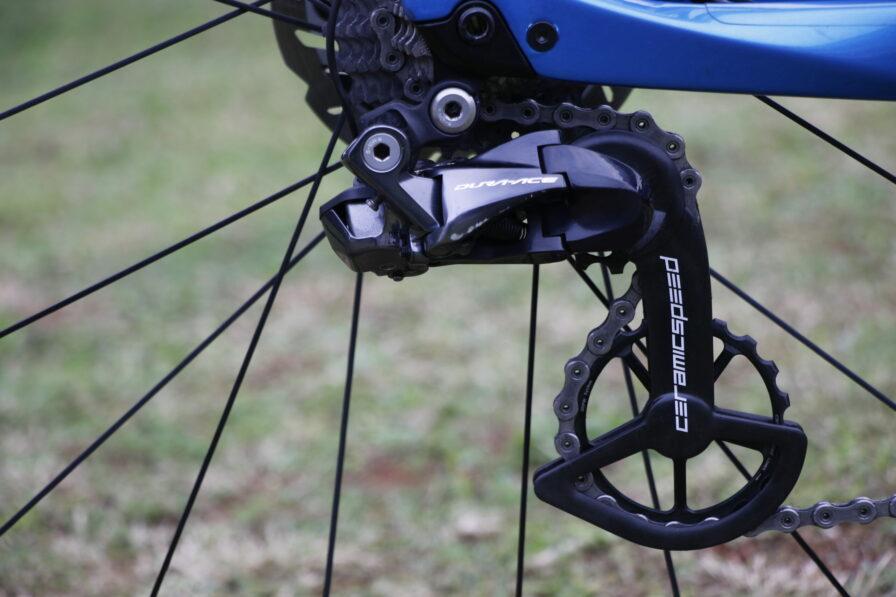 Whist some riders seem to be experimenting with gear ratios, Schoeman is sticking with the tried and tested classic 'roadie' choice of 53-39 – but he might change his position if necessary!
"I've got a standard 53-39 in the front and 11-25 at the back. I've been using that combination for years and haven't felt the need to change. If there is a special course that includes a lot of climbing, I may consider changing up the gearing."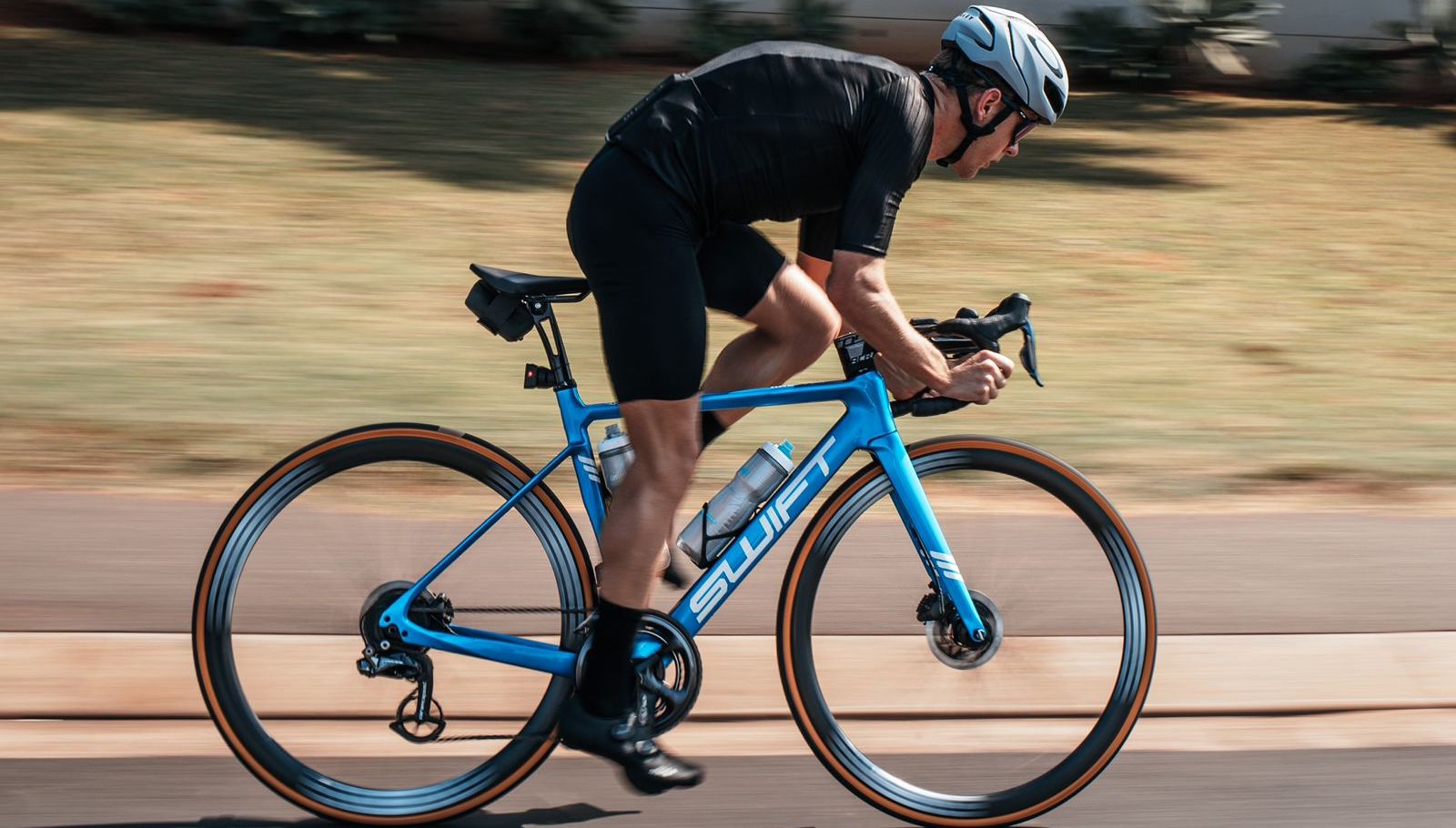 He uses a 172.5mm length crank with an embedded Shimano Dura Ace power meter. He elaborated on his crank choice and use of a power meter:
"172.5mm – I feel this has been the best length for me on the short-course races as I feel I get a bit more leverage while accelerating and climbing.
"It's really nice to see the kind of power output I get in some of the short-course races and it gives me an idea of targets to hit in training."
Henri opts for Wahoo Speedplay pedals, a popular choice amongst both pro triathletes and cyclists. His reasoning is sound:
"…they are light and the adjustability is really good."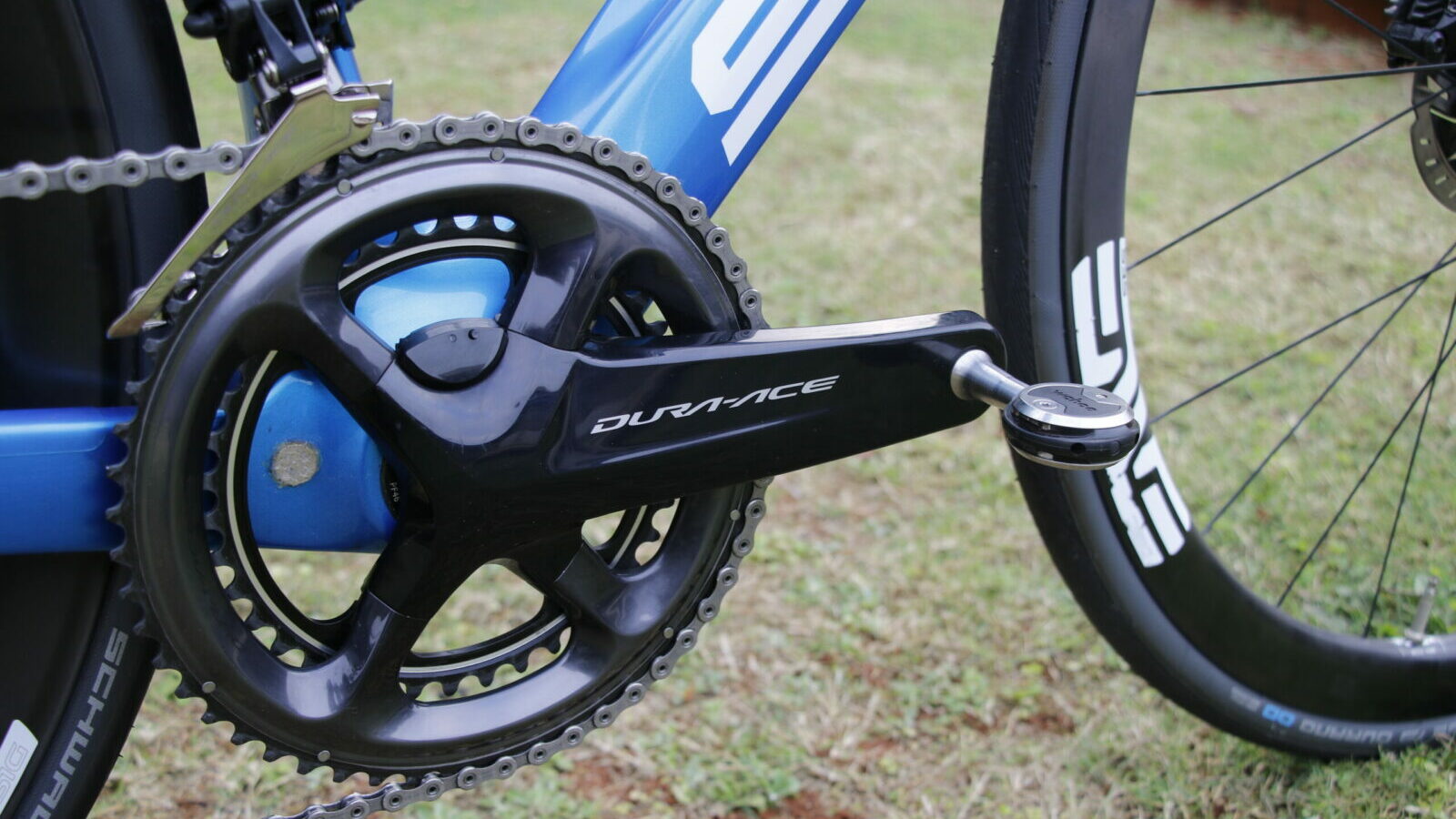 Full-tilt racing
As we saw during the Tokyo 2020 bike leg, draft-legal racing can be full-tilt stuff. Being over the bottom bracket can help a rider find some crucial watts and confident braking is a must. Schoeman explained how his saddle choice enables him to ride in an aggressive position and the benefits of disc brakes:
"I use the Fizik Tempo Argo R1. I've been using it for a year now and it's very comfortable. It allows me to sit right on the end with no discomfort."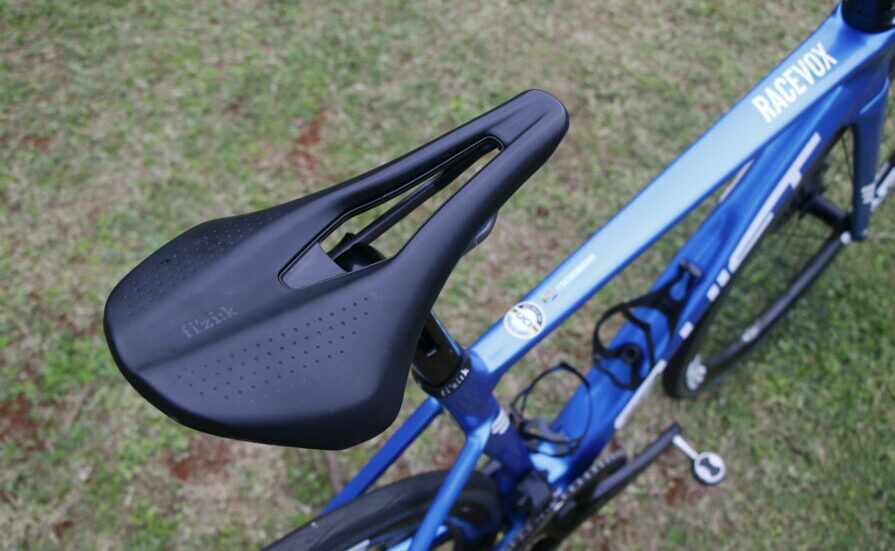 He continued: "Yes I do [prefer disc brakes], braking is much more precise, it allows you to brake later going into a corner."
New wheels!
There's nothing quite like a nice set of wheels to spruce up even the best frames. Schoeman is lucky to have recently started using the aero-renowned ENVE hoops, and he is clearly impressed:
"[I use] ENVE SES3.4 tubeless. I love these wheels, I'm fairly new on ENVE and compared to what I've used in the past, it's much more stiff and rolls way smoother."
Henri pairs his wheels with Schwalbe tyres. For race day he opts for Schwalbe Tubeless Pro One TT for racing 25mm/28mm; and, when training he uses Schwalbe Durano Plus Clincher tyres.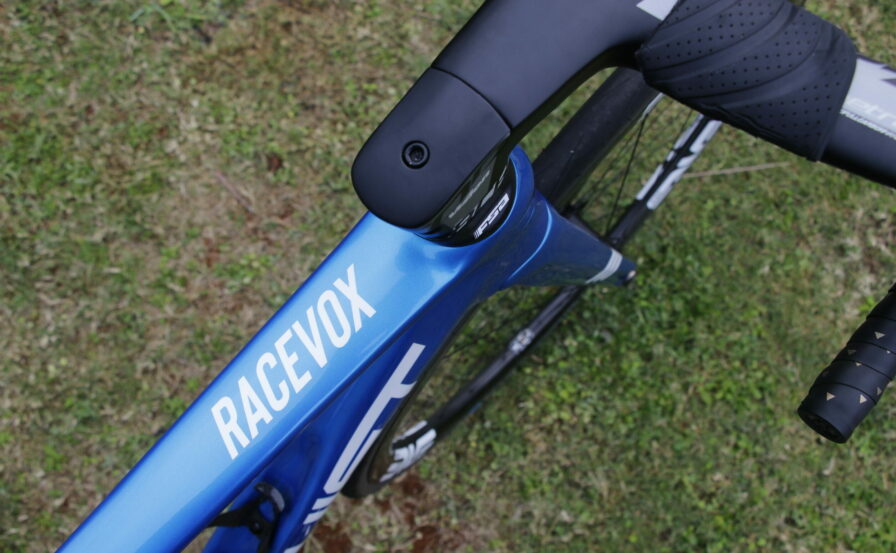 Wahoo tech
In addition to different tyres, Schoeman makes some subtle changes for race day – he even changes bike computer!:
"I put in lighter thru-axles for race day and I would change out training tyres for racing tyres. I would also remove the training light and training saddle bag and I would use my Wahoo Bolt GPS instead of the Wahoo Roam."
When riding indoors Henri, uses his Swift Hypervox setup on a 'Wahoo eco-system' which includes both the Wahoo KICKR and KICKR Climb. During races, very similar to Aussie Aaron Royle's nutrition storage, Schoeman uses two regular bottle cages on the frame and tapes a couple of gels onto the top tube.
We hope Henri heals fast and has a successful second half of the season.