Developed in Germany and now available here in the UK, the AMEO Powerbreather is an advanced swim snorkel suitable for both pool and open water swimming.
We've previously featured the product – and we've now had a chance to trial it ourselves. This is what we found, when Tri247's Paul Shanley packed it into his suitcase on a recent trip to Lanzarote.
---
PRODUCT REVIEW: AMEO POWERBREATHER
Who is it aimed at?
Triathletes looking to improve their swimming: indoor and outdoors, fitness and technique.
Best Bits?
Super easy to set up and comfortable to use. Very well made.
What surprised you?
It is fun to use – especially in clear open water.
Reasons why you would buy it?
A piece of kit to add to your kit bag that could help you to improve your swimming.
Because Jan Frodeno uses it.
AMEO Powerbreather – our experience…
As obvious as it sounds, If you want to perform well in triathlon these days then you need to be a strong swimmer, biker and runner. Right now, there is no one better and putting these three together – certainly in long distance triathlon – than two-time and reigning IRONMAN Champion, Jan Frodeno.
Thus, when you see him promoting an innovative new swim product then it has to be worth a look, so we got a couple of units sent into Tri247 towers. You can read about the new AMEO Powerbreather here, but we got to have a closer look at one poolside in the triathlon haven of Lanzarote.
We had a AMEO Powerbreather Wave Edition to test. There are currently three editions available: The Sport, the Lap and the Wave.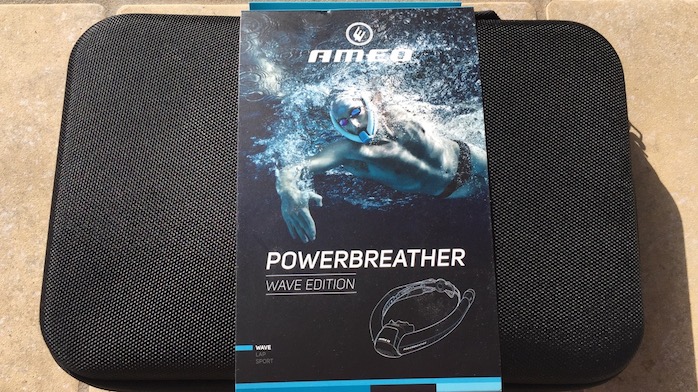 All editions come with the main Powerbreather unit and then its the additional vents that allow you to use it for different conditions. The Wave edition has vents that allow you to use the Powerbreather in open water conditions, so perfect for triathlon training, especially in lanzarote.
An advanced swim snorkel, the 'fresh air system' allows the swimmer to inhale 'clean' air – not partially exhaled air as happens with a typical snorkel. The twin air-intake tubes also means you get excellent vision. More on the benefits of the Powerbreather HERE.
Out of the Case
The unit comes in a zip-up hard case with pouches and inserts to safely store the unit in when you are not in the water. In the Wave Edition hard case you get:
1 x Powerbreather
2 x Speed Vent S
2 x Speed Vent L
2 x Flip Cap
1 x Blind cap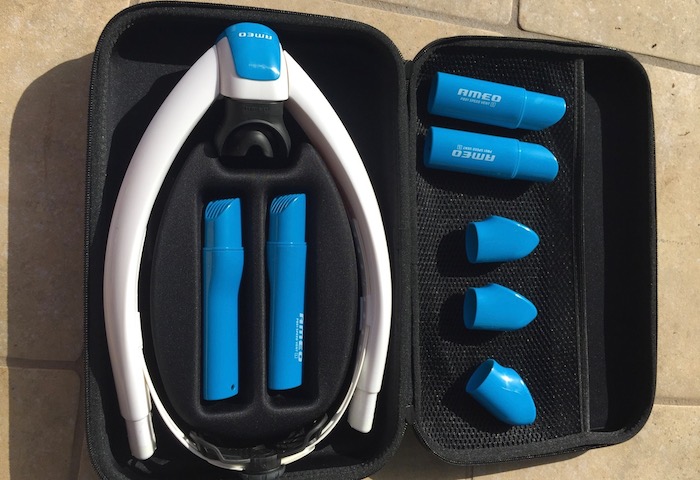 The Powerbreather was developed in Germany and has already won a number of awards including an ISPO brand new award. As you would expect from a German company the construction and build quality is very good and it does feel like a premium product.
Fitting:
The instructions are fairly straightforward and easy to follow. To use the unit you need to just add the appropriate Speed Vent for your type of swimming. The Speed Vent L is for open water swimming so we set the unit up using the Speed Vent S. The Flip cap is added for open water swimming and for doing flip turns and the Blind cap has been designed for swimmers who flip turn strongly to one particular side (the instructions are clear to point out that you shouldn't add the flip turn until you are used to breathing in the unit).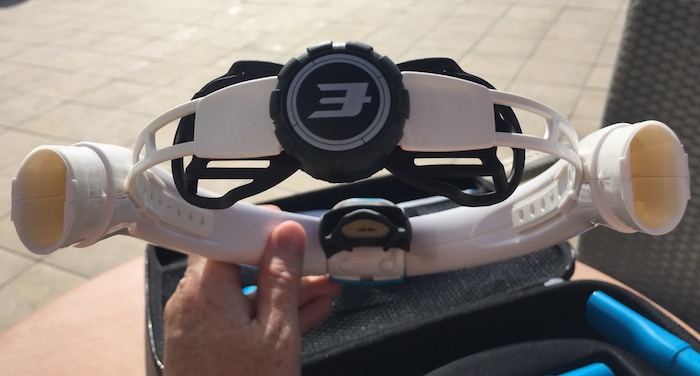 Fitting the Powerbreather on your head is also fairly straightforward – There are lateral headbands on the inside of the unit that can be adjusted to your head size and then tighten using a twist lock system, similar to that you would get on most cycling helmets. The mouthpiece does rotate so once you have got a good feel for the unit you can position it comfortably and tightly to your head.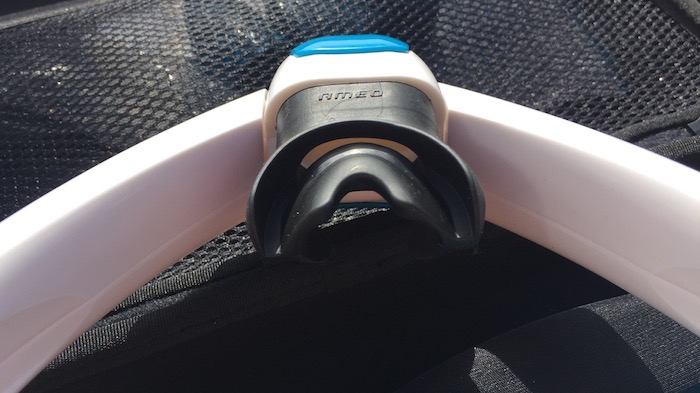 Swimming – Pool
The instructions are clear to point out that when using the unit at first you should get accustomed to breathing with it as at you will experience more resistance breathing in. Once the unit was on I took a couple of dips in the water and was expecting it to feel a bit alien, but it was actually very straightforward. Within perhaps 15-20 seconds I was swimming up and down the pool and felt very comfortable using the Powerbreather.
Swimming – Open water
I tested the Powerbreather on a very calm day but the Wave edition can handle rough seas. The unit performed as effortlessly as it did in the pool and you had the added benefit of being able to watch and follow some of the sea life below you. A couple of times I dived and submerged completely underwater and as long as you didn't take a breath in, the water doesn't enter the tubes so once out of the water again it is easy to breathe.
I did a fairly long training swim in the sea and it was a really enjoyable experience. With the extra resistance breathing in you really do feel you are getting a good workout. I also noticed a lot more in open water how much easier it was to focus on your stroke – in particular hand positioning for me – and I found it useful to concentrate on my catch without having to change body position.
To Snorkel or not to Snorkel?
Having spoken to a number of coaches, it seems that opinion is divided on the use of snorkels. The main issue against them is if swimming a lot with one, your regular breathing technique might suffer from lack of use. And, why use something in training that you can't use on race day?
However, the Powerbreather is much more than just a snorkel and incorporated correctly in your training, I believe will actually help improve your breathing technique. The ability to isolate turning to breathe from your stroke allows you to see how you can swim more quickly and then adding it back in you can look to see how you can improve it. Add this with a with resistance training of breathing and the unit starts to become an important part of your swim bag.
Conclusion
My first thoughts on opening the case was this was going to be a complicated piece of equipment to set up and use, but the reality was very much different. Setting up and adjusting the fit took only few minutes and getting used to breathing through the unit was just a quick.
Using the unit is not only easy but it is fun and I do see how it can help my swimming – not only for improving my swim fitness, but helping to work on my technique.
At around £100 it is not an impulse purchase, but incorporated correctly into your training plan it could be a key piece of kit to get you through the water quicker. And don't forget Jan Frodeno uses it as well… and he seems to be swimming rather well.
You can find out more via the website: www.powerbreather.co.uk