Chris Hovenden puts his best foot forward to test the On Cloud X trainers, shoes which the Swiss company claims are "the world's lightest fully cushioned shoe for Running Remixed."
| | |
| --- | --- |
| Product | On Cloud X trainers |
| Price | £125 |
| Size | 43 |
| Weight | 232g |
| Colours | Storm & Flash (see website for other colours). |
| Sizes | See website |
| Website | www.on-running.com  |
| Grade | B+ Very impressive |
On the road with the Cloud X
Worn by Tim Don, Javier Gomez, Will Clarke, and Nicola Spirig, to name just a few from the world of triathlon; not to mention they are the kicks of choice for elite British runners like Chris Thompson and Andy Vernon. It's fair to say On trainers are making a big impact in the running shoe market.
In short, I had thought the On Cloud shoes were brilliant, until I started wearing the Cloud X. For an extra £10 you get a pair of shoes that are just that little better in almost every way.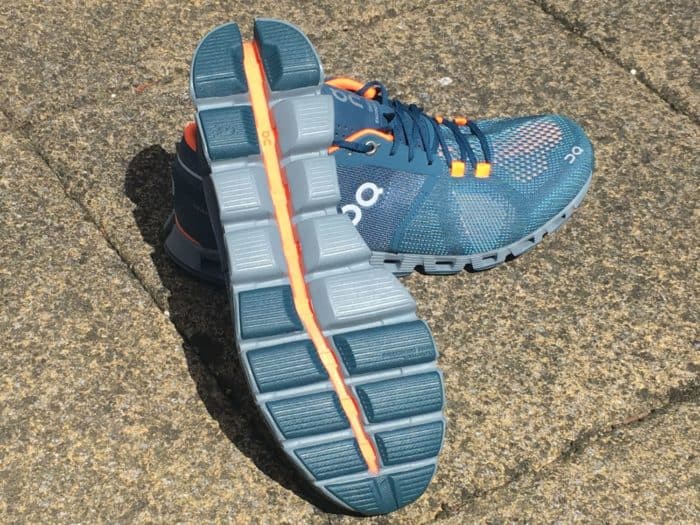 Breathable
The Cloud X's upper is a netted mesh which is light and breathable. Further, the lack of printed decals/overlay or a lip on the edge of the sole meant I was able to wear a shoe that at first glance looked too narrow – in fact, I found the Cloud X came up slightly bigger than the Cloud.
The Cloud X's last is quite slim, however the toe-box is fairly wide and the features mentioned above meant the size 43 test shoes were able to accommodate my irritatingly wide feet.
I was slightly concerned that an unfortunate by-product of the toe-box, the mesh upper, and the lack of a lip on the edge of the sole, would be a shoe that felt unstable and prevented me from running at speed with confidence.
The relatively thin but strategically placed padding in the heel is designed to keep your foot secure whilst also being comfortable.
I put the shoes through their paces across a variety of terrain and routes, even on some testing trail runs, and my fears were unfounded – the Cloud X performed very well.
Light
On calls the Cloud X "the world's lightest fully cushioned shoe for Running Remixed". I'm not sure if that claim can be substantiated, however on the Tri247 scales the size 43 were an impressive 232g per shoe.
Having worn the Cloud X for several months, including for triathlons, run races, and numerous training sessions, they are a good compromise between an extreme racing flat and a more versatile shoe. Light, with a 6mm heel to toe drop, and firm enough for shorter foot races whilst also offering sufficient cushioning for longer runs of around 20km – although, on a couple of initial runs the balls of my feet felt a little tender after running on hard surfaces – and dynamic gym sessions.
Unlike the Cloud, the Cloud X don't come with elastic laces – not a major issue, and installing elastic laces is no biggie.
I had concerns that on particularly hot days I would struggle slipping my bare foot into the Cloud X when rushing through T2; when practising in a changing room before a race on a scorching day, the inner sole kept bunching up – but in race conditions, I have had no problems at all. In fact, having worn the Cloud X without socks on various occasions they were fine for triathlons with 5 to 10k long run legs, and only once did I suffer with blisters.
I was, and I am, a big fan of the Cloud X – they have been my go to running shoe for several months. However, there is an elephant in the room. In addition to the unavoidable stone collection attributes of the 'Cloud' shaped sole, I have concerns over the long term durability of the Cloud X – like many lightweight shoes with mesh uppers, the Cloud X were susceptible to wear and tear a bit quicker than I would like when spending north of £100.
Verdict
Sharp looking, versatile, comfortable, and fast shoes. However, not the most robust.