We've featured a few new models from Saucony (www.saucony.com) recently, notably from their brand new Endorphin range.
From a new range, to a new model that has been part of the brand's lineup for many years now, the Triumph 18.
---
THE NEW SAUCONY TRIUMPH 18 DELIVERS THE MOST LUXURIOUS RUNNING EXPERIENCE, NOW WITH A FASTER FEEL THAN EVER.
Yearning for total comfort and efficiency on long runs? Then Saucony has the answer. Introducing the Triumph 18, our most luxurious running experience yet.
Built out of an award-winning formula, the new Saucony Triumph 18 features strategic midsole geometry that sets runners up for snappier transitions and speedier runs. PWRRUN+ midsole foam provides our most plush ride, but with more lightweight spring to help add rebound to each step taken.
Whether churning out the miles for marathon training or simply looking for the ultimate Sunday long run (SLR) comfort, the Saucony Triumph 18 offers the ultimate synergy of cushioning and speed.
Lace up a pair and it's easy to see that the Triumph makes every run a winner.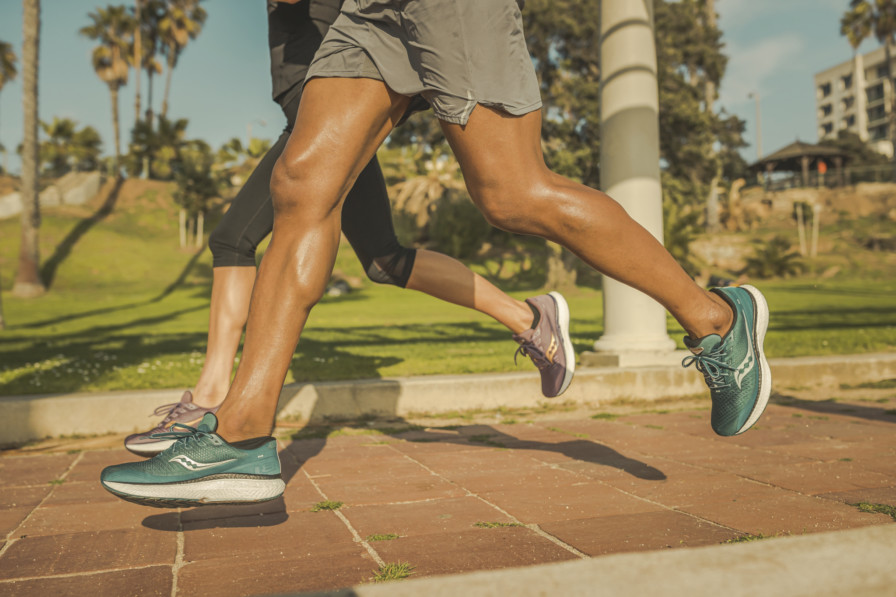 Soft with more snap
New midsole geometries coupled with a new durable rubber XT-900 outsole make the cushy ride of this shoe feel faster and snappier.
More Springy-cloud feeling
With PWRRUN+, its cushioning is 28% lighter* than Saucony's previous foam (EVERUN), providing the lightweight comfort that every runner desires, without feeling heavy or unbalanced.
More luxury on foot
The Triumph 18 also benefits from its cutting-edge FORMFIT. This is Saucony's exclusive 3D approach to fit that feels personalised through the use of an underfoot cradle construction that is topped with cushioning that shapes to each runner, plus upper materials that flex, stretch and protect.
On top of these benefits, the Triumph 18's engineered mesh upper with 3D print overlays also provides strategic flexibility and structure, while the suede tongue adds to its already premium feel.
The Triumph 18 is bold and measured with its mutant, deep teal and silver and charcoal and white colourways for men (315g) and a choice of mutant, dusk and gold, moonrock and coral and charcoal and sky (275g) for women.
Gareth Lloyd, Saucony UK Marketing Manager comments: "When choosing the shoe to wear for your longest runs, you want something that not only offers comfort but also speed when you need and want it. We have developed the Triumph 18 to offer the perfect combination of both, making it more versatile than ever before.
"We are delighted to build on the success of the previous model and can't wait to see how it enhances the runs of those wearing the shoe."
The Triumph 18 is available to buy now for £145 from www.saucony.co.uk.
Join the running conversation @SauconyUK and #RunForGood #Triumph18