To gain a better understanding of why we are so keen to raise money for MOVE Charity, with the exclusive SLT Arena Games London signed and framed t-shirt giveaway (enter HERE!) we spoke to Inside Tri Show host, Helen Murray. Although Helen produces a fantastic podcast every week, she actually spends most of her time working for MOVE Charity, supporting 13-30 year olds to build up their fitness and strength following a cancer diagnosis.
A day in the life…Helen Murray
I guess I need to give you a bit of background first! Despite studying French and Spanish at University, I always wanted to go into sports journalism and I worked so hard to make it happen in my teens and twenties. By 25, I was reporting at Euro 2008. By 27, I had ticked off the 2010 FIFA World Cup in South Africa. Before I hit 30, I could tick off an Olympics, Wimbledon and the London Marathon.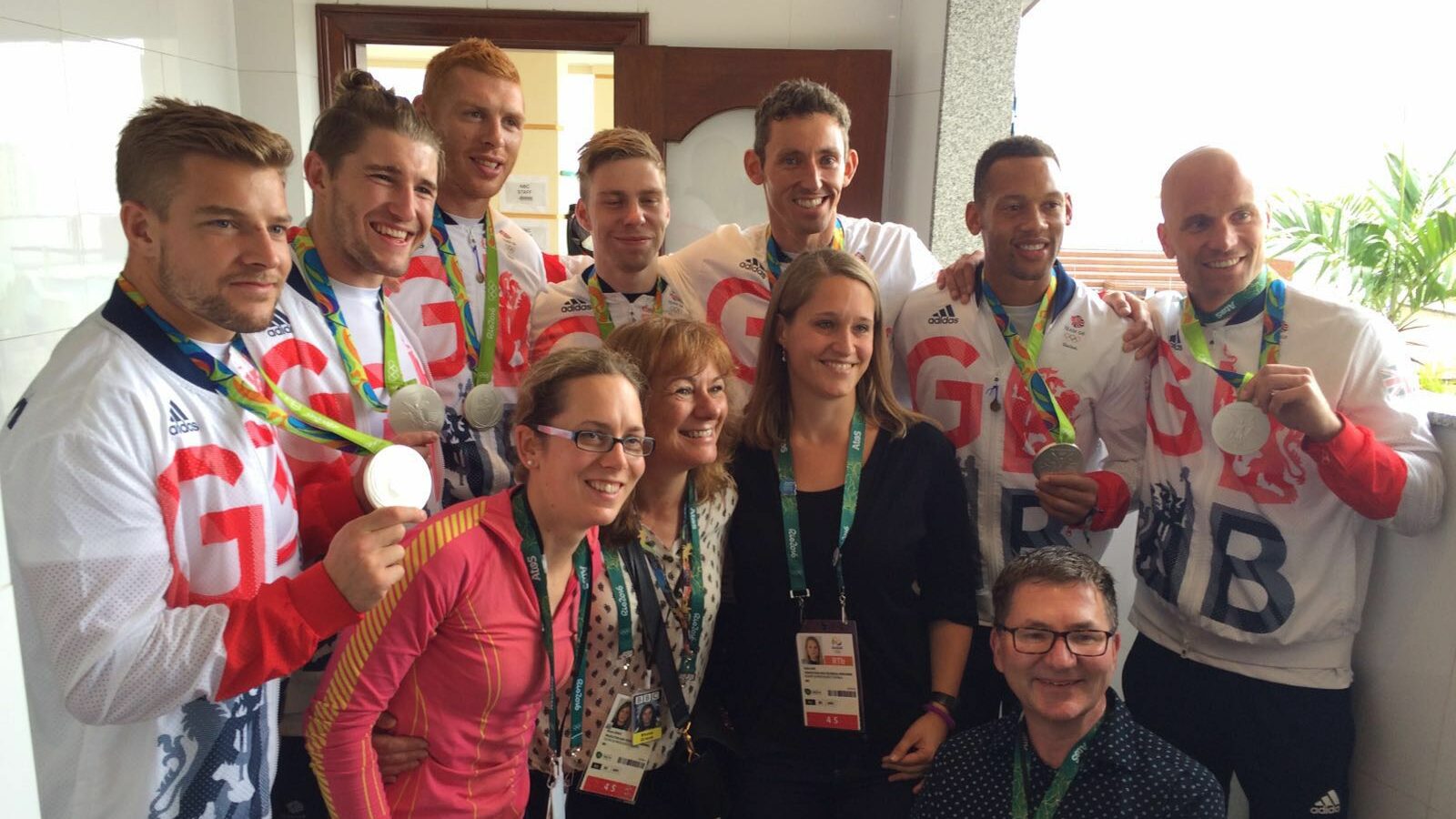 Although two Commonwealth Games, an Ashes Series and another Olympics followed, my day-to-day job at BBC Sport had started to become rather mundane. I'd also developed a big passion for triathlon by this point and I'd catch myself staring out of the window, thinking 'there has to be more to life than this.' The major events were incredible, but the regular role usually involved being strapped to a desk at crazy times of day and night. More and more I had this niggling feeling that I wanted to do something that actually helped other people.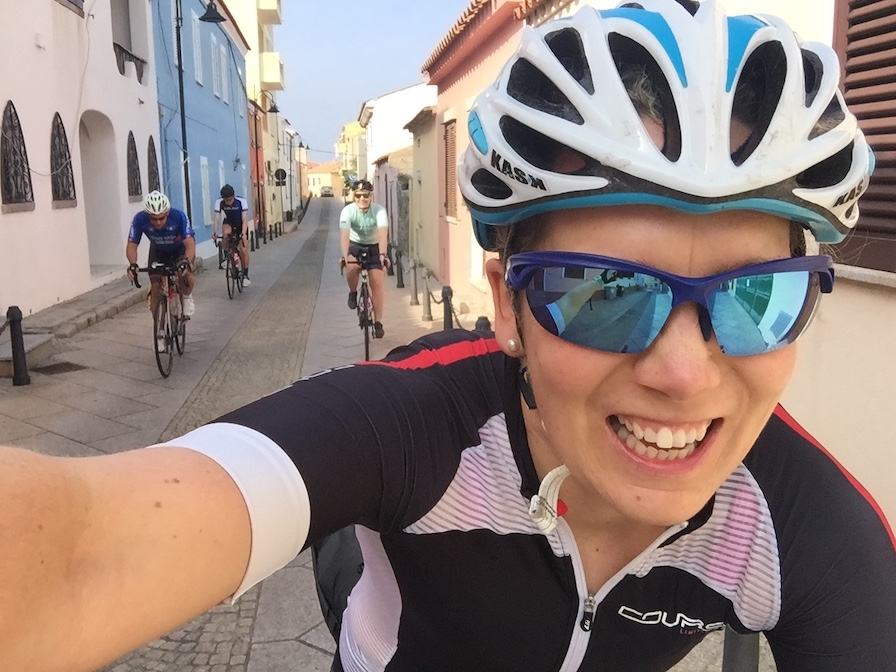 I think I've always had an interest in cancer. Even when I was 18, I volunteered at my local Hospice. My lightbulb moment was watching a short Australian documentary about the benefits of prescribed, targeted exercise programmes for people affected by cancer. It suddenly seemed like the perfect way to combine my passion for health and fitness, my interest in cancer and this inner desire to help people.
Although I went on to gain the necessary qualifications, I'd think, 'who is really going to hire me, if I did quit my secure job?' I was effectively a BBC Producer, with the right qualifications, but very little hands-on experience.
Cue a conversation with Oncologist and multiple Ironman Champion Lucy Gossage at a triathlon in the summer of 2018. Lucy had seen that I had completed my Cancer Rehabilitation Instructor's course with Canrehab and she said 'you need to speak to Gemma Hillier-Moses, founder of MOVE charity and fellow co-founder of 5K Your Way.'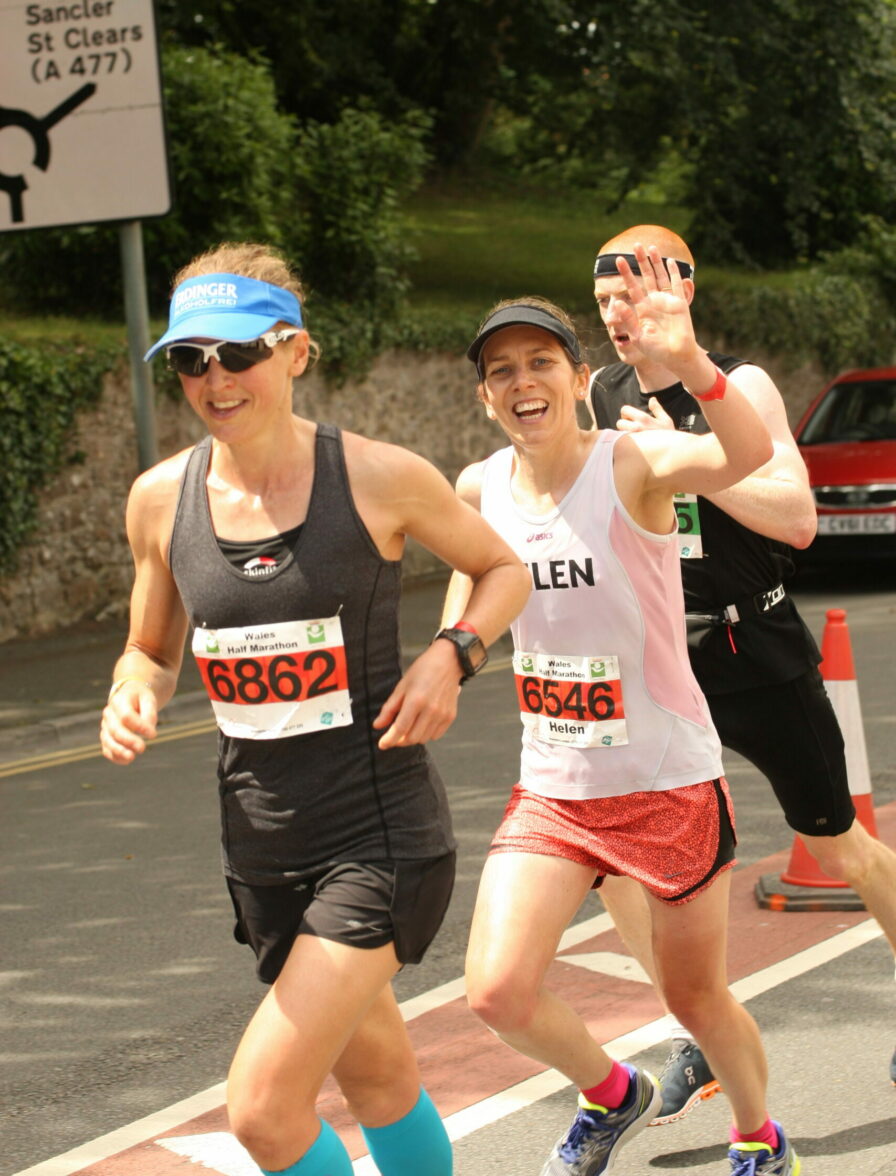 I will always be grateful to Lucy for the introduction, but more so to Gemma who took a chance on me to help deliver the MOVE 8 week Online programme which I have been doing since November 2018. Gemma founded MOVE Charity after she was diagnosed with cancer in her early 20s. Gemma's an amazing athlete, but she didn't know how to return to running after her treatment, as there was no support out there. So she set up MOVE to ensure no other young person would be in a similar situation.
MOVE remains a really small charity although it punches well above its weight in terms of the support it provides across the UK. It now has three key areas: 5K Your Way linked to Parkrun, the 8 Week Building Foundations Programme for 13-30 years olds (that's the bit I look after) and then education and advice through workshops and podcasts.
My day-to-day role is fairly varied as I bring more to the table than being 'just' a Cancer Rehab Instructor. One minute I can be doing a strength workout over Zoom, the next I can be on the phone having a weekly catch up with one of the young people I'm supporting. I might have a late afternoon meeting with the trio who have set up the MOVE as ONE private Facebook group, or I might deliver a coffee morning talk to Health Care Professionals about MOVE Charity and the importance of exercise and movement following a cancer diagnosis.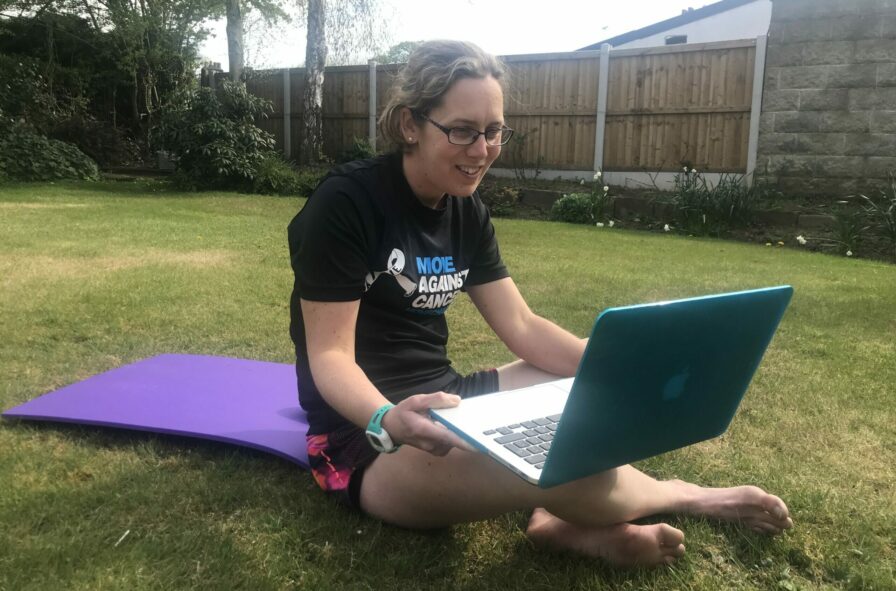 However, the main chunk of my work involves designing and delivering tailored weekly exercise programmes for some incredible young people over an 8-week period. Sometimes I have emotionally tough conversations in our weekly catch up calls. Maybe a young person tells me that they had a bad scan result, or that their treatment isn't working. They might open up and tell me they are having a bad week, due to the side effects of chemotherapy, or how much they hate their body and that they're frustrated because they aren't the person they were before their diagnosis.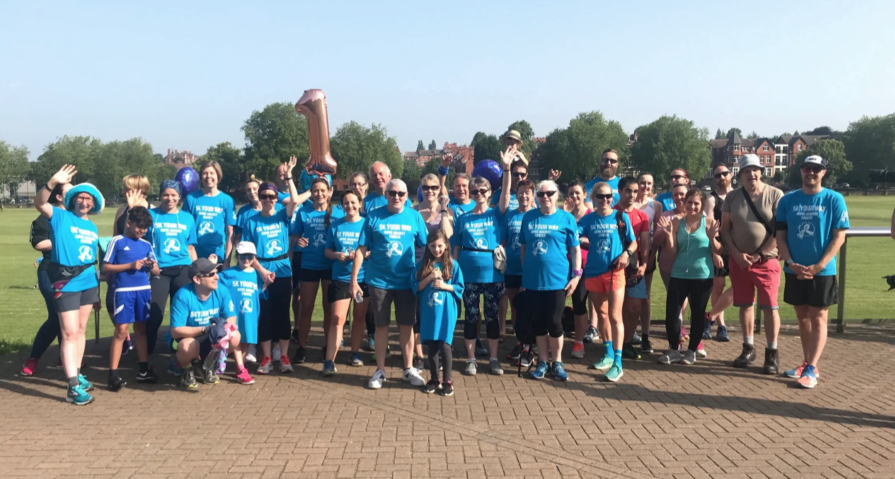 But then there are other times whereby someone half way through the programme tells they are feeling so much better because they are eating more fruit and vegetables, after the nutrition workshop we organised for them. Or someone might say 'I can do so much more than I could a month ago and I feel now like I can think about returning to work.' Or the comment I had recently, 'MOVE Charity has had this amazing ripple effect into every other area of my life.' It's these kind of conversations that make me appreciate that the work I do and the work MOVE does, really is life-changing.
While I love working in Cancer and Exercise Rehabilitation and I really don't miss the BBC, I do find I need what I call 'cancer-free days.' I don't think I fully appreciated the emotionally draining impact it had on me, until 2020 and Covid. It was so busy and being such a small charity, there was nobody to share my workload with, or turn to for support.
That's why I'm so grateful to also have the Inside Tri Show to focus on. I started the weekly triathlon podcast at the end of 2019, as I knew I still needed my broadcasting fix! Although I'm not racing as much as I was a few years ago, I still love triathlon and I thrive off having wonderful conversations with incredible guests, from the world of triathlon and beyond.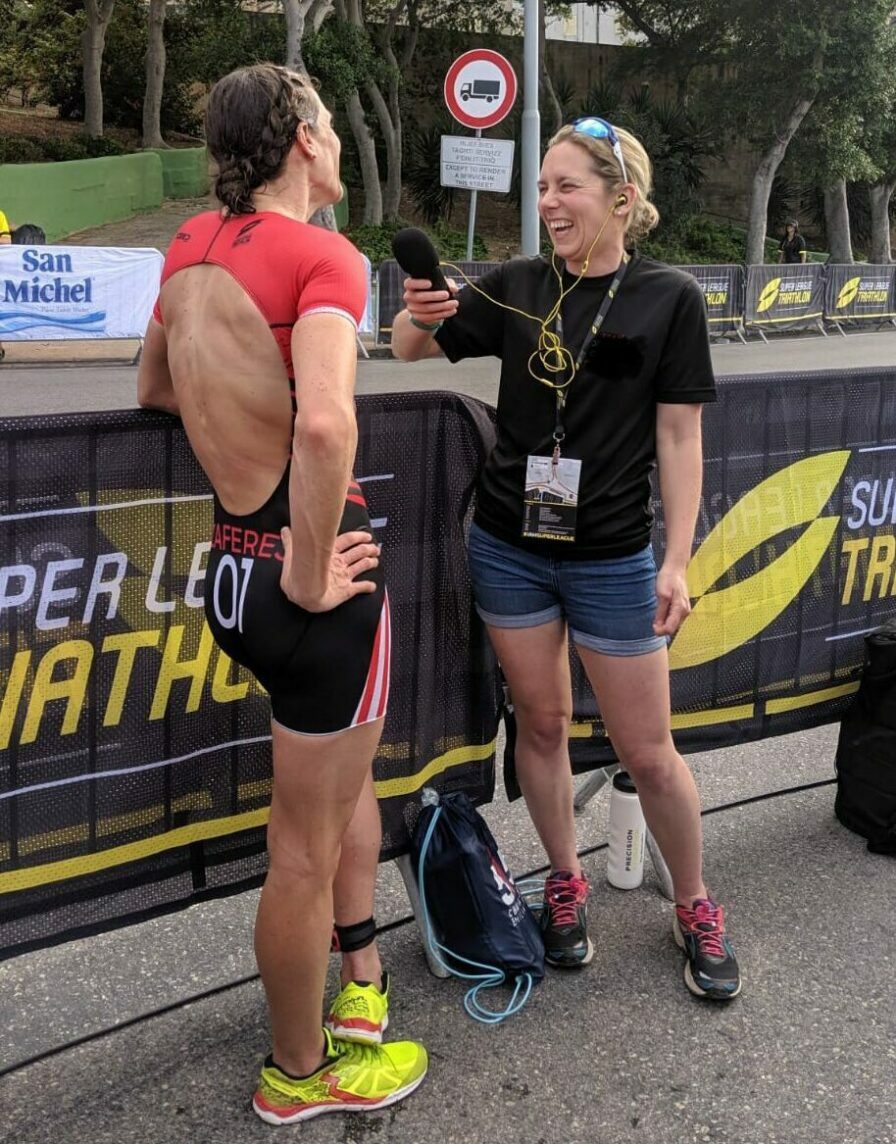 You don't often get the chance to have an in-depth chat with the likes of 2016 Olympic Champion Gwen Jorgensen or educate engaged listeners all about female physiology. But talking to and learning from Luke Grenfell-Shaw will always remain a highlight. Luke is riding a tandem from Bristol to Beijing but he is also living with stage 4 cancer and his words 'control how you live today' often ring around in my head.
The audience is growing all of the time as more and more people hear about it and I especially love the rapport I have developed with listeners, who seem to like what I do.