If you've been following our coverage of the 2017 IRONMAN World Championship in Kona, you may have noticed a new brand, Unit Nutrition (www.unitnutrition.com), supporting the Great Britain team as one of the sponsors of the Parade of Nations GB t-shirts that were issued (free), to British athletes racing in Hawaii.
Unit Nutrition's founder and CEO is Julia Bechtolsheimer, a GB Age-Group athlete herself, who has founded the company based on "working closely with the scientific community to adapt cutting-edge research into revolutionary, athlete friendly products". Having spent the past two years travelling the world, working with nutrition experts and scientists, in Kona this year they released their first product, UNIT RINSE.
Speaking to Julia in Kona, there will be several more new products to be announced in the coming months – but this first release was to profile the innovation of the brand and its scientific focus, with a very different product to the typical gels / drinks / bars on the market. Building on the concept of 'cognitive fuelling', UNIT RINSE is a carbohydrate mouth rinse (it can also be swallowed…), which can provide faster performance benefits – a tool too be used alongside more traditional fuelling strategies.
We'll likely be hearing much more about the brand in the coming months and into 2018, but here is the full announcement on the launch of UNIT RINSE.
---
Unit Nutrition has launched at the IRONMAN World Championships 2017 in Kona with a first-of-its-kind carbohydrate mouth rinse:
"UNIT RINSE".
Unit Nutrition, a new revolutionary nutrition brand headquartered in New York, has launched a first-to-market sports beverage: a carbohydrate mouth rinse.
UNIT RINSE is based on an extensive body of conclusive research that demonstrates how rinsing a carbohydrate solution in the mouth for 5-10 seconds before discharging, improves the capacity for sustained moderate to high intensity exercise of approx. one hour in duration.
The benefit of the newly launched mouth rinse is achieved by stimulating carbohydrate receptors in the mouth with periodic small rinses, which activates areas of the brain associated with pleasure, reward, motivation and motor control. This in turn reduces the athlete's perception of fatigue and increases power output, resulting in a performance boost. This follows evidence that suggests that the ingestion of carbohydrates has no performance benefits when exercising for less than approx. one hour.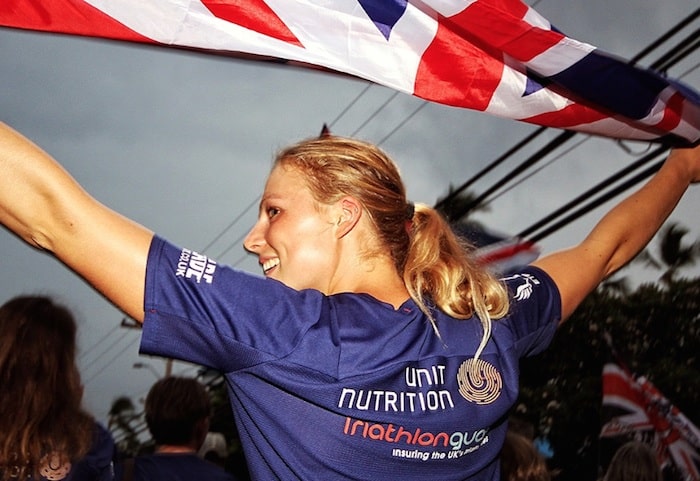 Commenting on the launch, founder and CEO of Unit Nutrition, Julia Bechtolsheimer, said: "Although commonly used by Olympic and elite coaches, a mouth rinse product has not been made commercially available, until now. Combining cutting- edge science with a clean ingredient profile, our formulation is Organic, Non GMO, Gluten Free and also contains no added sugars, artificial preservatives or flavors." She also explains that: "Mouth rinsing is a unique form of nutrition that can give an athlete a performance boost for short duration exercise, but the fact that the effects are instantaneous means it's also a great tool for endurance athletes looking for a tactical surge when used in combination with a traditional nutrition strategy." There are also mouth rinsing applications for weight loss, taste fatigue and GI distress.
Renowned scientist, Asker Jeukendrup, one of the authors of the first mouth rinsing study in 2004 said of Unit Nutrition: "It is great to see a company finally translate some really important research findings into a product so that athletes can benefit from it!".
Despite Unit Nutrition launching initially to a triathlon audience, driven by the Founder's passion for the sport, the Company aims to tailor nutrition solutions to help athletes of all levels and across all sports maximize their performance in a health conscious and socially responsible way. A Unit Nutrition sponsored study on endurance motor sport drivers is currently underway in collaboration with Michigan State University, and according to the lead scientist on the project, Dr. David Ferguson, "has resulted in the largest and most extensive physiological data set ever collected on racing drivers".
Unit Nutrition debuted their first product, UNIT RINSE, during the lead up to the Ironman World Championship in Kona, Hawaii.
www.unitnutrition.com
Twitter: @unitnutritionco
Instagram: @unitnutritionco
Facebook: https://www.facebook.com/unitnutritionco/
About Unit Nutrition LLC   
Unit Nutrition is a sports nutrition brand working closely with the scientific community to adapt cutting-edge research into revolutionary, athlete friendly products. Unit Nutrition's mission is to help bridge the gap between the science world and consumers through education, simplicity and transparency, and to remain at the forefront of the latest in research. The Company launches with a first-to-market carbohydrate mouth rinse, known as UNIT RINSE.
In addition to Unit Nutrition's science focus, the Company strives to support local communities and places great emphasis on promoting access to sport and nutrition classes for young children. Unit Nutrition is currently developing a platform which will allow the Company to collaborate with under-served public elementary schools in New York City, implementing programs such as nutrition and cooking classes, field trips to local farms and sports camps to thousands of children.