Previously known as the Castle Triathlon Series, the rebranded Castle Race Series hosted their now signature smorgasbord of events over the past weekend at annual Hever Castle Festival of Endurance in Kent.
If you can't find a race format or distance to suit you at a Castle Race Series event, well, I can't help you!
Powell powers to more championship success
This years event also incorporated the Triathlon England Middle Distance Championships into their middle distance event, The Gauntlet. While I was thankfully avoiding the worst of the weekend's weather up in North Norfolk at the Outlaw Half Holkham, that wasn't the case in Kent, where 'challenging' conditions added to what is already a tough course.
The name of Maria Powell is no stranger to the pages of TRI247 over the years, regularly winning European and World Championship medals over a variety of distances and formats. Indeed, given her World Triathlon results history, she's pretty much an ever-present on the podium at every race she starts. Maria is a long-time member of BAD Tri (Bristol and District).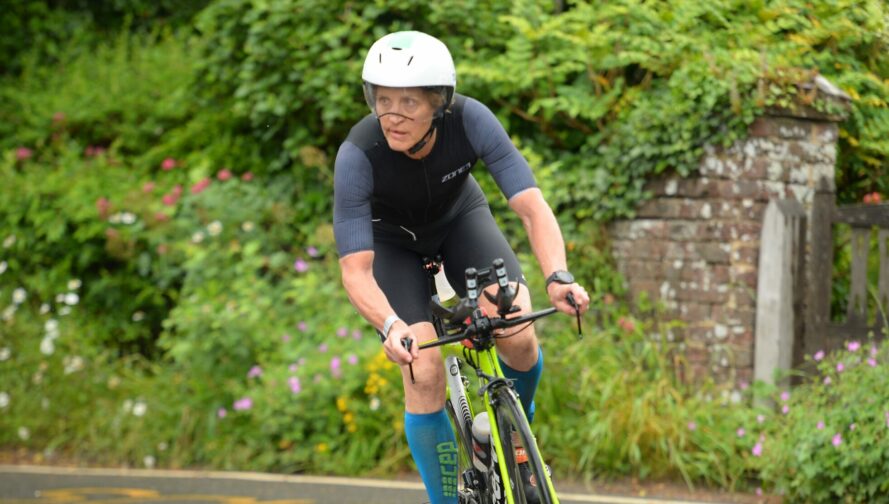 We've recently started a series on the site called Holding Back the Years (coincidentally, Maria is pictured in that Michelle Dillon piece), and Maria herself is adding further to the trend that more senior athletes can still be competitive overall – by being the first female finisher of the day in the V50 category. She did it in some style too, almost 11 minutes quicker than second placed Anna-Kaisa Pietlainen (Tri London). Well, with international travel restrictions, I guess Maria needs to find her championship medal fix somewhere!
The men's race was a close affair, with Christopher Pocock (Podium Addict) just over a minute clear of Matt Chipping, in what event commentator Mike Clyne confirms were very wet conditions, making the off-road run circuit even more challenging than usual, with plenty of wind on the exposed areas of the course too.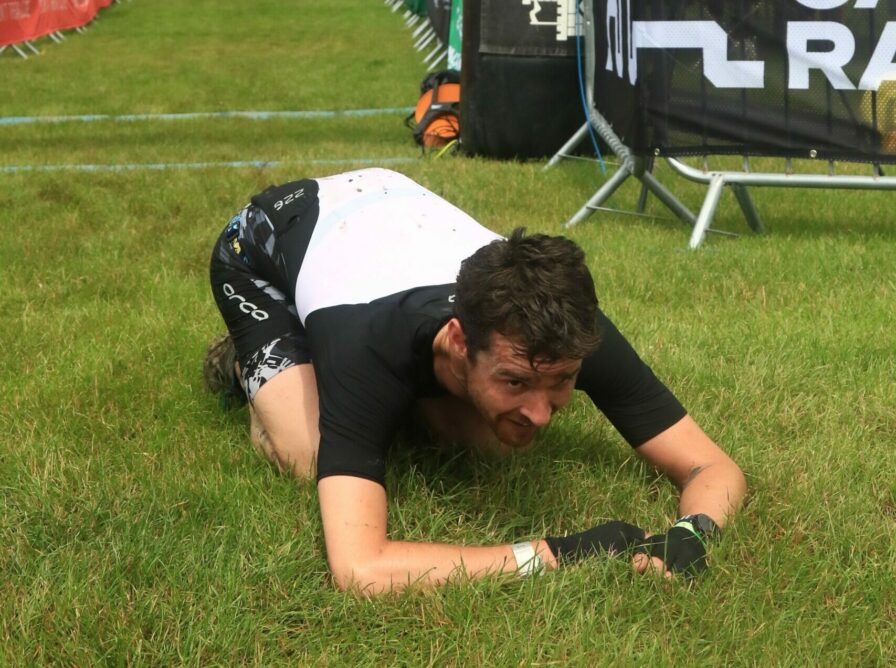 Battling The Bastion
There was further success for BAD Tri in the full distance Bastion Triathlon, with Tom McManners taking the honours on what is already a tough course despite the addition of the elements, in 10:37:39. Will he be back next year? "I absolutely recommend it… but it hurts so much, I'll have to wait a week to see how I feel!". I think we all know that feeling.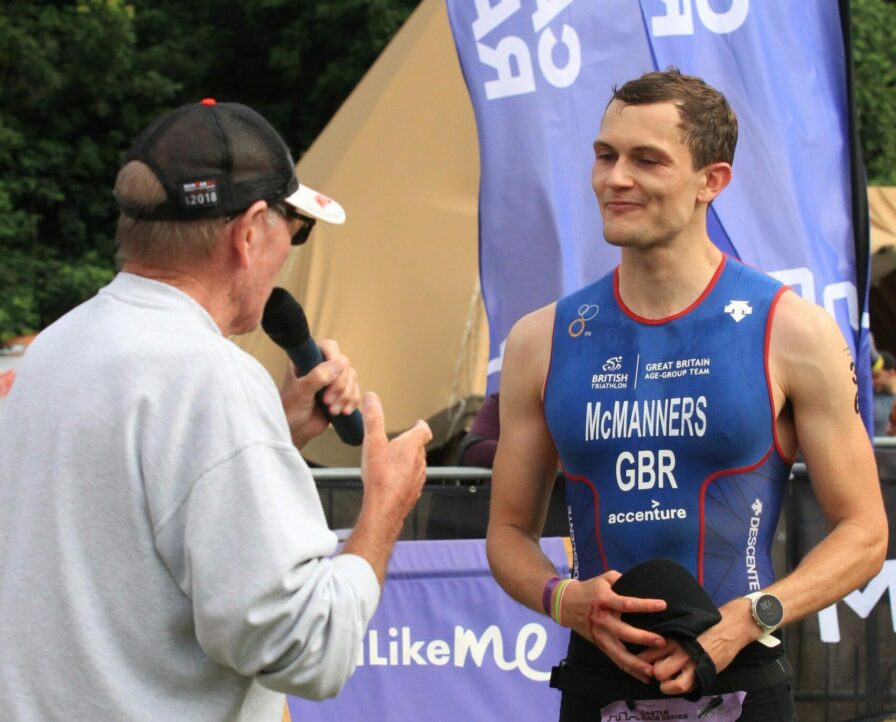 Jordan Matthews was a clear winner of the women's race, finishing fifth overall in the process. Assuming the camera doesn't lie, she seemed to enjoy it too.
There was a surprise post-race for the second and third place finishers, who had no idea that their efforts would be rewarded with a trophy AND prize money. Let's hope that helped the recovery from 14+ hours of effort.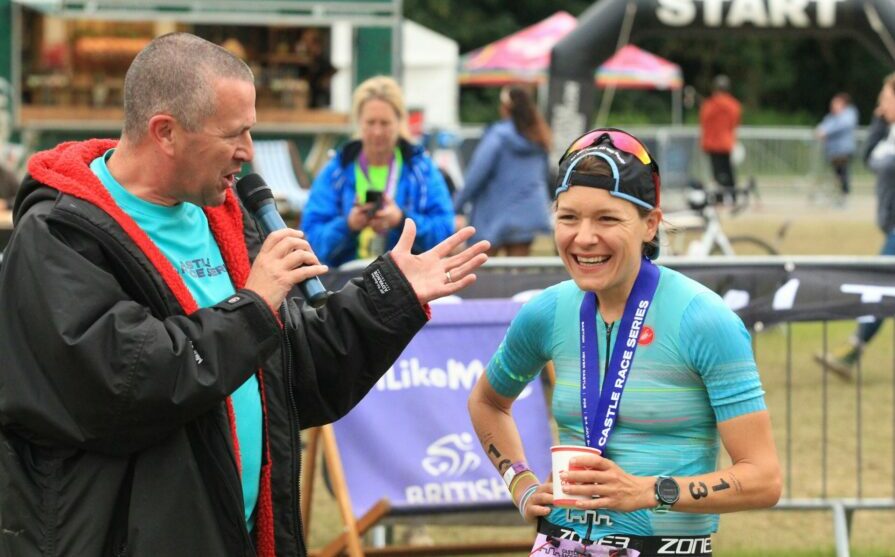 HEVER CASTLE FESTIVAL OF ENDURANCE – 3RD/4TH JULY 2021
(FULL RESULTS FROM THE WEEKEND ON THIS LINK)
The Gauntlet – 1.9km / 90km / 21km
Triathlon England Middle Distance Triathlon Championship
MEN
Christopher Pocock (Podium Addict) – 4:46:39
Matt Chipping – 4:47:53
Mark Davies – 4:51:26
Max Hazell (Team Cheetham Coaching Cervelo) – 4:51:33
WOMEN
Maria Powell (BAD Tri) – 5:34:43
Anna-Kaisa Pietlainen (Tri London) – 5:45:24
Ann Brearley (Betty Squad) – 5:46:19
Sarah Connolly (Edinburgh Triathletes) 5:46:43
The Bastion – 3.8km / 180km / 42km
MEN
Tom Mcmanners (BAD Tri) – 10:37:39
Andrew Shaw – 10:56:08
Matt Kerry – 11:15:55
WOMEN
Jordan Matthews – 11:37:54
Eleonore Lazat (Windrush) – 14:11:50
Leticija Petrovic – 14:59:51