The sixth edition of IRONMAN 70.3 Staffordshire took place on Sunday, one of the hottest days of the year so far, and here are the results and key news lines.
The Age-Group only event this year allowed some of Britain's best amateur athletes to take the headlines, and it was Lydia Dant and Hugh Brashaw who took the opportunity to secure memorable moments
(Photo credits: Huw Fairclough for IRONMAN)
"Passion Fit has changed my life"
It's been quite a year for Lydia Dant from Team Passion Fit. A winner of her division at this event two years ago, she smashed that time by almost 30 minutes on Sunday, to secure a huge margin of victory.
Her opening 30:08 swim was the seventh best of the day, and she then added the best bike time (2:26:44), to have the quickest time at T2, almost eight minutes quicker than team-mate Michelle Van Deventer. A 1:26:09 run, defying the rising temperatures, completed a 17-minute victory over Elizabeth Duncombe.
That result comes hot on the heels over her overall win at the Outlaw Half Nottingham triathlon in June.
"In the sunshine in the UK, the atmosphere has been epic. It's been ace to see the nine other athletes from my tri club Passion Fit out on the course. Being part of Passion Fit has changed my life, they saw the potential in me that I never saw in myself! My life has just turned around in so many ways, I'm so grateful for them."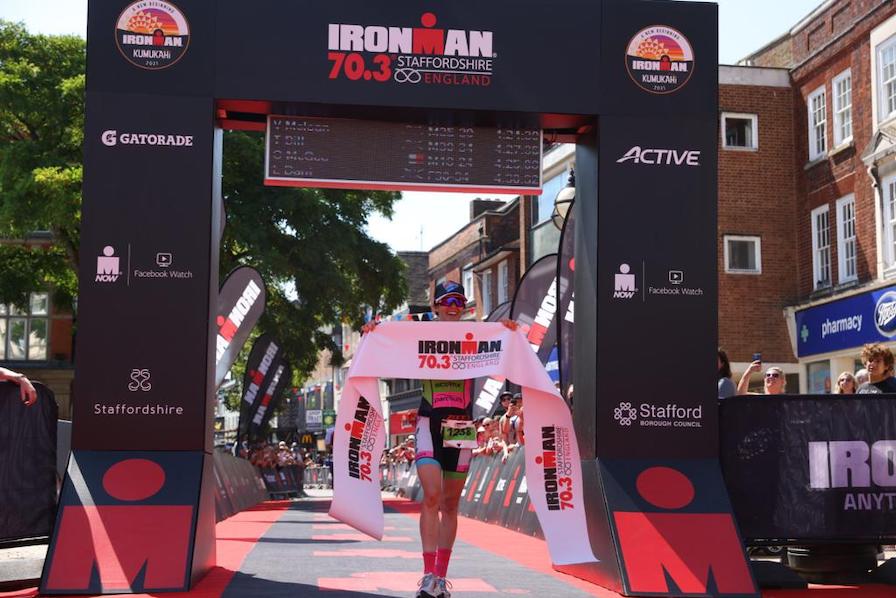 Hugh secures a huge win
The top of the podium was much closer for the men, where Hugh Brashaw and Matthew Nelson were locked together during the swim and bike legs. Nelson edged in front over the opening 5km of the run, but the break wasn't decisive.
Brashaw fought back and they were locked together for around 8km, before Hugh managed to return the favour, and via a 1:18:30 split eventually take the tape in style (see header image!), and take top spot by two-and-a-half minutes over Nelson.
"I'm so delighted, just want to say thank you so much to all the marshals out there on such a hot day, and a huge congratulations to Matthew Nelson in second who made it such a tough race."
IRONMAN 70.3 Staffordshire results 2021
Sunday July 18, 2021
1.9km / 90km / 21.1km (Age-Group only event)
OVERALL MEN
Hugh Brashaw – 4:07:21
Matthew Nelson – 4:09:55
Dan Blake – 4:14:29
Lee Williams – 4:14:29
Ian Dempsey – 4:18:06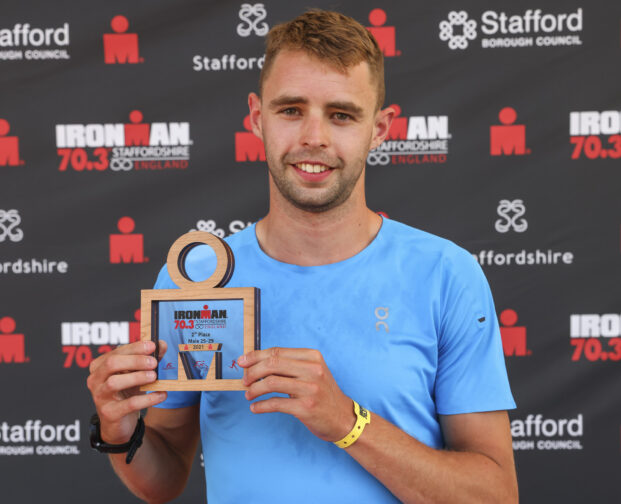 OVERALL WOMEN
Lydia Dent (Team Passion Fit) – 4:30:33
Elizabeth Duncombe (Precision Race Team) – 4:47:54
Lucy Davies (Precision Race Team) – 4:48:32
Michelle Van Deventer (Team Passion Fit) – 4:51:48
Rebecca Goodwin (Windrush Triathlon Club) – 4:57:17