Drake and Fullen are the top Age-Group Brits in Barcelona
The 2017 edition of IRONMAN Barcelona on Saturday witnessed some very speedy times. Course records were broken by Anthony Costes (full report HERE) and Yvonne Van Vlerken (full report HERE) in the Pro races – while the all-time Men's Sub-8 and Women's Sub-9 archives also needed significant updating. For Van Vlerken, she further extended her record of Sub-9 hour iron-distance finishes to 14.
There were also some very impressive performances from the Great Britain and Ireland Age-Groupers in Calella, with a total of six podium position achieved – all listed below.
Fastest British AG athlete was Robert Drake, who won the 30-34 division in 8:39:17. That made him the third fastest AG athlete across all divisions. As debut's go, that is rather impressive…
Amazing performance in Barca @robertdraketri first ever @IRONMANtri … 1st in his age group! 8hrs 39mins 17sec. Qualified for w/c in kona 🏅 pic.twitter.com/x9Iy6yBAAY

— Dan Drake (@DanDrakey) October 1, 2017
The other British AG winner in Barcelona – and also the fastest British female AG athlete – was the amazing Gill Fullen. Overall winner of the Outlaw Triathlon in July, Gill continues to amaze, and went a few seconds faster in Barcelona to set a new PB time. You've probably read it by now, but if not, you REALLY need to read this interview to understand just what an inspiration – and simply amazing athlete – Gill is, and has been for many years now.
Gill Fullen pulls off another result @IronBarca crossing the line 18th overall and 1st in her AG in 9.43 , what a season Gill well done pic.twitter.com/nnxFwN1CSB

— Perry Agass (@Tripezza) September 30, 2017
"So I guess it's another trip to Hawaii next year. Gulp!"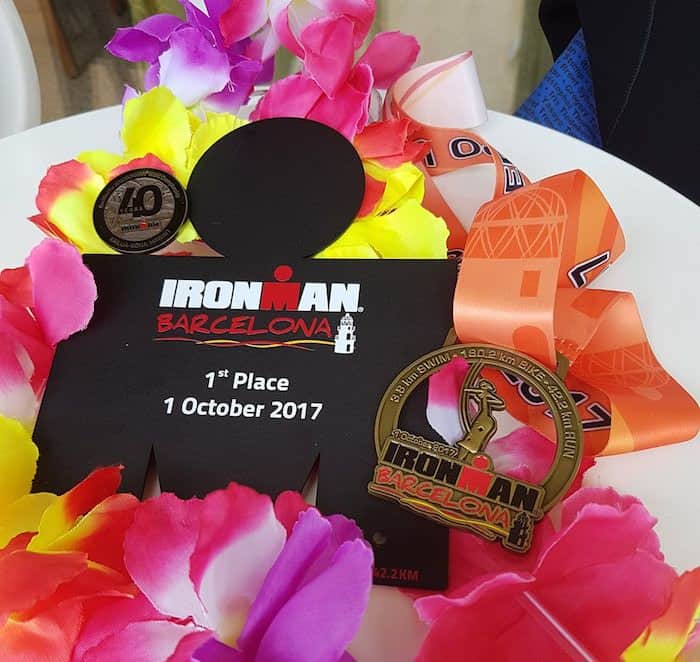 IRONMAN Barcelona 2017: GB & Ireland Age-Group Podiums
Robert Drake (GBR) – M30-34: WINNER – 8:39:17
Gill Fullen (GBR) – F50-54: WINNER – 09:43:47
Daniel Anderton (GBR) – M25-29: SECOND – 9:02:14
Jayne Edwards (GBR) – F25-29: THIRD – 11:05:49
Louise O'Shea (IRL) – F40-44: THIRD – 10:57:25
Christine Catterson (GBR) – F55-59: THIRD – 13:31:47