Perfect conditions and top performances see records broken at the Outlaw Triathlon
What more can we say about Gill Fullen? We could say a lot, for a lot of reasons (and most of them are captured in THIS 'must read' interview, which if you didn't see, you really should), but lets put all that aside for a few moments…what an athlete! Turning 53 this year, Gill has just set a new course record at the Outlaw Triathlon. And that, would be (more!) than enough for anyone. Given the very recent history, well, it is just another "wow".
As I mentioned to somebody on Facebook, the fact that it ISN'T a surprise, tells you just how strong she is both mentally and physically. That is also the first time that anyone, male or female, has won the Outlaw Half Nottingham and full-distance Outlaw in the same season. "I'm hoping to be stronger next year", she says. I wouldn't doubt her!
A great day too for Kit Walker. Champion 12 months ago and now winner again – also in course record time.
Both athletes will earn £750 as a bonus for their course record breaking exploits. I think we can safely say they deserve it!
---
Walker and Fullen light up the Outlaw
Kit Walker and Gill Fullen were the overall winners at the Outlaw Triathlon in Nottingham, both breaking the previous course records with stunning performances at the National Water Sports Centre. There were 1200 competitors taking part, who enjoyed perfect long distance racing conditions.
Men's Report
Walker won last year and returned with the goal of taking on Joel Jameson's course record from 2011. However, there was a tough line up including 2014 and 2015 winner, Craig Twigg and a host of confident athletes, including Marton Cseik and Matt Leeman, with their eyes on the podium.
Leeman started the day with a course record swim time of 46:38, but was caught early into the bike leg by Walker and then Twigg. Eighty miles into the 112mile course there was less than four minutes between Walker and Twigg, but Walker was motoring and had a lead of over twelve minutes by the end of the bike ride.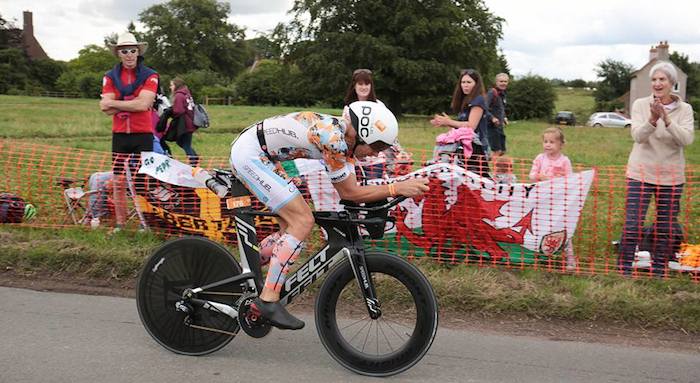 Walker was moving well, and Twigg looked good at the start of the run. However, Twigg dropped off the pace and ultimately dropped out of the race leaving Cseik and Leeman to battle for second place.
Walker finished in 8:39:37, taking eight minutes off the course record. Cseik, a Hungarian athlete living in Havering, set a new personal best of 8:53:48 and Leeman just a minute back after having done another long distance race just two weeks ago.
Walker said: "We caught Matt pretty quickly [after the swim], and Matt and Craig and I were all pretty close together but as we went back through Car Colston we split up a bit and I put my head down and did what I could."
He added: "The run's always tough but I just broke it down and once I got back onto the lake and 6k to go it was just a case of one foot in front of the other. It was a bit of a slog but coming into that finish was unreal. I was going for 8:45, in my head I wanted to go 8:45 so I couldn't believe it."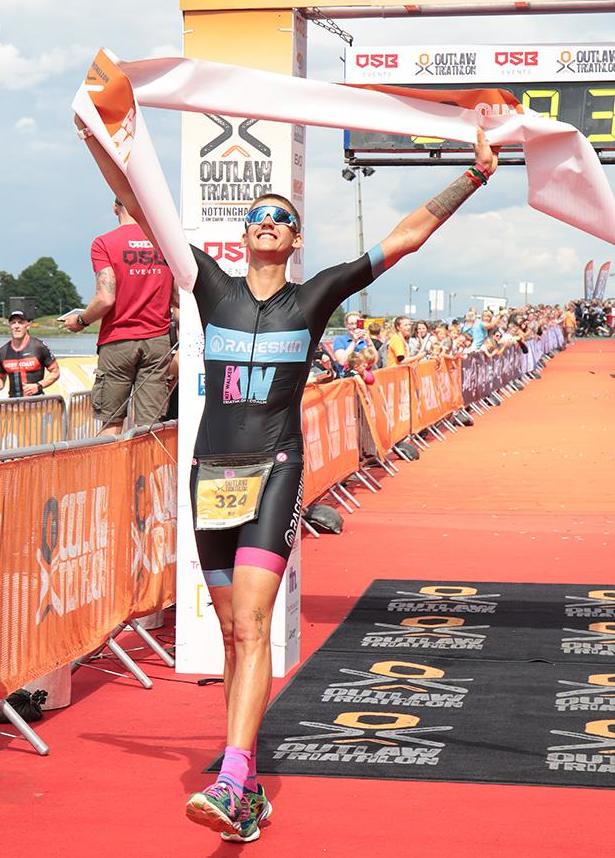 Women's Report
The women's race started with Kerry Hickson exiting the water first, but Jo Carritt and Gill Fullen took charge on the bike course. By the time they finished the bike leg, Fullen had overcome a ten minute swim deficit and turned it into more than an eight minute lead.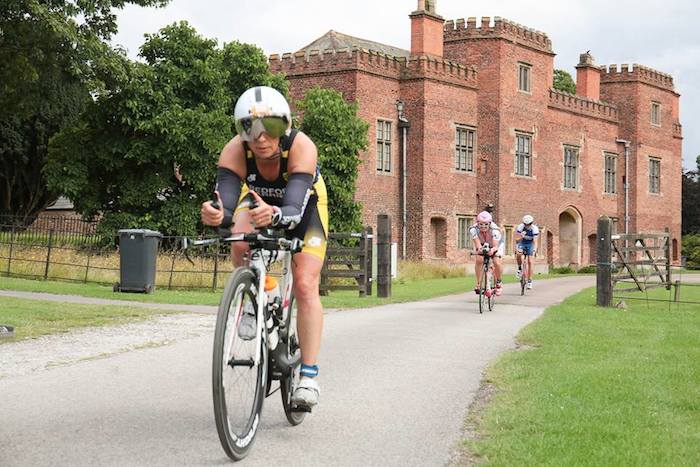 Behind Gill there was a battle for second place between Carritt and Louise Harris. Carritt is a former pro triathlete who is heading to Kona in October, and perhaps had the tactical advantage at the end. She finished less than a minute ahead of Harris, who set a personal best time.
Fullen's run is considerable strength, but the 52 year old was undergoing chemotherapy and surgery a year ago and didn't come to Nottingham expecting to win the Outlaw, let alone challenge the course record.
She said: "I was very nervous beforehand, to the point where I almost didn't want to do the race, but the swim went really well for me. I loved the bike course and kept a pace all the way through."
Commenting on the record, she added: "James on the lead bike told me the time and I didn't think I was going to be able to do it, but just as we came into the finish he told me how long I had to get it and I put a sprint on. I'm hoping to be stronger next year. It's a cracking race, I just loved it."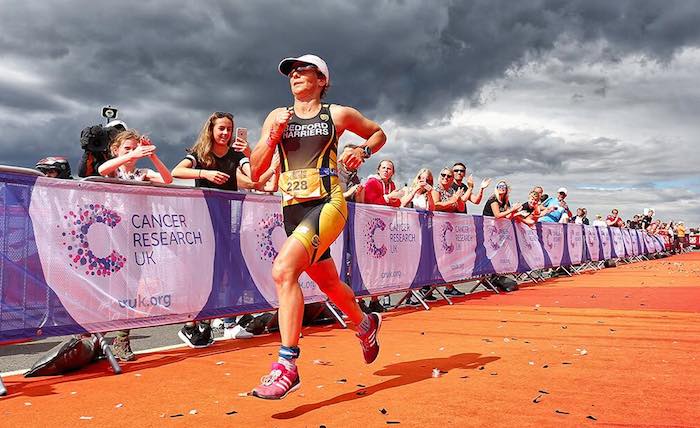 Across the field there were personal best times set by athletes of all ages, shapes and sizes. All six men who started having done every Outlaw since 2010 managed to finish again, two of them, Gary Goacher and David Manning Ohren, setting their best ever times.
Matt Turnbull finished his seventh Outlaw in seven days, having covered the distance every day since Monday, and he raised £7000 for charity. His finishing time was irrelevant after a monumental week. Tom Jones from West Wales finished in 10:56:44 as part of a successful stag do along with fifteen friends.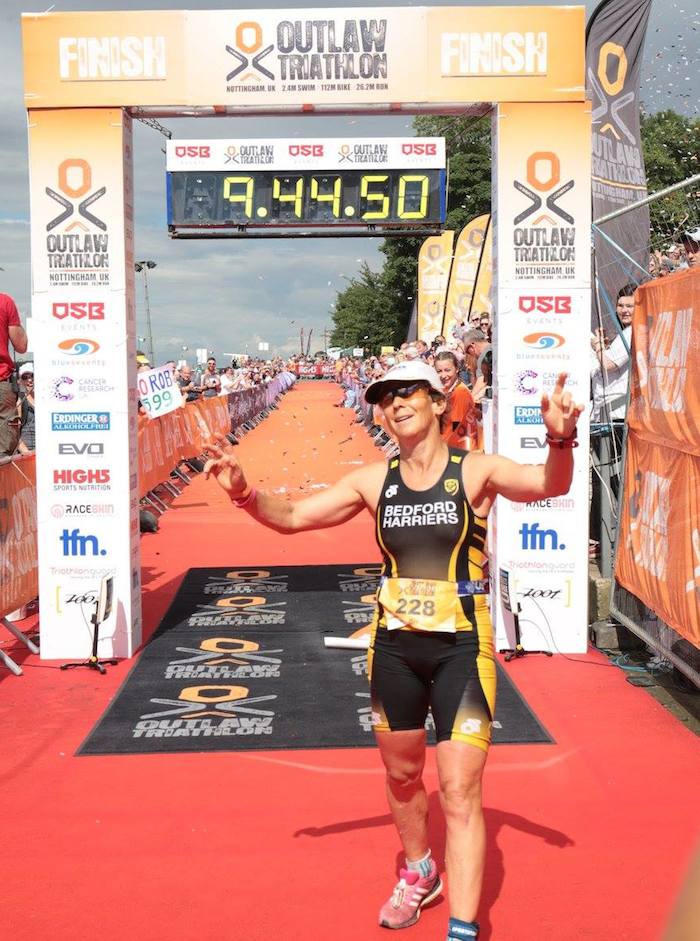 Results; Outlaw Triathlon; 23 July 2017; 2.4mile swim, 112mile bike, 26.2mile run:
Top five men overall:
1. Kit Walker, 8:39:37
2. Marton Cseik, 8:53:48
3. Matt Leeman, 8:54:54
4. Marcus Mcdonald, 9:03:39
5. Mads Jensen, 9:11:10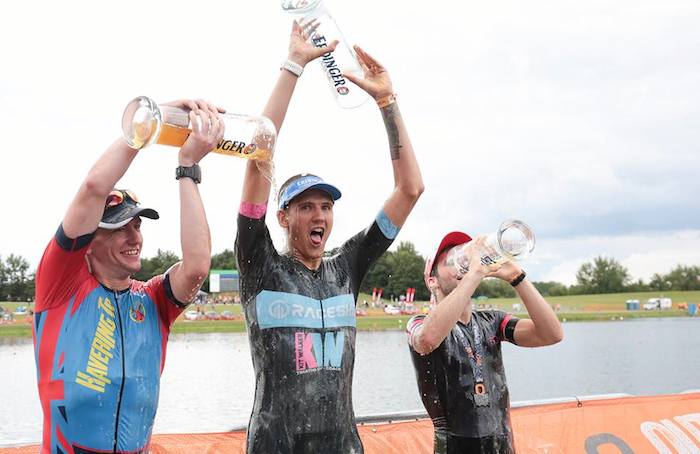 Top five women overall:
1. Gill Fullen, 9:44:46
2. Jo Carritt, 10:03:37
3. Louise Harris, 10:04:24
4. Kerry Hickson, 10:31:12
5. S Fraser, 10:50:04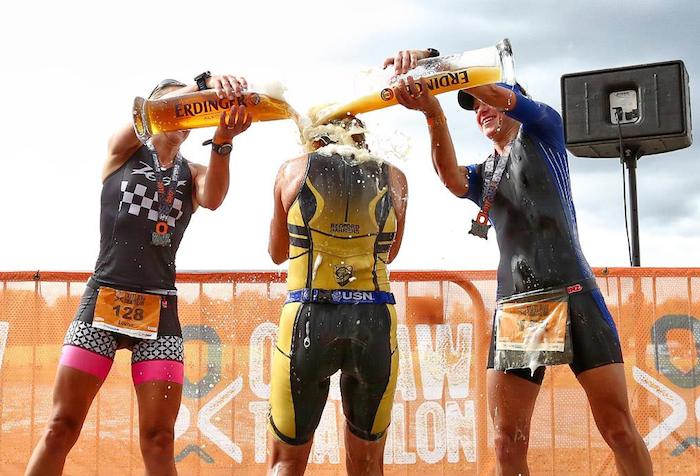 Top three Relay teams:
1. Warrington Tri Club, 9:07:16
2. Team Tfn, 9:25:53
3. Balanced Performance, 9:34:09
Details of Outlaw 2018 are available here: http://www.osbevents.com/news/want-to-race-outlaw-2018/