British Age-Groupers enjoy podium success in Barcelona
Sunday's IRONMAN Barcelona in Calella, Spain, saw a standout performance in the women's Pro race from Germany's Laura Philipp. In her first race over the distance, the 2017 IRONMAN 70.3 World Championship Bronze medallist produced the fastest female debut time ever with an 8:34:57 finish. Her splits of 55:43 for the swim, 4:42:39 for the bike and an exceptional 2:52:00 marathon represent a very complete performance – and a winning margin of more than half an hour.
With her great finish time of 08:34:57 Laura Philipp set a new course record breaking Yvonne Van Vlerken ones from 2017 (08:46:18). #IMBarcelona pic.twitter.com/EwIIqgPMBL

— IRONMANLive (@IRONMANLive) October 7, 2018
By contrast, the men's Pro race witnessed a very close finish. After starting the run with a lead of almost six and a half minutes, Jesper Svensson (SWE) was caught with about 12km remaining by Franz Loeschke (GER), a former Under-23 ITU World Champion and Mixed Relay Triathlon World Champion. When the German lead by increased his lead to over a minute at the the 35km mark the race looked over, but the Swede was able to fight bike and take victory by just 11 seconds.
Svensson winning the #IMBarcelona with Löschke coming in 2nd. Congrats! pic.twitter.com/WOncw0Yp9J

— IRONMANLive (@IRONMANLive) October 7, 2018
The Barcelona race is very popular with Age-Group athletes and with easy travel, always attracts a significant U.K. entry. Lots of British names on the podium too, with Mark Matthews and Hywel Davies the fastest two amateur athletes overall. Victoria Nealon – our ERDINGER Athlete of the Month earlier this year – continued her fine year by winning the F35-39 division, finishing second Age-Group athlete overall and setting a new P.B. of 9:33:00.
IRONMAN Barcelona, Sunday 7th October 2018
3.8km / 180km / 42.2km
PRO MEN
1st – Jesper Svensson (SWE) – 8:05:56
2nd – Franz Loeschke (GER) – 8:06:07
3rd – Miquel Blanchart Tinto (ESP) – 8:14:23
30th – Brian Fogarty (GBR) – 9:04:59
PRO WOMEN
1st – Laura Philipp (GER) – 8:34:57
2nd – Hanna Maksimava (BLR) – 9:08:18
3rd – Yvonne Van Vlerken (NED) – 9:10:49
DNF – Natalie Seymour (GBR)
Great Britain Age-Group Results
Age-Group Results Overall Men
1st – Mark Matthews (GBR) – 8:53:59
2nd – Hywel Davies (GBR) – 8:54:54
3rd – Leandro Leao Guerriere (BRA) – 8:55:36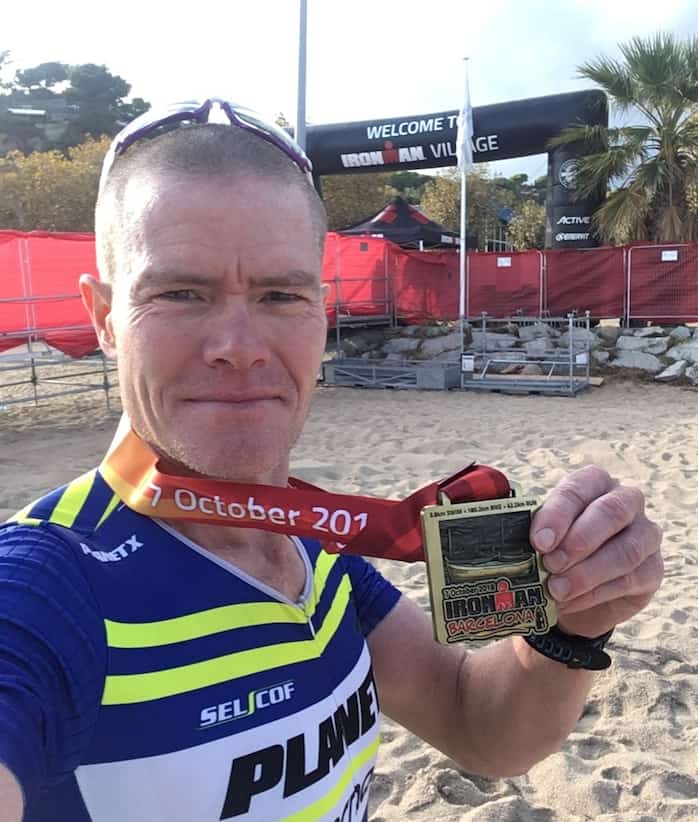 Age-Group Results Overall Women
1st – Aino Luoma (FIN) – 9:27:13
2nd – Victoria Nealon (GBR) – 9:33:00
3rd – Gabriele Obmann (AUT) – 9:33:56
6th – Hannah Katy Peel (GBR) – 9:56:39
GB Podium Results
1st – M30-34 – Mark Matthews
1st – M40-44 – Hywel Davies
3rd – M55-59 – Glenn Karpeta
3rd – M60-64 – Ian Hird
3rd – M70-74 – John Heaney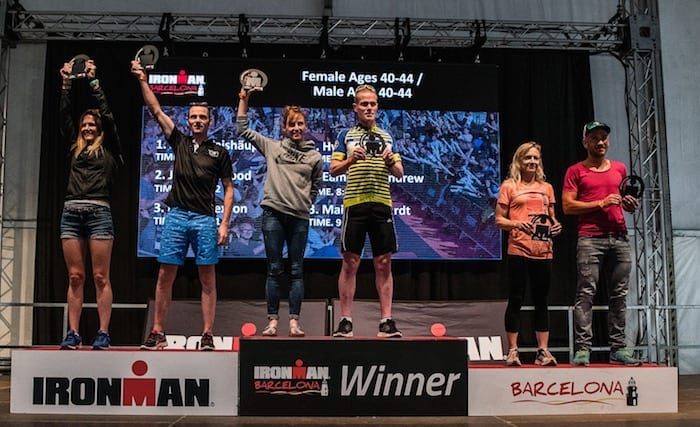 1st – F35-39 – Victoria Nealon
2nd – F40-44 – Jennifer Wood
3rd – F40-44 – Emma Bexson
3rd – F45-49 – Jill Cliff
2nd – F65-69 – Margaret Ehrenberg