Sunday's IRONMAN Ireland, Cork appears to have delivered some of the most universally positive comments on the crowd support, and the welcome provided by Youghal and surrounding host area, that we have seen on an event for many years. Looking at some of the images of the race online, it is easy to see why.
We have reported elsewhere on the Pro Women's race, and so this feature is focussed on the Age-Group athletes who excelled in Ireland.
Debutant takes overall title
What a debut from Ellen Murphy (IRL). Competing in the 40-44 division, this was the first full distance start for Ellen, who has been coached for several years by Will Clarke. "She's a dream to work with", Will told me today!
Ellen was the quickest female amateur on the day, finishing almost 15 minutes ahead of Nicola Hickey-Crowe (IRL), who was the fastest F35-39.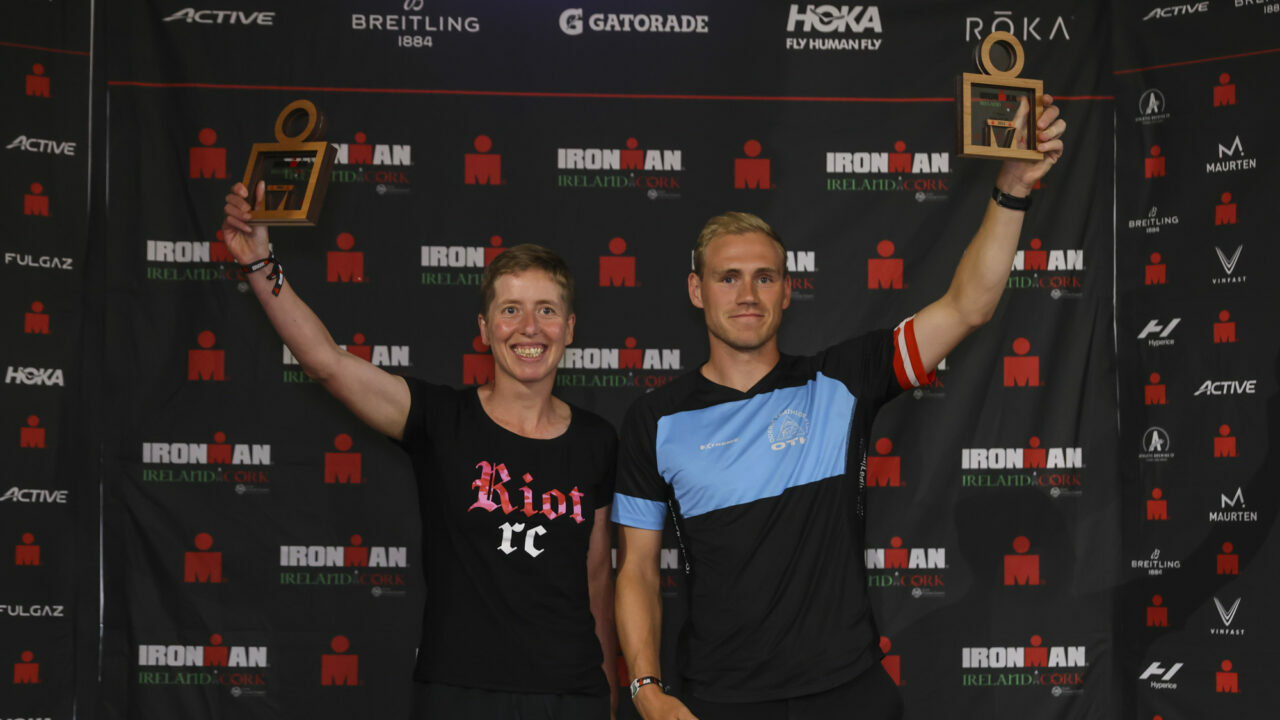 The fastest male amateur had travelled from Denmark. Christoffer Louis Heick (25-29) was just over six minutes quicker than two familiar names to these pages over the years, in Daniel McParland and Graeme Stewart. Both in the same category (40-44), that meant that despite finishing third overall, Graeme was 'only' second in his Age-Group. That is very competitive racing. Daniel also won M40-44 at IRONMAN UK Bolton recently.
With great thanks once again to Huw Fairclough (www.huwfaircloughphotography.co.uk) / IRONMAN – we've got pictures from the post-race awards on Monday of the podium finishers.
IRONMAN Ireland 2022: Age-Group winners
FEMALE
18-24: Ashleigh Howells (GBR) – 14:43:30
25-29: Marta Drozdz (IRL) – 12:3430
30-34: Jessica Bruton (IRL) – 11:36:50
35-39: Nicola Hickey-Crowe (IRL) – 10:52:18
40-44: Ellen Murphy (IRL) – 10:37:31
45-49: Paula Roberts (IRL) – 12:54:46
50-54: Olasagasti Nathalie (FRA) – 11:32:32
55-59: Sharon Cahill (IRL) – 13:43:39
60-64: Anne Cordon (CAN) – 12:20:10
65-69: Takako Morinaga (JPN) – 16:20:49
MALE
18-24: Peryf Ab Owain (GBR) – 11:23:08
25-29: Christoffer Louis Heick (DEN) – 9:24:31
30-34: Harrison Wood (GBR) – 9:34:54
35-39: Sean Burke (GBR) – 9:46:46
40-44: Daniel McParland (GBR) – 9:30:57
45-49: Roman Lacko (GBR) – 10:13:09
50-54: Freddy Bull (BEL) – 10:23:26
55-59: Mauro Ciarrocchi (ITA) – 10:33:16
60-64: Neil Creedon (IRL) – 12:27:06
65-69: Alistair Abbott (GBR) – 12:35:48
70-74: Ian Macfawn (USA) – 15:03:01
Podium Pictures