Few sports are better at mixing professional with amateur, and Saturday's IRONMAN World Championship will again showcase so many inspirational Age-Group stories.
Around 3000 athletes in total will accept the challenge of covering 140.6miles in swim/bike/run in terrain which will test even the very best to the limit.
Some 7000ft of climbing on the bike and 1500ft on the run will make this an epic test of endurance, even for the pros.
Many of the Age-Groupers have overcome huge obstacles just to race here on Saturday, and here are just a few of their stories.
Inspirational Age-Groupers
We'd love to reference everybody here, but it simply is not possible. But here are some of the great back stories that would melt even the coldest of sporting hearts:
Amy Purvis is literally a born survivor
Amy, now 54 years old, was an orphan adoptee from Danang, Vietnam after the Tet Offensive of 1968. Found wounded hanging in a basket by soldiers in the rice paddies, she was adopted by a marine and brought to the United States in 1969. In other words, she considers herself "a born survivor."
A single mum now of a 16-year-old daughter who plays travel softball, Amy races for her daughter, to show her how to work hard and go get what you want. She began her triathlon journey in January of 2018 at the age 49. She completed a Sprint, an Olympic and IRONMAN 70.3 Steelhead en route to completing in IRONMAN Florida in 2019.
Amy loves to help support and encourage others to go for everything they ever wanted, especially women and girls, those of colour, and PC athletes, to show them athletics are possible, even later in life. Amy says "Living the American dream. Why NOT me?! Truly 'Anything is possible!'"
Ruggero Baldo is overcoming the odds
The 46-year-old from Treviso in Italy has one incredible back story, one which overcomes significant odds just to be in the right physical shape to compete in an Ironman.
Ruggero was hospitalised after a terrible accident, and was then told by a neurosurgeon that he would have trouble walking and living the life he used to. Although many people told him to give up and accept that he could have major disabilities, he never
stopped believing.
Instead Ruggero started to walk again, first on crutches, then on dirt roads to improve stability, lengthening the distances and the hours on his feet, until he was able to run again, although only for a few kilometres and at a very slow pace, even though his heart was bursting with fatigue and joy at the same time.
Swimming also started to come back to him, at the beginning it was tough for him, but he improved over time. He then slowly attempted get back on the bike, increasing the millage day by day. He had to do a lot of indoor training for his safety and train at night, as he had to work all day, but he kept going. He wanted to show that Anything is Possible if you have the right mindset.
His road to recovery led him to IRONMAN Italy, where he finished his 10th full distance IRONMAN event, and he says: "It was like coming back to do my first IRONMAN.
"And so, when I received the email from IRONMAN for the World Championship event in Utah, it was a no-brainer that I would accept. I was so excited that I couldn't sleep for two full days.''
Bob Jordan is still honouring Emily
Bob, 71 and from Lake Oswego, OR, will again be full of emotion when he takes to the course in St George on Saturday.
Back in 1997, Bob's daughter, Emily, was diagnosed with leukemia at just 4-years-old. A year later, Emily underwent a bone marrow transplant. While in her ICU room, Emily wrote a letter to the IRONMAN lottery office in hopes of winning her dad a slot for his birthday. IRONMAN picked Bob. Five days later, Emily passed away.
IRONMAN featured Bob's family's story on the 1997 broadcast of the Hawaii race. Bob has continued his IRONMAN journey, and 20 years later, he won his age group for the 2017 IRONMAN in Maryland and qualified for the 2018 World Championship in Kona.
Bob also qualified for the IRONMAN World Championship last year while participating in Boulder. Bob won his age group in Arizona in 2019.
Stroke survivor Jenny Zhang an inspiration
The 68-year-old from Cranbury, NJ almost saw her triathlon dream end before it began.
Jenny survived a stroke in 2007, only three months after registering for her first triathlon.
That life event let her to realize that she loved the sport so much and would not want to live without racing.
Since then, she has rehabbed, recovered, and completed more than 20 triathlons. In 2019, at age of 65, she completed her first IRONMAN race and won her age group. Now she is looking forward to her first IRONMAN World Championship experience in St. George. What a story…
Zachary Josie not slowed by dwarfism
The 35-year-old from Herriman, UT was born with Ellis-van Creveld syndrome (EVC). This rare type of dwarfism is characterised by short limbs, slightly bowed legs, and an abnormal development of bones.
Despite his short stature, standing at just under 5 feet tall, Zach has never let that stop him from pursuing excellence in life, working a Forman for his family's construction company, and in sports, specifically in his passion of endurance sports.
At 35 years old, Zach has now raced triathlons for over six years, including IRONMAN 70.3 finishes in St. George, Utah and Indian Wells, California.
Steven Phillips overcomes brain injury
Steven, 46 years old and from St Albans in the UK, overcame a significant brain injury to get back on triathlon start lines, and ultimately to the World Championship in St George.
Steven started running in his 20's, competing in the London, New York, Stockholm, and
Berlin marathons. Looking for a new challenge, he came across the sport of triathlon.
He competed in his first IRONMAN 70.3 in 2014 and decided to take on a full distance at 2018 IRONMAN Copenhagen.
Agreeing to end his triathlon career after finishing Copenhagen, Steven had a life-changing experience – a major cycling accident which left him with including a traumatic brain injury.
Following the accident, he set himself the goal of qualifying for the IRONMAN World Championship.
"Everyone in triathlon knows that IRONMAN is the ultimate challenge and pinnacle of triathlon due to the tough distances of each leg and it attracts the very best athletes in the world at both pro level or age group.  So that was my target, to qualify for the hardest event and compete against the best."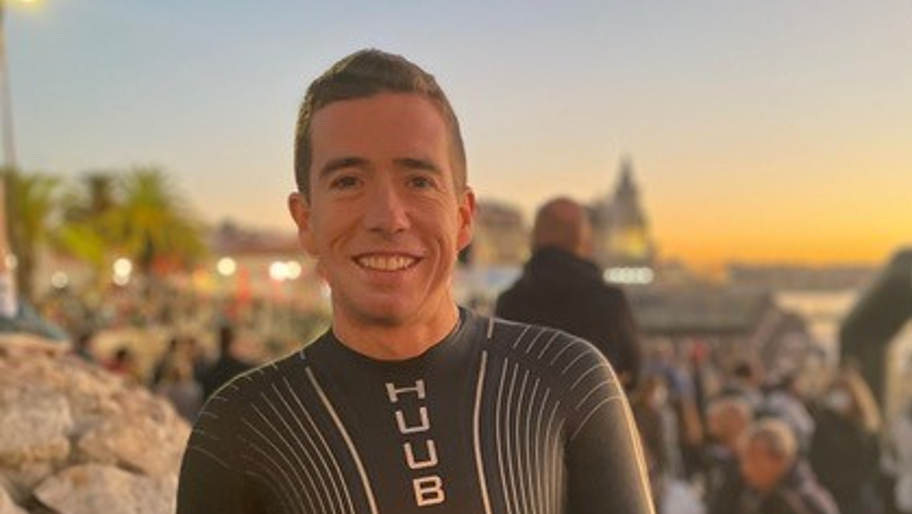 On Saturday in St George, Steven will do just that.
Youngest Female Competitor – Julia Iglesias
The 21-year-old from W. Lafayette, IN is a senior at Purdue University right now and she has the honour of being the youngest female to line up in St George.
Youngest Male Competitor – Ryan Gelston
Ryan Gelston, just 18 years of age, has this special honour on Saturday. To put it into context, Ryan – from Broomfield, CO, will not even graduate from high school until next weekend!