An Age-Group only event, IRONMAN Tallinn 2021 proved to be a good day for plenty of British athletes on Saturday, with many a podium and Kona qualifying slot earned. Plenty of rain to deal with on the day too, along with the 140.6 mile distance.
Headlines for the overall female victory go to Elizabeth Duncombe, who is no stranger to taking overall wins in M-Dot events, having done the same thing at IRONMAN 70.3 Oman last year. Her 9:31 finish was eight minutes quicker than anyone else, while another Brit Josie Rawes was the third fastest female overall. Josie won a gold medal at the 2019 ITU Long Distance Triathlon World Championships.
Two British men in the top three overall too, courtesy of Matthew Brooke and James Ellis. Matthew recently won his category at IRONMAN 70.3 Staffordshire, while James reported for us on his 2019 London Marathon where he ran a rapid 2:26:39. His foot speed was on show again, with a 2:49:41 marathon time in Estonia.
IRONMAN Tallinn 2021 Results
Saturday August 7, 2021
OVERALL (Age Group)
MEN
Tom Hohenadl (GER) – 8:28:15
Matthew Brooke (GBR) – 8:41:29
James Ellis (GBR) – 8:42:47
Fredrik Haggmark (SWE) – 8:43:52
Sergey Khazov (RUS) – 8:48:39
FEMALE
Elizabeth Duncombe (GBR) – 9:31:06
Valentina Kukrus (RUS) – 9:39:21
Josie Rawes (GBR) – 9:53:13
Evgenia Boulmeti (GRE) – 9:54:59
Lisa Hermansson (SWE) – 10:00:39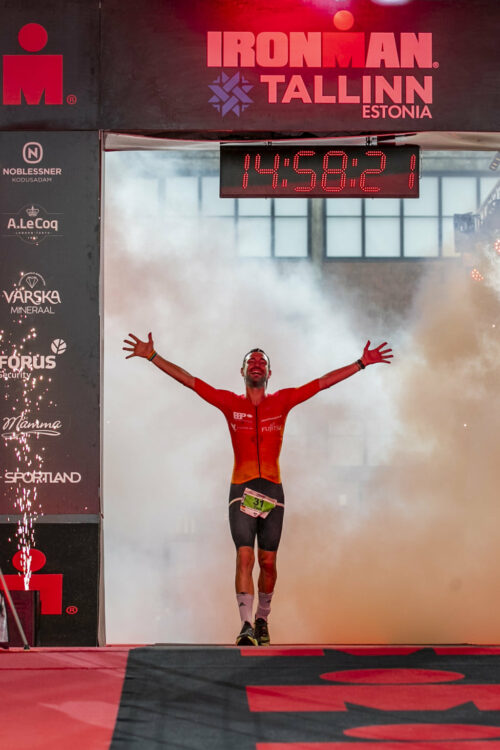 GBR Age-Group Podium Results
1st – F18-24 – Hannah Gillespie – 11:41:26
3rd – F18-24 – Tess Hughes – 12:17:31
1st – F30-34 – Elizabeth Duncombe – 9:31:06
2nd – F30-34 – Josie Rawes – 9:53:13
1st – F40-44 – Lauren Davies – 10:42:42
2nd – F45-49 – Mhairi Smith – 11:03:13
2nd – F55-59 – Tania Attwell – 12:29:27
2nd – M25-29 – James Ellis – 8:42:47
1st – M30-34 – Matthew Brooke – 8:41:29
2nd – M40-44 – Daniel McParland – 8:56:10
1st – M50-54 – Nick Rose – 9:14:58
2nd – M55-59 – Clive Granger – 10:33:38