Who qualified for Kona at IRONMAN Wales 2019?
Ironman Wales 2019 was one of the first opportunities for Age-Group athletes to qualify for the 2020 Ironman World Championships, and thus provides more than a year to plan and train for their Kona races.
I've already taken a look at the Age-Group champions and fastest athletes at the 2018 edition of IRONMAN Wales, but that one only a part of the Age-Group story. The race this year offered 40 qualifying slots to Kona. How fast did you need to go to get one?
Here is the full list of those athletes that accepted their places for the Ironman World Championship on Saturday 10th October 2020.
Congratulations to all of you who secured your coveted slots for Hawaii.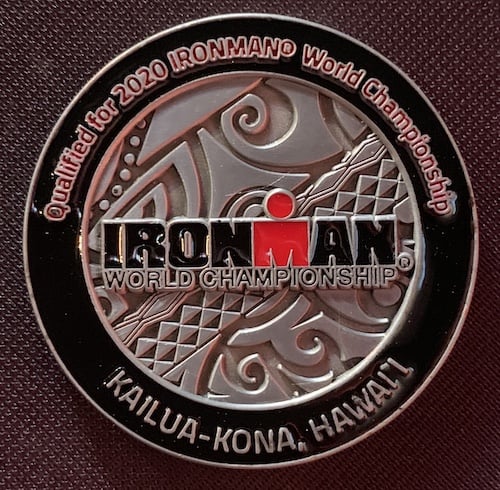 Kona Qualifiers from the previous editions of Ironman Wales are available on these links:
Kona 2020 Qualifiers, Ironman Wales: 15th September 2019
| First Name | Last Name | Category | Position | Country | Time |
| --- | --- | --- | --- | --- | --- |
| Rebecca | Duxbury | F18-24 | 1 | GBR | 11:38:26 |
| Laura | Rothwell | F25-29 | 1 | GBR | 11:29:57 |
| Victoria | Best | F30-34 | 1 | GER | 10:38:28 |
| Laura | Mendes | F35-39 | 1 | BRA | 11:25:47 |
| Emma | Bexson | F40-44 | 1 | GBR | 11:31:59 |
| Lynsey | Carpenter | F40-44 | 2 | GBR | 11:46:23 |
| Nicola | Beck | F45-49 | 1 | GBR | 11:03:31 |
| Valérie | Leroy | F45-49 | 3 | BEL | 12:11:56 |
| Jo | Church | F50-54 | 3 | GBR | 13:41:11 |
| Paula Sky | Tunnadine | F55-59 | 1 | GBR | 13:37:54 |
| Penny | Rother | F60-64 | 1 | GBR | 14:05:41 |
| Arran | Mccloskey | M18-24 | 1 | GBR | 10:07:38 |
| Gonzalo | Fuentes | M25-29 | 1 | ESP | 09:44:20 |
| Jelle | Lugten | M25-29 | 2 | NED | 09:56:18 |
| Andrew | Horsfall-Turner | M25-29 | 4 | GBR | 10:06:05 |
| Florian | Maro | M30-34 | 2 | FRA | 09:49:36 |
| Daniel | GroB | M30-34 | 3 | GER | 10:01:09 |
| James | Williamson | M30-34 | 4 | GBR | 10:04:12 |
| Josh | Ramirez | M30-34 | 5 | USA | 10:12:30 |
| Jo | Zwaenepoel | M35-39 | 4 | BEL | 09:52:25 |
| Jason | Williams | M35-39 | 5 | GBR | 09:54:41 |
| Tom | Van Rossum | M35-39 | 6 | GBR | 09:57:38 |
| Sion | Slyman | M35-39 | 7 | GBR | 10:14:41 |
| Alex | Ferrario | M35-39 | 8 | ITA | 10:19:45 |
| Benoit | Thirot | M40-44 | 1 | BEL | 10:27:24 |
| Jeroen | Korstanje | M40-44 | 2 | NED | 10:28:08 |
| Oliver | Harkin | M40-44 | 3 | IRL | 10:33:13 |
| Simon | Day | M40-44 | 4 | GBR | 10:34:01 |
| Patrick | Longhin | M40-44 | 5 | GER | 10:37:21 |
| Darren | Davis | M40-44 | 6 | GBR | 10:38:12 |
| Mathew | Elliston | M45-49 | 1 | GBR | 10:21:20 |
| Markus | Ganser | M45-49 | 3 | GER | 10:29:03 |
| Thomas | Gruuberg | M45-49 | 9 | GER | 10:49:23 |
| Rui | Costa | M45-49 | 13 | POR | 11:01:20 |
| Marc | Heizmann | M50-54 | 1 | SUI | 10:43:31 |
| Morten | Hastrup | M50-54 | 2 | DEN | 10:46:39 |
| Nick | Wenban-Smith | M50-54 | 4 | GBR | 11:09:53 |
| Helmut | Ness | M55-59 | 1 | GER | 11:14:41 |
| Gilles | Cuenat | M60-64 | 1 | SUI | 11:30:23 |
| David | Hill | M65-69 | 2 | GBR | 14:43:55 |
https://www.instagram.com/p/B2ez3RxldVz/