We've had plenty of role models in Elite triathlon for high-performing Mums in recent years.
Chelsea Sodaro winning the IRONMAN World Championship and Nicola Spirig excelling over all distances. In short-course, we currently have the likes of Katie Zaferes, Gwen Jorgensen and Alice Betto all racing at the top tier of short course racing, the World Triathlon Championship Series, with eyes on Paris 2024. And that's far from an exhaustive list!
There are of course plenty of inspirational role-models in the Age-Group ranks too. Natalie Lawrence has been on a fine run of form over the last couple of years, the mother of four balancing work, training and family while also enjoying significant success out on the course too.
Outlaw – the latest addition
The last couple of years have been enjoyable and successful ones for Lawrence. The overall winner at IRONMAN 70.3 Egypt in both 2021 and 2022, Natalie repeated that feat on home soil last year, first across the line at IRONMAN 70.3 Weymouth.
With recent years also seeing her chip away at her best times year-on-year at the London Marathon – a PB of 2:55 in April – an attempt at the longer distances was looking on the cards, and 2023 was the year.
First up in June was the popular Long Course Weekend Wales, the 'iron-distance over three days' event in Tenby. The quickest of the LCW athletes in Friday night's swim, she rode strongly on Sunday and then added a 3:06 marathon on the far from flat Sunday, to top the podium.
That effort would prove to be a good warm-up for what would be a winning full-distance debut at the Outlaw Triathlon in Nottingham, where she was strong across the board to break the tape – alongside all of her children – for a winning time of 9:35:40.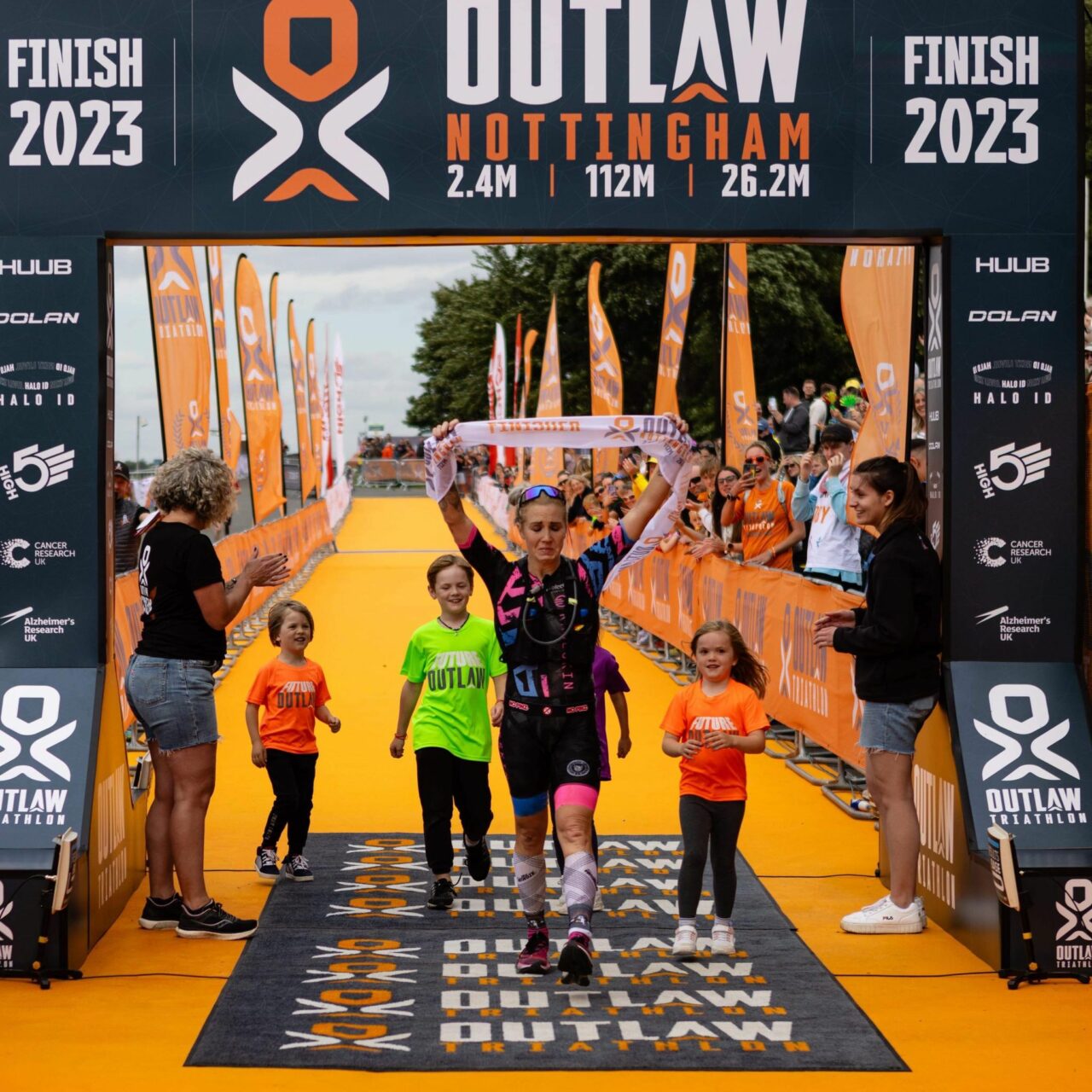 Where it started
Triathlon has almost come full circle for Natalie, and second time around it's been a far more enjoyable and balanced experience.
Now 36 years old, as a Junior and U23 athlete, under her maiden name of Barnard, Natalie attended Loughborough University and was part of the funded programme of British Triathlon at the time.
Racing at World and Junior World Championship, and then into the Elite European Cup circuit. During this time, Natalie developed an eating disorder, lost her elite funding and the fun aspect of the sport departed too:
"The focus at the time was to be light and lean to run fast(er), and at all costs I was going to do that to be the best: sadly at a huge detriment to my health, happiness, and future in a funded environment"
There was a short period as a middle-distance Pro athlete, which included podium finishes at IRONMAN 70.3 Galway and the Lisboa International Triathlon, but life was about to change. "Not long after that I met my husband… and had four kids out of that!"
Take two
Was a return to triathlon always on the cards? Not really.
"I kind of thought that I'd given so much to triathlon, and triathlon had taken so much off of me… but I've always somehow come back to it. It's kind of what I know, and I've not really left it. With the coaching side, I've always dipped my toe in it and had that vested interest in the athletes that I coach.
"The easiest thing to go back to would have been swimming, which I did in my very early years. But I think with triathlon – whatever level you are at – you kind of get a buzz for it. I was good at it, my husband still does it, I've got athletes that I coach… so I sort of thought, if can't beat them, join them!
"I also get massive FOMO, I hate missing out, I can't watch something I've got to do it. I'm that person!"
Making the hours count
Training these days is very, very different to her student days.
"When you are given the luxury of time, which I had of course back as a student and even training, you can use it and almost take it for granted.
"Now, I have to literally find pockets of time in my day. It's almost like missing a bus; if I miss it, then the opportunity has gone because I have other commitments with the kids etc. So if I get that time, I have to really make those moments count, training wise. I've also found I can't really perform with loads and loads of hours, or big mileage.
"I tend to do quality in each session. So if I have got the luxury of a two hour ride, then I'm going to include intervals and threshold in that to make sure I get something out of it, because I know i'm not going to be able to commit to a four hour ride."
While finding time to train is far more difficult now, there's also not too much time to truly relax either.
"A 'rest day' now isn't like it used to be! I'm still on my feet, running around doing Personal Trainer (PT) sessions or massage [Ed. Natalie is also masseuse], running around after four kids and their clubs, or taking my fitness classes. So it's a rest from the specificity, but not really physical or even mental rest.
"I never thought I was blessed with time management skills – but you quickly find you have to learn to do that, if you want to make it work!"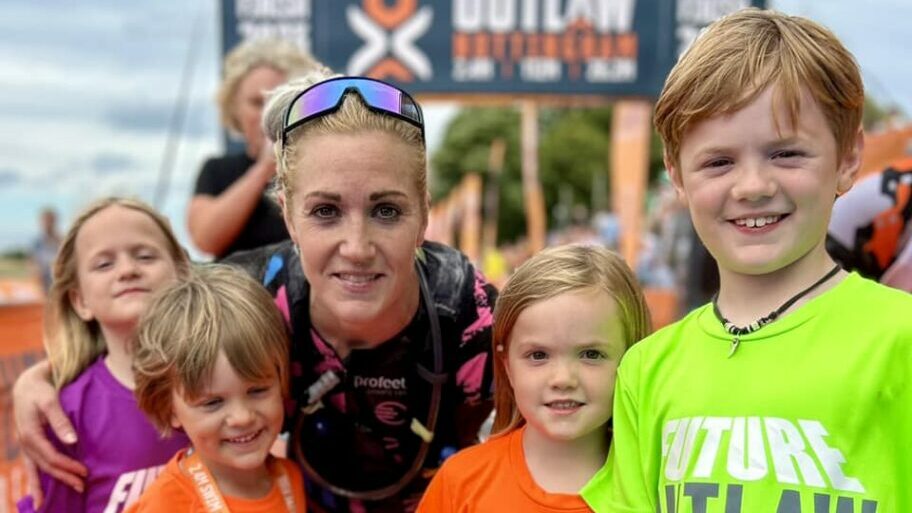 Looking back…
"I'm very driven and very motivated. I suppose if I wasn't, then i wouldn't have got where I got with and without funding really.
"With that reflection, I think if I had the bloody mindset that I have now, without the pressures of the eating disorders and everything, what could I have done? That then comes back to a conversation with my younger self, and even to people I coach now, of 'don't do what I do (did), do what I say'.
Winning those IRONMAN 70.3 races as an Age-Grouper gave the opportunity to qualify as a Pro athlete again, but after reflection, it's not something that really fits with her new life.
"I wanted to be a bit of a role model, and say look, you can have kids and still be at a level and become Pro again. But I think when I weigh up the pros and cons and the realistic part of my life and my training and the hours that I don't put in, it's just not realistic for me."
Having had those difficult times more than a decade ago now when trying to pursue that Elite pathway, I asked Natalie if this second time around, was a far more balanced part of her life.
"100%. I'm in a physical, mental, emotional, financial position that I would like to have been in earlier in my life, but that just wasn't the course I was on. A lot of it is just changing and re-writing the narrative. I mean we did have to sit down and have that discussion about weighing up the Pro thing, buy a licence, have that pressure. But I'm under no illusion. I know that if I race under a Pro card then I'm going to be right down the pile… and is that really what I want to do?
"Quite honestly, I just get such a lot of enjoyment and motivation from the Age-Group athletes that I coach. Some are single parents and I admire that, because they don't have to do it, it's a hobby. I draw a lot of energy from them and I see that they do it for the pure enjoyment, and I have to remind myself that's what I do it for now. I don't do it for kudos, or funding, or prize money or status.
"I chose to do this sport and come back into it, and hope to do it as long as I can and keep on enjoying it.
"If you don't enjoy doing it, then don't do it."
Wise words. And with plenty of experience of the ups and downs of sport, on and off the race course, learnings that Natalie puts back into the sport through her coaching.