Rob Barel is still crushing it at (almost) 60
To be fair, how you select the 'best' in Age-Group triathlon is highly debatable. Sure, the clock gives you one (objective) measure, but how do you then factor in gender, age, race distance and more?
Analogous to Boxing's mythical pound-for-pound champion, it's an interesting discussion rather than a mathematically solved solution. Thus, consider this a "significant performance of note" rather than a precision definition of "best"!
Ahead of the ITU World Triathlon Grand Final in Rotterdam, the ITU Hall of Fame inducted six new members – one of whom was the seemingly ever-young Rob Barel.
Rob has been a true pioneer of the sport in Europe, winning the first three European Championship in 1985/6/7, winning the first ever ITU Long Distance Triathlon World Championship in 1994, and he finished third (to Great Britain's Simon Lessing) at the ITU World Championships in 1992 (Muskoka). Thinking that the introduction of Triathlon to the programme of the Olympic Games in 2000 had probably come too late in his career, he proved that wrong by qualifying for and racing in Sydney aged 42. Eight years later, he was the European ELITE Cross Triathlon Champion.
Retiring gracefully and letting go is athletic life after a long career would have been the norm… but at approaching 60 years of age, Rob Barel is still racing incredibly fast!
We noted last year (HERE), Rob's fantastic performance at IRONMAN 70.3 Budapest when he won the 55-59 AG with a stunning 4:06:51 clocking, to win by 30 minutes. At IRONMAN France, Nice, earlier this year Rob – now in 60-64 – finished in 9:56:01 to win that category by well over two hours.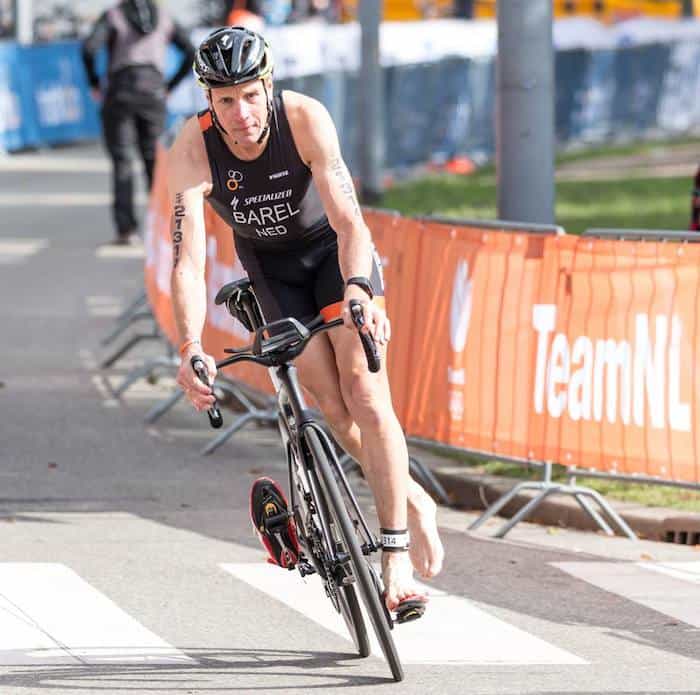 Kona-bound this year (which will be an added challenge for anyone racing in his category), Rob also raced over the Standard Distance in Rotterdam and (no surprise), took the Gold (2:05:03) by almost eight minutes, setting the fastest swim, bike, run and T1 times in the process. 'Only' (!) second fastest in T2, he might have completed the 'grand slam' had he not gone down the wrong aisle in transition. As I joked with him on Facebook, always room for improvement….!
I look forward to watching Rob race again in Hawaii next month.