ERDINGER Alkoholfrei have been one of the most visible supporters of triathlon in the UK for several years now, refreshing thousands of athletes at finish lines up and down the country.
The brand also support a number of UK athletes, Age-Group and Pro, through Team ERDINGER Alkoholfrei and Tri247 regular Karl Alexander (twice winner of the Outlaw Half), reports from their rather chilly pre-season get together.
---
Over the last few years Team ERDINGER Alkoholfrei like to start the year with a social get together, usually in the form of a ride followed by some lunch where the team can discuss the highs and lows from the previous season and chat aims and ambition for what's ahead.
With the athletes on the team from different parts of the UK and racing across all distances in Triathlon from Sprint to Ironman, these opportunities to are very rare and all the team, with the exception Tom Vickery and Boo Smith, made the journey to the East of England Showground for the No Excuses Sportive.
The team had opportunity to meet the newest addition in the form of 2016 World Military IRONMAN Champion, Becky Hoare who will be an excellent addition to the line-up of Carol Bridge, Boo Smith, Pete Hollins, Garry Walker, Tom Vickery, Karl Alexander and Team Captain Lucy Gossage.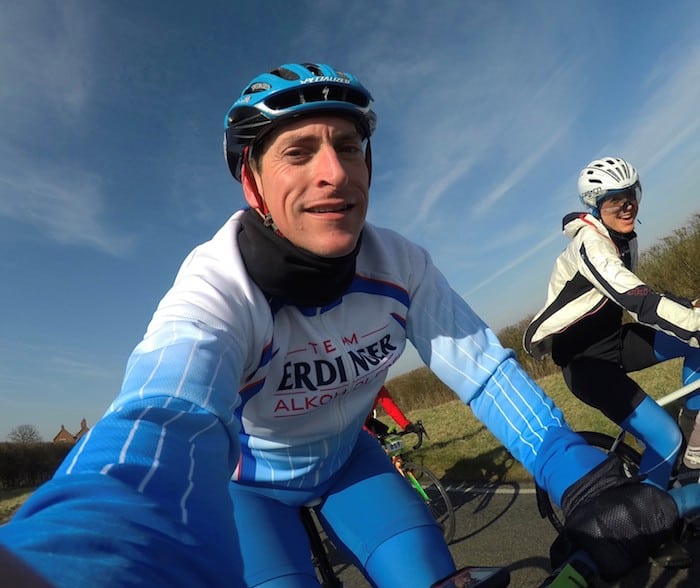 With the threat of the 'Beast from the East' looming large and the potential for black ice, we opted to roll out at 10:30 and arriving at event registration we discovered that the Epic route of 82 miles had been cancelled as the organisers had also decided to delay the start to allow the temperature to climb and the roads to clear.
Out on the road and the team rode strongly, with Carol showing some impressive early season form riding her Cyclo-Cross bike complete with pannier racks putting in some big turns on the front. With the emphasis of the ride more towards the social aspect it was great to roll through the group chatting with everyone and hearing their plans for 2018.
Team ERDINGER Alkoholfrei is looking great for the season ahead with everyone coming off a great winter training block and raring to go.