Triathlon is a sport that requires top-level performance across three difference disciplines to achieve success at the highest level and with five World Championship titles, there's no doubt Scotland's Lesley Paterson has done just that.
But she continues to excel in other areas of her life too and could soon be adding Oscar statues to her multiple triathlon trophies following today's announcement of the shortlist for the 2023 Academy Awards.
Swim, Bike, Run, Act, Write, Produce….
A graduate of Loughborough University where she studied English and Drama, the multi-talented Paterson also has a Masters Degree in Theatre from San Diego University, having moved to the USA in 2003.
Alongside her extensive sporting credentials – more on those below – she also has a career in acting, screenwriting and producing.
Alongside her writing partner, Ian Stokell, they wrote the screenplay for a new adaptation of All Quiet on the Western Front. A Netflix co-produced film, it recently received the most nominations, 14, ahead of the 2023 BAFTA Film Awards. A significant number, in that it matched the all-time record of Crouching Tiger Hidden Dragon (2001) of nominations for films not in the English language.
The film is in German, and speaking to the Daily Mail recently, she explained, "For us, the authenticity of it being in German is critical. The essence of the book is there is no hero, there's no sense of adventure. I'm most proud of how we've captured the anti-war sentiment in a way that's never been shown before."
Those skills – and years of effort – gained further recognition today, when All Quiet on the Western Front received further critical acclaim with NINE nominations ahead of the 2023 Academy Awards, which will be held on 13 March in Hollywood.
Only Everything Everywhere All At Once (11) received more nominations, with The Banshees of Inisherin also recognised in nine categories.
Nominations for All Quiet on the Western Front
Those nine nominations are across the following categories – which notably, includes best Adapted Screenplay and the highlight award, Best Picture.
Sound
Original Score (Volker Bertelmann)
Adapted Screenplay (Edward Berger, Lesley Paterson, Ian Stokell)
International Feature Film
Makeup and Hairstyling
Production Design
Cinematography
Visual Effects
Best Picture
A labour of love
If Paterson gained one thing from her sporting career to get to this point, then surely it is the benefits of long-term persistence, commitment and endurance.
In what she described as "her passion project", having first purchased the rights to a remake back in 2006 it has been 16 years of work in adapting the Erich Maria Remarque novel – the original film of which won two Oscars (Best Picture, Best Director) in 1930.
There's been plenty of effort – and money invested – along the way too. With renewal option payments to be made every year, it has regularly been the prize money from her off-road triathlon efforts that have kept the dream alive.
One race in particular in Costa Rica sticks in the mind as Paterson recalled in that Daily Mail interview: "I didn't just want to win the race, I had to win because the option payment for All Quiet on the Western Front was due the following week and this was the only way I could get five-digit cash together to keep our dream alive."
Incredibly, she managed to do that despite breaking her shoulder the day before the race!
And make no mistake, Paterson has been quite an athlete.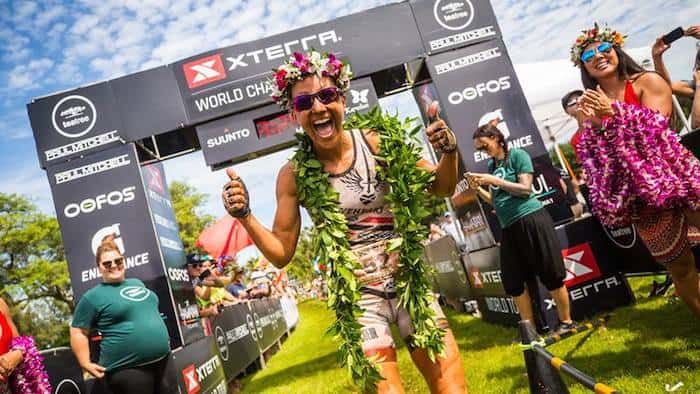 Passion and commitment to the project finally gained traction in 2020, when Netflix commissioned the project that Paterson and Stokell had, to that point, been working on for 14 years.
Five-time World Champion
Finding her niche in the World of off off-road triathlon, 'sick of being last in drafting races and constantly banging my head off a brick wall with swimming', she's a three-time winner of the XTERRA World Championship in Maui. In two of those years, she also did the double by adding the ITU Cross Triathlon World Championship.
No slouch on the road either, in 2010 she finished sixth at the IRONMAN 70.3 World Championship in Clearwater, Florida.
With further podiums in both Cross events as well as duathlon success as a Junior athlete, her World Championship medal haul is into double figures.
Best wishes to Lesley and everyone else involved with the film, that further success will be reflective of their determination and commitment to finally get this film made.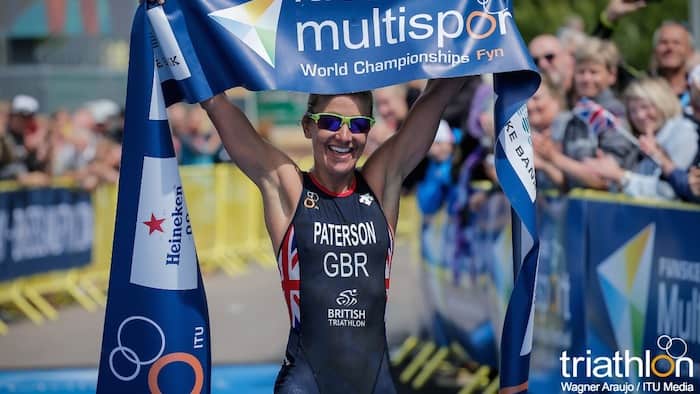 Lesley Paterson World Championship medals
XTERRA World Champion (3) – 2011, 2012, 2018
ITU Cross Triathlon World Champion (2) – 2012, 2018
XTERRA World Championship silver (4) – 2009, 2013, 2015, 2019
ITU Cross Triathlon World Championship silver – 2013
ITU World Junior Duathlon Championship silver – 2000
ITU World Junior Duathlon Championship bronze – 1998