Alex Yee did not say a great deal in the aftermath of that crash which ended his WTCS Leeds bid early, but he didn't need to.
The British star, along with team-mate Jonny Brownlee, were both sent crashing out of Saturday's Men's Elite race following an incident shortly after the field headed away from T1 out onto the bike leg.
Brownlee came away with a broken elbow, which must now leave his Commonwealth Games participation for Birmingham in July in some doubt.
Yee on Leeds crash
Yee was lucky to escape serious injury, and posted an Instagram message late on Sunday to update on the situation. While the words he used were sparing, the implication was clear – without the right care and attention for others, this sport is dangerous.
Alex said: "Leeds WTCS was unfortunately not meant to be. I'm not a keyboard warrior but let's just look after each other please. Well done to everyone this weekend this racing is no joke👊
"Thank you all and sorry I left so abruptly. A new chance hopefully in a few weeks. #thatwasnotpartoftheelplan"
Brownlee himself had provided a similar debrief on Saturday night when he confirmed that broken elbow, though his words were even stronger.
He said: "I know these things happen in sport but the racing is definitely getting more dangerous and it is down to a select few athletes. We need to look after each other better. Back home for some TLC. Hope all the athletes that crashed are okay 👍🏼"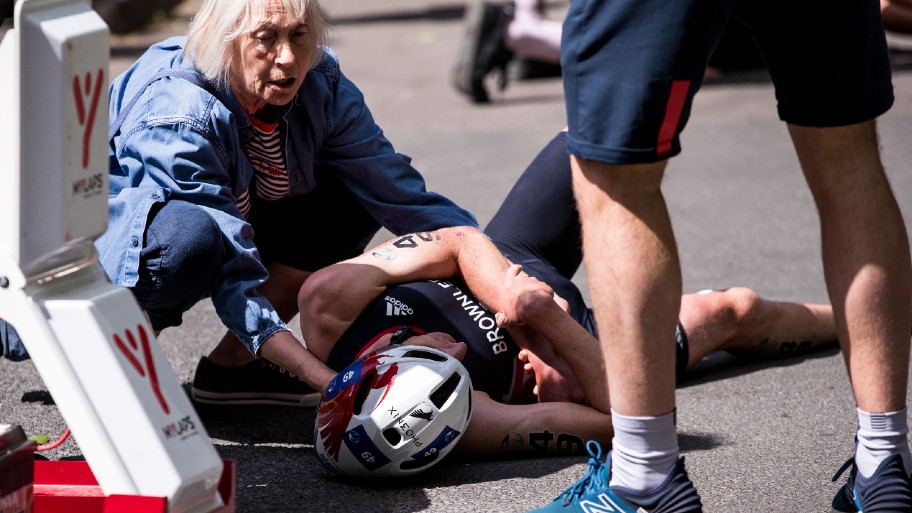 Wilde takes the blame
The eventual winner of Saturday's race – Kiwi Hayden Wilde – admitted immediately afterwards that he was at least partly to blame for the crash which took out Yee and Brownlee.
He told BBC One: "I wanted to race those boys properly, not like that, I just feel real gutted to be honest. I know Jonny was pretty mad on the side, he gave me some words, that's fair enough I'd do the same. Just absolutely gutted for those guys."
Wilde then added: "Honestly, it's totally my fault, more than happy to own up to that. I just feel real bad for them, as you said it might be his (Jonny) last time here."