We recently interviewed US athlete Ali Brauer, the 'maths nerd' who is now making her way in the world of professional triathlon.
With two IRONMAN 70.3 podiums during her first long-distance season in 2021, from the outside at least, it would be easy to assume confidence and belief is at a high. Perception and reality however can be very different.
The concept of imposter syndrome is surprisingly common in sports, even in seemingly successful athletes. Recent interviews we have done with Alex Yee and Leon Chevalier are just two examples that have referenced it.
We are pleased to say Ali will be joining the TRI247 team as a regular columnist as we follow her journey, and in this first update explains how imposter syndrome has been 'a familiar beast' in her life – and how she deals with it.
Silencing imposter syndrome
As I crossed the finish line for my first major podium finish after a wet and wild day at IRONMAN 70.3 Memphis last October, I was flooded with multiple emotions.
The major one: relief. Then, fleeting happiness. And finally, dissatisfaction with a side of embarrassment.
In an event that was broadcast live on IRONMAN NOW for thousands to see – I, a rookie long course pro, was not afraid to stick my nose in the middle of a race with two of the best female triathletes in the world: Ellie Salthouse and Jackie Hering. I exited the swim with Ellie and traded pulls with Jackie during the second half of the bike before finishing third on the day.
To the vast majority of those watching the live stream, I was a complete nobody, likely performing above anyone's expectations for someone who, up to this point, had flown completely under the radar. But the result never tells the full story, and what people couldn't see on screen is the two years of relentless hard work I put in on the swim and bike when I couldn't run due to a series of stress fractures in my left foot. I and those close to me knew what I was capable of: I expected to be highly competitive on the swim and bike in any race, and in the right race, I fully expected to be fighting for a podium.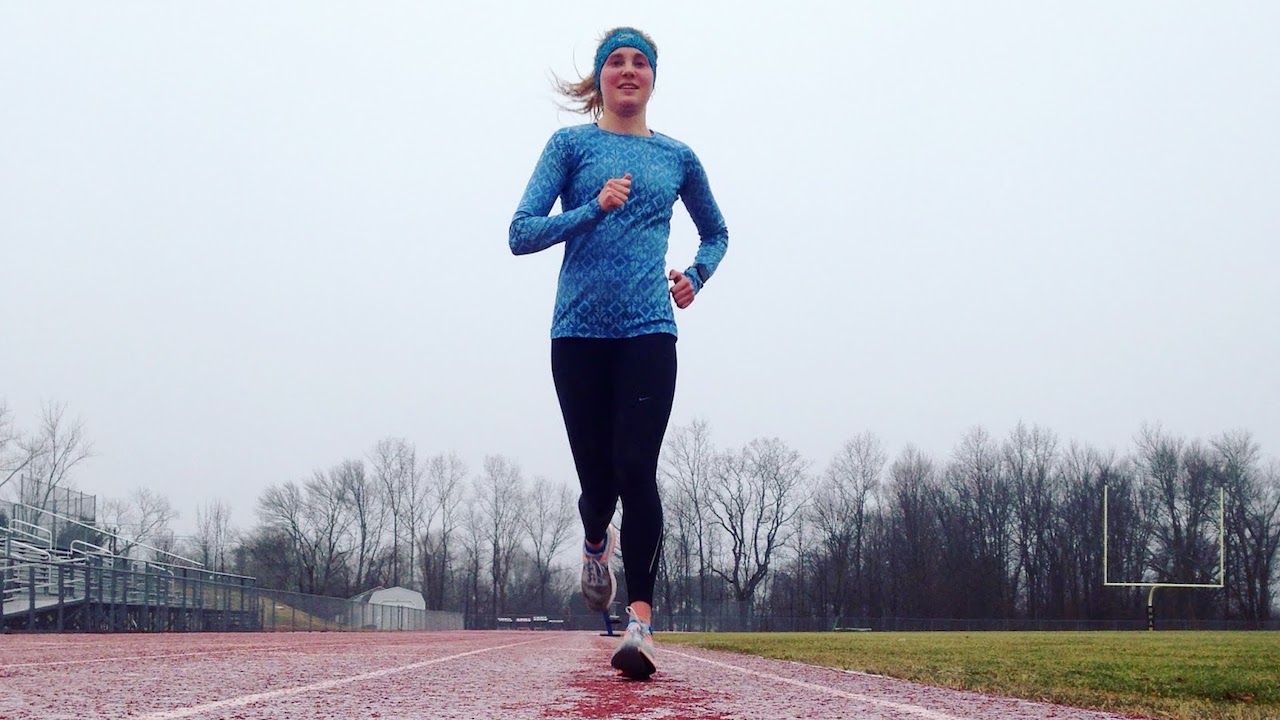 'I was embarrassed'
But what I didn't expect was the anticlimactic feeling when I crossed the line that day in Memphis. Personally, I felt that I swam and biked below my capabilities, yet I was still nearly 20 minutes ahead of fourth place coming off the bike. At that point, I knew that if I simply ran my own race and finished, I would podium. Thus, I was never pressured. And to top it off, I lost over nine minutes to both Ellie and Jackie on the run.
After the initial feelings of relief and happiness at achieving a career milestone had faded, the overwhelming feeling was dissatisfaction. All I could think was that I didn't deserve this podium. There was no "fight" or "battle" for third, and I lost so much time on the run that it almost felt as if I wasn't in the race. I was embarrassed. My perfectionist self looked at the situation and said, "It doesn't matter if you were competitive on the swim and bike when you were over 10 minutes out of second place after the run. It wasn't a deep field; you got lucky."
Ah, that familiar voice in the back of my head. The one that always makes me question whether I'm deserving of my accomplishments and whether I belong in settings where I'm side-by-side with many other high achievers.
A familiar beast
Imposter syndrome is a familiar beast in my life. Outside of athletics, it reared its ugly head in academia, my main experience with it coming during my graduate studies in Applied Mathematics. In my master's program, I always felt that I was surrounded by mathematical geniuses who grasped highly advanced concepts with little to no struggle.
On the flip side, I never really considered myself highly talented at math, but instead believed that most of my success was gained through consistent hard work and a refusal to give up. "Am I actually smart?" was a question that often crossed my mind. In an environment where no one wanted to admit that they were struggling, it was easy to believe that I just wasn't as competent as my peers.
Late bloomer
My experience in the elite triathlon world has been similar. When I began my professional career in World Triathlon draft-legal racing, I was among a minority of American athletes who did not enter the professional side of the sport through pathways such as the USAT junior elite series or the USAT collegiate recruitment program.
Although I showed athletic talent as a youngster, I was a late bloomer. I was not a superstar in college by any means. Though I had a strong swim background, I didn't specialise in distance freestyle, and my running PRs were far slower than those of my peers, many of whom were successful NCAA Division I runners.
USA Triathlon would never have been interested in me on paper; I was not hand-picked by the powers-that-be as a potential future champion. Thus, it was easy to feel completely out of place on the start line.
But in the end, none of that matters. Everyone's path in this sport is different – and the long course world in particular is full of highly successful athletes with unusual backgrounds who have worked their way to the top over many years. So, why not me?
Redemption
I finally received the battle I was searching for at IRONMAN 70.3 Indian Wells in December 2021, coming out with another third place finish – this time in a deeper field, where I was chased all the way to the line. But in reality, I should not have needed that result to validate that I belong in this sport or that I'm deserving of a podium.
Indeed, after Memphis, my rational self said, "Look how far you have come since early in the year. In January 2021 – after your third stress fracture in less than two years – you didn't know if you'd ever be able to finish a half marathon in a race. In fact, you didn't even know if you'd have a future in the sport. But now you've completed three 70.3s and you're still healthy, with a podium to show for it."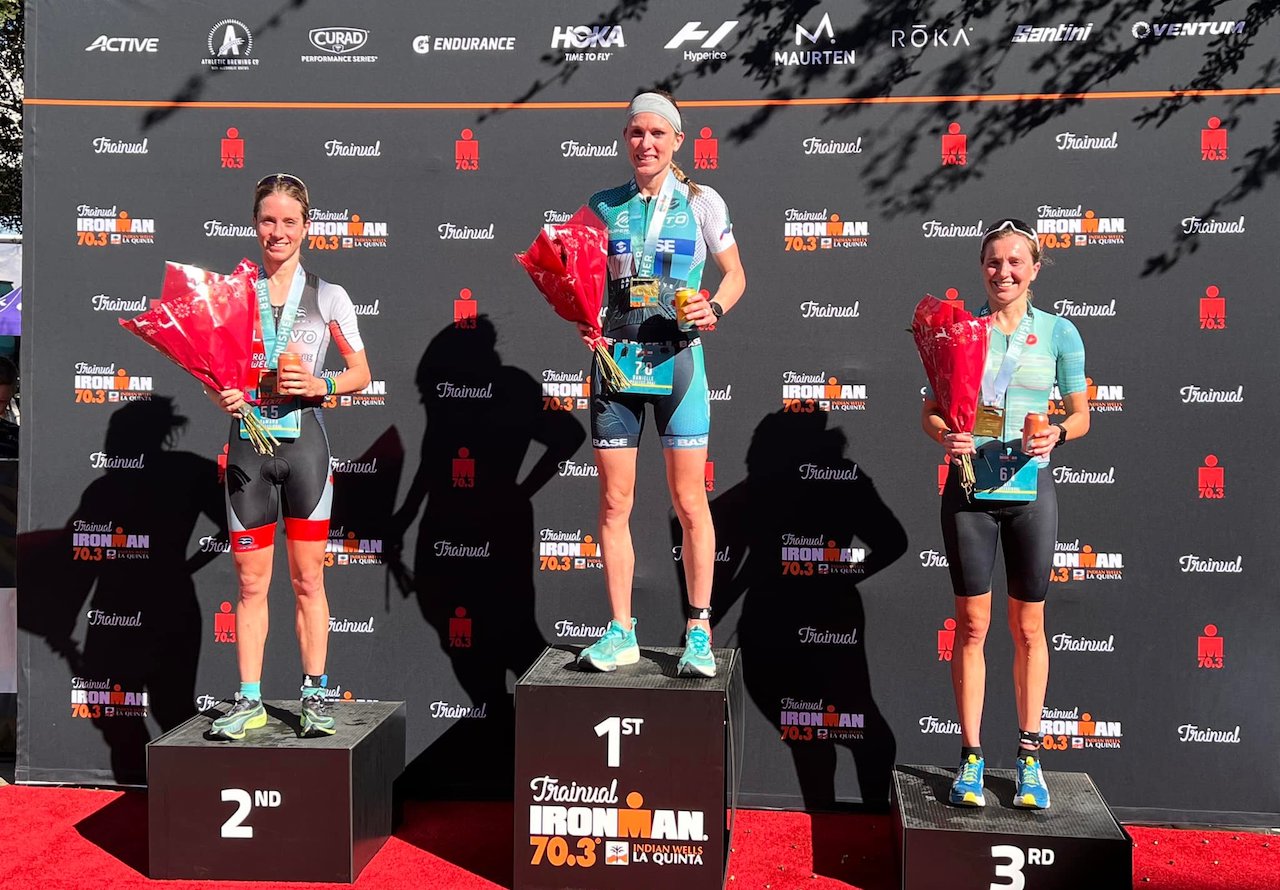 I may be a little behind in some disciplines, but – although that pesky voice in my head likes to tell me otherwise – that doesn't mean I'm any less competent than my peers or that I don't belong; I'm simply on a different path. As my coach told me, "You deserve what you've gotten so far, and you don't deserve what you haven't gotten."
You are not alone
What truly matters is that deep inside, beneath all my insecurities, I have the self-belief to keep showing up and continue pressing forward. What matters is that I have grinded my way through countless injuries and other setbacks and I will continue grinding my way to the top of the sport. Any adversity, any disadvantages I have faced, and any perceived inadequacies I have felt along the way have actually been my greatest sources of strength.
And if there's anything I've learned through my experience with imposter syndrome, it's this: I am not alone. You are not alone. Look around on the start line: even those who seem the most confident, the most intimidating, the most put-together – even the best athletes in the world – have felt this way at some point. In fact, there's a good chance they still feel like an imposter.
These feelings are very rarely acknowledged in the open because they might be perceived as weakness, but in reality, beneath the surface, every athlete who steps on the line with you is dealing with their own doubts, insecurities, and pressures. Those who succeed in the end are typically the ones who confront these feelings head-on and find a way to keep moving forward, no matter what. So remember this:
"An imposter is someone who is pretending. We are not pretending. We know how to do the job. It may be outside of our comfort zone, but we are not imposters just because we are uncomfortable." -Nedra Tawwab