Alistair Brownlee is on the way back from injury and still hoping to make it to Kona for the IRONMAN World Championship in October, but he will not risk his future for a trip to 'The Big Island' this year.
The two-time Olympic champion made a valiant bid to challenge for a third gold in Tokyo later this month, but was hampered by an ankle injury which recently required surgery.
Brownlee has admitted that his short-course career is over, and the 33-year-old Yorkshireman will now be putting his sole focus on long-distances. Which means of course that Kona will be an annual goal for him, potentially starting with the 2021 race on Saturday October 9.
Alistair joined a Facebook Watch broadcast by the Bahrain 13 Endurance team on Sunday, and as well as discussing Jan Frodeno's sensational world iron-distance record he talked about his own rehab and future plans.
Alistair Brownlee on injury and Kona
The good news is he is back on a bike and training again, but he tempered expectations by saying he will not rush his return and put at risk the coming years.
"The ankle's okay thanks, I think it's doing as well as it possibly could. The surgeon said the operation was a success, I won't entirely know until I start running hard on it. I feel really motivated, I feel good in myself, I've really enjoyed getting back and doing some training in the last few weeks.
"It was a really stressful three or four months, trying to race at Olympic distance again and throwing everything at that. So I think it's been good just to have a bit of time to chill out a bit.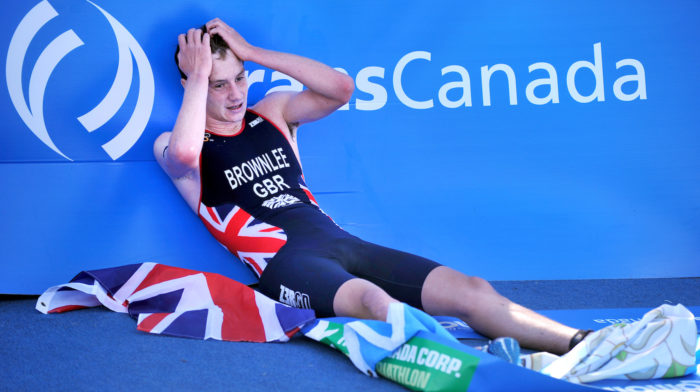 "I'm looking forward to getting back and training hard and hopefully for Kona. I'm gonna do my best, but at the same time for the next five or six years of racing, I also don't want to rush it too much this time.
"The main thing is obviously my focus now is the long-distance and ultimately that is SUB 7 next year, Kona after that and big PTO races. I'd love to be there this year, but if not it will be next year."
Brownlee on new formats
Sunday's record attempt by Frodeno, subsequently successful with a new iron-distance best of 7:27:53, may not have been everybody's cup of tea. SUB 7 SUB 8 meanwhile will add another fascinating wrinkle to triathlon in the coming months.
Brownlee believes the lack of conventional racing action in such formats means the use of data is vital to create interest and storylines.
"I think sport is ultimately about stories," he said. "It's about creating the story and the journey and the interest for the spectator and the fans and people watching it.
"We all might sit here as massive fans of triathlon that we are, but an eight-hour race is an eight-hour race and it's hard to keep people's attention and interest over eight hours.
"People sit there and watch the Tour de France for six or seven hours and nothing happens for the first five hours, but we still watch it. Sport, or tennis or golf etc etc, lasts hours and hours, so sport is more than an interest. I think that and I watch it because I enjoy the stories.
"I think during the event data does a really good job of telling those stories and making people interested and that's ultimately because people can relate to what the athletes are doing at the time."