Every Second Counts in Super League Triathlon – and it's likely to be exactly the same scenario in the Arena Games over the coming weeks.
No-one has a better handle on the times and data than Graeme Acheson, the co-founder and CEO of Sports4Cast, who are working alongside SLT.
We caught up with him to get insights ahead of this weekend's opening event in Munich, starting with a stats breakdown on the favourites and some pointers for each discipline before he gives his all-important predictions:
Top five men
Marten Van Riel has won twice – London 21 and Rotterdam 21. He didn't triumph by dominating any specific discipline, but by being generally the most consistent and racing intelligently, taking his opportunities where they arose. Strong across the board, but particularly in the water. He also has the highest FTP of the athletes on Zwift, and is one of the most experienced athletes on the platform.
HEART RATE INSIGHT: When we measured these properly in Rotterdam 2021, Van Riel averaged 143 for the entire event, with the next lowest sitting at 168, over 20 BPM higher. Even Felix Duchampt and Marco van der Stel – who had technicals and sat out nearly a full stage each – had higher average HRs for the full event (156 and 152 respectively)! His max of 162 was lower than everyone else averaged in the entire event – men and women.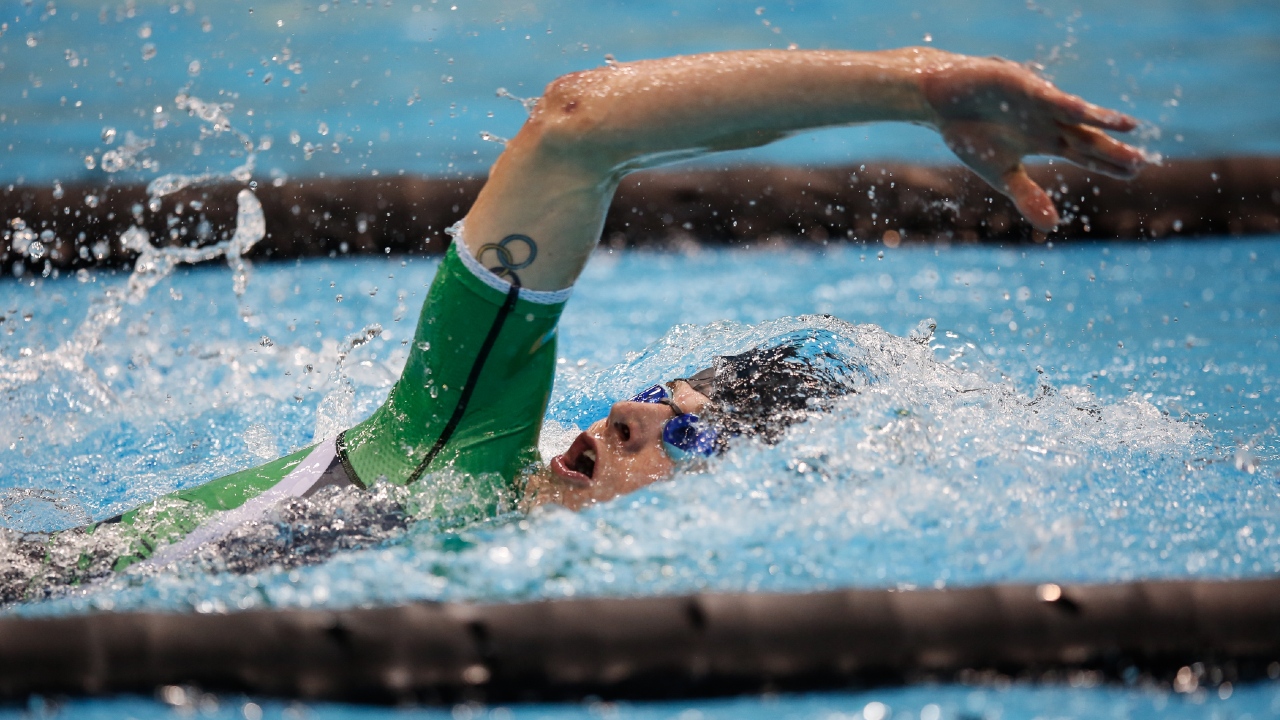 Alex Yee has raced twice before, both 21 races. He finished on the podium both times, third in London and then second in Rotterdam. Can he go one better this time round? He has an absolutely mega run. With standalone PBs of 27:51 over 10km and 13:26 over 5km he is comfortably the fastest runner.
Justus Nieschlag has raced the SLT Arena Games before (Rotterdam 2020 and London 2021). He won the first version in Rotterdam, and came second in London – not racing the third iteration back in Rotterdam. Very fast across the board, but mainly in the swim, he was one of the 'no shoes' brigade in Rotterdam and this likely boosted his chances of winning, although he obviously did well when shoes were mandated in London.
Simon Henseleit has raced SLT before, but only outside. He raced in 2019 Jersey and Malta, and the Munich 2021 race. He triumphed in the Junior race at Super League Triathlon Jersey 2019, and earned a slot in the elite men's field, qualifying for the final, but had to turn it down due to injury. However he raced well in Malta 2019, and was strong in Munich 2021 – earning points for the Sharks with a 12th-place finish.
Aurelian Raphael has raced the Arena Games before, in Rotterdam 2021, where he finished third. He was actually the second best 'athlete' purely based on his swim, bike and run times – only two seconds down on Van Riel – but lost out to Yee based on his transitions – which were 20 seconds slower than Van Riel. Can he improve those this time and challenge for the win?
Top five women
Beth Potter has an 800m PB of 2:13 and 5k of 14:41, and is the fastest runner in the field. She won the London Arena Games in 2021 with some impressive swim, bike and runs but also her transitions – which may have been a surprise given she was almost new to the sport then. She finished second in Rotterdam 21 and continued to impress in the outdoor Championship Series, scoring heavily for the Sharks.
Anna Godoy has raced Arena Games twice before and has been a strong contender, finishing sixth in London 2021 and third in Rotterdam 2021. Strong across the board, but best on the run, she was consistently third wheel to the Potter/Coldwell showdown in Rotterdam last year. Could be a podium contender again this time around.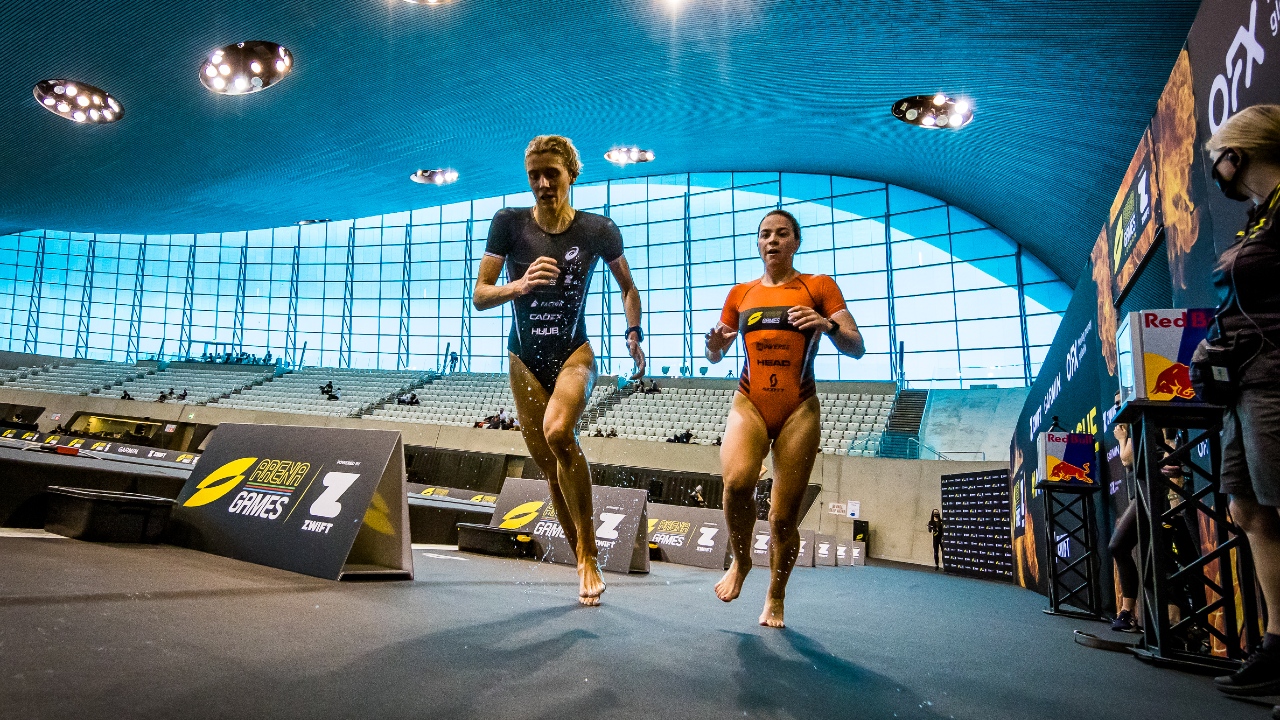 Ilaria Zane has raced all three Arena Games before, finishing 8th, 9th and 7th. She generally loses ground on the run, unfortunately losing too much time to the rest of the field there.
Zsannett Bragmayer has never raced AG before but raced Jersey in the 2019 Championship series, and was eliminated in the semi-finals. She's a strong contender in the WTS series generally, having started 110 races with 22 podiums. She finished 12th in the Tokyo Olympics.
Anabel Knoll has never raced AG before, but raced some of the 2021 Championship Series, picking up points for the Rhinos team in Munich last year.
Arena Games disciplines
Transitions are the big story in the Arena Games with their relative importance inflated hugely by the shortened nature of the other disciplines. They are truly the 'fourth discipline' here.
For example, a good swimmer, biker or runner can perhaps make up 10 seconds (at most) on the rest of the field if they really push hard. However, a good transition can easily gain eight seconds, without the lung-busting effort!
Yee generally had the best transitions in the men's field in 2021 (although he was still second to Potter overall) however Van Riel was in second place, only four seconds down. Raphael was athletically very close to the top guys, but lost out on transition.
For the women, Potter won London 2021 with her transitions so she will undoubtedly be looking to use that to her advantage again.
Normally it doesn't really matter if you lose five seconds in your transition, but in the Arena Games it's crucial.
The run is to be completed on curved, self-powered treadmills. These are very different from normal treadmills, in fact one recent study put the difference in perceived exertion and workload at about 30%.
Treadmill curve ball
Runners consume about 32% more oxygen and have 16% higher heart rates than on normal treadmills. The writers of the study liken it to running up an 8% gradient with the difference in pace at around 20%. Over the course of the 1km run, and the roughly three minutes it should take, this could be up to 30 seconds, so bear that in mind when looking at the times.
This could also have implications for athletes' recovery – or given SLT's unique take on triathlon and the triple mix format – for subsequent disciplines. If athletes mistakenly go too hard by trying to run at their normal pace, they could damage their chances further down the line.
Yee holds the fastest men's run time, set in Rotterdam in 2021 (2:42). However, the treadmills are different this time round so the comparison is likely to not be a fair one. Relatively, he was two seconds faster on average than Van Riel on the run and about eight faster than Raphael.
Potter is the best runner in the female field this time round with her stellar background.
On the bike, it's their own bike on a Tacx NEO 2T smart trainer. Also note that the Zwift 'double draft' will be turned on, which will make it more like real life. A breakaway on a swim or run BEFORE a bike leg has more potential to stick given it will be harder for a chasing group.
In the swim, Raphael is the fastest male swimmer in Arena Games history with a 2:02 in Rotterdam 2021, and he ended up averaging 2:06 for the entire three swims of the event which was incredible. Can he go sub-2 this time out? Van Riel and Nieschlag are likely to be the only athletes able to challenge him in the water, unless some of the newbies can pull it out of the bag.
2:12 is the women's swim record set by Jess Learmonth in the Rotterdam 2020 Arena Games, but matched by Lucy Charles-Barclay at London 2021. Average swim time is usually around 2:22 (1:11 min/100).
Arena Predictions 2022
So, having crunched the numbers, we asked Graeme who he thinks will take the wins on Saturday.
In the women's race, Beth Potter is his clear favourite with an implied 41% chance of victory. Next comes Anna Godoy on 20%, followed by Zsannett Bragmayer at 15%.
But don't for a minute think it will be a procession – Bragmayer is given a 42% chance of being fastest in the swim and tops the bike standings too at 22%.
In the men's race we could be in for a thriller, with Marten Van Riel and Alex Yee virtually neck and neck (where have we seen that before?).
It's the Belgian with the super-low heart rate who's given the edge, at 31%, just ahead of Yee on 29%. But don't discount inaugural Arena Games winner Nieschlag on 20%.
Be sure to tune in on Saturday to see how it all pans out!