This is a preview of Arena Games Munich 2022 – you can read full reports on how Beth Potter dominated the women's event while Aurelien Raphael was the men's winner.
It started off in 2020 as a response by Super League Triathlon to the impacts of the global pandemic.
The SLT Arena Games concept grew and fast-forward less than two years, and on Saturday we have the first of three Arena Games Triathlon Series powered by Zwift events taking place at the Olympia-Schwimmhalle in Munich, site of the 1972 Olympic Games. London (23 April) and Singapore (7 May) will follow soon after.
A month from now, the first World Triathlon Esports World Champions will be crowned. The team at Super League have ambitions for the format to be considered for Olympic Games inclusion, "as early as 2028".
That seems highly optimistic… but then again, just two years ago, the Arena Games didn't even exist.
Here is the deep-dive on what you need to know ahead of Saturday's racing in Munich.
Start times and how to watch it all live
All racing takes place on Saturday 9 April 2022.
Watch the heats & finals with our expert analysis LIVE here on TRI247.
You can watch all of the action live via Super League Triathlon's website and YouTube channel, on TriathlonLIVE.tv and via Eurosport, Discovery+, L'Equipe, Viaplay, OutsideTV and others, dependent upon the specific broadcast rights in your region. The Super League Triathlon website has a breakdown of which broadcasters will operate in your region.
And here at TRI247 we'll be bringing you all the latest coverage as it happens – we're on the ground in Munich and will also have expert insight and analysis from elite triathlete and coach Mark Buckingham as well as embedding the live coverage right here.
The live broadcast show for the Finals runs from 17:00 to 19:30 local time. That's 16:00 to 18:30 in the UK and 11:00 to 13:30 Eastern time.
Women's Heat #1: 11:00 (10:00 UK)
Women's Heat #2: 11:50 (10:50 UK)
Men's Heat #1: 12:40 (11:40 UK)
Men's Heat #2: 13:30 (12:30 UK)
Broadcast show starts: 17:00 (16:00 UK)
Women's Final: 17:24 (16:24 UK)
Men's Final: 18:32 (17:32 UK)
Broadcast show end: 19:30 (18:30 UK)
Held earlier in the day, you can also follow the Heats via a stream on the Super League Triathlon website and YouTube platforms, which will be embedded here on TRI247.
Elite Women – Potter the hot favourite
The late withdrawal of Rotterdam 2020 winner, Jessica Learmonth, leaves Great Britain's Beth Potter as the odds-on favourite to take the win this weekend for the Elite Women. Already a winner this year at the recent Europe Triathlon Cup in Quarteira, Potter also as proven experience of the Arena Games format. She raced in both 2021 events, winning in London and a close second to Sophie Coldwell in Rotterdam.
Despite her limited years in the sport, Beth's triathlon results are the class of the field. Encouragingly, to date she has shown no signs of race favourite status being a burden to her, as evidenced by World and European Cup successes in recent years.
That's a great sign from an athlete who I believe we will be seeing achieve her first WTCS podiums in 2022. Statistically at least, she should win in Munich on Saturday – and I have no doubts at all that she will.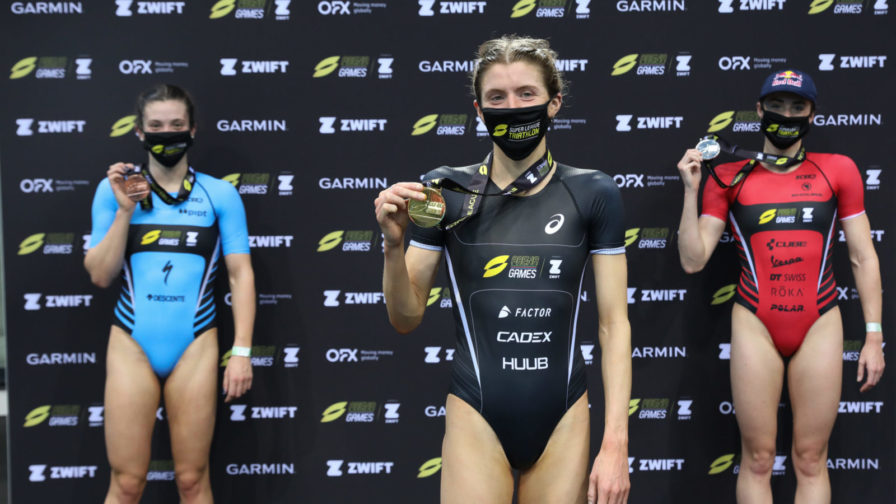 Italy's Ilaria Zane also has Arena Games experience from both London and Rotterdam last year, and will be used to short and fast racing having recently reached the final of the indoor triathlon in Lievin.
Home hopes rest with Anabel Knoll and Laura Meißner. Knoll represented Germany at Tokyo 2020 (31st), while Meißner was a Continental Cup winner last year. Can home crowd support inspire them to a podium finish in the Olympiapark?
Elite Men – Van Riel the Arena Games King?
The men's race will likely be built as a head-to-head between Belgium's Marten Van Riel and Olympic gold and silver medallist, Alex Yee.
That pair of course feature in one of THE finishes of the 2021 season at the Super League Championship Series Grand Final in Malibu. The 'Yee Boy' just about got the verdict (and the Championship Series crown) there, but 'Unreal' starts in Munich as the Arena Games king.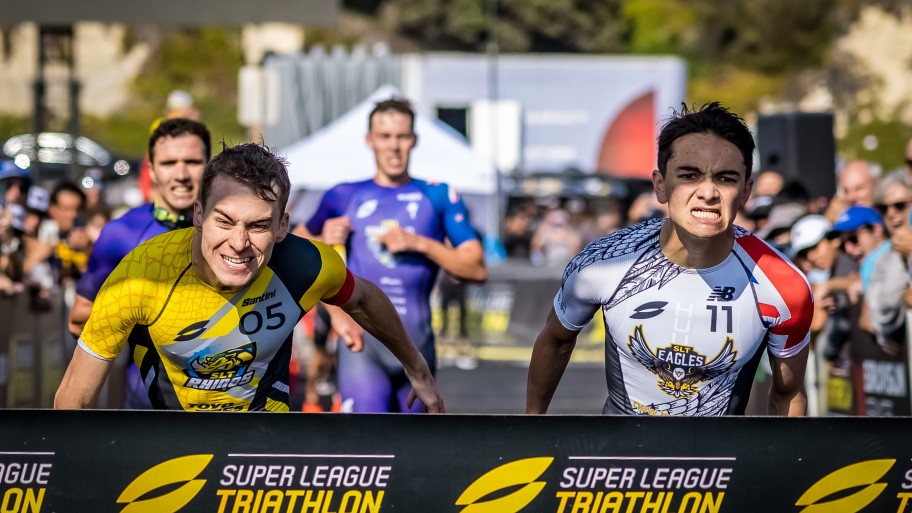 Marten of course has notched up a significant win already in 2022, over a totally different format, with a hugely impressive domination of IRONMAN 70.3 Dubai. He also secured a win double in 2021 at the SLT Arena Games events in London and Rotterdam. Yee was third and second, respectively, at those.
While Yee has the pure run speed, Van Riel is incredibly consistent across all three disciplines, with the tactical ability to use those assets as and when needed. A very experienced Zwift rider – with a huge FTP (Functional Threshold Power) – Yee is likely going to need all of his run skills to challenge the Belgian. They will surely meet in the Final, with Van Riel in Heat 1 and Yee in Heat 2.
We've seen Yee race this year, though that was at the English National Cross Country Championship, so we look forward to seeing him in triathlon mode this weekend – and we'll be on-site in Munich to see it in person.
There is another previous Arena Games champion racing – who will have home advantage and support – as Justus Nieschlag took the inaugural race in Rotterdam (2020) by the narrowest of margins. He also finished second to Van Riel – and ahead of Yee – in London last year.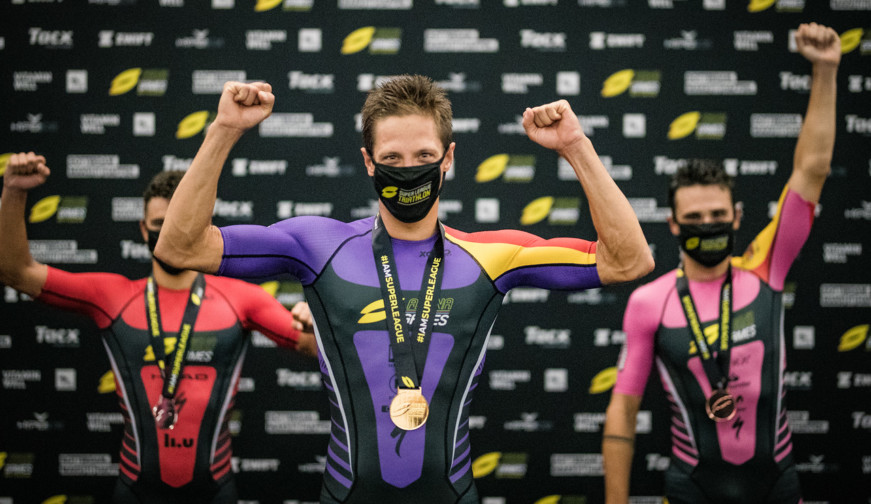 Who's going to win? On paper at least, the men's race should be much closer, as well as featuring more athletes with previous Arena Games experience. On balance, I give Marten Van Riel the slight edge over Alex Yee in this format, but no doubt the ever-improving young Brit would love to add an Arena Games victory (indoors) to his SLT successes of 2022.
Van Riel is aware that eyes will be on him, saying: ""I think I can't play the underdog for the Arena Games. For sure the others will be looking at me but I am confident I can go down in distance for super short action. It will really get my short course season going in the shortest and fastest format there is. I am super excited to race but I know everyone will be looking at me this year."
You can click here for full start lists and Heats details.
Race Distances
While the order may change (see format details below), across all events the distances raced in each discipline will be as follows:
SWIM: 200m in a 50m Olympic-sized pool (four lengths)
BIKE: 4km, ridden on Zwift, athletes all using Tacx NEO 2T smart trainers (athletes weigh-in ahead of the race on Garmin Index S2 Smart Scales). The Zwift draft function for cycling will be set to 'on', simulating the drafting impact in Zwift's virtual world.
RUN: 1km, run on a self-powered curved treadmill, linked to Zwift.
Format in Munich
The racing on Saturday will take place in a 'Heats' and 'Final' basis:
Heats: In the heats, athletes will race twice. Both stages will be in swim-bike-run format.
The times from the first stage will provide a pursuit start style start order for the second. Thus, in the second race, the winner of the first stage will start, and the second place finisher will start behind them, the number of seconds slower than they were in the first race. Overall Heats results will thus be based on when you finish the run portion of that second stage. No requirement for points accumulation etc.
Qualification for the finals will be achieved by the top three finishers in each heat, plus the next two fastest athletes from across the two heats, leaving eight athletes to race into each of the finals.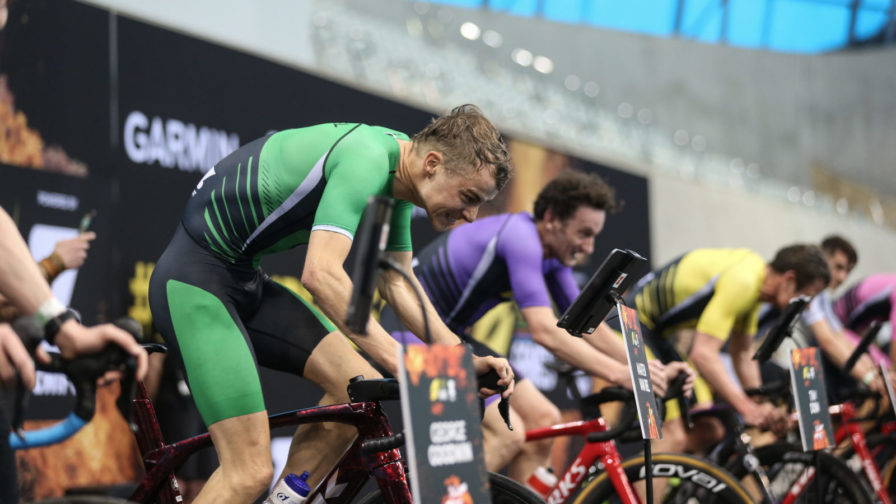 Finals: how will they work?
Athletes that qualify for the finals will race three more times, over these formats:
Stage 1: Swim-Bike-Run
Stage 2: Run-Bike-Swim
Stage 3: Swim-Bike-Run
There will be a very short gap between each of the stages to allow the athletes to prepare their kit etc, but the action barely stops.
In a similar manner to the heats, the final leg will be in a pursuit start style, based on accumulated times from the first and second stages. Once again therefore, the first to finish that final run in stage 3 will be the event winner, no points accumulation or calculations to be made.
Prize Money
There's a sizeable prize purse of $40,600 on offer this weekend in Germany – certainly one that is significantly above a typical Continental Cup event, for example.
Race winners will collect $5,000 each, with the total pot paying eight-deep – thus, every finalist will take home some winnings.
| | |
| --- | --- |
| Position | Purse |
| 1 | $5,000 |
| 2 | $4,200 |
| 3 | $3,400 |
| 4 | $2,600 |
| 5 | $1,800 |
| 6 | $1,400 |
| 7 | $1,100 |
| 8 | $800 |
In addition to the race day prizes, for athletes also racing at the Finals in Singapore (which of itself will have an increased prize purse of $57,000), there will be a further bonus pot $36,000 to the top three athletes in the series.
The top three finishers across the series will receive an additional $8k/$6k/$4k respectively. Including the London race, a total of $175k will be earned across the three events over the next month.