'Swimmer' Coldwell runs to victory over Beth Potter in Rotterdam
After a brilliant display in London three weeks ago, Beth Potter was the hot favourite to continue her hot streak of form with another win. She was close… but it was fellow Brit, Sophie Coldwell – third in London – who excelled, and took two of the three race wins to win by a single point.
There were perhaps no surprises in the first two events, with Potter taking race one and Coldwell relishing the final discipline swim of race two, to return the favour and leave a showdown for the final race, as we saw in London.
With race three finishing on the run, the format looked set to favour Potter, who recently set that sensational 14:41 5km road time in Lancashire. Coldwell was not ready to follow that script however, and while she had created an expected five second buffer after the first two disciplines of Bike-Swim, once on the treadmill she showed no signs of fading, and Potter was not able to make a dent in Sophie's lead. Not surprisingly, Coldwell looked broken at the finish of race three – but after that display, she'd earned earn the right for a sit down and show the efforts of the previous 30 minutes.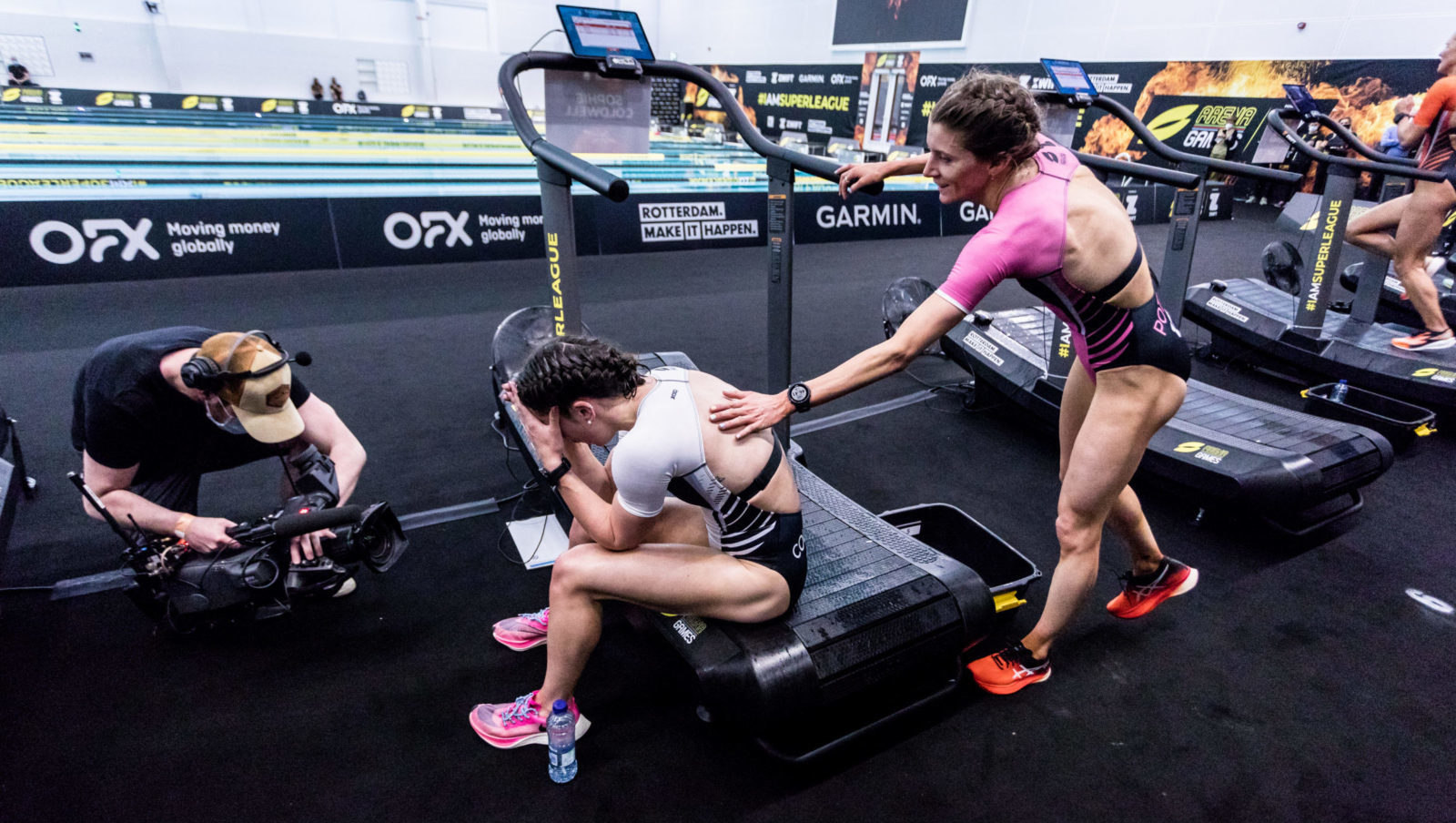 A very welcome win for Coldwell – and further evidence of the strength-in-depth of British women's triathlon.
Race 1: Swim – Run – Bike
1st – Beth Potter (GBR)
2nd – Sophie Coldwell (GBR)
3rd – Maya Kingma (NED)
Race 2: Run – Bike – Swim
1st – Sophie Coldwell (GBR)
2nd – Beth Potter (GBR)
3rd – Anna Godoy (ESP)
Race 3: Bike – Swim – Run
1st – Sophie Coldwell (GBR)
2nd – Beth Potter (GBR)
3rd – Anna Godoy (ESP)
OVERALL RESULTS