Fast racing in Port Elizabeth as Ben Hoffman defends IRONMAN South Africa title
Two-time IRONMAN World Champion Daniela Ryf impresses during Port Elizabeth victory
A fine day of (fast) racing in Port Elizabeth – venue of the 2018 IRONMAN 70.3 World Championship – provided two intriguing races for the 2017 IRONMAN South Africa title, the first Continental Championship race of the IRONMAN year.
Ben Hoffman (USA) and Nils Frommhold (GER) were locked together for pretty much the entire race, less than a minute separating them for eight hours – a battle which pushed them both under the magical eight hour barrier. Daniela Ryf took her expected victory, doing so in a very controlled manner, suggesting she has a lot more to come later this year.
SUB 8 Ironman African Champion!!! pic.twitter.com/QlpPTk8e0y

— Ben Hoffman (@bhoffmanracing) April 2, 2017
Brits David McNamee and Susie Cheetham both made the podium, finishing in third position – David maintaing his statistic of never being beaten by a British athlete over the distance, while Susie has now been a podium finisher here for three consecutive seasons.
Women -Ryf reigns
In the absence of the uber-swimming Jodie Cunnama, the day started with a close swim in Nelson Mandela Bay. Great Britain's Kate Comber (53:48) exited the water alongside two-time IRONMAN World Champion, Daniela Ryf (SUI), which Susie Cheetham – her best career swim? – just seconds back, in a group which also included Katja Konschak (GER) and Julia Gajer (GER). 2016 champion, Kaisa Lehtonen (FIN), was around 90 seconds back at this early stage. Nikki Bartlett had also started well with a 58:40 for the 3.8km.
Top 5 women: @danielaryf 53:47, @KateComber +0:00, Gajer +0:06, @susiecheetham +0:08, Konschak +0:09 #IMAfricanChamps pic.twitter.com/DWli4WQJ2i

— IRONMANLive (@IRONMANLive) April 2, 2017
Normal course of events/expectations might well have seen Daniela Ryf ride off into the the distance, but that wasn't going to be the case. At least initially. Fastest through T1, Susie Cheetham was first on to the bike and would soon be joined by Lehtonen and Gajer, and that trio would reach the 90km turnaround just over two-minutes ahead of the pre-race favourite, Ryf, who was seemingly playing a patient games today.
Ryf would spring into action over the final 50km – later admitting to concerns with her back, having damaged it 10 days ago – and she would push on strongly to lead at T2, with three and a half / five and six and half minutes, respectively, over Lehtonen, Gajer and Cheetham.
https://www.instagram.com/p/BSYrTgcAZ9B/
Both Ryf and Lehtonen would break three hours for the marathon (2:57:27 / 2:59:10), and Ryf never looked in danger despite the strong running of the Finnish athlete, crossing the line in what would be a swift 8:47:01, with Lehtonen also well under the nine hour mark. While Gajer faded badly on the run to finish 16th, Cheetham was never in danger of losing the final podium position, her 3:08:36 meaning that there was a 20 minute margin between third and fourth at the finish.
Finish line has never looked so sweet! Awesome day, a tough day. Happy to finish 3rd at IM African Champs amongst some awesome competition👊 pic.twitter.com/cgBpXzEJHq

— Susie Cheetham (@susiecheetham) April 2, 2017
Fourth to tenth however were separated by less than five minutes, including some great battles on the red carpet of the finish line to fight for the prize money slots. Nikki Bartlett finished ninth amongst some quality athletes, and we'll be getting the inside track via her personal race report very soon.
Men – Hoffman repeats
The opening swim saw the familiar sight of Great Britain's Harry Wiltshire at the head of the field, with just Josh Amberger (AUS) for company. Amberger clocked 48:02 for the 3.8km, but the pairing had a large chasing group breathing down their necks, as just a minute later the likes of Frederik Van Lierde (BEL), Ben Hoffman (USA), Nils Frommhold (GER), David McNamee (GBR), James Cunnama (RSA), Eneko Llanos (ESP) and more, were ready to make light of that 60 seconds margin. Joe Skipper, Great Britian's third Pro male clocked 53:39 in his weakest discipline, to start the bike close on five minutes down on the main group.
Former Pro cyclist and Olympic rower, Cameron Wurf (AUS) soon made his move on the bike. Exiting in the main pack a minute down on Amberger / Wiltshire, he soon closed that gap solo and took the lead inside the first 20km – and would maintain that to T2, his 4:20:11 giving him the best bike split of the day – and plenty of live air time.
Defending Champion Hoffman, and former Challenge Roth winner, Frommhold, would break away from the main pack during the ride with Amberger for company. While the Aussie would eventually lose contact, Hoffman and Frommhold remained in contact and their 4:22 splits would leave only a small deficit to the lone leader Wurf. His time in the lead on the run would be short-lived.
With race winning experience, Hoffman and Frommhold quickly passed Wurf and the race was on. Hoffman moved into the lead – but the gap was never significant, less than a minute at the half way mark. From the chasers, after a (too) fast start to the run, David McNamee was soon showing his quality and moved into third place after arriving at T2 just over eight minutes down on Wurf, but in good company. He had raced very smartly.
Thanks for all the support, everyone. What a day! pic.twitter.com/U6QHbvxr7F

— Ben Hoffman (@bhoffmanracing) April 2, 2017
The Hoffman-Frommhold gap was never significant. They would have been in sight for almost the whole of the run, with a late charge from the German reducing the lead to under 30 seconds. Hoffman however looked focussed and in control and showed his class, coped with the pressure and held firm. The pair ran 2:42:52 and 2:43:43 respectively, to take the top two spots on the podium with Sub-8 hour times.
McNamee paid for his early pace on the run, but seemed to bounce back strongly in the late stages and still clocked a superb 2:45:36. A class act, he has more than proven his status as Great Britain's top male IRONMAN athlete. 8:07:31 was also a huge PB for the Scottish athlete.
When I made it out the medical tent the reality had finally sunk in. Podium at the Ironman Regional Champs #awesome #bigstepforward pic.twitter.com/ydQCQp3ZYO

— David McNamee (@DavidMcNameetri) April 2, 2017
Joe Skipper would finish 12th (8:26:46) with solid performances across the board – but he was looking for much more than 'solid'. GB's first Sub-8 hour iron-distance athlete will be back soon at IRONMAN Texas.
IRONMAN South Africa, Sunday 2nd April 2017
3.8km / 180km / 42.2km
Men (Pro)
1st – Ben Hoffman (USA) – 7:58: 40
2nd – Nils Frommhold (GER) – 7:59: 30
3rd – David McNamee (GBR) – 8:07:31
4th – Kyle Buckingham (RSA) – 8:08:58
5th – Jan Van Berkel (SUI) – 8:12:35
6th – Boris Stein (GER) – 8:16:12
7th – Frederik Van Lierde (BEL) – 8:19:10
8th – Giulio Molinari (ITA) – 8:21:09
9th – Andrej Vistica (HRV) – 8:23:21
10th -James Cunnama (RSA) – 8:24:42
12th – Joe Skipper (GBR) – 8:26:46
DNF – Harry Wiltshire (GBR)
All ok here, wasn't my day today, but I managed to get a good brick session. It might be a trip to texas now.

— Harry Wiltshire (@harrywiltshire) April 2, 2017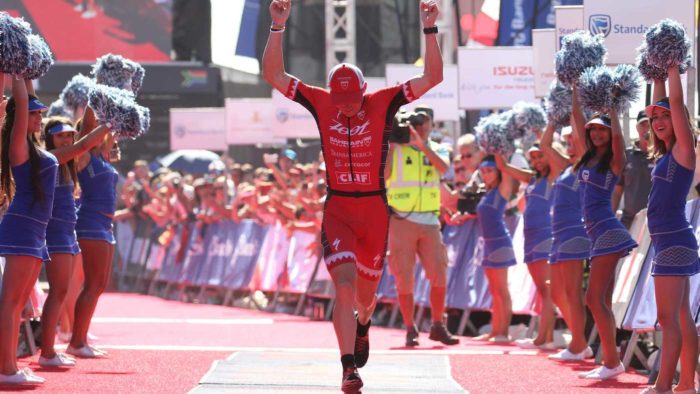 Women (Pro)
1st – Daniela Ryf (SUI) – 8:47:01
2nd – Kaisa Lehtonen (FIN) – 8:52:25
3rd – Susie Cheetham (GBR) – 9:04:48
4th – Astrid Steinen (SHN) – 9:24:36
5th – Gurutze Frades (ESP) – 9:24:58
6th – Katja Konschak (GER) – 9:25:39
7th – Alexandra Tondeur (BEL) – 9:26:28
8th – Jeanne Collange (FRA) – 9:27:18
9th – Nikki Bartlett (GBR) – 9:27:49
10th – Katharina Grohmann (GER) – 9:29:20
12th – Kate Comber (GBR) – 9:47:44