Beth Potter insists her priority this week in Pontevedra is making 100% sure of her Olympics spot rather than focusing on the world title.
Barring a freak set of circumstances, the WTCS women's finale in Spain on Sunday is a winner-takes-all showdown with France's Cassandre Beaugrand in terms of who will be crowned world champion for the first time.
Potter also knows that following her win in the Paris Test Event last month, a podium place in Pontevedra will seal a Team GB berth back in the French capital next year.
Single-minded Paris goal
Speaking to TRI247, she said: "My goal for the season was to qualify for the Olympics, so I know what I need to do to meet that qualification.
"So rather than saying 'I'm in the running for the world title', I'm instead thinking of it as I need to qualify for the Olympics and I know exactly what I have to do for that. And then if anything on top of that happens, then that's a bonus."
Clearly though, a world title would be a huge achievement and the perfect way to round off a year of incredible progression for the 31-year-old Scot.
And she does admit: "Obviously it'd be really good, and I'm sure I'll be disappointed if it doesn't happen."
Upward trajectory for Potter
Potter's mindset all season has been to focus on the next race and it's paid dividends. She only claimed her maiden WTCS victory in Abu Dhabi back in March, but since then has added wins in Montreal and Paris.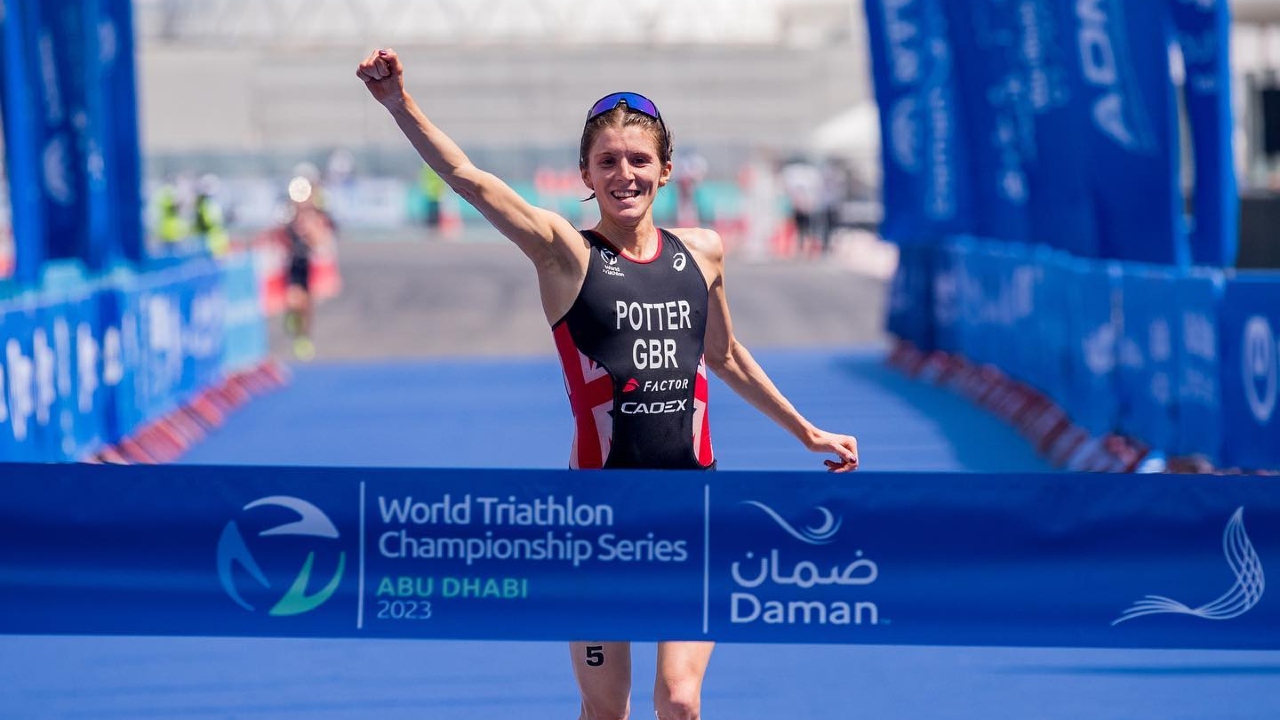 Was this something she believed she could achieve at the start of the season? "I felt like I could win a World Series event, but I hadn't done so before this year. I definitely want to win and it becomes quite addictive when you do.
"But I think it's probably just an accumulation of training and just getting a bit stronger in the swim, a bit stronger in the bike, being able to run off the bike a bit better and then I guess probably some psychology stuff that I've been working on this past year as well."
Potter was an elite runner before switching to triathlon, racing over 10,000 metres on the track for Team GB at the Rio Olympics. But she admits that the last couple of seasons have seen her focus much more on triathlon's first two disciplines, especially cycling, to great effect.
She explained: "It's still been quite bike heavy again this kind of winter and summer. We've just been bumping up the mileage a bit every year and I'm finding it easier to cope with that now as well which helps.
"All the more so as I've not had a cycling background as a kid, so doing more and longer rides with top cyclists definitely helps as you just pick up good habits all the time.
We might look to put a bit more running in next year though because I only do one specific run session a week at the moment.
"But it's quite nice to know that there are hopefully still gains to be made there – there's still some things that we need to work on this winter, but that's exciting."
Cagliari challenge 'a blessing'
And when I ask her to expand on the psychology side, she explains: "I've been working with a psychologist on how best to prepare for races. Because I came into the sport late, I don't have that bank of race experiences to draw on.
"It's things like staying calm if things don't go right and making the best of the situation. With triathlon, compared to running on the track, there's just so much more you can't control."
I ask if she can give a specific example from this season and she said: "I was really upset with my performance in Cagliari in May [when she was sixth, the only time she's been outside the top two in an individual WTCS event in 2023].
"It took me like three or four weeks to get over that. I was really upset with it even though I'd had some problems going into that race due to a niggle which had stopped me running and riding a bit.
"I basically got a bit flustered in the swim and then just panicked and made silly mistakes throughout the rest of the race.
"But now, looking back, I think two things about it, I think if I'd done what I could have done there, then I might not be in this position right now because I'd have more of a points buffer.
"But then again, it's helped me stay calm and learn from the mistakes I made there. I think it was a good test and it probably came at a good time in the season and gave me a chance to kind of take a step back, have that belief and then build on for Paris. I feel like it was a blessing."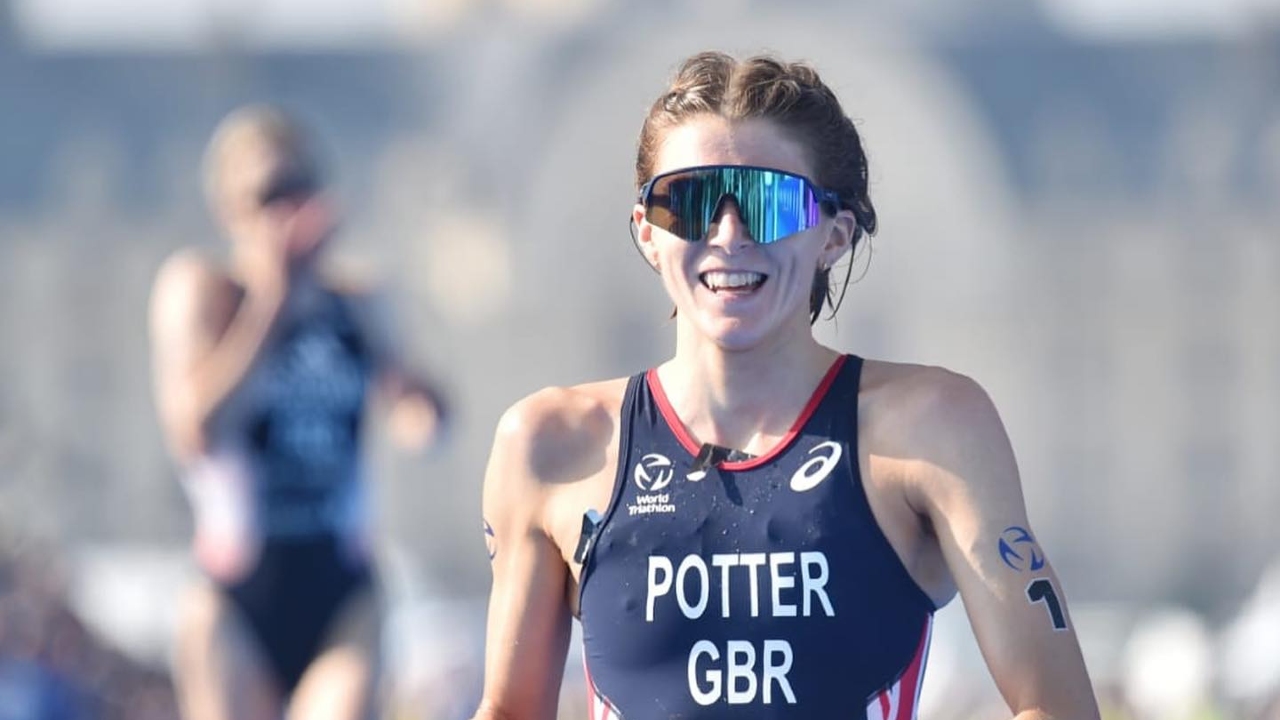 Advantage Beth at 10k?
That belief and calmness under pressure was very much in evidence in Paris recently when she got the better of a head-to-head battle on the run with home favourite Beaugrand, biding her time after the Frenchwoman powered clear early on.
"Yeah, it was an exciting race and I enjoyed it," says Potter. "It was good to get the better of her in a run race, so pretty happy with that.
"I think she's probably got more fast fibres than me and she was better than me [over the Super Sprint Elimination format] in Hamburg. I wasn't quite 100% there but also I'm not saying that I would have beaten her.
"But I think the 10k run suits me a bit better – I hope it does! But I think there's not much between us and it's quite exciting and I'm just trying to think of ways I can break her on that course in Paris next year."