The eve-of-race Collins Cup press conference had been a slightly surreal affair early on.
The PTO had deliberately mixed the format up from the traditional tactics and trash talk and we had everything from what animals the athletes would like to be, through to their go-to karaoke song.
But all the while there was the lure of hearing from Matchup #8. Or more specifically the battle of the Sams – Long and Laidlow. And it's not often Lionel Sanders is left on the periphery.
Seconds out
The spat between them had featured in a PTO video, embedded below, which gives slightly more context than the shorter-format tweet sent just before Friday's press conference.
We've got to be honest, first reaction was that a bit like Team Europe co-captain Normann Stadler at the opening ceremony, it was all a bit of fun to hype up Saturday's showdowns.
But when American star Long started speaking, there was a noticeable change of tone.
Referencing his own persona – which like Sanders and others – has done so much to raise triathlon's profile, he explained: "I hate to ruin the happy, fun mood, and I think maybe this whole press conference was maybe made for the incidents that happened between the three of us yesterday. But I do feel it deserves a few words.
"First I have to start, I guess, with my own past history. I feel I put myself in this same position two years ago. I came out and well, I started smack talk with Lionel [Sanders] and I started smack talk with Jan [Frodeno].
"And I kind of made myself the devil of the sport, the bad boy. I put myself into a position, I guess, to get a lot of hate. [But] I feel like when I did that, it came out of a place of respect for Lionel, it came out of a place of respect for Jan.
"It came at a time, when you don't always realise your decisions, and in a way, I regret those decisions that put me in this role. I've worked hard to change that role. I've grown as a man, and it's been trying to build the respect of people.
'I've reached my breaking point'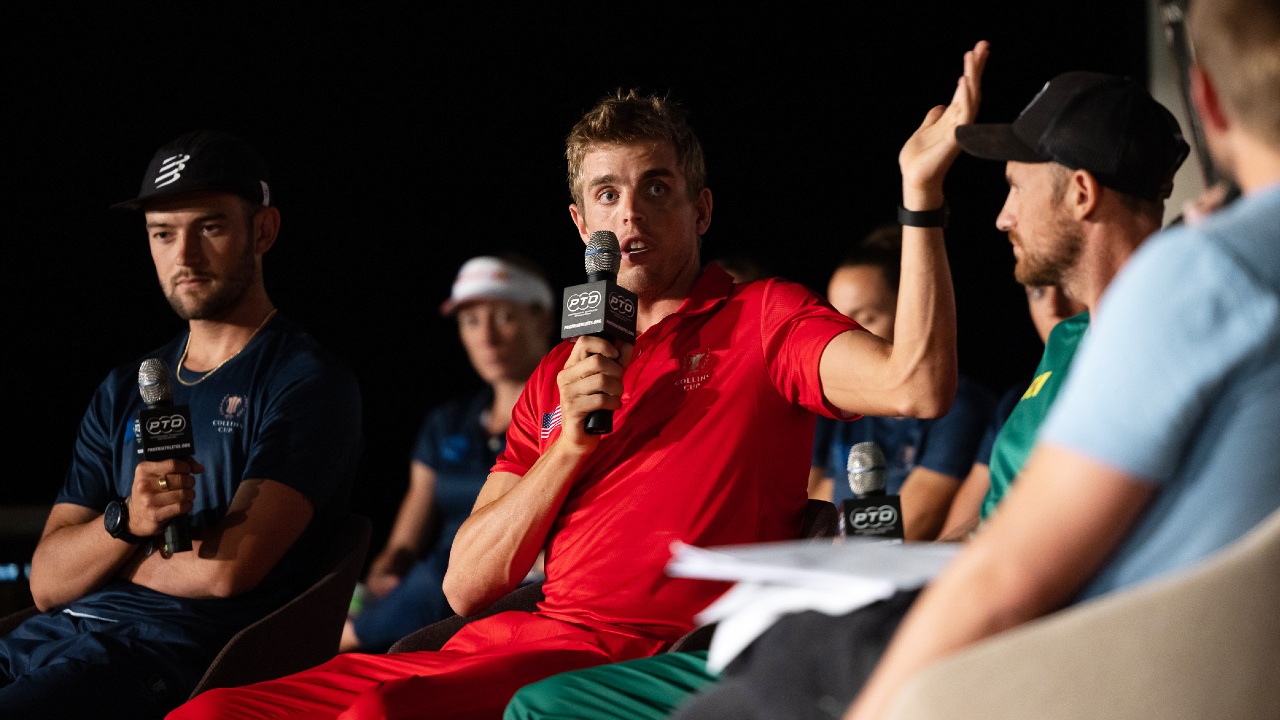 "And the incidents yesterday brought that all back up and put it all back into place. And I feel I've been attacked for the last three months, and I tried to ignore it as I was moving on to a new role. And there's a video circulating out now and yes, I've reached my breaking point. I think as any man would do, anyone would do if you've been attacked for months on end, trying to ignore it and trying to create a new reputation and image of yourself.
"Anyways, I guess I just want to say sorry to everyone behind me, in front of me, if I offended anyone in the sport. But my new M.O., my new motto is building each other up, making the sport bigger, making the sport stronger. And I think banter can exist in that."
But he didn't stop there and it seems there's a bit of bridge-building still to be done. Long added: "And I guess the final part of that is to address what is happening tomorrow. I feel the biggest issue at stake, and I can honestly say of every athlete here, I feel there's a lot of mutual respect except for the individual sitting to my right [Sam Laidlow]. And I have to stand up for myself as a person and as a human being and as an athlete.
"There have been some serious things said, and I just hope they are backed up. And tomorrow is about earning my respect. And that's all I have to say. We can go on to talking about stuffed animals now."
'Maybe I picked the wrong person'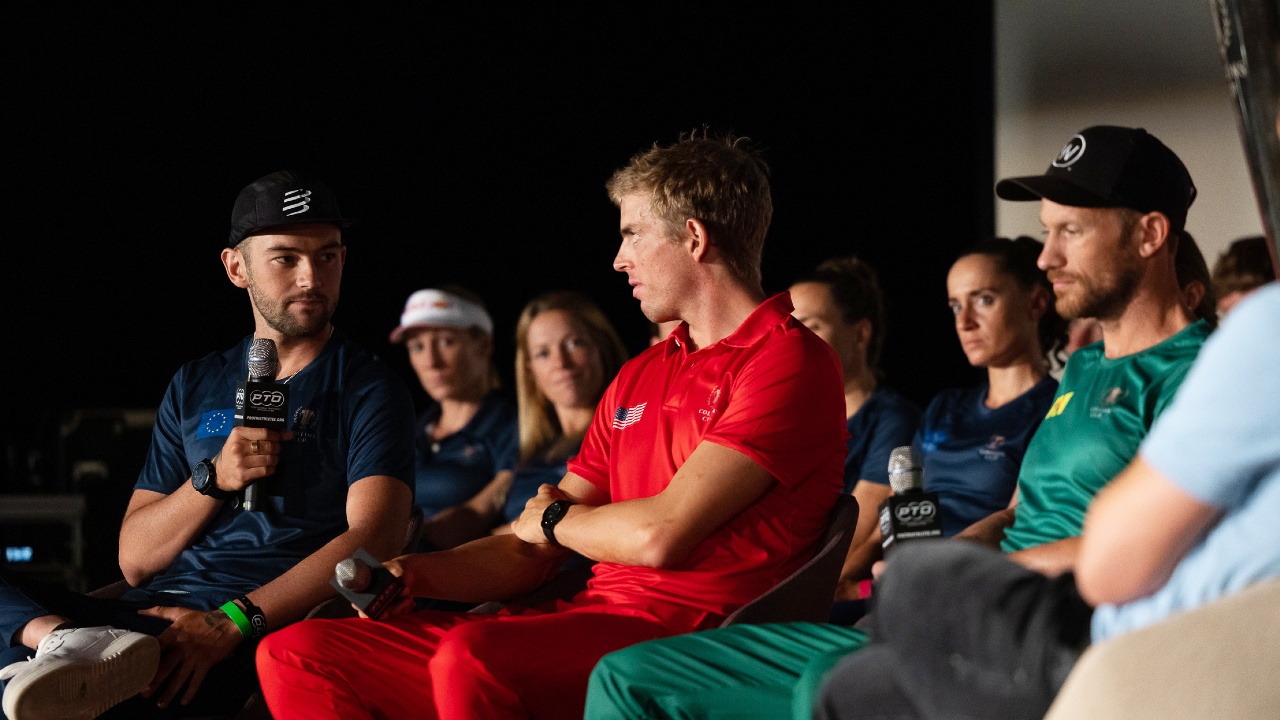 Anchor Alex Payne rightly let Laidlow have a right of reply – you decide whether it was an apology of sorts…
The Frenchman said: "First of all I'd just like to say my goal with this wasn't for it to go this far Sam. I think it's wrong in saying I don't have respect. I genuinely have a lot of respect for everyone that's here, simply because I probably feel I'm the athlete who's proved the least so far.
"I've got nothing to lose on race day and – as I said – I just want to have fun with it. Sam, as he said before, has been trash talking people in the past, and maybe I picked the wrong person and we didn't know each other well enough.
""I hoped we could chat privately but we haven't had a chance. So I guess I'm sorry from that perspective and hope we can have a real race."
The Long vs Laidlow vs Sanders heat was always going to be one of the more compelling clashes on Saturday and safe to say this hasn't done anything to diminish it.
And Long rounded things off nicely when he said of that: "I think we're the schoolyard dogs, we go out, we fight it out and then we become friends."
Reaction on social media was slightly cynical but content creator Talbot Cox, who has helped take Sanders and the sport to a whole new audience, provided a different perspective: "I can assure you I was in the room and personally friends with Sam. This ain't staged."