Compared to cycling, which is restricted by the rules of its governing body, triathlon has a reputation for leading the way in terms of bike development. And the CADEX Tri is the latest eye-catching steed to hit the market.
It's already helped Kristian Blummenfelt win the IRONMAN World Championship in St George and go Sub7 – next up it's Kona.
What is the CADEX Tri
The CADEX Tri has made quite an introduction. A prototype was first spotted in May 2022 as Blummenfelt raced to victory in St George, Utah; before in June, the striking image of Kristian and his team of loyal domestiques all astride CADEX Tri bikes (equipped with CADEX rear disc wheels and four-spoke front wheels), as Kristian won the Sub7 event in a staggering time of 6 hours 44 minutes and 25 seconds.
Obviously, it always helps when one of the best athletes in the world extols the virtues of your product. However, the eye-catching and unique features of the CADEX Tri meant it was always destined for attention.
The CADEX Tri is by no means the first triathlon bike to step away from the classic three triangle frame design – for example, beam bikes (that is, bikes without a seat tube) like the Cervelo P5X come to mind. Yet, the CADEX Tri appears to blend together and utilise concepts to create a bike that stands out from the crowd.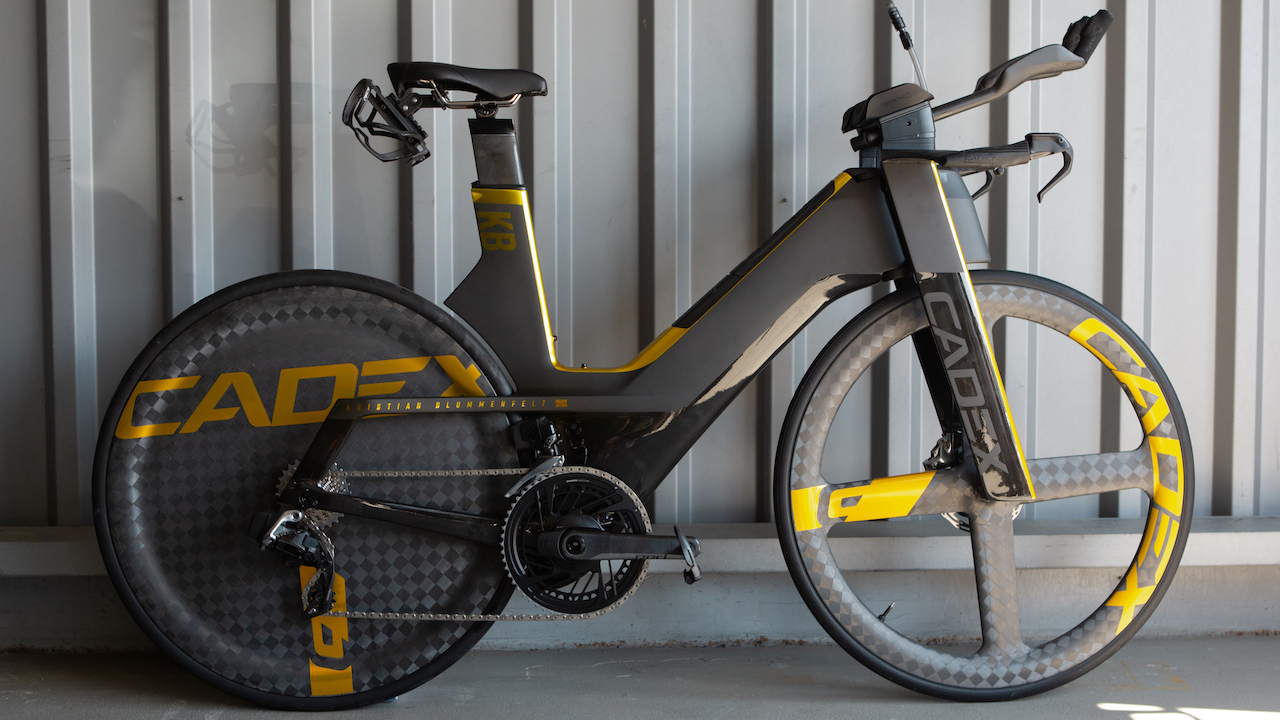 First, the most striking feature is the lack of a top tube. This is closely followed by the wide and tall forks that run all the way up to the base bar, giving a look akin to a down-hill mountain bike. Thirdly, the seat stays not only sit extremely low down the seat tube, but are also horizontal. Convention is well and truly bucked.
Why the CADEX Tri
CADEX is part of the Giant group. Giant already has a very successful time-trial bike, the Trinity, which has had success in professional cycling and in the triathlon world. This begs the question, why has CADEX made such a bold move to step away from convention and sought to create a bike that is so different to the competition?
Jeff Schneider, head of product and marketing, Giant Group, explained that the reason was simple, the CADEX Tri is a triathlon bike focussed on making triathletes faster:
"[For cycling] you're restricted by the UCI when looking at the frame… The Trinity is an insanely fast bike. I actually think the Trinity, if you were to take the same rider, put them on a one-hour course, they'd probably be faster on the Trinity than they would be on the Cadex Tri bike. But the difference being that an IRONMAN triathlete isn't doing a one-hour TT, they're sitting four hours or so on a bike. We started really looking at what we could do to make that rider faster."
Schneider continued, acknowledging that there are many fast bikes on the market, but they are not as tailored to the needs of a long-distance triathlete:
"When we did this [creating the CADEX Tri], I'm not going to say it was because of pure aerodynamics, but it was because of the goal of what we are trying to do for the triathletes. There are a lot of fast bikes in the triathlon world… but those bikes are fast until you start adding on the things that the rider needs to support them during a race.
"So, when we started looking at what we could do, the top tube is the first thing to go, because the top tube got in the way of allowing the rider to have access to all these things while they're riding. Because our goal, we really target what we call endurance aerodynamics, and that is keeping the rider in an aerodynamic position for as long as possible. If you can't get the right fit of the rider, he's not going to be comfortable over a four-hour period."
One of the most important factors for a triathlete is being comfortable on the bike, and also being able to run well off the bike. Schneider reiterated that comfort – and endurance aerodynamics – were a constant driver for the development of the CADEX Tri:
"If you look at the fit options, that was one thing that we really wanted. We wanted to make sure that this bike, we could give a rider multiple fit options to get them in a position that they could be comfortable in.
"Then while you've got them in that position, let's put everything where they need it. I'm not saying we invented the bento box, because we didn't, we didn't invent the hydration bladder system, but we did quite a few things that we think made it more accessible, tried to give them more volume so they're not constantly having to refill. I think you can fit eleven gel packets or twelve gel packets in the bento box. So really they can have pretty much everything they need…So the goal was trying to make it easier for them. When they're in racing mode, they can stay in that position without having to get out of that position. So that was very critical."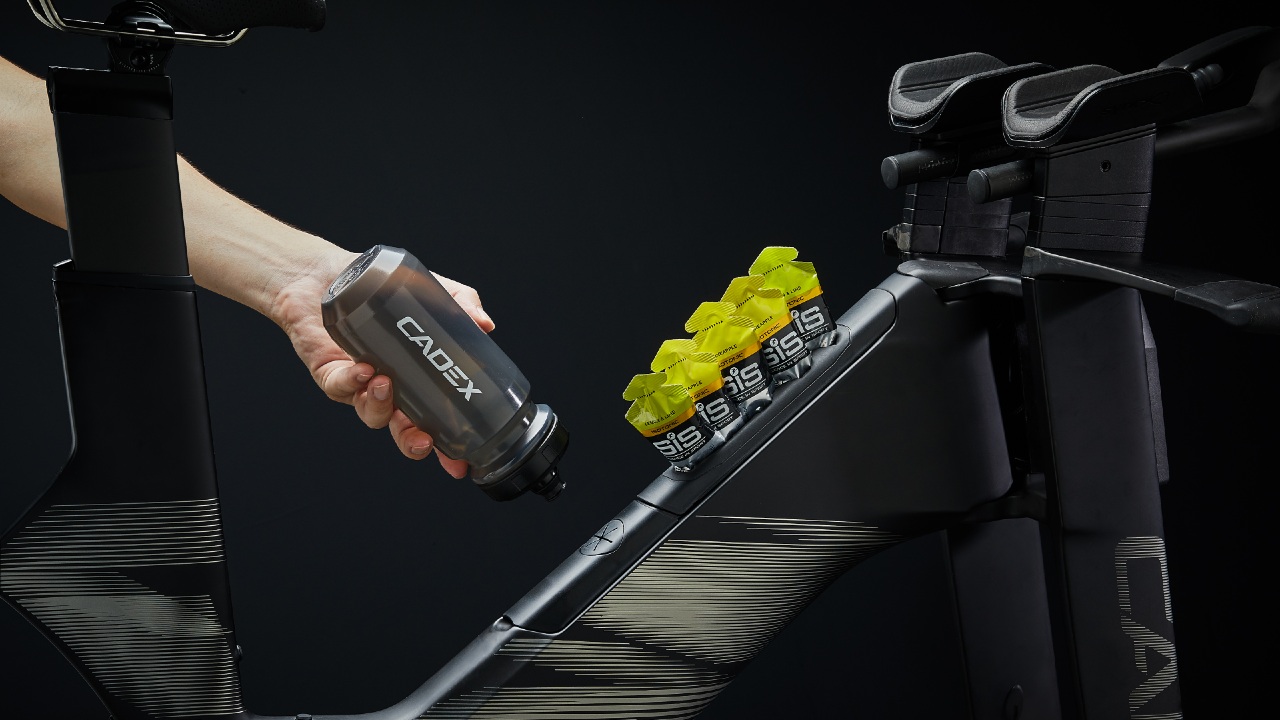 "We also looked at what a bunch of the other people were doing. If there is a mishap that you have a flat, you've got to stop and fix the flat, which in most cases, it's kind of the end of the race for you. But as we know in triathlon, a lot of it's about personal goals. Riders just want to be able to finish, get a personal record. So, the toolbox is very accessible."
How was the CADEX Tri created?
MCR
CADEX is part of the wider Giant group, and Giant bikes has a rich heritage. As far back as the early 1990s the company was pushing the boundaries of bike design, led by the innovative late Mike Burrows. In particular, Burrows used his aerodynamic expertise to create the MCR. The MCR's side profile doesn't look too dissimilar to the CADEX Tri, and Schneider confirmed that there were plenty of learnings from that experience:
"There's a lot that went into this bike [the CADEX Tri] that we learned from that bike. It [the MCR] was all about aerodynamics, which back in that day, aerodynamics was pretty new to the cycling industry. So, I think we just took and we enhanced what we learned from that and tried to make the bike faster."
In regard to when the concept and development of the CADEX Tri really started to take place, Schneider acknowledged this was in part triggered by the arrival of Kristian Blummenfelt as a CADEX athlete.
When Kristian came on board, it kind of ignited a fire within our team to let's make this happen.
"When we started to really dig into what we were doing with the bike, it probably started around 2020 when we started talking to Kristian. Our engineers are always playing around with concepts…and when Kristian came on board, it kind of ignited a fire within our team to let's make this happen," said Schneider.
Design Team
To those outside of the world of bike design it might be quite a shock. But rather than have a huge team of engineers and designers, CADEX had only a small team dedicated to creating the CADEX Tri.
"It's a small team, probably five or six people, and then you have people like myself [Schneider] and support people that are out there supporting the athletes to make sure they're happy. We're listening to their comments, their questions. We're also providing that back to the team."
Aerodynamicist Xavier Gergaud, who has previously worked in Formula 1 and been involved in the development of Giant products such as the Trinity, was a crucial member of the team. Schneider explained:
"We use him for a lot of things, not just bikes, but for helmets and other things, tyres, wheels. He'll be outside with CFD [Computational Fluid Dynamics]. He'll come up with concepts, say, "hey, this is what I'm seeing". He'll engineer it overnight, run it through CFD, and say, if we change this, when we change this, look how much faster it will be. Then that goes back to the team. They will make prototypes. The good thing is then they could make even CNC aluminium pieces to put on the frames they have to modify to see if they can make it even faster."
Aerodynamics
Schneider said that one of the biggest questions he receives concerning the CADEX Tri is the lack of the top tube. He detailed how this is largely for aerodynamic gain:
"A lot of that [the lack of the top tube] has to do with how we look at aerodynamics and how the aerodynamics flow through the bike. There's quite a few things going on with this frame, obviously, because our aerodynamics comes from the Formula 1 world. He [Xavier] is a fan of moving air around things, but he's also a fan of moving air through things, hence the wide stance forks. The blades of the fork are in line with the rider's legs.
"We tried to go as horizontal as we could on the seat stays with an abrupt drop down to kind of control how the air flows. But if we were to go to a top tube type Ventum-style frame [known as a beam-bike] and open this whole area up here, what happens is as the air goes over the wheel, it starts to come back together and then it hits the bottom bracket and the seat tube and has to be split again. That starts to create more drag.
"If you can capture the air as it's flowing through the front wheel on the forks and continue it down the side of the bike, you get much cleaner air. You don't get all the dirty air that's going on. Now, granted, that area is a very dirty part of the bike anyway. It's always going to have a certain amount of disruptive air. But the goal here was to try to get as much of that air moving through between the rider's legs, through the rest of the frame and keep the air going off the back. That's really in the design of the frame."
Testing, testing
Creating a bike with all these aerodynamic and performance gains, doesn't happen by chance. The CADEX Tri was meticulously developed using a combination of CFD, wind-tunnel testing, and real-world feedback.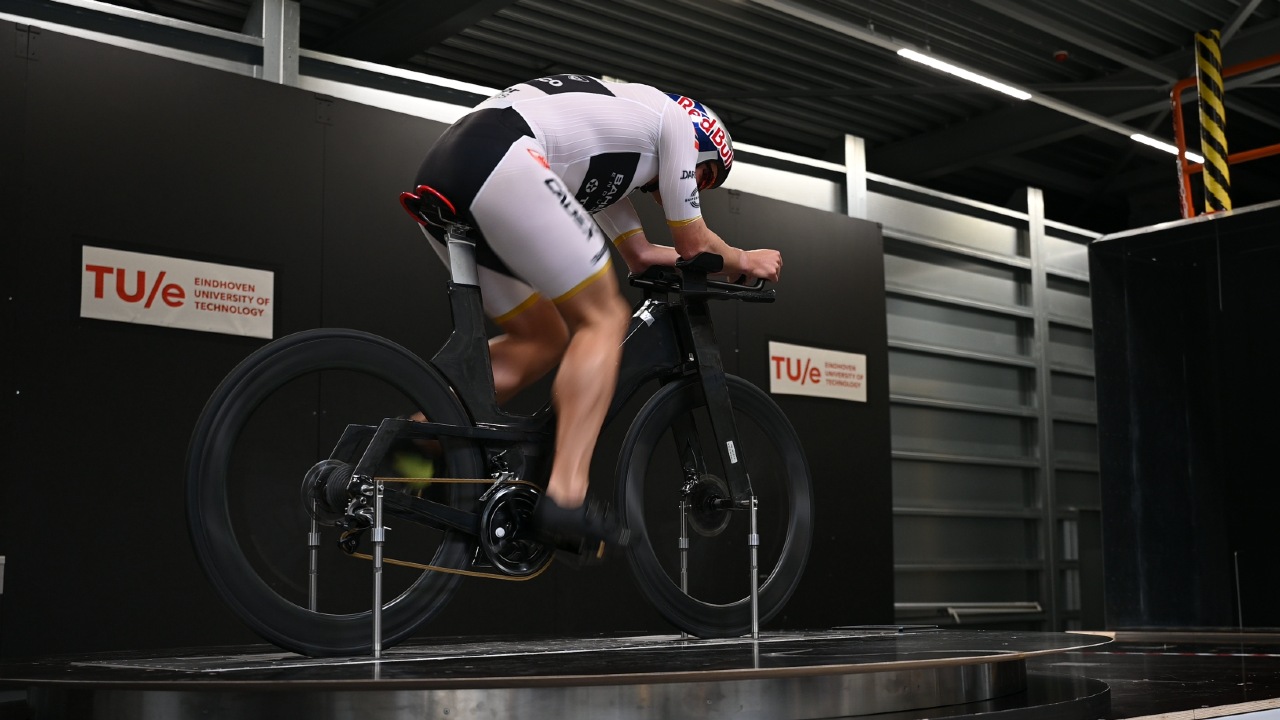 CFD was used as the starting point to create the initial prototype, but it was only once in the wind-tunnel that it became apparent (as expected) that some tweaks were required. Schneider described the modifications:
"Luckily, we had only made one tool…the changes that we needed to make, I think, were mostly modifications to the parts of the tool. There were a few parts that we had to completely retool to get it where we wanted it, but we had a pretty solid concept to start with. And then really, at that point, any of the benefits come from our lay-up engineers. But when it comes down to the fork and the main frame itself, I'd say by the time we were doing the third revision, we were done."
The wind-tunnel testing was extensive, involving multiple sessions at different stages of the development. Interestingly, Schneider revealed that often an athlete is not involved in a wind-tunnel session:
"When we test a bike, we've always got a bike with a dummy pedalling because we're always trying to figure out how to reroute or control the air that's being disrupted as you're pedalling. Actually, typically we don't do a lot of wind tunnel testing with an actual rider because the actual rider, if you've ever done wind tunnel testing, it's a long day. It's not just, oh, we go in for an hour or so, we do a test, we get a result, and we're happy. It's a lot of standing around, it's a lot of fatigue, rider's fatigue. They start to drop their heads, and it does affect the numbers.
"With the pedalling mannequin, we can control that variable. And then when we get to a certain point, we'll bring an athlete to the wind tunnel when we've worked out all those variables so they can just focus on how they would normally ride."
Kristian Blummenfelt
Having said the above, Kristian was a crucial cog in the development machine. Taking part in wind-tunnel sessions, and crucially providing real-world feedback.
"Kristian was very involved on a daily basis with us. He was very excited… He is a guy who is really good at providing how it feels and he can actually take what he's feeling and put it into words to let the team know what they need to do," expanded Schneider.
The first prototype went in the wind-tunnel in August 2021, and Kristian joined the party in the wind-tunnel in December and January, before also attending a few more sessions. The process was consistent. They would wind-tunnel test with Kristian, he'd go away, test the equipment, comeback with feedback and they'd test again. However, interestingly, Kristian wasn't a slave to the numbers, and sometimes feel is more important, confirmed Schneider:
"We would test in the wind tunnel with Kristian, then he'd go back to Sierra Nevada and do all this training, and he would take the bike with him, test everything. Then when he'd bring back the bike, you'd find all the modifications he made while he tested. They were tested in the wind tunnel to see how that affected his aerodynamic performance. If it was negative, if it changed it in a bad way, we would point out why it changed it.
But he would come back and say, yeah, but I feel like even though I'm losing watts here, I feel like I'm gaining stamina and strength here. It's a delicate kind of dance with an athlete because ultimately, if they don't feel comfortable on the bike, then it's going to be in their head."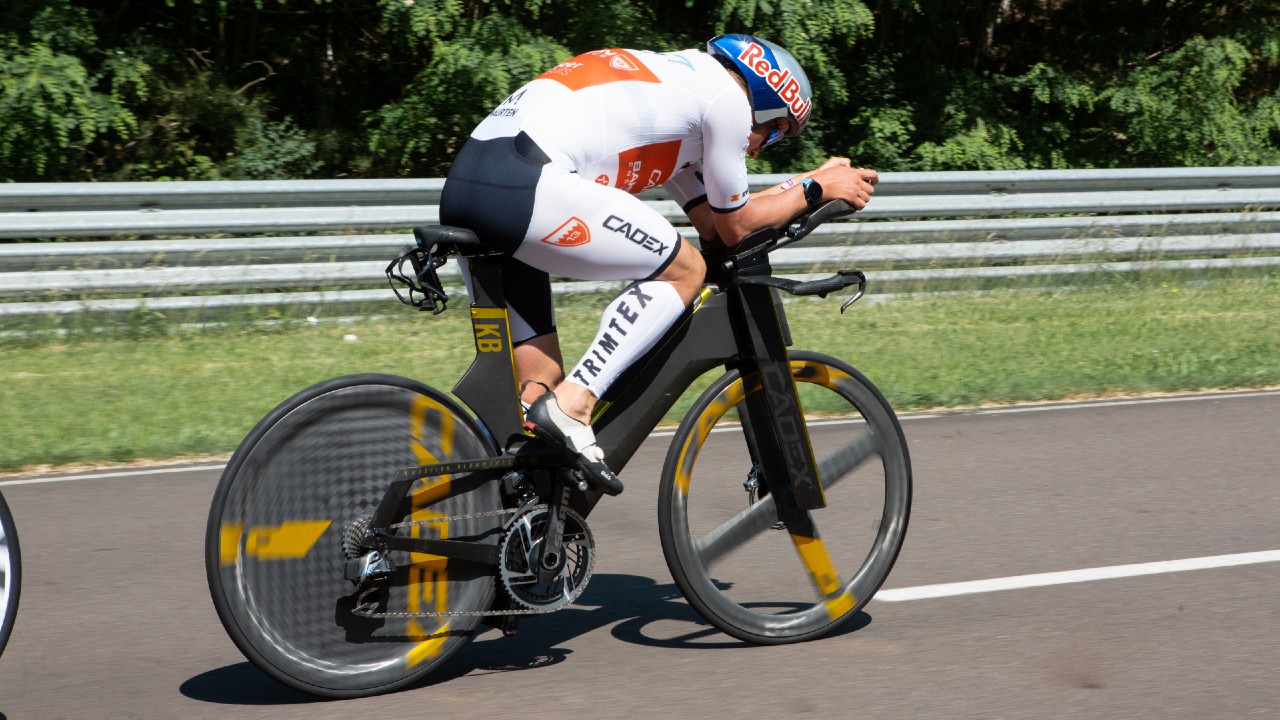 And that was echoed by Kristian himself when we spoke to him three weeks ahead of Kona, with one more tweak set to be tested as he explained: "On the one side, you want to have a powerful position where you can really put in a lot of power, but you also want to use the right muscles in terms of having fresh enough legs coming off the bike. It's a balance there and I think it will be good for Hawaii."
St George
Prior to St George, and in preparation for the Sub7 project, Kristian had adopted a very aggressive position, with his arms far out front, eyes-peering through his hands. However, this all changed after he made adjustments to accommodate the particularly testing St George course.
Schneider elaborated: "When he [Kristian] got to St George, he completely changed his position because obviously there was a big climb and a big descent, which didn't quite cater to a kind of like a praying-mantis position. And then he found that actually worked out better for him across a broader platform. I always say there's a lot you can learn in a wind tunnel, but I think you learn a lot more out on the road."
In fact, Schneider confirmed that from CADEX's perspective the bike was final after St George, and is to all intents and purposes the bike available to buy:
"From St George on, we have not made any modifications to the bike at all. Kristian may have made height or positions for the bars, but by that point, the frame set was pretty much set in place."