Pro Cycling and IRONMAN World Championship for Cameron Wurf
The winner of IRONMAN Wales in 2017, Australia's Cameron Wurf has just signed for Team INEOS, the World Tour cycling team of Geraint Thomas, Chris Froome and current Tour de France champion, Egan Bernal.
His first race in those new colours will be at Sunday's Cadel Evans Great Ocean Road Race in Geelong, Australia, where Wurf will fill the slot that was due to be filled by Vasil Kiryienka, who was forced to retire this week due to ongoing cardiac issues.
There is already a lot of crossover for Wurf with the team. His long-term coach, Tim Kerrison, is also the Head Coach of Team INEOS, plus Wurf has for many years been regular training partner of Thomas, Froome and others on the team. In the past he's described his triathlon career as a 'side project' for Kerrison, and as a Pinarello / Shimano riding, Castelli / Kask wearing triathlete, there will be little in the way of new kit niggles to get used to.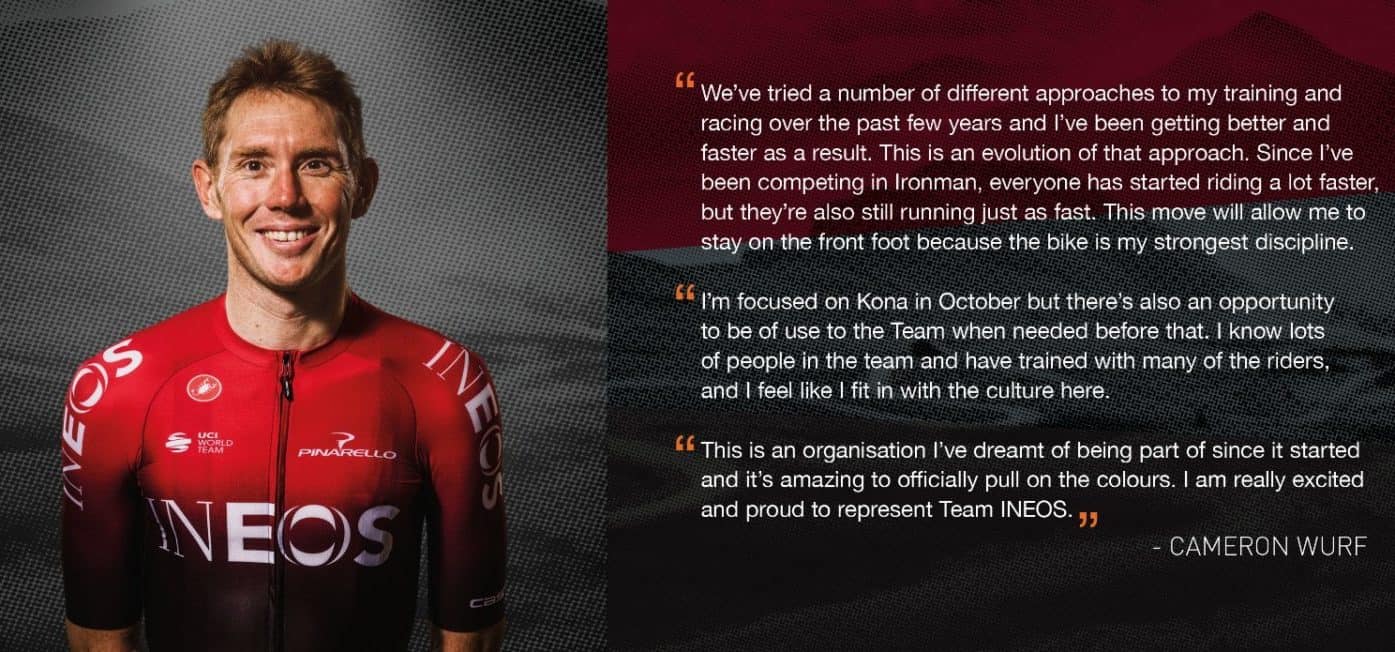 One thing is still clear – Kona 2020 is the goal – and this link-up is designed to improve that target, while also being able to be of use to the cycling team during the process.
While not expressly stated, I think we can confidently rule out (had anyone, other than Wurf himself, truly ruled it in?), his out-of-the-blue post-Kona target of aiming to qualify for the Australian Tokyo 2020 Mixed Relay Triathlon team. His one ITU start – HERE – strongly suggested that his sporting skill and talents are best directed towards IRONMAN, where his last three Kona appearance – 17th / 9th / 5th – have been clear evidence of his progression.
Let's not forget, prior to his IRONMAN journey, Wurf was an Olympic Rower (Athens 2004, Lightweight Double Sculls), before moving to professional cycling and competing in both the Vuelta a España and the Giro d'Italia. Wurf has proven himself across a number of sports over his career, but balancing professional cycling, Ironman and the speed requirements of ITU racing? That's not going to happen.
Tim Kerrison's comments on the project:
"Cameron will be joining the team to continue to pursue his Ironman career. The combination of his physical strength and versatility on the bike, his flexible schedule, and past experience racing at WorldTour level makes this an interesting and unique proposition for the team and for Cameron.
"For the first part of the season he will be always ready and available to race as required, while for the months leading into Kona his focus will shift back to Ironman, with the aim of improving on last year's fifth place with the full support of the team."
https://www.instagram.com/p/B7-t6Nzh0jO/