Comfortable wins for Gomez and Pallant in Portugal
Ten-times a triathlon World Champion, Spain's Javier Gomez secured a gun-to-tape win in Portugal at the third edition of IRONMAN 70.3 Cascais. While not quite leading from the start, it didn't take long for Great Britain's Emma Pallant to overturn a small deficit at T1 and take a dominant victory.
PRO WOMEN
With the swim her weakest discipline, a deficit of significantly less than a minute at T1 – and just Anna-Lena Pohl (GER) ahead of her – was an ominous start for anyone who had thoughts of Beating Emma Pallant in Portugal today. As she consistently does (others should take note…), a rapid transition meant that she mounted the bike just seven seconds behind the German, in prime position to take over the race from the very early kilometres on the bike.
#IM703Portugal
The top 5 women out of the water are
1 Pohl, Anna-Lena (GER) 00:25:29
2 @EmmaPallant Pallant, Emma (GBR) +00:46
3 Mønsted, Dina (DEN) +01:22
4 Lane, Chloe (AUS) +02:01
5 Stadelmann, Sabrina (SUI) +03:47

— IRONMANLive (@IRONMANLive) September 29, 2019
Pallant proved to be a different class – as the start-list suggested – 2:21 up at 25km, more than four minutes clear at 68km and via a 2:25:52 bike split, 4:43 clear at the dismount line over Anna Noguera (ESP) Sylvia Gehnboeck (AUT) over ten minutes down in third.
#IM703Portugal@EmmaPallant is leading the women's field at km 25 (01:09:05). 2nd comes Anna-Lena Pohl with a 02:40 gap. pic.twitter.com/ovWq63LnEZ

— IRONMANLive (@IRONMANLive) September 29, 2019
Pallant was in a different league of the run, all the time looking controlled and ensuring she was well fuelled and hydrated. More than seven minutes up at 5km, eight minutes at 10km and approaching nine minutes ahead of Noguera with less than 5km remaining, she could enjoy those closing miles. 1:20:29 was her final run time, leaving her 9:31 clear at the finish, from Noguera who clocked a 1:25:22 half marathon.
PRO MEN
The Men's Pro race proved to be an exhibition of class from the twice IRONMAN 70.3 World Champion. Leading another ITU regular, Jaoa Silva (POR) out of the water by 26 seconds, he almost doubled that advantage in T1 to start the bike 51 seconds up on the home athlete.
#IM703Portugal
The top 5 men out of the water:
1 @Jgomeznoya (ESP) 00:21:59
2 Silva, João (POR) +00:27
3 Rojas, Guillem (ESP) +00:59
4 @denischevrot (FRA) +01:10
5 Azevedo, Filipe (POR) +01:15 pic.twitter.com/LiPzWlYTcx

— IRONMANLive (@IRONMANLive) September 29, 2019
While he didn't set the fastest bike time, he had extended his lead on arrival at T2 to 1:44 over another Portuguese athlete, Felipe Azevedo, who exactly matched the 2:13:22 bike time of the Spanish legend. The fastest split (2:12:36) from Milan Brons (NED) saw him arrive third, in the company of Denis Chevrot (FRA), who was send this year at IRONMAN 70.3 Les Sables d'Olonne.
#IM703Portugal
Have a look at the top 10 men at T2: 
​1 @Jgomeznoya (ESP) 02:38:40
2 Azevedo, Filipe (POR) +01:45
3 Brons, Milan (NED) +02:31
4 @denischevrot (FRA) +02:35
5 Andujar, Pedro Jose (ESP) +03:02 pic.twitter.com/ExzZobKnZf

— IRONMANLive (@IRONMANLive) September 29, 2019
While those margins were not huge, the running pedigree of the reigning ITU Long Distance Triathlon Champion suggested that he was unlikely to be challenged, and with a lead of four minutes and just 5km to run, it was 'normal service' in that regard. A 1:10:45 run shut the door on anyone who had any thoughts of challenging for the win, resulting in a winning margin of 4:32 – and more than three minutes quicker than the 2018 winning time of Fernando Alarza (ESP).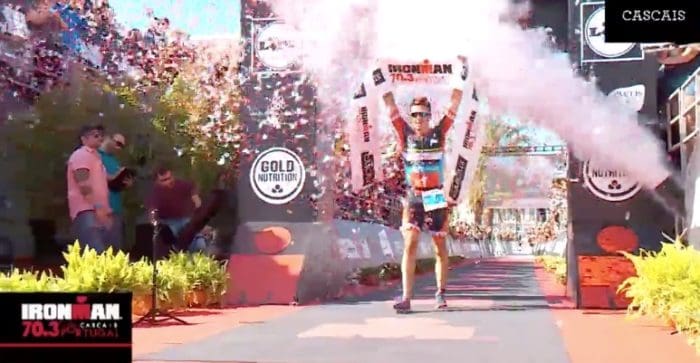 Dylan Magnien (FRA) took second place via strong 1:12:39 run, while positions three to five – Felipe Azevedo (POR), Aleksey Kalistratov (RUS), Colin Norris (GBR) – matched exactly their results from the same race 12 months ago.
IRONMAN 70.3 Cascais, Portugal – Sunday 29th September 2019
1.9km / 90km / 21.1km
PRO MEN
1st – Javier Gomez (ESP) – 3:51:11
2nd – Dylan Magnien (FRA) – 3:55:43
3rd – Felipe Azevedo (POR) – 3:56:48
4th – Aleksey Kalistratov (RUS) – 3:57:05
5th – Colin Norris (GBR) – 3:58:21
#IM703Portugal
Congrats to the podium (from left): Dylan Magnien, @Jgomeznoya and Filipe Azevedo. pic.twitter.com/ZLBUrGN4jd

— IRONMANLive (@IRONMANLive) September 29, 2019
PRO WOMEN
1st – Emma Pallant (GBR) – 4:18:21
2nd – Anna Noguera (ESP) – 4:27:52
3rd – Anna-Lena Pohl (GER) – 4:36:41