Patrick Lange and Anne Haug claimed dominant victories at Challenge Roth 2021, while Laura Siddall produced a terrific performance to snatch second spot in the women's race on Sunday.
Lange and Haug were expected to take starring roles as this famous race made a welcome return to the calendar, and so it proved. Sadly the day proved to be another false start for Sebastian Kienle as he continues his struggles with Achilles problems. He failed to finish just a week after an encouraging performance in the inaugural Collins Cup in Slovakia.
Men – Lange takes first prize
Lange exited the Bavarian waters just behind Aussie Nick Kastelein, while Britain's Thomas Davis was also in close contention along with New Zealand's Braden Currie.
It was another German in former pro cyclist Ruben Zepuntke who took over on the bike and he really dropped the hammer to lead by just over three minutes into T2 from Nils Frommhold. Lange was right behind Frommhold in third and in great position for the run. 2019 winner Andreas Dreitz meanwhile was now fourth, just over six minutes out of the lead.
Once on foot, Lange wasted no time in cutting into the deficit and by the time he went through 10km he was in front and completely in control with Frommhold also about to move past Zepuntke into second.
The result was never in doubt from that moment on, as Lange powered clear to win in a total time of 7:19:19 – more than 11 minutes clear of Frommhold in second. A German clean sweep of the podium was completed by Felix Hentschel after he produced a terrific run.
Lange said afterwards: "It was a perfect day. I settled into the race well, and when I crossed the finish line I had tears in my eyes."
In fact the first six finishers home were German, with Currie the first overseas finisher in seventh. Dreitz would eventually come home in eighth, and afterwards revealed he had been a doubtful starter earlier in the week after suffering gastrointestinal issues. Thomas Davis was 10th for Britain.
Kienle of course was a DNF, and afterwards he admitted sadly: . "The sun is shining here today, but the sun doesn't always shine in life."
Women – Haug runs away with it
Eight days out from the Collins Cup, Haug was in imperious form as she claimed a dominant victory. She would come home more than 30 minutes in front of Laura Siddall, who claimed an excellent second for Britain. Fenella Langridge claimed the final podium spot.
Langridge, a fine second at IRONMAN Coeur d'Alene earlier this year, was first out of the water in 52:09 as she led a group of five who were all closely bunched. The bad news? Haug was literally right on her toes as they headed for T1.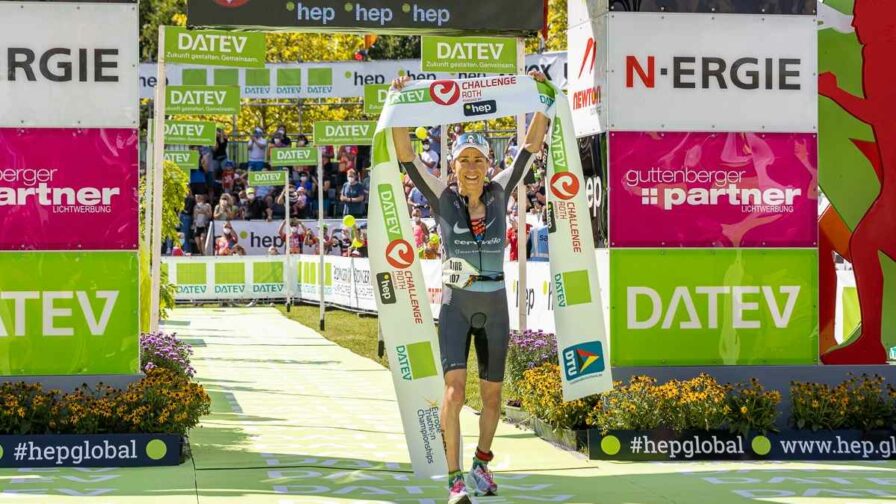 Haug would soon take over at the front on the bike, and powered clear to claim an advantage of more than 12 minutes heading into T2. Langridge and Sarah Crowley came next, with Siddall 17 minutes out of the lead in sixth.
Nobody was catching Haug out front and she powered further clear on two feet, but the battle for podium places was a thriller. Siddall was up to fourth heading into the final 10km, and she passed first Crowley and then Langridge in the closing miles to claim a terrific second place.
Challenge Roth 2021 Results
Sunday September 5, 2021
Men
1. Patrick Lange (GER) 7:19:19
2. Nils Frommhold (GER) 7:30:31
3. Felix Hentschel (GER) 7:31:12
4. Philipp Bahlke (GER) 7:33:19
5. Franz Loschke (GER) 7:40:52
Women
1. Ann Haug (GER) 7:53:48
2. Laura Siddall (GB) 8:25:24
3. Fenella Langridge (GB) 8:27:04
4. Chloe Lane (AUS) 8:28:22
5. Sarah Crowley (AUS) 8:32:26