Youngster Nicolas Mann marked himself out as another potential German star of triathlon with an eye-catching win at Challenge St. Pölten 2022 in Austria, while Britain's Lucy Buckingham, despite a late scare, justified her status as favourite with victory in a course-record time in the women's race.
Mann, just 22 years old, moved into the lead early on the hilly bike course, kicked on the toughest climb and then dominated from that moment onwards.
Buckingham meanwhile notched an all-the-way triumph, despite some late drama. She was ahead from the outset in the swim and in splendid isolation from that point onwards, though she had to serve a 30-second penalty on the run at the same time as Grace Thek (AUS) was rapidly cutting the deficit.
Pro Men – Mann makes his mark
The swim featured a twist, starting in the Vienhofer See before athletes exited after 1km and ran around 200m to a second lake, Ratzersdorfer See.
And coming out of the water for the second time, Hannes Butters (GER) had an advantage of 50 seconds from Bence Lehmann (HUN) and Caleb Noble (AUS).
But on the bike it was Mann who bridged across to the leaders on the first climb and then moved into the lead after 26km, along with Nils Frommhold (GER) – winner of the previous IRONMAN 70.3 event here in 2017.
That pair soon began to put time between themselves and the rest and the decisive move came on the Gansbach climb, the sharpest of the day, as Mann powered clear, never to be caught.
At T2 he was 1:35 ahead of Frommhold and that lead ballooned on the run, with Noble coming out of the pack to take second and local favourite Lukas Hollaus (AUT) in third as Frommhold dropped back to fifth.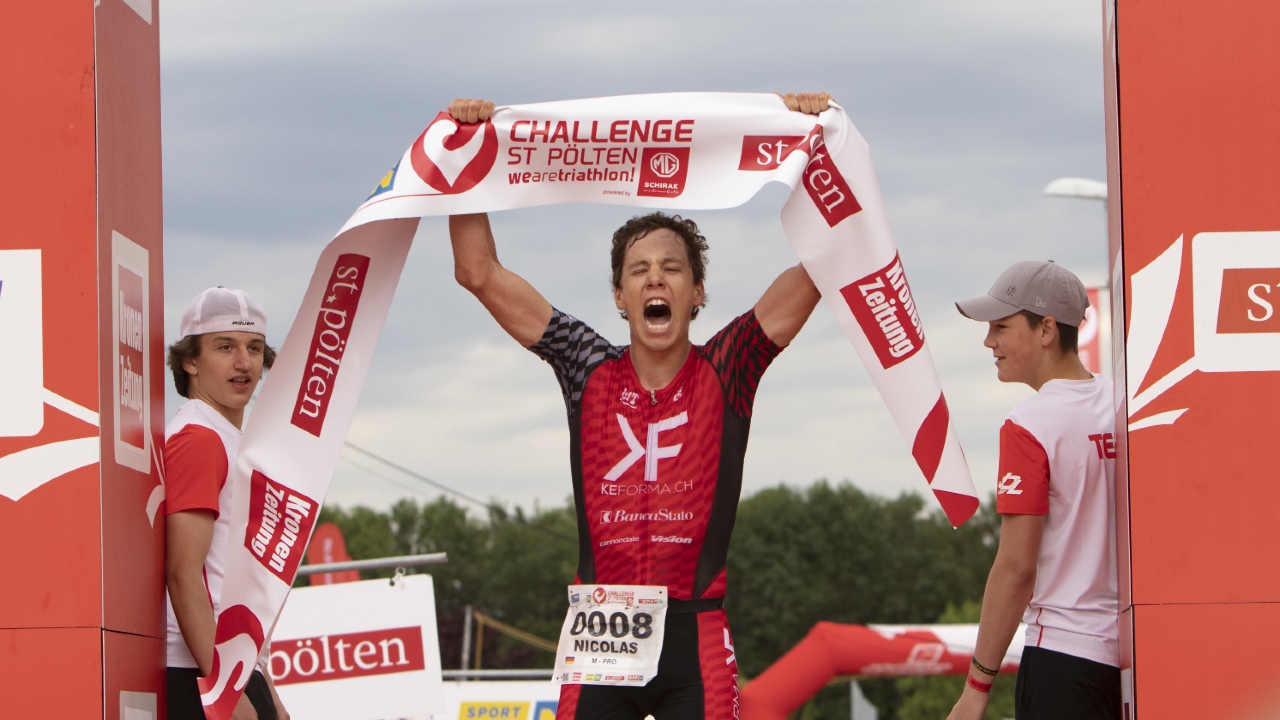 Mann, third three weeks ago at IRONMAN 70.3 Mallorca, looked incredibly relaxed throughout the run as he notched his first ever middle-distance victory.
"This win means a lot," said Mann. "I feel so good now, I thought I could win, I thought I had it in my legs and I did! To win is really special to me."
Pro Women – Solo success for Buckingham
In the women's race it was the Lucy Buckingham show in the swim and bike legs.
Just a week on from her third place at The Championship in Samorin, she again used her swim prowess to take control.
This time there was no Sara Perez Sala to keep her company and Buckingham's 23:58 in the water immediately put her around three minutes clear of Thek, herself eighth at Samorin.
That advantage had more than doubled to 6:20 by T2, and barring a disaster on the run, it was game over at that point.
Things did get interesting late on though. At the 16km mark, the gap between them was down to 2:44 and then Buckingham was also hit with that 30-second stand-down penalty (a blocking penalty from the bike ride as she tried to get past a men's group on the first hill).
Lucy maintained her composure though and stopped the clock in 4:15:48 to claim the course record from Anne Haug by over five minutes, but by that point she only had 41 seconds to spare from Thek, who finished with a 1:16:35 half marathon.
"I'm happy," said Buckingham. "It was tough as I was tired from last weekend at The Championship and there was a bit of frustration on the bike course, but I managed to sort it out on the hills! I'm really happy to take the win."
Aleksandra Jedrezejevska (POL) was a distant third at +8:35.
Challenge St. Pölten 2022 results
Sunday 29 May 2022 – 1.9km / 90km / 21.1km
PRO Men
1. Nicolas Mann (GER) 3:45:17
2. Caleb Noble (AUS) 3:48:13
3. Lukas Hollaus (AUT) 3:48:57
4. Joao Ferreira (POR) 3:49:22
5. Nils Frommhold (GER) 3:49:47
PRO Women
1. Lucy Buckingham (GBR) 4:15:48
2. Grace Thek (AUS) 4:16:29
3. Aleksandra Jedrezejevska (POL) 4:24:23
4. Daniela Kleiser (GER) 4:26:08
5. Sarah Schönfelder (GER) 4:27:12