William Mennesson (FRA) and Emma Pallant-Browne (GBR) impressed in the early season heat at the popular Zafiro IRONMAN 70.3 Alcúdia-Mallorca.
In taking the win, Emma added to her success six days ago at Challenge Riccione, further adding to her confidence after that worrying early season meltdown at CLASH Miami.
PRO Men: Les Bleus lead the way
It was no surprise to see super-swimmer Andrew Horsfall-Turner first to run out of the bay in Alcudia this morning after the 1900m sea swim that got the Zafiro IRONMAN 70.3 Alcúdia-Mallorca underway.
A huge Pro field of over 100 athletes lined up for this, one of the most popular age group and professional races in the European 70.3 calendar. Sadly, his lead was gone before he'd exited T1 and when he hit the bike leg, it was clear he'd not recovered from the bout of Covid that kept him out of IRONMAN Texas three weeks ago.
Brits Abroad…
Luke Pollard, George Goodwin and James Teagle were strong amongst the leading athletes on the hilly 56-mile bike and exchanged the leading positions in the early part of the 13.1 mile run.
However, Frenchmen William Mennesson and Clement Mignon fared best over the three-lap run. Mennesson put in a 1:11:24 run split to take the tape in an overall time of 3:57:56, 18 seconds ahead of his compatriot.
Teagle secured a hard fought fifth place and Goodwin was less than a minute behind in seventh.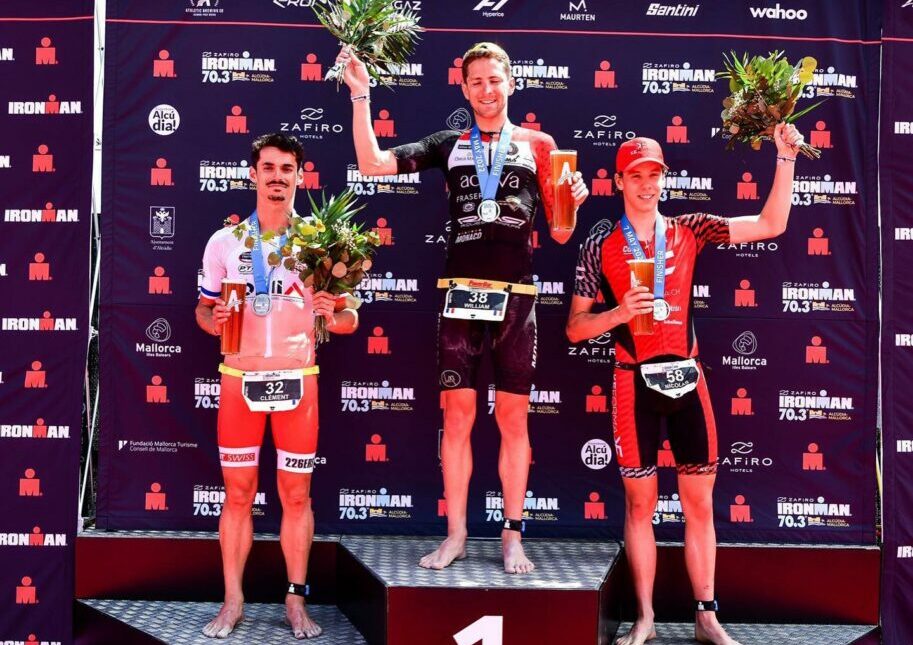 PRO Women: Pallant-Browne shows run pedigree
Nicola Spirig (SUI) has no need to demonstrate her class, but today's bike leg in particular showed a lot about her current form as she navigated Mallorca's climbs and technical descents.
She held her lead through the early part of the run, but by the start of the second of three laps, Emma Pallant-Browne (GBR) had caught her.
Pallant-Browne used her running pedigree to claim the win more than two minutes ahead of Spirig. Afterwards, she thanked the huge number of British tourists that enjoy supporting this race every year, and no doubt will have enjoyed cheering her and hundreds of British Age Group athletes along.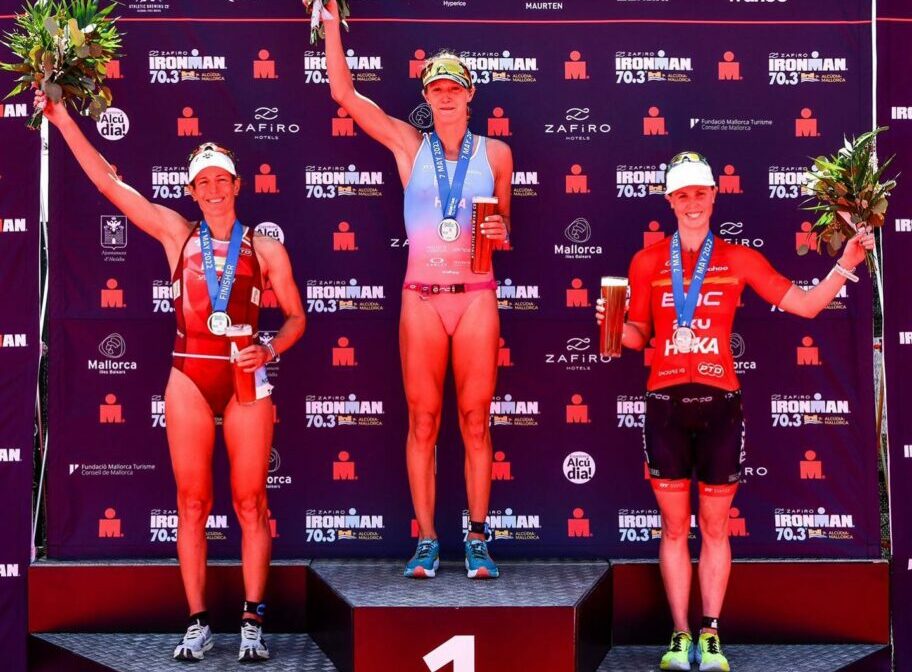 Speaking to TRI247 after the race, Emma told us:
"I'm really happy with the win. I raced six days ago so didn't know how my body would feel but I was super happy with my swim, then Nicola biked like a beast so I had some time to make up on the run and my run is what's been going well.
"After a few health issues my training was a bit less, then I did a half marathon where I train in South Africa for some confidence and to test my body in a shorter timed event and so really happy to build on things now
.
"Next up my husband is coming over. I haven't seen him for two weeks because he didn't manage to get a British visa, so that will help and then we will train here in Mallorca for 11 days and then go to Samorin for the Challenge Championship, then back to South Africa for the next block of training."
IRONMAN 70.3 Mallorca 2022 Results
Saturday 7 May 2022 – 1.9km / 90km / 21km
PRO Men
1. William Mennesson (FRA) – 3:57:56
2. Clement Mignon (FRA) – 3:58:14
3. Nicolas Mann (GER) – 3:59:35
4. Mathias Petersen (DEN) – 4:00:26
5. James Teagle (GBR) – 4:00:55
7. George Goodwin (GBR) – 4:01:54
9. Luke Pollard (GBR) – 4:03:10
17. Harry Palmer (GBR) – 4:08:26
19. Will Munday (GBR) – 4:10:19
20. Brett Halliwell (GBR) – 4:15:26
25. James Scott-Farrington (GBR) – 4:17:06
31. Andrew Horsfall-Turner (GBR) – 4:19:56
DNF. Tom Davis (GBR) – puncture
PRO Women
1. Emma Pallant-Browne (GBR) – 4:25:36
2. Nicola Spirig (SUI) – 4:27:49
3. Chelsea Sodaro (USA) – 4:30:55
4. Manon Genet (FRA) – 4:32:46
5. Anne Reischmann (GER) – 4:34:04
13. Tara Grosvenor (GBR) – 4:53:36