Second in 2018 and winner 12 months ago, New Zealand's Braden Currie took a home win on Saturday at the Integrity Homes Challenge Wanaka on the South Island.
Radka Kahlefeldt (CZE) prevented a repeat for both 2019 champions, pushing Hannah Wells back into second place, thanks to a strong performance on the run.
Pro Men
In typical style, Dylan McNeice was solo at the front of the the 1.9km swim, his 22:36 split giving him a 47 seconds lead over Currie in second. Great Britain's Joe Skipper was 8th in the water, his weakest discipline, but a 25:49 effort still had him very much in contention with his best events ahead.
Once on the bike, currie soon passed McNeice, but the pace was being set from behind by Joe Skipper (2:12:43) and Matt Burton (AUS) – 2:13:11 – who both moved through the field to hold second and third respectively at T2, behind Mike Phillips (NZL). That was a fastest split on the day for the Brit.
Going over the treacherous Red Bridge @Noaveragejoe88 is just under 2min behind @MikePhillipsNz Joe dropped his chain over the bridge but handled it like a pro pic.twitter.com/dIn7w6KdKC

— Integrity Homes Challenge Wanaka (@ChallengeWanaka) February 14, 2020
While his 2:17:07 ride saw Currie slip down to fourth starting the run, the multiple Kona top-10 finisher is a class act and has a great history on this course, which he quickly showed.
Wow!!! @BradenCurrie is flying!! He is in 4th 3:39 down on our leader. By far the fastest runner on course. pic.twitter.com/SwvIXi7L0w

— Integrity Homes Challenge Wanaka (@ChallengeWanaka) February 14, 2020
His 1:15:31 run split enabled his to catch and pass Burton just past the halfway mark of the run, and he was not going to show any signs of fading. Phillips pad for his efforts on the bike a little with a 1:23 run, which allowed Burton to move into second place, but he would still complete the podium.
"It is absolutely amazing today! Having been in Wanaka for 11 years now you just know everyone and it is phenomenal out on course. What an amazing community and it is great to be here!" said a thrilled Braden Currie.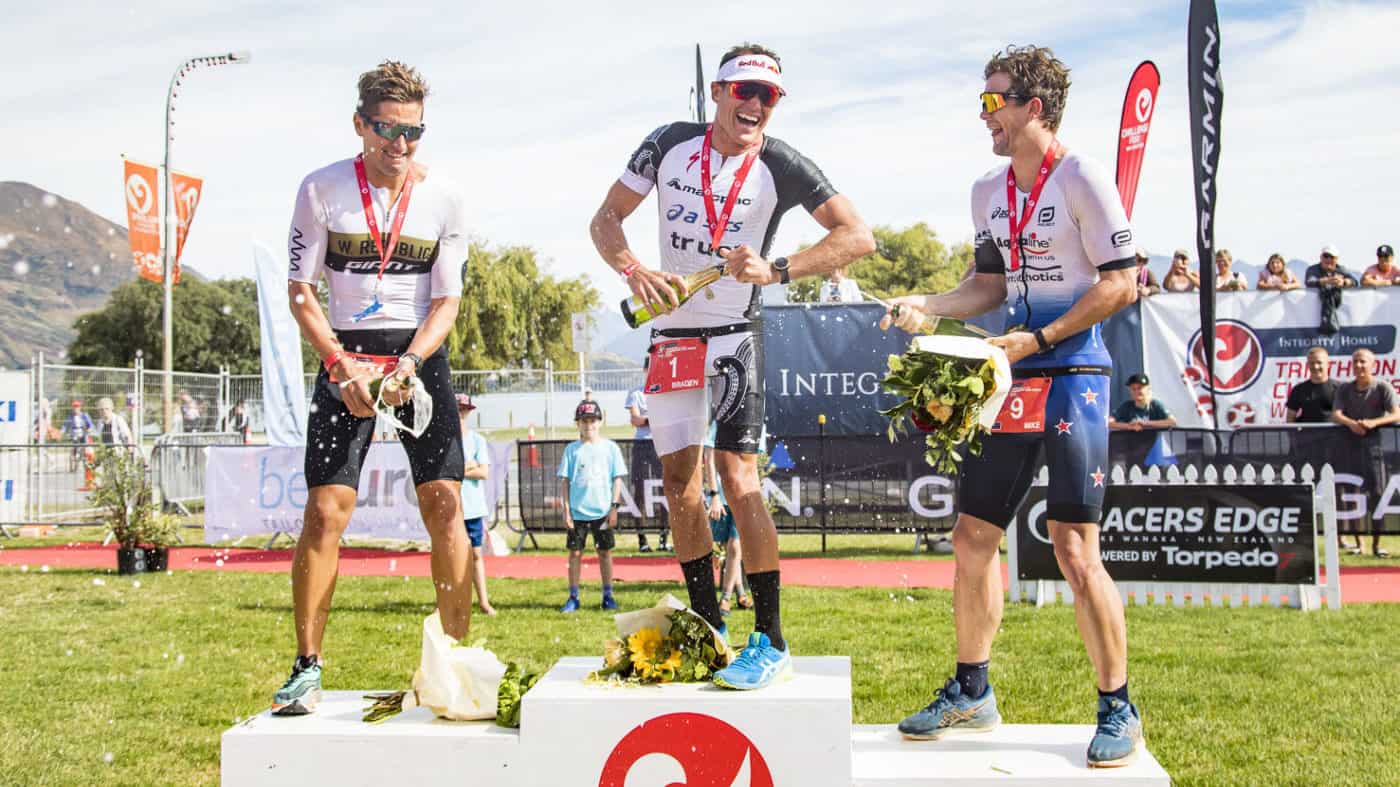 Lost nutrition added to a challenging run for Joe Skipper, who slipped to seventh place at the finish, but he's still on track and motivated for his key target if IRONMAN New Zealand next month. Two years ago he was also seventh in Wanaka, before a brilliant second place in Taupo – same again, but one better, will be his target this year.
https://www.instagram.com/p/B8lKK_dhGCB/
PRO WOMEN
Rebecca Clarke (NZL) and Kahlefeldt lead the way through the water, reaching dry land in 25:02, giving them just over 30 seconds advantage of Meredith Kessler (USA) and Laura Wood (NZL), with defending champion, Hannah Wells 90 seconds down on the leaders.
Wells made up for that swim deficit with the fastest bike split (2:34:50), but with the two swim leaders matching each other on the bike, that would leave a trio of athletes arriving in close order at T2, with the race to be decided on the run.
Hannah Wells has caught the lead pack sitting in 3rd right behind Radka in 2nd and @BecNZTri in 1st with 10km to go. pic.twitter.com/w3VbyzE7Ox

— Integrity Homes Challenge Wanaka (@ChallengeWanaka) February 14, 2020
Clarke was the first to fall off the pace once the bikes were racked, and would ultimately drop back to fourth place on the run, overtaken by Meredith Kessler, who collected yet another podium in New Zealand, a country she has raced in with great success over the past decade.
There was little between the leading duo over the opening kilometres, but eventually the efforts of Wells to close the gap on the gap would catch up, leaving the Czech athlete on track for yet another win in what has been a very fruitful last 18 months or so.
Just before the 3km mark Radka Kahlefeldt has taken a 5 second lead over Hannah Wells. @BecNZTri is now 1:10 behind the leader in 3rd place. pic.twitter.com/y3VbKUXLvE

— Integrity Homes Challenge Wanaka (@ChallengeWanaka) February 14, 2020
Radka finished with a 1:22:08 run, for a three minute winning margin over the 2019 champion.
"It's a beautiful course but I think it's better to not know the course because if you don't know the hills that are waiting for you then you push harder," said an ecstatic Kahlefeldt, who due to flight delays only arrived with her young family on Thursday evening, so did not have a chance to check the run course.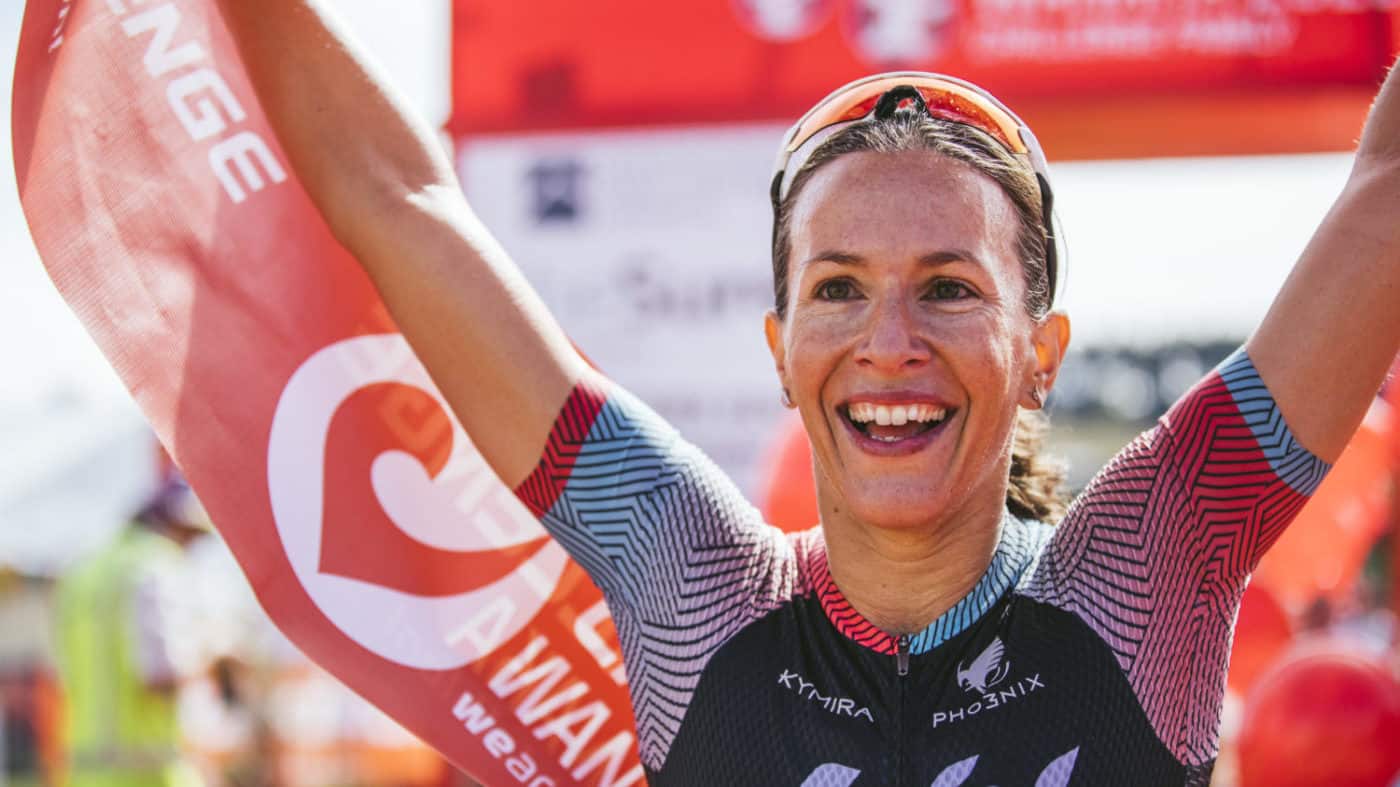 Integrity Homes Challenge Wanaka – Saturday 15th February 2020
1.9km / 90km / 21.1km
PRO MEN
1st – Braden Currie (NZL) – 3:59:48
2nd – Matt Burton (AUS) – 4:02:37
3rd – Mike Phillips (NZL) – 4:03:31
7th – Joe Skipper (GBR) – 4:09:50
PRO WOMEN
1st – Radka Kahlefeldt (CZE) – 4:28:11
2nd – Hannah Wells (NZL) – 4:31:30
3rd – Meredith Kessler (USA) – 4:36:12