Saturday's racing at the 2023 Integrity Homes Challenge Wanaka saw Jack Moody and Grace Thek top the podiums on the South Island of New Zealand. You can check out the details of the race in our report.
The event was also significant in that it was the second professional trial event of RaceRanger, the drafting detection technology system that was first tested a few weeks back at the Tauranga Half.
Given the many high-profile penalties in major races in 2022, can technology help overcome many of the subjective decisions and arguments that we've seen for many years?
It's "the perfect tool for the perfect time", says Sebastian Kienle, who was among several athletes who gave their post-race feedback.
Another positive day
After a very long day, RaceRanger's co-founder and CEO, James Elvery, spoke to me from New Zealand about how it had gone. There are still a few issues to work on, but it was another productive event for the RaceRanger team.
"We are pretty happy with what we had today, and are confident that what we will have for Taupo will be good at 12 metres [Ed. Challenge Wanaka draft distance was 20 metres, IRONMAN New Zealand – the next test – will be at 12 metres]. We just want to get a good baseline (system) established now that we know works, and that we can try and improve on over the next two weeks. That will give us a good baseline that we can fall back to, should the updates that we make over the next two weeks not work.
"I'd give it probably the same mark as Tauranga, about 95%. We had some different issues here. It was actually the move to 20 metres that caused most of our problems; it turns out that we've got a bit of what seems like a dead patch at around 25-30 metres. The effect seems to be that at that range, some signals are straight line and some are bouncing off of the road and interfering with the proper ones. And then it's good again after 30 metres.
"What we decided to do for the trial is to chop off the third colour [Ed. the RaceRanger system has three sets of different colour lights, broadly reflecting well outside draft zone / getting close to draft zone / within draft zone]. So we just had a blue light (inside 20m) and a red light (20m to 21.5m) and cut off the orange one. I think that was a good call for today.
"Overall, the issues that we saw in Tauranga were fixed up pretty quickly, we just have a couple more to iron-out now.
"We've also refined our back-end processes a little bit now, around how we turn things on on-the-day, so it's feeling like getting into more of a routine, which is good."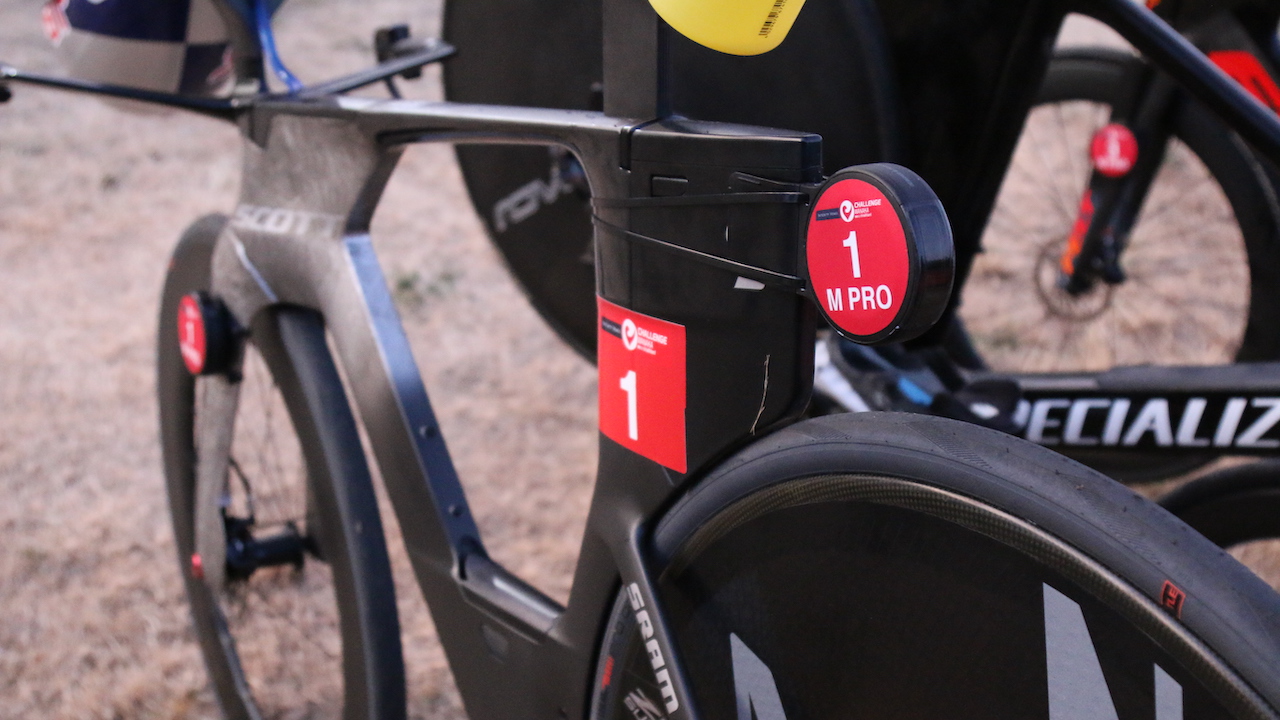 IRONMAN New Zealand in two weeks time is up next, and could well potentially lead to the system being used more widely in Europe this coming summer.
"It's looking good for the season, and if we get enough race bookings we'll be heading over from Europe in April to start delivering in May."
How quickly that happens will of course be determined by factors such as athlete and referee buy-in, costs, and willingness and acceptance of the various major organising groups and federations to be part of implementing a technology solution.
That athlete buy-in process seems to be going well, based on the post-race feedback.
Sebastian Kienle: 'The perfect tool for the perfect time'
While third on the day, Sebastian Kienle was by the highest profile and most experienced athlete in the race. He was very positive on his first RaceRanger experience:
"For me it worked absolutely perfectly. I'm definitely going to promote it, like big time. It's the perfect tool for the perfect time.
"You know, the field is getting more and more dense, and I think that genuinely, a lot of athletes they don't want to cheat. They just don't exactly know sometimes what 20 metres is. If you get this neutral system, where you see the light in front of you, and for me it worked every single time. I definitely went into the draft zone like two or three times when I went past in a downhill, and then uphill, it turned red and then you know 'hey, take it easy', and if it turns blue, then it's 'back off'.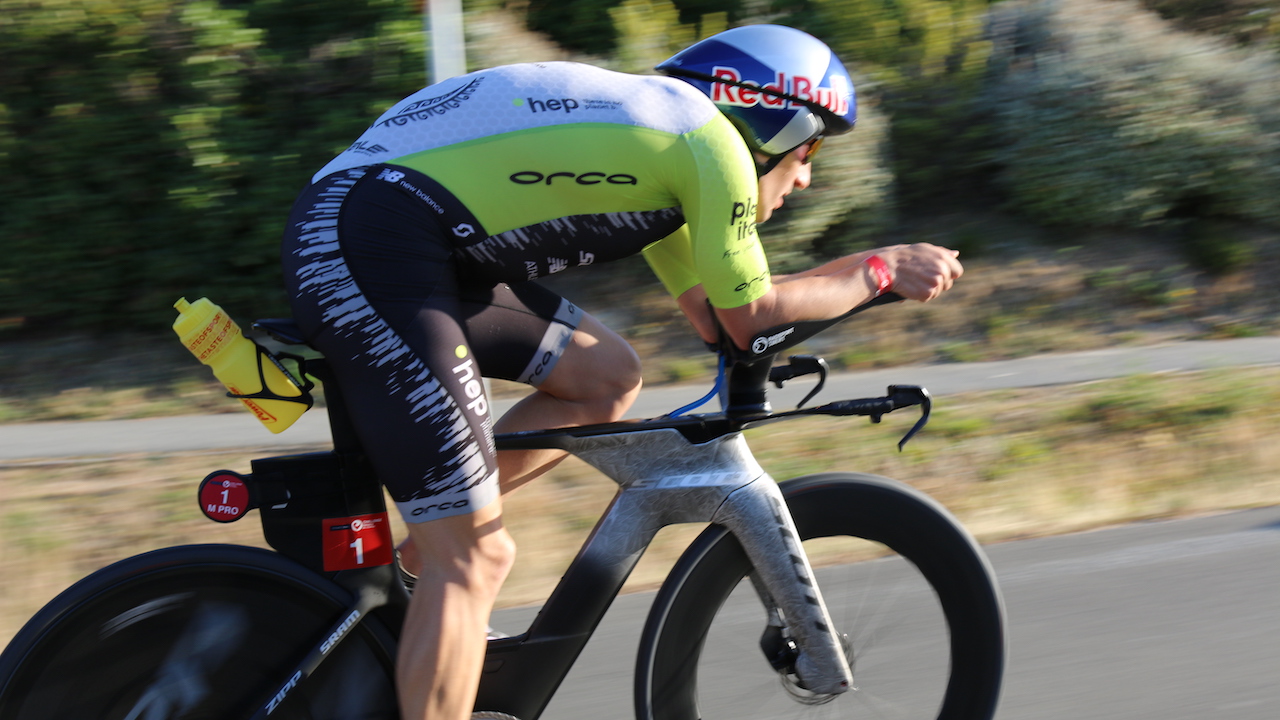 "It's also good for the outside to see, because everyone can see the light. I think it's a very valuable tool, also for the referees to see it, so I think there's really huge potential with something like a data log, which helps make the job so much easier.
"There's more money in the sport, and the fields are getting more dense, so either we allow drafting – which in my view, would completely ruin the sport on long-distance and middle-distance racing – or we implement systems like that. So I hope it's not just Challenge that picks it up, but also IRONMAN and especially PTO. I think it's a perfect tool, especially for PTO racing."
Mike Phillips
Home athlete Phillips spent plenty of time at the front of today's race and was also part of the first trial at the Tauranga Half.
"It was quite different to Tauranga, with the 20 metres [Ed. rather than 10m], it made it a lot fairer I think. You could have the confidence to put your head down and push hard, knowing that the guy behind was a good distance back and having to work just as hard.
"I had no issues with it – obviously the two lights instead of three today – it was quite hard because 20 metres is quite long and so finding that one metre range was quite hard, especially on a hilly course like this."
Grace Thek
"I did see it and it was really good, I liked the feedback. I think it's a huge advance for the sport and that is going to be amazing going forward. There was one moment where is went to blue straightaway and there was no red, but that was the only time, but otherwise it was working really well.
Els Visser
A little way back after the swim, Netherlands' Els Visser made her way up to the front of the race by T2.
"When I was riding behind Lotte, I could really see it. I was approaching her and it was still on the red, and then when it went to blue within the 20 metre zone I knew, ok, now i have to make the pass. It was super useful. There was one thing on the way back where I couldn't see the light, but otherwise i would say that if it is working then it would be really helpful for us to have a fair race, and also to know how far to stay behind."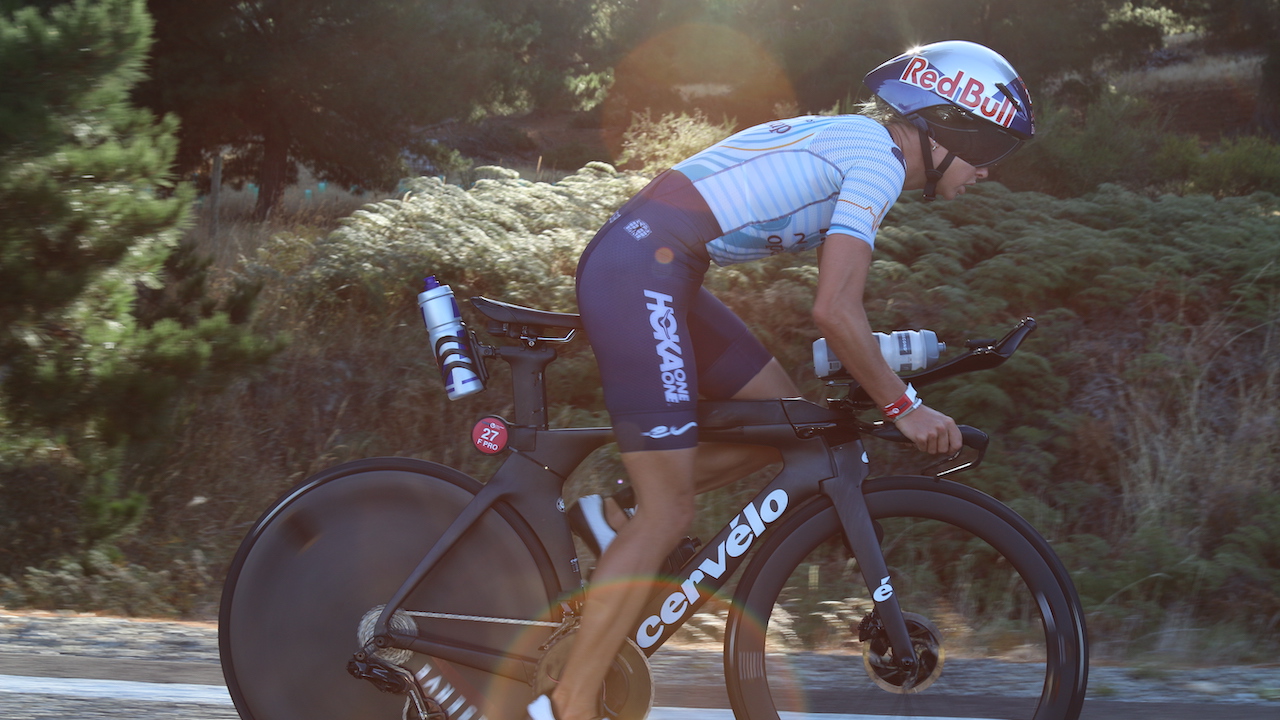 Matt Burton
"I was with Kienle for most of the day – and it makes life easy. You know where you are and you know if you are doing wrong, so it's up to you. It was really cool to put it to work and play around with that warning light, it keeps you accountable.
These trial events are about testing and optimisation, and Burton did have some feedback and suggestions.
"I think the warning range [Ed. the light that highlights that you are close to, but not in, the drafting zone], needs to be about three metres [Ed. it was a 1.5m range today]. Otherwise if you are rolling towards that zone, you get a warning light and before you know it you are in the draft zone."
Caleb Noble – 'It makes you race honest'
"It was really beneficial. I was tied first out of the water, and then me and Mike Phillips basically rode the first 50km together; it was really awesome to gauge the 20 metres, it really makes you race honest and I really enjoy it. I think it should be out there in the future, you could really see the bright colours.
Sam Osborne – 'it just works'
Fifth today, Sam Osborne was another athlete that was having his second experience of RaceRanger. He's a fan.
"I just can't speak highly enough of it. I think I said in Tauranga, I don't know what to say other than it just works.
"It takes all the human error out. I think most of us, we are trying to ride really honest and this just takes the ambiguity out of it. You know exactly where you are, and I think the future is RaceRanger and we need it at all of the big races. I think there's too many penalties handed out that maybe aren't necessary and this just tidies up the racing."