It was little wonder that Ashleigh Gentle reflected on a change of fortune after her terrific win at CLASH Miami on Friday.
"I've been a bit unlucky lately so I feel that maybe lady luck was on my side a bit today!" said the Aussie after grabbing top step on the podium in baking temperatures in Florida.
She was ruled out of the $100,000 Couples Championship through no fault of her own last weekend, but bounced back in style here with a dominant display at a dramatic CLASH Miami on Friday.
She shattered the course record on a day of drama which saw Sara Perez Sala crash out when leading on the bike, while Emma Pallant-Browne and Chelsea Sodaro were both forced out on the run by heat exhaustion issues as the temperatures climbed above 30 degrees.
Gentle though looked smooth throughout, and crossed the line more than eight minutes to the good.
'Brutal conditions'
Afterwards she told Greg Bennett on the CLASH Endurance broadcast: "The race plan was to just focus on myself. Staying aero through the corners on the bike and then on the run it was about survival in pretty brutal conditions."
Ashleigh has switched to SCOTT bikes and was riding the Plasma 6 TT for the first time in a race here. "I absolutely love it and felt very comfortable on it," she said.
As for the conditions, they were tough for all the competitors – Gentle included.
"They were definitely some of the hardest conditions I've raced in. We started the run at around midday and the sun was just so hot. We were all trying to encourage each other though which was super-nice and kept the morale up but I hope the girls are all okay."
Cone clash
Thankfully there was good news on Spain's Sara Perez Sala, who saw some cones too late midway through the bike and suffered a heavy crash.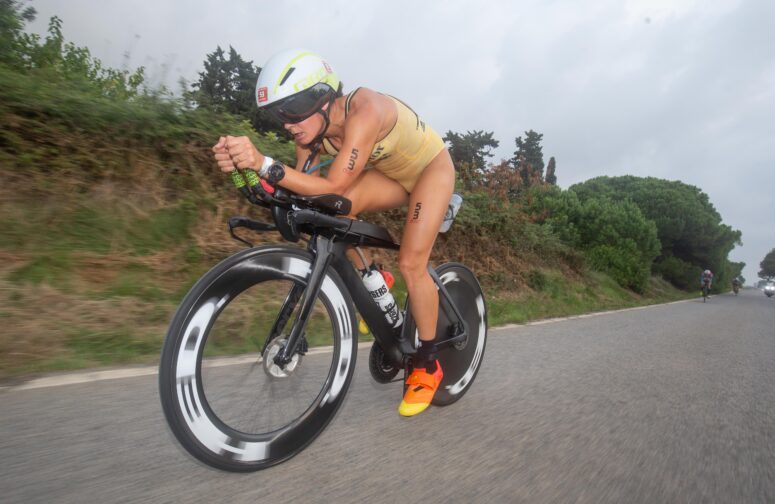 She was taken to the on course medical centre with bad road rash but emerged bandaged up a little later and told Bennett: "I'm sad but I'm happy that I haven't broken anything, which is the most important thing.
"I was feeling good and couldn't believe it when I crashed. I wanted to come back into the race but couldn't."
Another casualty on the bike was Dede Griesbauer, who had a flat tyre midway through the bike section.
She explained: "I went round a corner and flatted. I went to change the tyre and was fully intending to get back out there but blew out the sidewall and that was that. I'm just very disappointed."