Tom Bishop held off everyone bar winner Jason West as he started his season in massively encouraging style with second place at CLASH Miami.
The Brit, who moved up to middle distance last year, had produced an eyecatching performance at CLASH Daytona in December when powering through the field on the bike only to get swallowed up on the run as he finished fourth behind Vincent Luis.
And he showed that was no fluke as he more than repeated the trick back in the Sunshine State, this time opening up a lead of over two minutes on the bike from Daniel Bækkegård and last year's winner Sam Long.
That pair are both in the top 15 of the PTO world rankings but Bishop was able to keep them at arm's length on the run, though he couldn't do anything about West's astonishing time of not much more than 51 minutes for the 10.5 miles, which was three minutes better than anyone else.
'Pretty happy with that'
Speaking to us afterwards, Bishop said: "You never really know what sort of shape you're in at the start of the season until you get racing. Things have gone pretty well this winter. It's been short, but it's been pretty focused.
"I think I was around fifth after the swim and then just tried to push it on the bike. I was maybe expecting a few people to go with, but I ended up being on my own and I was just riding pretty comfy.
"I just kept the same effort going and managed to have around a two-minute leads going into T2.
"My run has been a bit unknown because I've kind of reduced my training a bit with a slightly tight calf, so I just ran to kind of a pace that I felt comfortable with. It wasn't quite enough to hold on for the win, but I held on to second, so, yeah, pretty happy with that."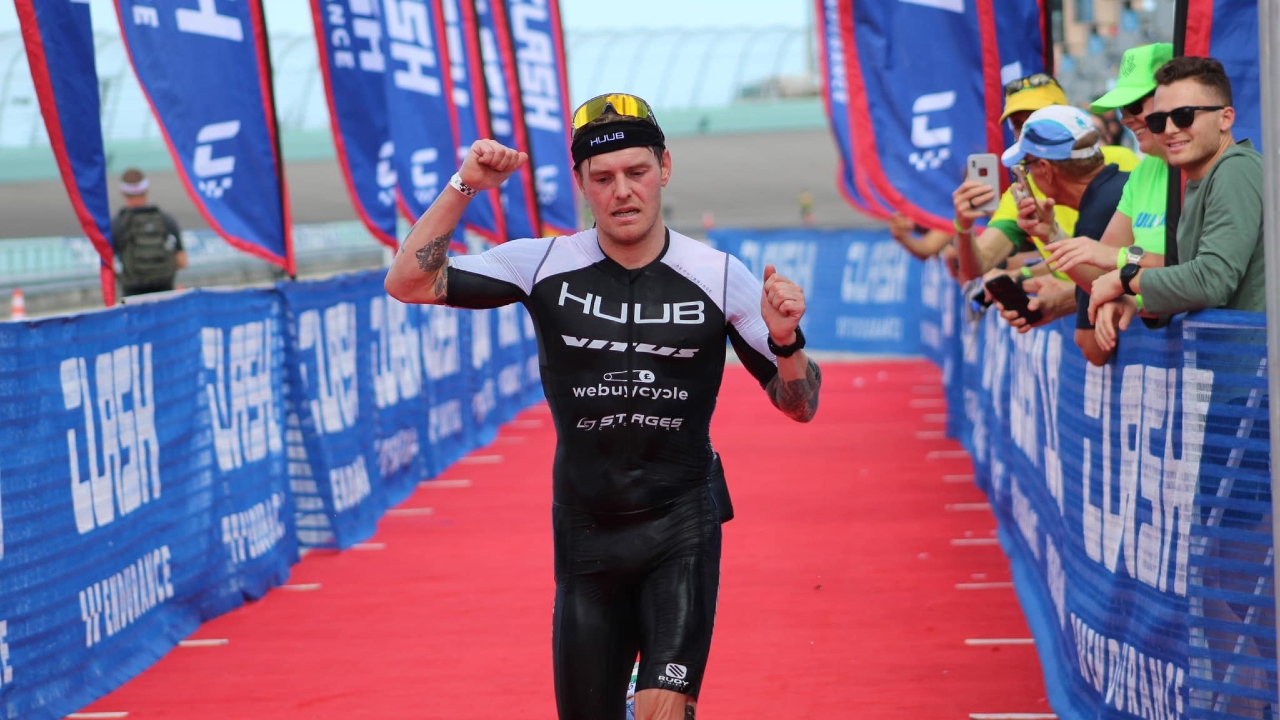 Eyes on PTO events
Next up for Bishop is Challenge Puerto Varas in Chile next weekend and then he'll get back to training and look for areas to further improve.
He explained: "Jason was flying on the run, I would have needed another 45 seconds on the bike, which wouldn't have been possible. I've got a bit of work to do there, but I'm injury free and healthy. So when I get back from racing after Chile, I'll do some recovery and then that will be a bit of a focus.
"But obviously I realise now that I'm riding pretty well, so I don't want to let that slip. That's going to kind of help me get good results in the future. I've been aero testing again with Huub and WattShop which has helped me loads in terms of getting that speed.
And as to what his race schedule might entail, he's hoping this latest impressive display could unlock some doors.
"Hopefully the PTO might be looking at the result and thinking that a wild card might be worth it (he got one for the PTO US Open in Dallas last year and the first big event in 2023 is the PTO European Open in early May) but I've still got to keep picking up points and race well. So, yes, looking good for the rest of the season."