The 2022 PTO US Open winner Collin Chartier has been suspended for three years by the International Testing Agency (ITA) after testing positive for EPO in an out-of-competition doping test on 10 February 2023.
The ITA is the body appointed to independently handle the results management and intelligence and investigations on anti-doping rule violations on behalf of IRONMAN. The formal ITA sanction can be found HERE.
IRONMAN is the first private, non federation sports company to formally adhere to the World Anti-Doping Code.
In a statement released by Chartier, the American shared that he has no plans to ever return to professional racing and takes full responsibility for his actions. His early admission of guilt is the reason for a three-year, rather than the typical four-year, period of ineligibility.
In a post shared on Instagram immediately after the news broke, Chartier detailed what made him resort to the use of a performance enhancing drug, sharing he started using it "in November".
Chartier shocked the triathlon world last September at the PTO US Open when he followed his victory at IRONMAN Mont Tremblant the month before to take the win in one of the most competitive middle distance races of 2022, along with the $100k prize purse. He is currently at #14 in the latest world rankings.
"I felt like I lost my way in the sport"
In his Instagram post [in which he references 2024 but potentially means 2023], Chartier said: "I started using this PED in November after feeling like I have lost my way in this sport. In the moment I was injured and sick and felt I had to do this if I was going to have the success I wanted in 2024.
"Feelings of intense pressure and expectations to win the biggest races in 2024 along with feeling unhappy with the personal sacrifices I have made. In my mind I thought I had to deny myself friendships, happiness, socialising, and having fun in training to be the best, and I lost the love for the sport."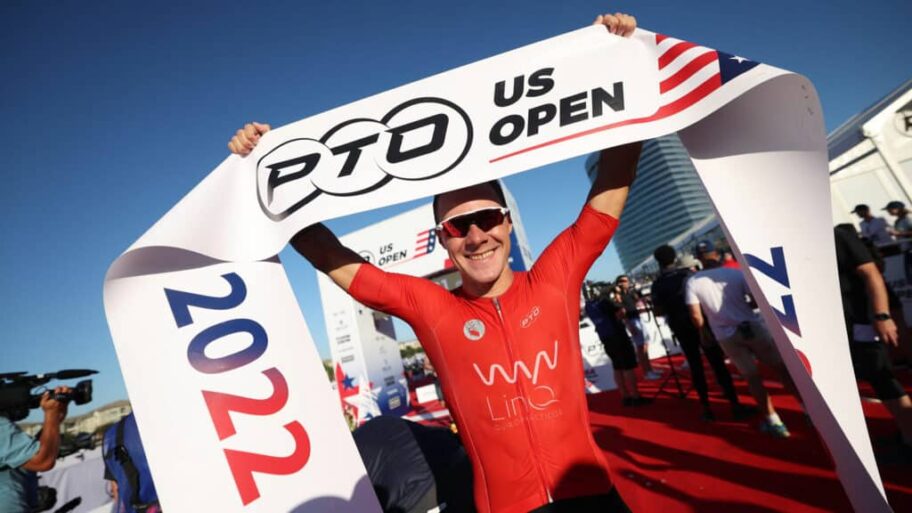 "I have no plans to return to the sport professionally"
Chartier, who went from limited sponsors to being one of the most talked about athletes on the circuit after his win in Dallas, added an apology to everyone in his team along with the statement:
"I am deeply sorry and I want to apologise to my family, friends, supporters and the sport in general. I have been suspended for a positive out of competition doping control and I am suspended for three years. I have no plans to return to triathlon professionally.
"I am not going to give myself or anyone else the bull**** excuse like a tainted burrito or tainted covid vaccine. I made a terrible choice, and now I will face the consequences, own it, and move on."
'I'm in shock and crying' – coach Mikal Iden
Chartier had been coached by Mikal Iden since the middle of 2022 and the Norwegian gave his reaction to the news, posting on Instagram: "I never thought I would have to make a statement like this…
"I'm in shock and crying just now learning that an athlete I've been coaching for the last year has been doping. I can't distance myself enough from this action. It's such a complete crash in my values it's unthinkable…
"The only positive I see from this going forward is the anti-doping organization catching the athlete.
"Thrust [sic] is going to be hard going forward. Mikal."